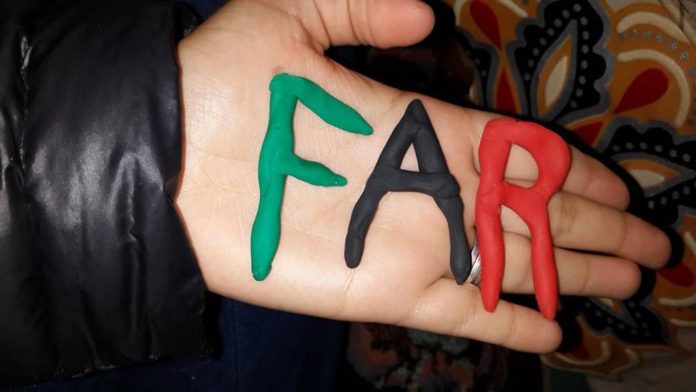 Sometimes I question my own mind. Like, how can I be so stupid? For example, the other day, when setting up a new career mode on FIFA, I contrived to not only spell my surname wrong but not notice the error until I'm halfway through the transfer window.
Fortunately, that's the worst of virtual Stoke manager Eion Dmith's worries. FM Eion managed to make an even worse cock-up. You may remember I was all excited about setting up my staff and getting a fitness coach and everything in. You know, the third-choice guy. Well, he joined. As an Under 18s fitness coach.
Yep, I changed his role in contract negotiations, he asked for more money which I expected but the sneaky bastard returned his role to Under 18s. I didn't realise until I went to assign him his duties in training that he wasn't there. This whole detail business really isn't my strong suit sometimes.
Welcome back to my trip into the unknown where things are going about as well as contract negotiations have. So, suffice to say, it has been a bit of a mixed bag.
I made sure to renew a whole bunch of expiring contracts since, as in many countries it seems, whoever did the long-term planning before I arrived in Rabat clearly had never heard of anything longer than a one-year contract.
Sadly, Lady Luck has never been to Morocco recently either as I lost Mehdi Neghmi (you know, our star striker) for two to three months with a torn hamstring in the first training session after our opening friendly. Infuriatingly, he'd also scored in that game against RAC Casablanca to make what was (as polite pundits would say) an unconvincing display.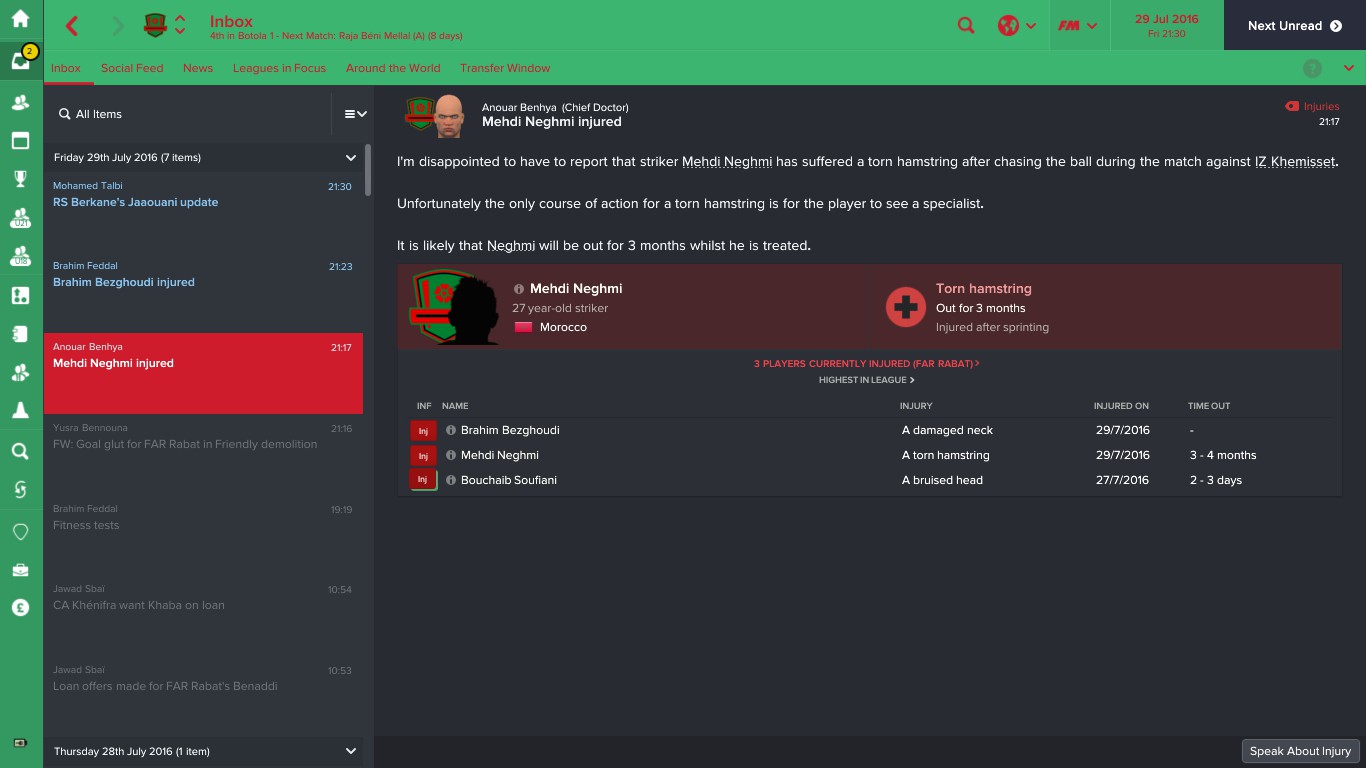 That game was played using my 4-2-4 tactic I'd devised in the last part (honestly, if you've got this far and not read the first part, what are you doing?) and it was boring. We created little against a very poor side and I got bored. Luckily, that crazy 3-1-3-1-2 tactic was sitting in reserve so I busted that out and watched the carnage ensue.
We handily won our remaining pre-season games against, admittedly, weak opposition but there were some positives to take. The wacky cross midfield seemed to be working. One goal conceded was another positive but, again, I should probably stress that we were playing some really poor sides. Well, second tier sides but they still didn't seem to be up to much.
I didn't make any decisions based on those games so when the time came for the season opener against Wydad Casablanca (which sounds like kids pleading on movie nights with their hipster dad), I had a rough idea how we'd play but no idea if we were any good.
Turns out they're OK after a half-time roasting. A goal down as it turns out that wide midfielders don't necessarily do that tracking back malarkey. Who knew? Still, I hauled off the underperforming, experienced Brahim Bezghoudi and replaced him with the young Hamza Khaba. It worked a treat and we won our opening game of the season. Lovely stuff.
No rest for the weary though. Straight into our "eighth final" against HUS Agadir. I persevered with the cross midfield for this one and, once again, it was a sluggish start. It seems that a good old fashioned – as my mother would say – boot up the arse sorts them out. We eventually ran out 3-2 winners but with more questions than answers.
Conveniently, in Morocco, the second leg of the cup tie seems to be played literally days after the first so we were straight back into it with Agadir. This time I switched our game up a bit, dropping my attacking midfielder back to form a flat four across the middle. It made sense too, we were all over the place defensively and the introduction of an extra body right in the heart can only be a good thing. It got the job done too as we progressed thanks to a 1-1 away draw with Hamza Khaba getting another goal.
With the boys tired, I rotated and we drew 0-0 at RS Berkane. It was crap. So was the performance. Something had to be done. Who will I blame for this? Remember Mustapha El Yousfi? The crap midfielder? He was swiftly sold to Agadir for £40,000. I couldn't believe it when teams actually wanted to buy the useless pri… man.
He was also partly sold because I wanted to buy a player at some point in the summer (I know, wonderful transfer strategy) and I went out and gave a large contract to Gambian midfielder Mustapha Jarju. Partly because I needed to hit my Mustapha quota and partly because he's pretty quite good.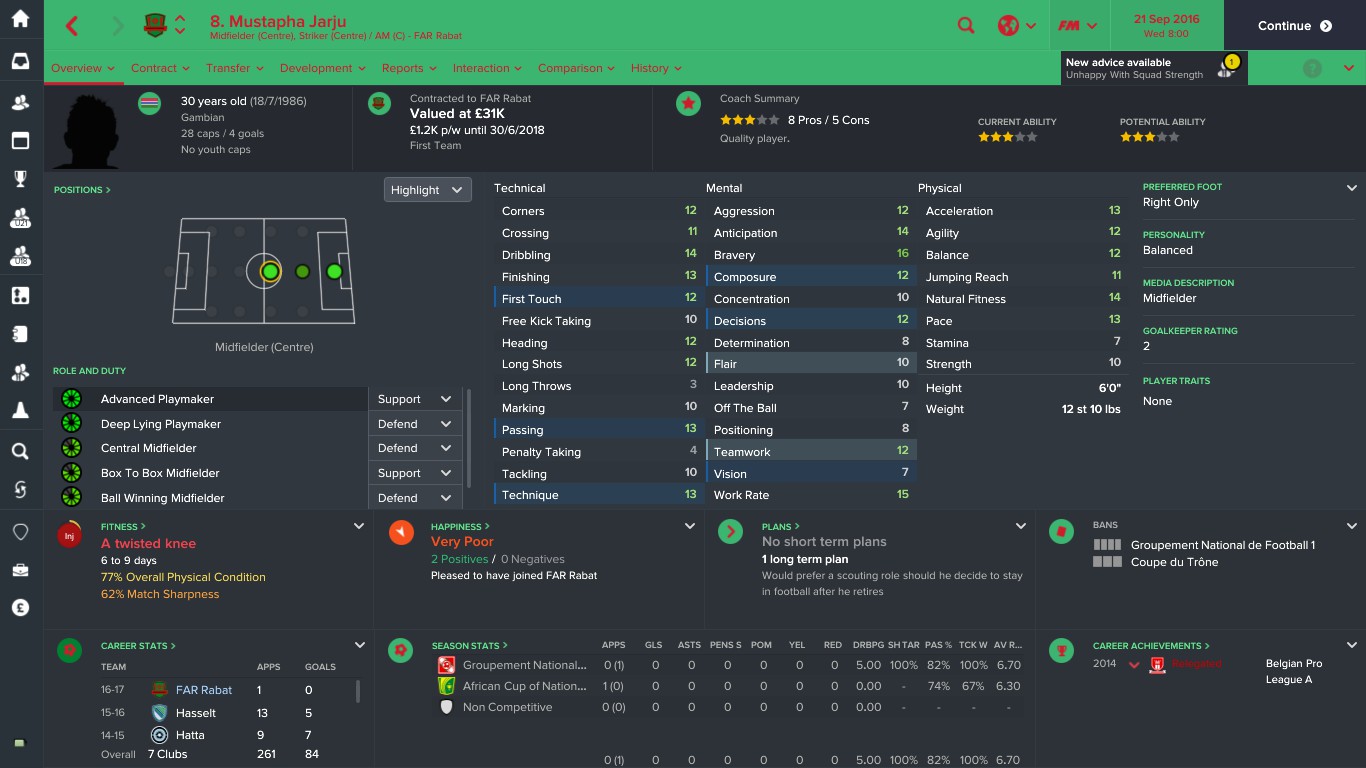 Good news – he's already injured. Fortunately, it's only a twisted knee and he'll miss a few days at most. Bad news – we were comprehensively outplayed at home by KAC Marrakech and fortunate to even leave with a 2-1 defeat.
All that fun time and action leaves us seventh in Botola 1, which I was disappointed about until I realised that the board are only wanting a top half finish. Mediocrity here we come! I've stopped at the end of the transfer window for now meaning that the next time I join you, you'll be getting a triple header against our fierce rivals FUS Rabat. The quirks of scheduling sometimes.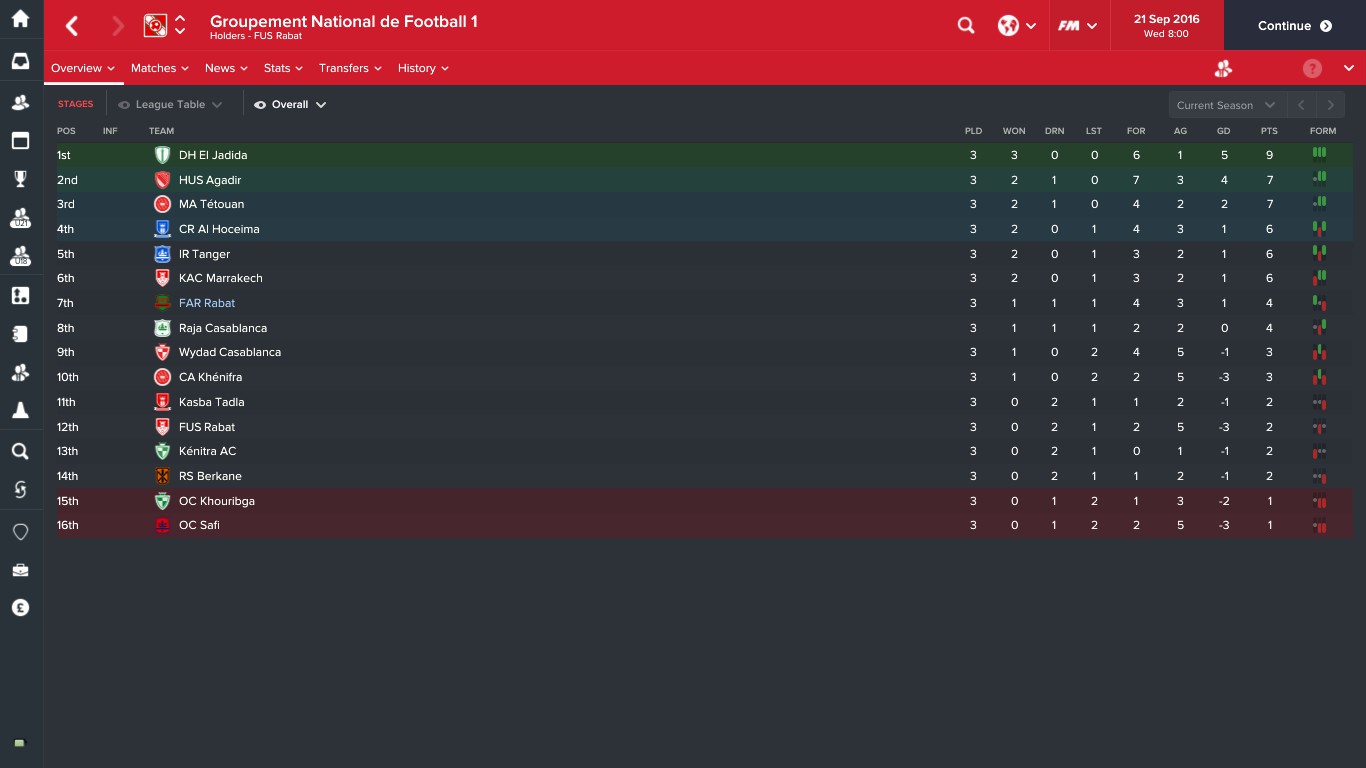 One final thing – Hakim Benamar. I hope you enjoy being the only coach with the youth team you miserable ars…
If you have any suggestions on what I can do to improve my tactics then shout below, or on Twitter.