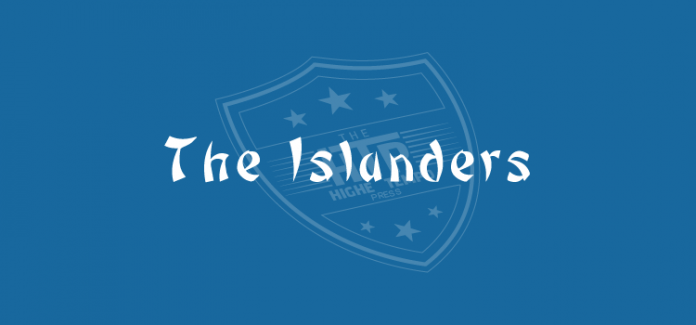 OSU!
Yes, you are right. We are very much due an update from the Island. Sorry, sorry. I've been busy you know!
Anyway, it's now July 2023 and our third season in J1 is flying by. We've also made our debut in the AFC Champions League, spent some fairly big money on players, invested in the youth facilities and made the stadium just that little bit bigger. Oh yes, we are a club on the up and no mistake.
But let us go back as far as the winter off-season and remind ourselves of the plan for the season.
Qualify for the ACL once again
Be in a proper title race
Get to the Emperor's Cup Final
Firstly, I had to move some people on to create the space required to improve the squad. So we waved goodbye to Fukuda and Ishigami who had become very much bit-part players and Otsuka who had served us very well but didn't fit into the new Nagelsmann system. We also received an offer we couldn't refuse for Bing. €1m at this stage in our development is big money, so I sold without question.

Other bit part players also left the club – Morikawa and Moriyasu didn't figure in my plans and Shibuya didn't work out so we moved him on quickly.
My recruitment plan in recent seasons has been based around loaning the best young players available from the Japanese sides with strong academies – and this time was no different.
As you can see, eight players came in on loan – but only four remain half way through the season due to lack of playing time and poor performance. Sugiyama is growing into his role on the left side of the back three, Weicheng is a good back up option despite the coaches and scouts telling me he is our best defender, Oh Yong-Koo is a brilliant striker who has formed an excellent partnership with Akasaki and, lastly, Saito is a disappointment.
I splashed out €500k on Ko Matsubara from relegated Nagoya Grampus Eight. He had had a very good season for them, despite their relegation and matched all the recruitment KPI's I have in place for defenders. €500k is a lot, but I felt he would be worth it – he is 25, so there is potential to make a profit in the future.
Kanakbu was brought in to be the number two 'keeper and long term followers of this save might remember the name at the top of the list – Akimoto. He played 30 odd games for us before I sold him to Tokyo Verdy for €51k, good money back then. He was released last winter, and despite the scouts saying he was only "useful" I decided he would be a no-dramas back up at right back. I mean, his attributes (yes, I do look at the physical and mental attributes from time to time) are solid.
He has ended up playing a fair bit of football for us – and I will explain why in a bit. For someone rated so poorly by the staff he has been a star so far.

Decent, right?
So I was happy with our transfer business – but there was one small problem…
The AFC Champions League registration happens about five seconds after the final whistle of the last game of the previous season. So, unbeknown to muggins here, nearly all my new signings were unavailable for the AFC campaign. Brilliant. There is nothing like going into your debut in the continental competition with 14 players, and three of them are goalkeepers. Top work by the gaffer.
Still, we started ok….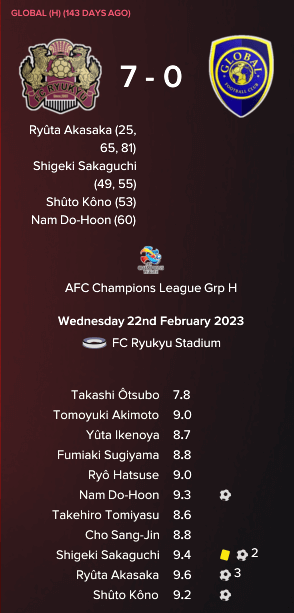 7-0 in our first ever match outside of Japanese competition. Blimey. Reckon we could win the title? Probably not, but I suddenly felt like we might be able to get out of the group. However, this kickstarted the dilemma, especially as we got this result away from home in our next match.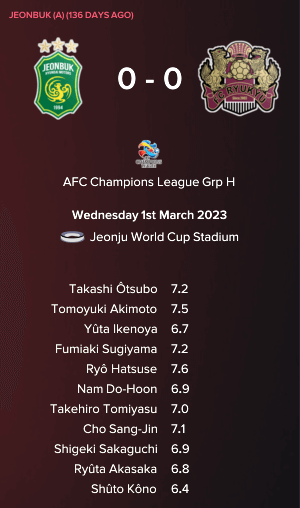 The second string side had started superbly, so why should I drop them at the start of the J1 campaign? I couldn't, meaning we kicked off the league campaign with the big money left back on the bench, all the loan signings not involved and all the preseason planning was firmly out of the window. But we will come back to the J1 in a minute – we have an ACL story to finish first.

The loss in the last match was a dead match, we had already won the group and qualified. Bravo! Our adventure was to continue, and still with the skeleton squad which was crazy. Who would we draw? A big side from China? A team from the desert in the UAE or Kuwait, or someone else new and exciting?
No.
Yokokama F Marinos. I presume the F this time stood for fucking. Yokohama Fucking Marinos. That reminded me of when Liverpool and Nottingham Forest drew each other in the European Cup First Round years and years ago. What an anti-climax. And they'd probably win.
Er, or not! You can imagine my delight was we threw away the first leg lead, but somehow we regained our nerve to win it on penalties. Incredible scenes on the Island, I can tell you.
Our reward is a match against Hebei of China, a quarter final no less. Wow.
Anyway, back to the bread and butter. Obviously, the stronger players found their way into the side as the J1 season progressed and, with 13 games to play this is how it all stands.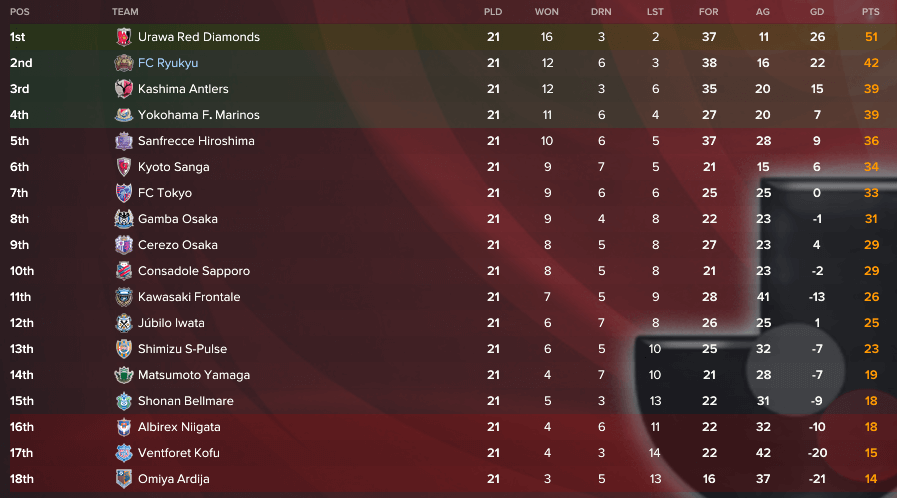 2nd again. I don't think we will win it, but I would love to think we can hold off those big clubs snapping at our heels. We are playing some wonderful stuff at times and the squad is feeling really solid.
Take our skipper, Sakaguchi for example.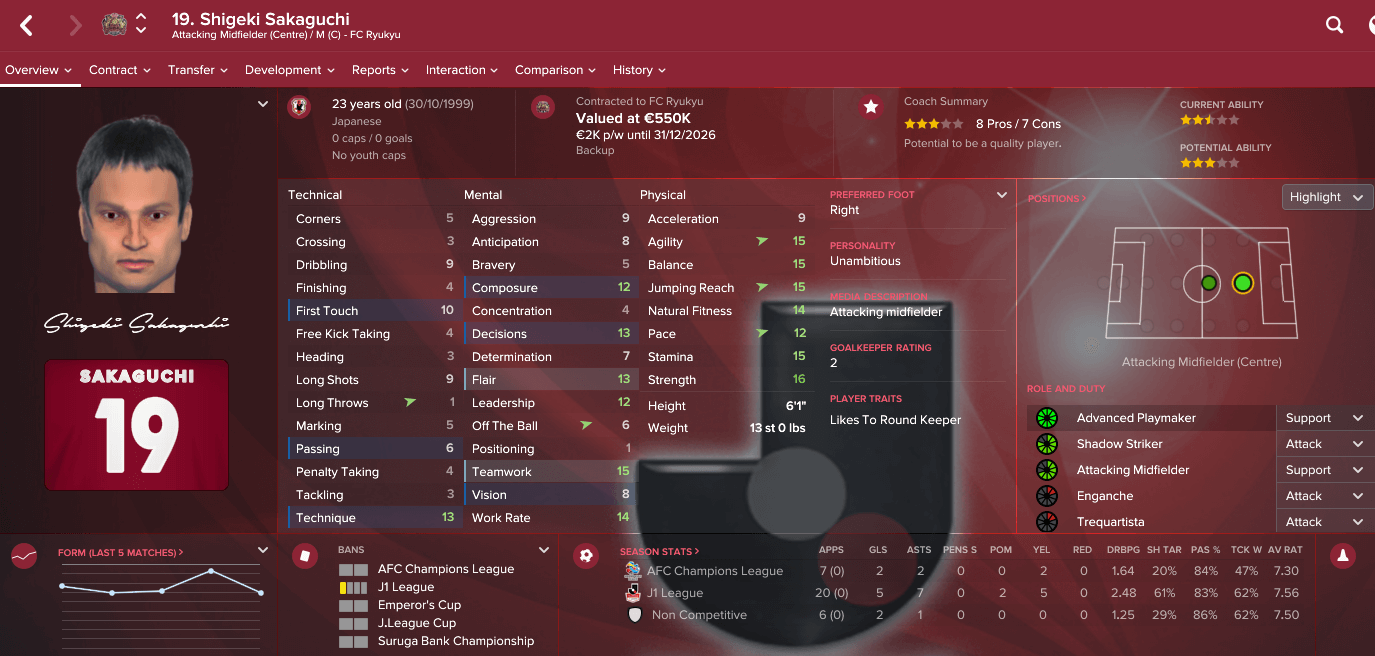 He was one of the first players I signed when I turned up. He has played in every division for me, and he is Mr Ryukyu right now. Tall, strong, and with an eye for a goal, he has really blossomed since I moved to the Nagelsmann tactic.
We also have the goalkeeper to think about.
Again, he was in my first intake of signings and he is now the club's record appearance holder – if he hadn't played only 2 matches in our first J1 season he'd have way over 200 games for me under his belt already.
The squad has a core like this – Ikenoya is in his 7th season with me, Cho Sang-Jin his 5th, Ohashi his 8th, having spent 6 months at Verdy, Furuya his 7th, Ren his 6th. Not all of these boys start every week but they are important to the grounding of the club. They have come up together, and they are still very young.

I know I do this every time, but I love showing it off. Although our wage bill is growing every season, we still spend the least in the league. Bang for buck. Urawa, back at the top of the table, spend €9m a year.

This also keeps things in perspective. We sell out almost every week, incidentally.
But, we are profitable. Last season alone we made €4m in gate receipts thanks to two excellent cup runs and we pulled in nearly €1m on prize money. The club currently has €336k in the bank though, having splashed out another €750k on facilities. We will break even this season, maybe even turn a profit but money is tight right now!
Before I wrap this update up, I just want to tip my hat to the front two. You don't see many strike partnerships in the classic sense in modern football, but we have a classic partnership right now.

29 goals between them, Akasaka has ten assists and Yong-Koo has one, so you can tell who is Beardsley and who is Lineker. If you want to use that analogy that is. Yong-Koo has played almost half the minutes as well, due to missing the AFC games, taking a while to get into the side etc. Both have over 59% shots on target too – superb.
So, we have thirteen games to secure AFC qualification again. We have an AFC quarter final to look forward to. We have the League Cup to defend and we have the Emperor's Cup to win. We have a tiny squad compared to other teams, so I hope they can last that long!
We shall see. Either way, it is exciting times on the Island, as ever.
OSU!