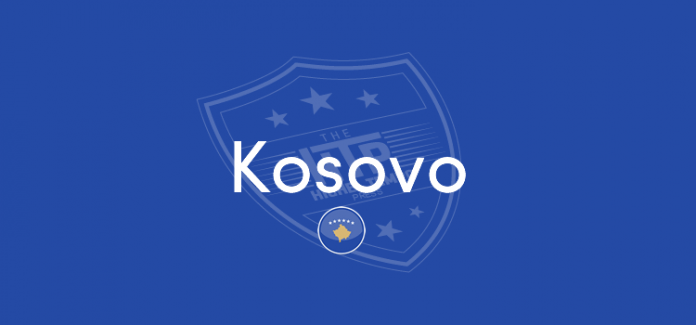 So, after that fantastic victory over Belarus in the Playoff Final we sat with baited breath awaiting the draw for the UEFA European Championship 2020 Finals.
Group F: Italy, Slovenia, Spain and… Kosovo! I've been practising hard at my "there are no easy games" soundbite.
Two warm-up matches have been agreed for June against Czech Republic and Greece.
In April we get the notification that we have moved up 25 places in the World Rankings, truly fantastic.
Squad selection day comes around quickly. An initial group of 30 is cut down to the lucky 23. After selecting our first choice XI, a few squad regulars and back up players – there is only one surprise. 21 year old Ali Ferati, another player who has rejected our advances for the last few years, has finally accepted a call up.

As a side note: the draw for the UEFA Nations League has been completed. Kosovo will compete in Division C after our fantastic results in the last campaign.

Our first warm up game is against Czech Republic. I see it as a chance to get a look at some of our rotational options and also hand a debut to young Ali Ferati.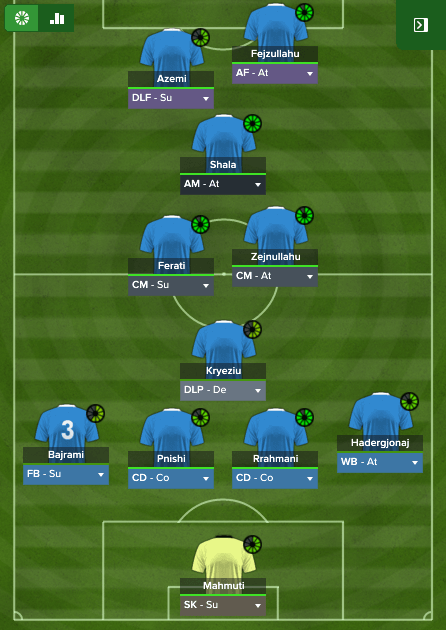 It's a tame first half with Kosovo just about shading it as the better team. Just before the whistle goes Kosovo break with a long ball from deep from Rrahmani over the Czech defence and into the path of Azemi who strikes to make it 1-0. In the second half Czech Republic equalise on 50 minutes after a neat cross from the right wing. 5 minutes later they take the lead through some persistent attacking. The final score is 2-1 to Czech Republic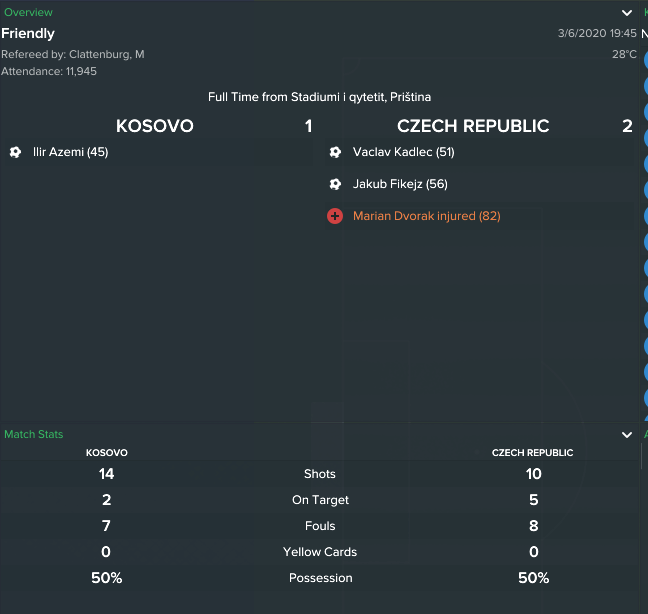 It's disappointing to lose but it was a valuable 90 minutes in terms of shaping our squad for the tournament.
Our final preparation game is against Greece. Our squad selection now reflects what we hope will be our starting XI in the European Championships. One last push!
It's another quiet first half until a defensive lapse from a freekick allows Greece an opener. 1-0 at half time. As the game peters out we get a corner, 85 minutes gone and a poor Greek clearance falls to Ferati who hits who goalward. It takes a deflection and flies in, 1-1! 2 minutes later and another poorly cleared corner falls nicely for us, this time Paqarada hits the strike and ANOTHER deflection into the net for 2-1!! Just before the 90 minute mark Sadiku plays a neat ball over the top for Muriqi who strikes from an angle and squeezes it past the goalkeeper for 3!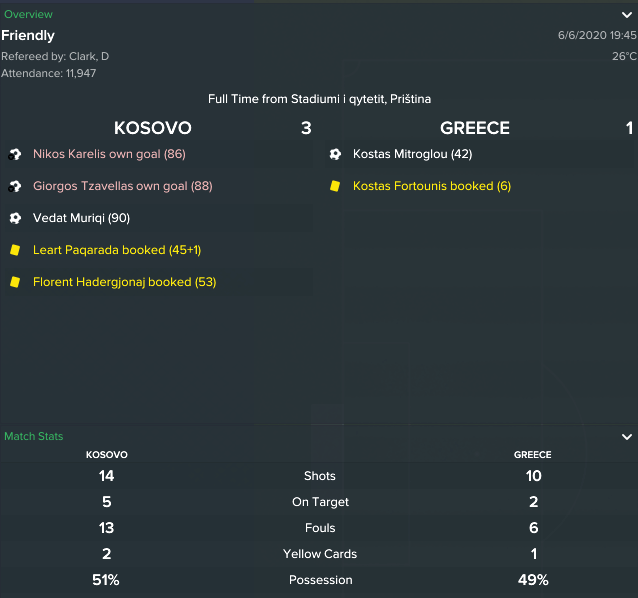 We may have been somewhat fortunate with the result but we're Kosovo! We'll take that!
All preparation is over now. The tournament is upon us. Game plan? I see no reason to get all the way here and try and go defensive, we'll play our usual game. We know we can perform. Expectations? Already exceeded. Anything more than 3 losses will be amazing but Slovenia will be our target for a sneaky point or more.
Here are the squad numbers that your heroes will wear. Shirt orders available online. All advice and messages of good luck will be gratefully received.
Le të shkojnë në Kosovë!