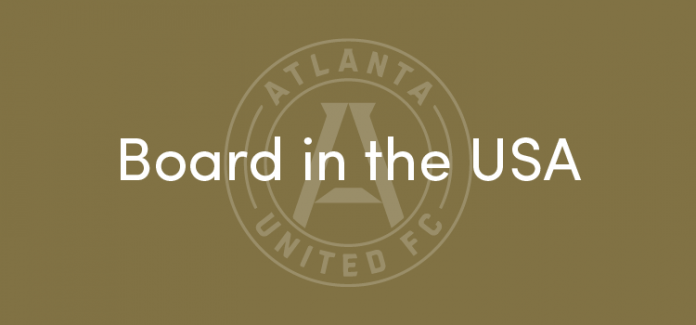 Board in the USA 3: The Pre-Game
Boy, this Director of Football work is tough. I've scanned so many scouting reports and fielded so many calls for deals that my eyes bled. My only respite from all this is to tell you how it all went down. With that, we're off!
This update is to take me from February 2016 to around December 2016, just before the big Expansion Draft. More on that later.
(Aside: for those curious or clueless, Atlanta United is a new team in the MLS that only enters the league in the 2017 Season. For the whole first season in 2016, the team is listed as taking part in the "Lower Leagues" – though no such league exists in the FM Database. The outcome of this is that the team plays games, although there is no matchday for anyone to manage whatsoever. They gain match fitness and all the perks without the risk of me losing my job. All positive!)
Staff
As it goes without saying, I've obviously overhauled the entire staff of the club (as every FM player should). I filled up the scouting team with plenty of very able scouts, who are mostly based in South America. While their knowledge is not immediately useful seeing as I need American players, they could be useful in the future for potential Designated Player signings.
I also took the time to check up my Assistant Manager, who's going to be doing most of the coaching around here.
Looks good. Even his tendencies match! Nothing else to see here, let's move on.
Deals
As promised, I let go of the some of the oldies. Remember ol' Parkhurst, whom I slammed hard in the Squad Assessment update? I managed to get rid of him. Although deals were fielded for my other oldie, Jeff Lerantowicz, I kept him close to the vest. He was my team captain, and he had the flexibility to play in multiple positions. This old guy I was willing to bring into next season.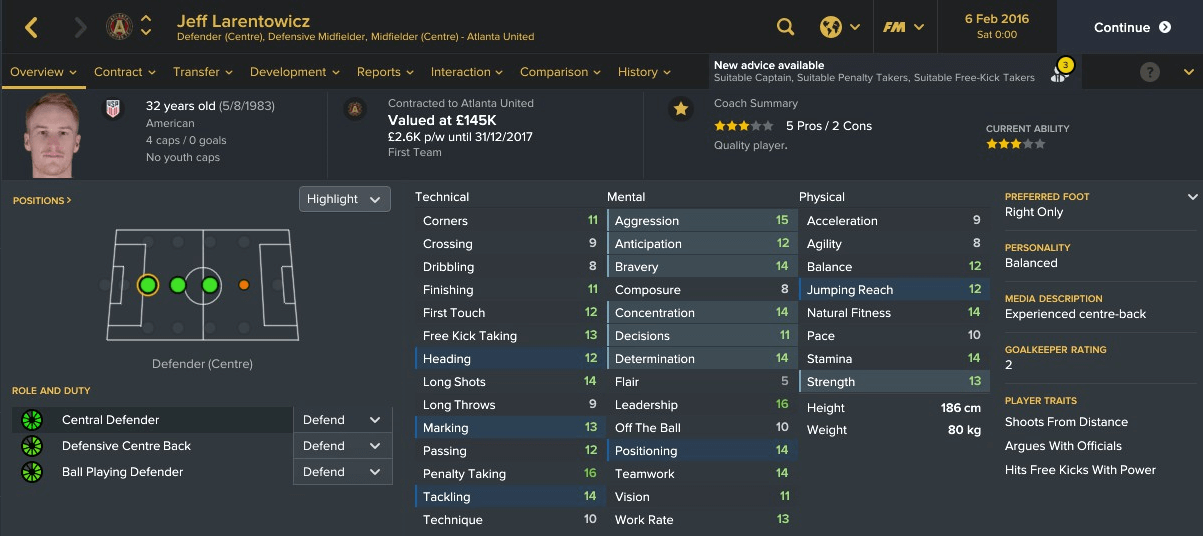 I left a job for an old guy. Dad, I hope you're proud.
I let go of another bloke, Kevin Krantz as well. While I didn't really want to let him go, he was a 29 year old International player with poor physical stats who was getting on in years, so my hands were somewhat tied.
Both Parkhurst and Krantz were traded for draft picks in the 2017 Superdraft, in line with the plan to prioritise a young squad. Yes, I know, I probably overpaid for the Krantz deal. We're all still learning, aren't we?
The next big signing that happened was my man Ulises Tavares.
Yes, I know, he's an International player. But he was available for free, and the contract he wanted was too good to pass him given his stats. I also needed more forwards, of which there are very few who are Americans who are any good. I'll take it!
Other than this, I signed a couple of decent free agent Americans as backups for the first team. Nothing fancy schmancy. I spent the rest of the time scouting the MLS and young prospects in the country to gain information for the upcoming Expansion Draft. With the Expansion Draft coming up in December 2016, it was a bit hard to plan other deals without knowing what players I am going to get, so more of my efforts were targeted there.
(Aside: What is the expansion draft? It will only happen once on FM in MLS, on the 14 December 2016. Both newcomer teams to the MLS, Minnesota and Atlanta, will get to pick 5 players each from the rosters of all the other MLS teams. There are more details and restrictions, but that's for another update.)
Upcoming Plans
From the players in my squad that I intend to keep, I basically have a first XI as is. I'm going to need to pad out the rest of the squad with a few forwards, a couple of midfield players, and maybe one more centre back.
The lack of Americans is becoming a big problem (said no country ever). I plan to use the Expansion Draft to pick up some strong American talent from the existing MLS teams. This Expansion Draft is going to be the highlight of my short Director of Football career so far, so join me in the next update, where I go through the thought process and picks I made.
You can find me on the FMSlack at @avery to talk more about the save. Till the next update, stay tuned!