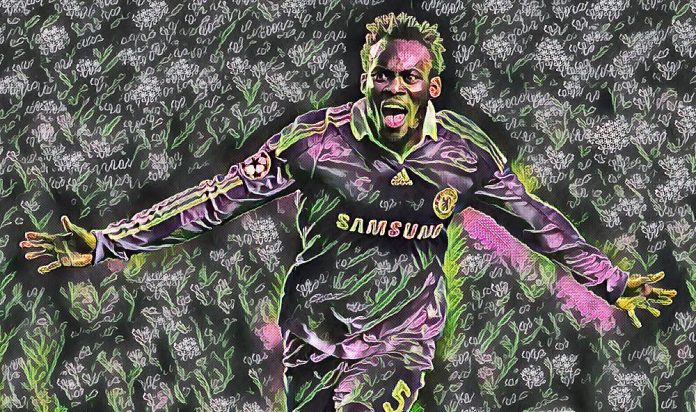 In The Higher Tempo Press HQ, the ideas presented fit into two separate yet equally important groups: 10/10, top quality writing; and good puns. This is the latter.
(Credit to anyone who got that Law & Order reference)
What would it be like if Michael Essien, former Chelsea midfield hero, moved to MLS? I hear you ask, "but what club?" – every club, of course.
First, a look at Michael Essien. Obviously not the physically imposing player he was in his prime by his Technical attributes are still reasonable and his Mental attributes would be a welcome addition to most teams despite the below average Work Rate.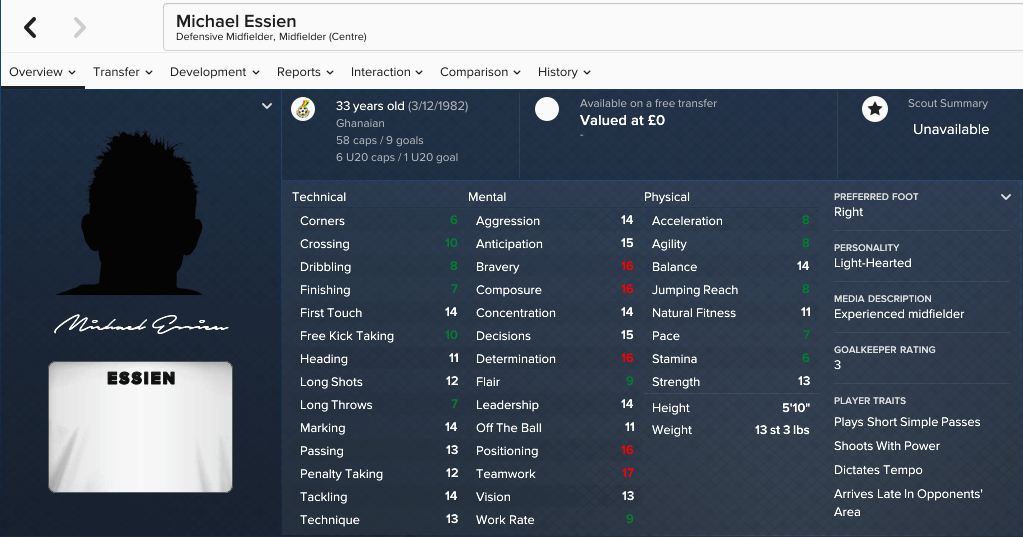 The season begins on 06/03/2016…
MLS Eastern Conference
Chicago Fire
Without Essien: 6th in Eastern Conference
With Essien: 8th in Eastern Conference
Essien stats: 29 appearances, 0 goals, 4 assists, 2 POM, 6.85 average rating, Vice-Captain
Columbus Crew SC
Without Essien: 3rd in Eastern Conference
With Essien: 1st in Eastern Conference, Eastern Conference Runner Up
Essien stats: 0(5) appearances, 0 goals, 0 assists, 0 POM, 6.87 average rating
D.C. United
Without Essien: 8th in Eastern Conference
With Essien: 2nd in Eastern Conference
Essien stats: 30 appearances, 2 goals, 5 assists, 4 POM, 6.74 average rating, Vice-Captain
Montreal Impact
Without Essien: 10th in Eastern Conference
With Essien: 8th in Eastern Conference
Essien stats: 19(2) appearances, 1 goal, 2 assists, 1 POM, 6.83 average rating
New England Revolution
Without Essien: 7th in Eastern Conference
With Essien: 8th in Eastern Conference
Essien stats: 25(6) appearances, 0 goals, 3 assists, 0 POM, 6.53 average rating
New York Red Bulls
Without Essien: 1st in Eastern Conference
With Essien: 6th in Eastern Conference, Eastern Conference Winner, MLS Cup Runner Up
Essien stats: 4 appearances, 0 goals, 0 assists, 0 POM, 6.90 average rating, waived on 09/04/16
New York City Football Club
Without Essien: 5th in Eastern Conference
With Essien: 3rd in Eastern Conference
Essien stats: 30(3) appearances, 0 goals, 4 assists, 1 POM, 6.83 average rating
Orlando City
Without Essien: 4th in Eastern Conference, Eastern Conference Final Runner Up
With Essien: 6th in Eastern Conference
Essien stats: 0(9) appearances, 0 goals, 0 assists, 0 POM, 6.53 average rating
Philadelphia Union
Without Essien: 9th in Eastern Conference
With Essien: 3rd in Eastern Conference
Essien stats: 3(1) appearances, 0 goals, 0 assists, 0 POM, 6.50 average rating, Captain
Toronto FC
Without Essien: 2nd in Eastern Conference, Eastern Conference Final Winner, MLS Cup Runner Up
With Essien: 8th in Eastern Conference
Essien stats: 16(9) appearances, 0 goals, 4 assists, 1 POM, 6.71 average rating
MLS Western Conference
Colorado Rapids
Without Essien: 8th in Western Conference
With Essien: 6th in Western Conference, Western Conference Runner Up
Essien stats: 34(1) appearances, 0 goals, 9 assists, 0 POM, 6.80 average rating, Vice-Captain
FC Dallas
Without Essien: 6th in Western Conference
With Essien: 3rd in Western Conference
Essien stats: 15(7) appearances, 0 goals, 5 assists, 1 POM, 6.74 average rating, Vice-Captain
Houston Dynamo
Without Essien: 5th in Western Conference
With Essien: 7th in Western Conference
Essien stats: 0(2) appearances, 0 goals, 0 assists, 0 POM, 6.50 average rating, Vice-Captain
LA Galaxy
Without Essien: 3rd in Western Conference
With Essien: 4th in Western Conference
Essien stats: 8(6) appearances, 0 goals, 1 assist, 0 POM, 6.47 average rating
Portland Timbers
Without Essien: 4th in Western Conference
With Essien: 1st in Western Conference, Western Conference Runner Up
Essien stats: 0 appearances, Vice-Captain
Real Salt Lake
Without Essien: 9th in Western Conference
With Essien: 6th in Western Conference
Essien stats: 25(4) appearances, 1 goal, 7 assists, 2 POM, 6.60 average rating
San Jose Earthquakes
Without Essien: 10th in Western Conference
With Essien: 10th in Western Conference
Essien stats: 19(6) appearances, 0 goals, 1 assist, 1 POM, 6.73 average rating, Vice-Captain
Seattle Sounders FC
Without Essien: 1st in Western Conference, Western Conference Final Runner Up
With Essien: 2nd in Western Conference, Western Conference Runner Up
Essien stats: 0 appearances, waived on 03/03/2016
Sporting Kansas City
Without Essien: 2nd in Western Conference, Western Conference Final Winner, MLS Cup Winner
With Essien: 7th in Western Conference
Essien stats: 21(5) appearances, 1 goal, 6 assists, 0 POM, 6.72 average rating
Vancouver Whitecaps FC
Without Essien: 7th in Western Conference
With Essien: 5th in Western Conference
Essien stats: 33(2) appearances, 1 goal, 6 assists, 2 POM, 6.84 average rating, Captain
So in summary, 10 out of 20 clubs improved their position after signing Michael Essien. He  was Vice-Captain of 7 teams and Captain of a further 3 teams, sadly being waived by two teams. I think it's fair to say from this intellectual experiment that a MLS move for Michael Essien would neither be a disaster nor perfection but certainly fulfils the desire for a terrible pun 🙂