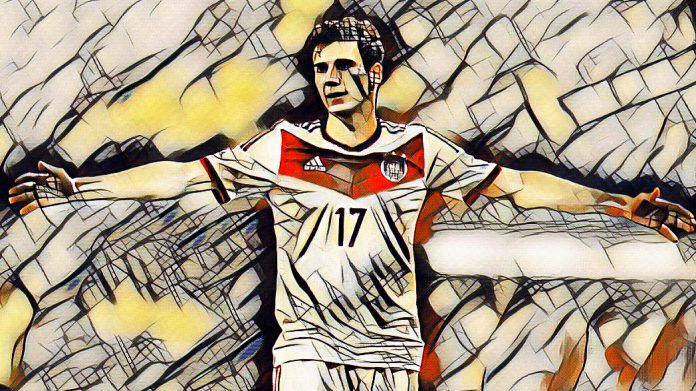 When Goretzka came through the ranks at VfL Bochum, the biggest names from all around Germany, including the likes of Borussia Dortmund, Bayern München and obviously, his current club Schalke 04. With his contract at Schalke running out at the end of the 2017/18, there is supposed interest from some of the better clubs in Europe like Juventus, Bayern München, Tottenham Hotspur and Arsenal.
Back in 2012, when he just broke into the Bochum 2. Bundesliga First Team at the young age of just 17, comparisons were drawn between him and some of the best German Midfielders of recent history such as Michael Ballack or Sami Khedira and not only Schalke fans were surprised that he got called up for the German U21 instead of the First Team but his future very much lies with Joachim Löw's "Die Mannschaft".
He made the Schalke starting XI on 15 occasions in the 2013/14 season, his first year at the club. With Neustädter and Boateng being nailed down starters in the centre of midfield, the young German played a lot of his games in the three behind Huntelaar, mainly on the left and on the right highlighting one of his many strengths:  His versatility. Even at a young age, he was already a player who could play in several positions and who had a complete game.
How does all of this translate into FM terms?
Quite good, how it turns out. He is only 21 at the start of your new save and he already got some really good Mentals with 17 on Aggression and Work Rate and 16 on Composure, Determination, and Teamwork. Combine that with the 16 on Stamina and the 16 on Pace you got yourself a hardworking Central Midfielder that is going to be great on the Counter. He is also natural at Attacking Midfield – a position he plays quite often in real life and Competent at Defensive Midfield and on either wing. Attributes like 15 Off the Ball actually make him a good Shadow Striker. He has some great technicals but these can be improved for sure, right?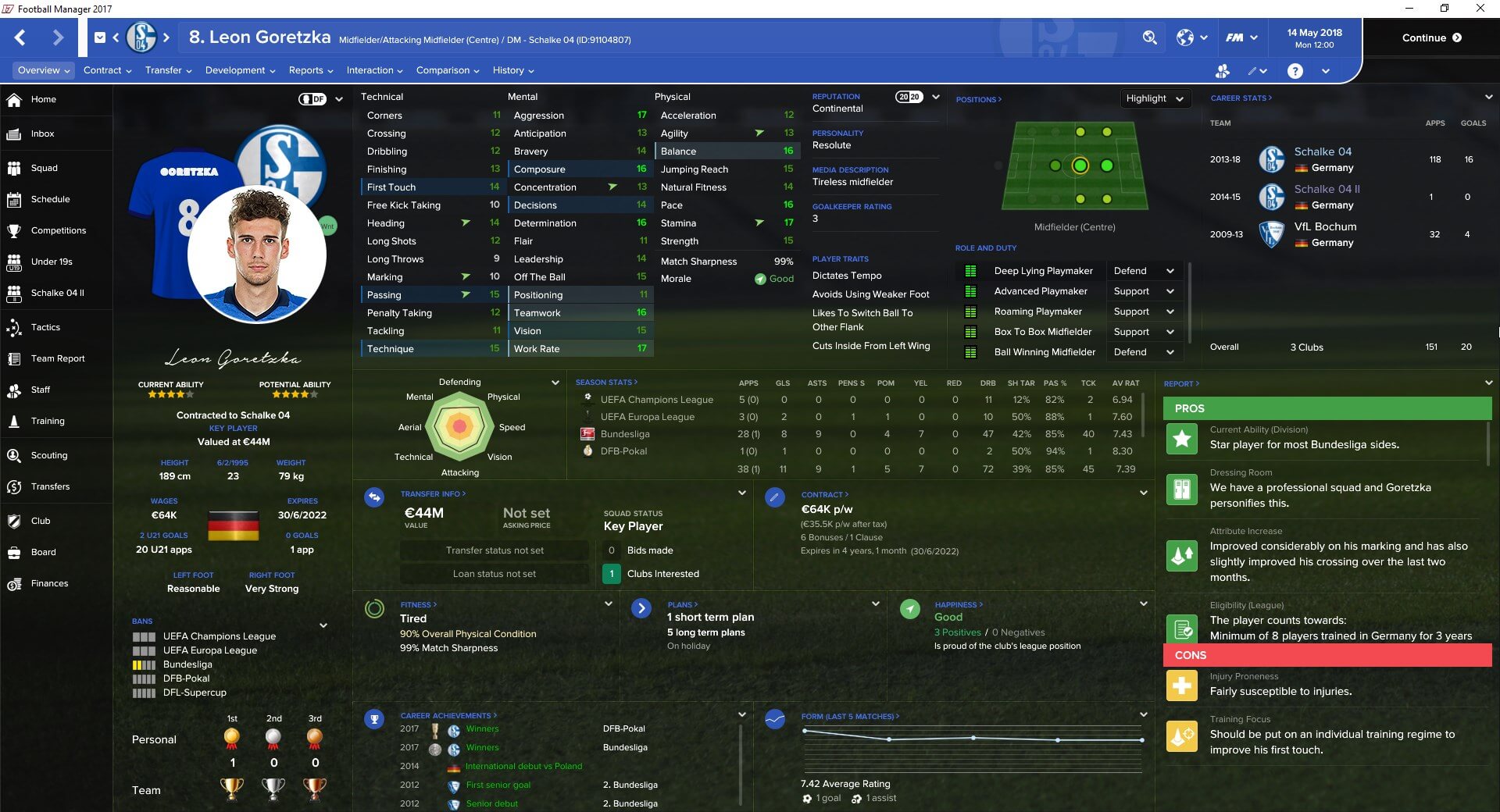 This is Goretzka two years later in the year 2018. As you can see, his Technicals haven't improved much but his Mentals and his Physicals are on the rise now and his value has skyrocketed from 20m to 44m, highlighting just how much potential this guy has (even though some of it is probably down to me giving him a long-term contract). His media description is Tireless Midfielder and looking at his Attributes, this seems quite accurate. But what are his strengths in real life and in FM, you might be asking yourself?
Defensive Recovery & Work Rate
In both FM and real football, Goretzka can play a lot of positions. But one thing that is always on his mind, no matter if he is playing Defensive, Central or Attacking Midfield is contributing to the team when it is out of possession.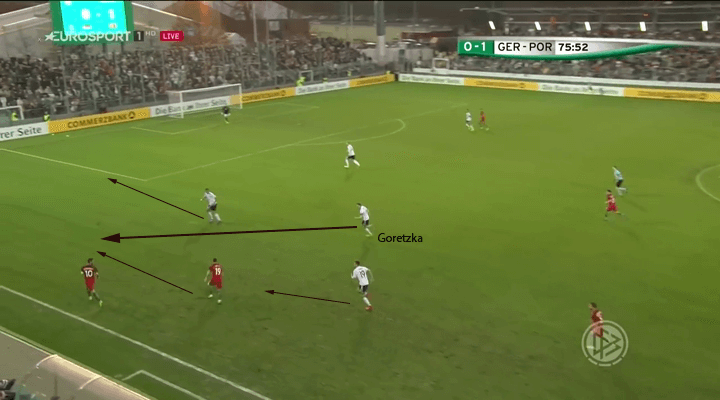 Here he uses his acceleration to quickly shift over to the right side to create a 3v2 and break up the opposition attack and out of the three German U21-Players he is actually the one to win the ball back to then restart the attack.
Thanks to his high Work Rate and his high Stamina, Goretzka runs around a lot if you put him into a role that permits that. I played him as Box-To-Box Midfielder for two years and he made it into the Top 3 of the Distance Covered chart every year.
Here Hazard is on the ball in midfield with Goretzka (#8) marking Dahoud (Gladbach #8). Richedly Bazoer (#5), the BWM steps up to win the ball back. This is the trigger for Goretzka to turn away from the player he is marking and to support Bazoer. Without his support, Bazoer would have just cleared the ball but with the help of Goretzka the ball finds its way back to Naldo (#29) who can then assess his options and recycle possession.
His height of 189cm (that is 6'2"), his jumping reach of 14 and his Heading of 13 also help him a lot. The young German is a good target for goal kicks if you don't want to play out from the back. He can hold his ground and win Aerial Duels against most CMs. And on FM he possesses some great Playmaking Ability he isn't really known for in real life. He got the player traits "Dictate The Tempo" and "Likes to Switch Ball to Other Flank" and in conjunction with 15 Passing, 15 Technique and really good Physicals he should be a very good Roaming Playmaker and playing a goal kick directly to your Playmaker is usually not the worst thing to do.
One stat that is very different in real life and in FM is Interceptions because the FM Match Engine counts every ball that came from an opposition player and is recovered by someone as an Interception while Stat companies like OPTA only code an Event as an Interception if a player intentionally stepped into the path of a pass. This leads to a) an insane amount of Interceptions on the game and b) to Centre-Backs dominating a Metric that is dominated by Midfielders and Centre-Backs in rea life. However, in Football Manager 2017, Goretzka seems to always be one of the best Midfielders in terms of Interceptions.
Off the Ball and Pressing Ability
Goretzka came through the ranks in a country where aggressive Pressing is something a lot of teams do and where being good out of possession is almost as important as being good with the ball at the feet.
Here we see Goretzka joining Bazoer and Coke (#23) to compress the space for Sabitzer and to force him into turning over possession. With his very good Aggression, Determination, Off the Ball and Work Rate attributes, the 21-year-old is very well suited to playing in a Pressing based system. Maybe not as a BWM because his Marking and Tackling are not ideal, but certainly as a Box-To-Box or just as a standard Central Midfielder.
Playmaking Ability
This is probably the part where FM overrates Goretzka a bit. He is not really uncreative in real world football, but he doesn't really possess the Playmaker traits he does in FM. These aforementioned traits make him into a good player for most midfield Playmaker roles. However, I would not advise playing him as a Deep-Lying Playmaker because the Deep-Lying Playmaker is a fairly static role and if you play Goretzka there you would miss out on his amazing Physicals and Mentals in terms of Work Rate or Stamina.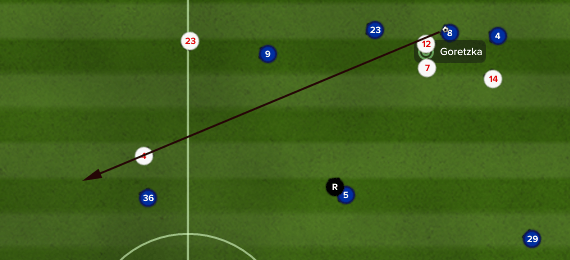 This is one example: Under immense pressure, Goretzka doesn't go for the easy option of playing it short to Coke but instead, he sees Embolo (#36) on the shoulder of the last defender and he plays a delightful pass right into his path. Something you probably won't see from Goretzka in real life but something you probably will see from him if you manage Schalke or sign him for your team.
Conclusion
Goretzka is a complete midfielder. He doesn't have insane Technicals and isn't the deadliest in front of goal but with his Mentals and his Physicals, he is a player who gets around, who wins you the ball and then distributes it. If you are looking for a young, German Central Midfielder with some room to develop you, Goretzka can be just your man. His contract runs out in 2018 so if you go in early you might have a chance to get him for fairly cheap. But be aware, clubs like Bayern München or Manchester City might be sniffing around so get your hands on him before they can. Or just wait until Bayern do the FM-Bayern thing of signing a player for big money without ever playing him and pick him up for cheap.