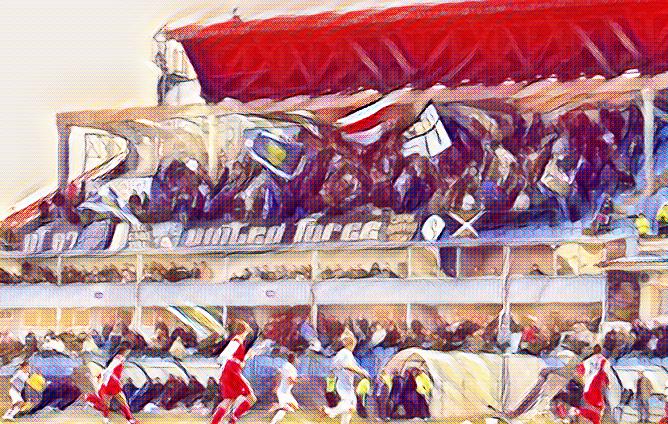 Zdravo, welcome back to the third episode of 'Totally Rad'. Since you were last with us we have played our first ten games of the season with our new philosophy and objectives.
Before we have a look at how well we got on first we need to go through all the transfer dealings we have been a part of, seen as though the transfer window just shut.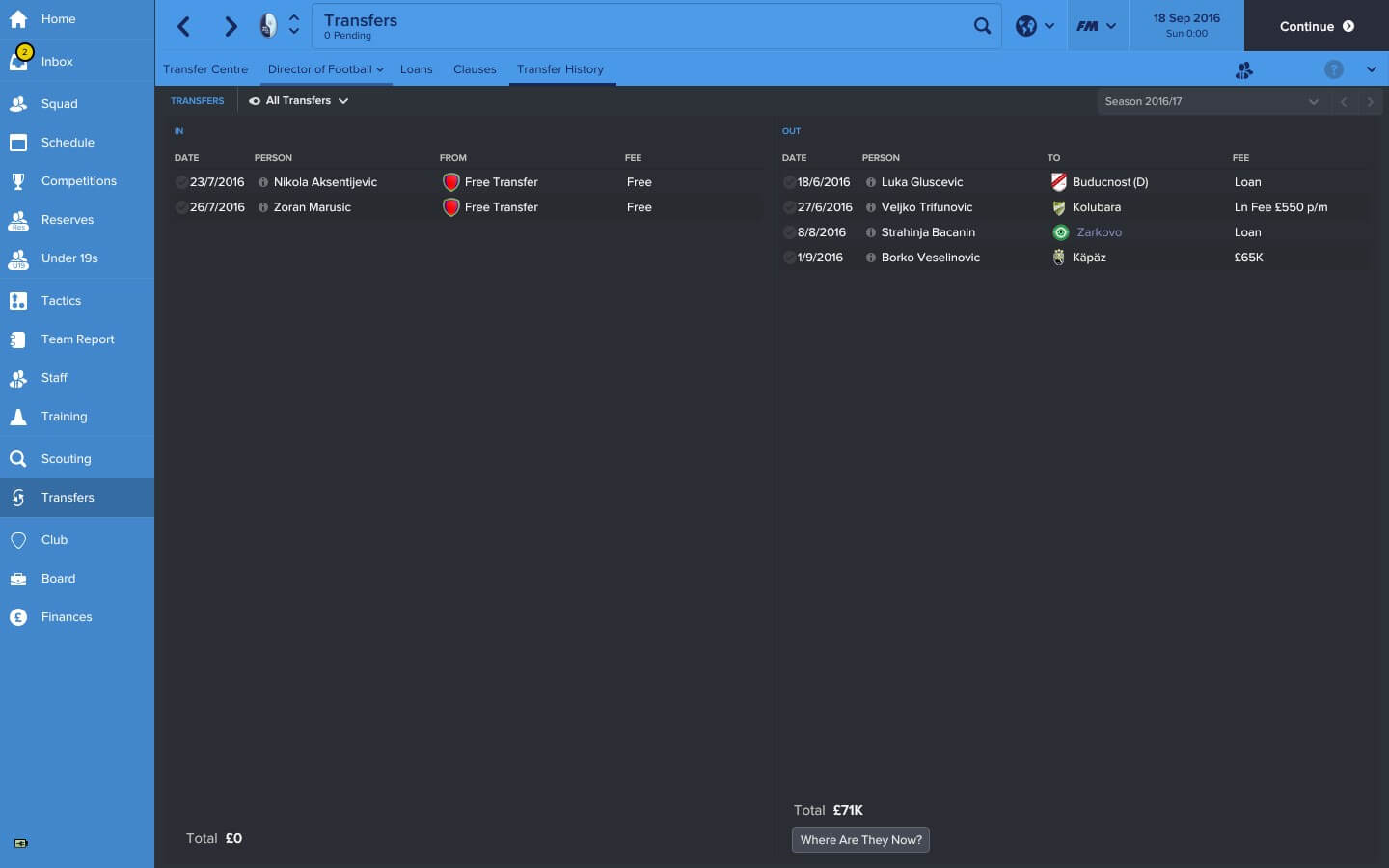 More going out than there is coming in, as we are trying to use every decent player we have available from the academy so we can drop the wage budget as much as we can.
Three youngsters make their way out of the club on loans, all to gain experience and come back ready to fight for their place next season. Veselinovic departs after a lack of first team starts and him being far down the pecking order, the fans didn't take too kindly to his exit, but I'm sure they will get over it.
Both transfers in are free and fresh faced youngsters, added to bring a bit more competition to the CM (Marusic) and RWB (Aksentijevic) roles.
Transfers done lets see how our league form has been:

Pretty damn impressive if you ask me, eight wins and just two very slim defeats is an incredible start to the season, if we can keep this kind of form up then forget top half of the table we can go all out and win the league.
The win against Red Star was a highlight with them being firm favourites for the game, coming out with a slender win gave the team a bit of a morale boost, which could have been seen as complacency as we lost the next fixture.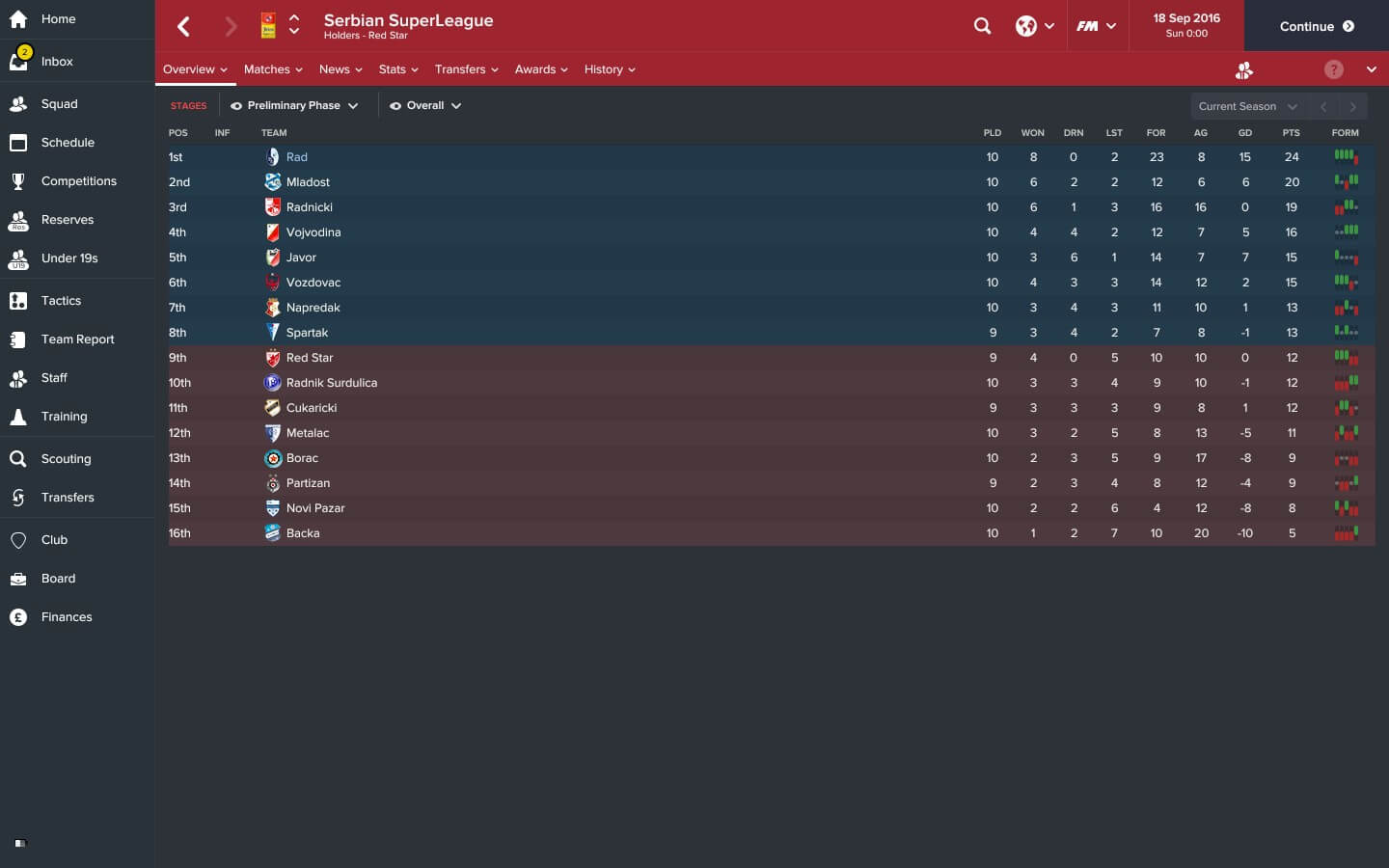 The results see us at the top of the table, four points clear of second place (who we just lost to), the poor starts for Partizan and Red Star is also very pleasing to see, with the two expected to dominate the league we have a nice cushion if either decides to start winning a few more games.
In terms of our squad we've had some fantastic appearances with players really pushing themselves and playing to the best of our abilities, with the lowest average rating at 6.70 showing players are working hard and playing well. In terms of goals we've had ten different goal scorers with standout performer Dejan Djenic picking up six for himself. The same number of players picked up assists with Mladenovic sitting in the deep lying playmaker role picking up four in ten.
Rad wonder kid Njegos Petrovic has been putting in a decent set of performances scoring three long range strikes and picking up an assist, not a bad return for a seventeen-year-old playing his first ten games in professional football.
With results going our way let's see if we can continue the trend and stay top of the division after the next round of fixtures, until next time my friends Zbogom.