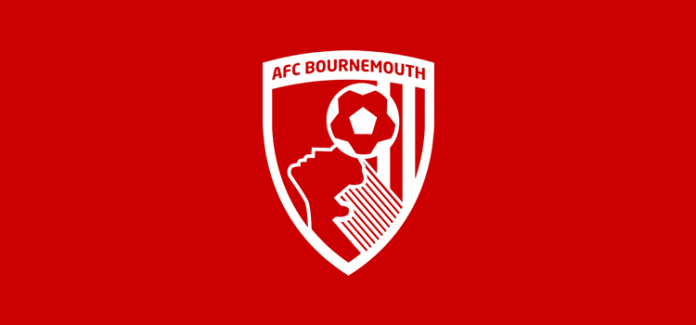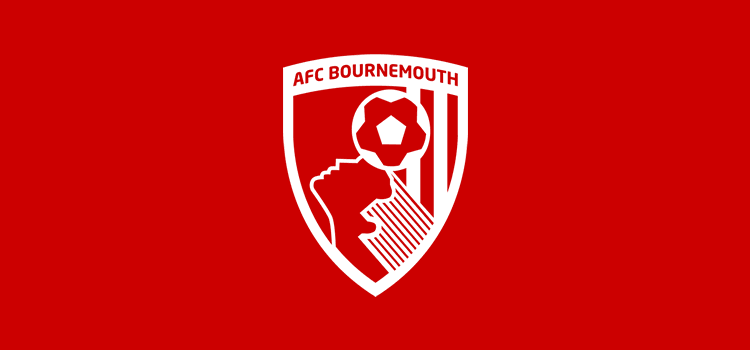 Remember those summers you had when you were 12? Those lazy June days, where the daylight seemed interminable and you spent all day in the park with your friends, your cheeks painted pink by the relentless sun as you wile away the hours playing countless games of headers and volleys, interspersed with an occasional trip to the shops to buy a Freddo and a bottle of Frijj. The sort of memory that recalls an utterly carefree time; a time before you had to worry about responsibilities or commitments or the future. And with that comes a special, distilled type of happiness, a crystalline sense of joy that allows you to bask in the warmth of nostalgia without the bitter edge of regret that so often tinges your recollection of the past…
That's how Bournemouth fans will remember the summer of 2017. My word, we have an absolute belter.
With that monstrous profit from last season burning a hole in our pockets, I go to the board with my hat in my hand: "Please sir, may I have some… everything?"
I ask for an improvement to our training facilities. They accept.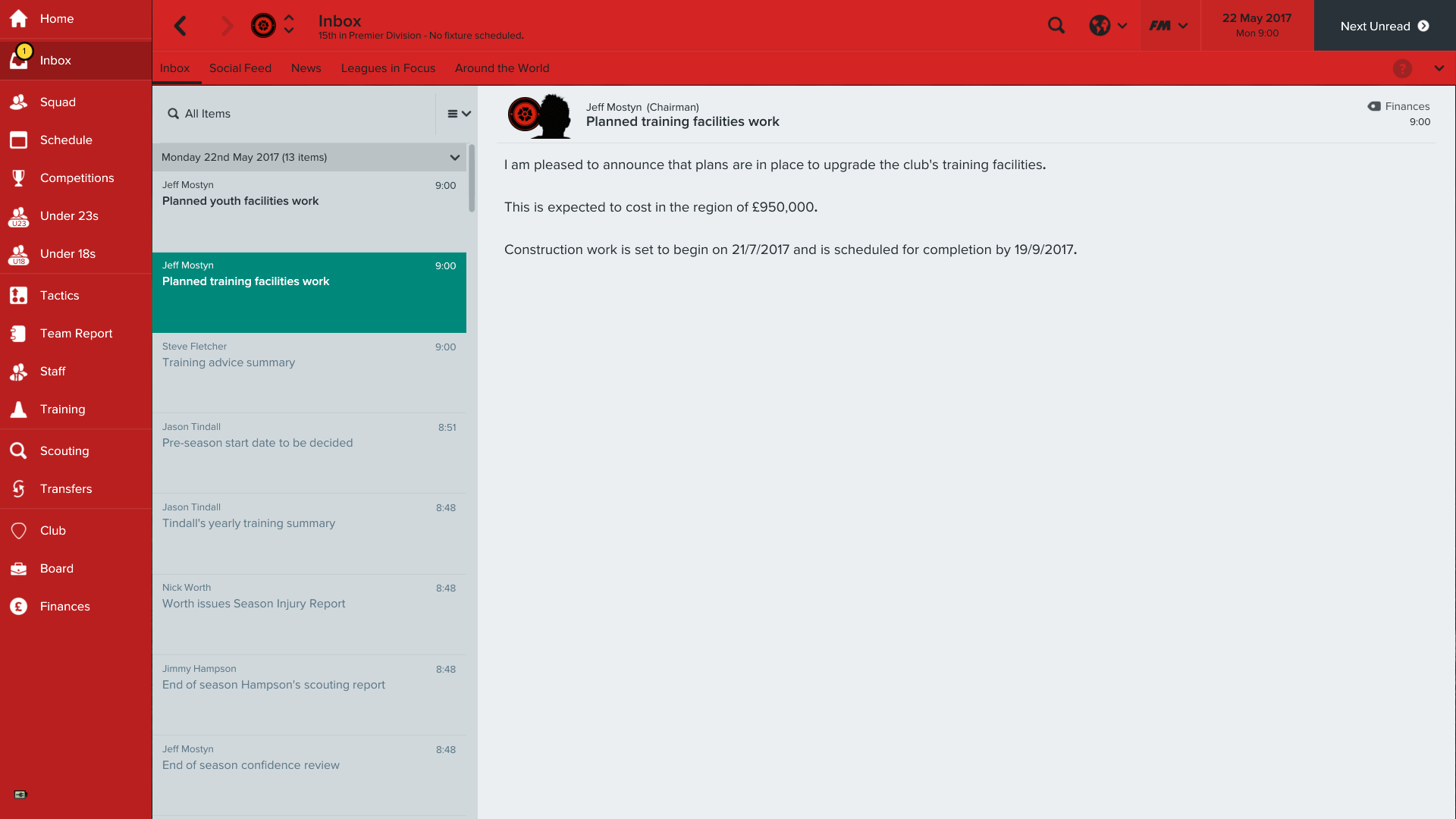 I ask for an improvement to our youth facilities. They accept.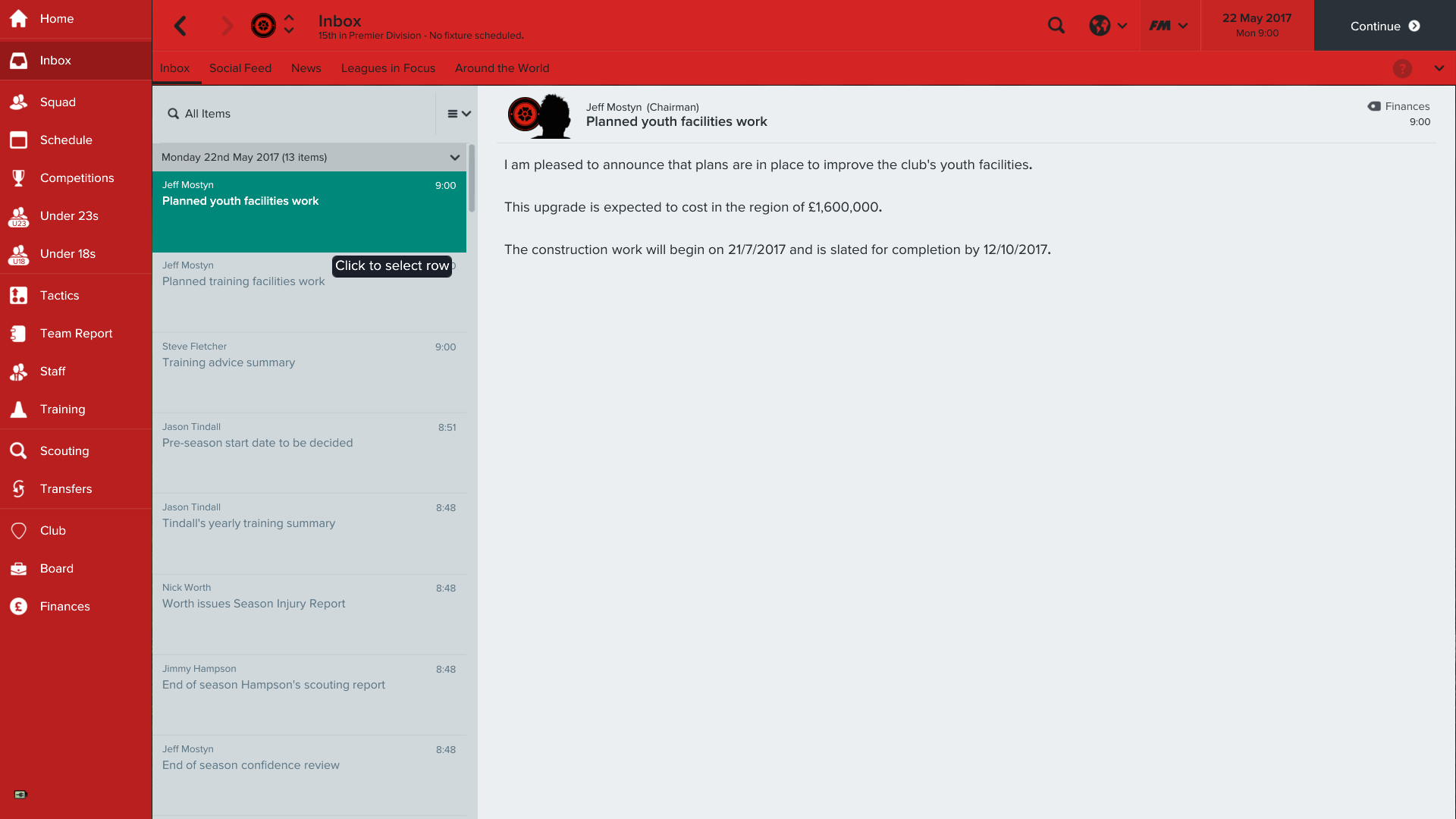 Now I'm emboldened. I'm really feeling myself. I go big: I ask them to build me a new stadium. And the board… accept? Holy shit. This is amazing, I didn't think it would go this well. This has genuinely never happened for me before: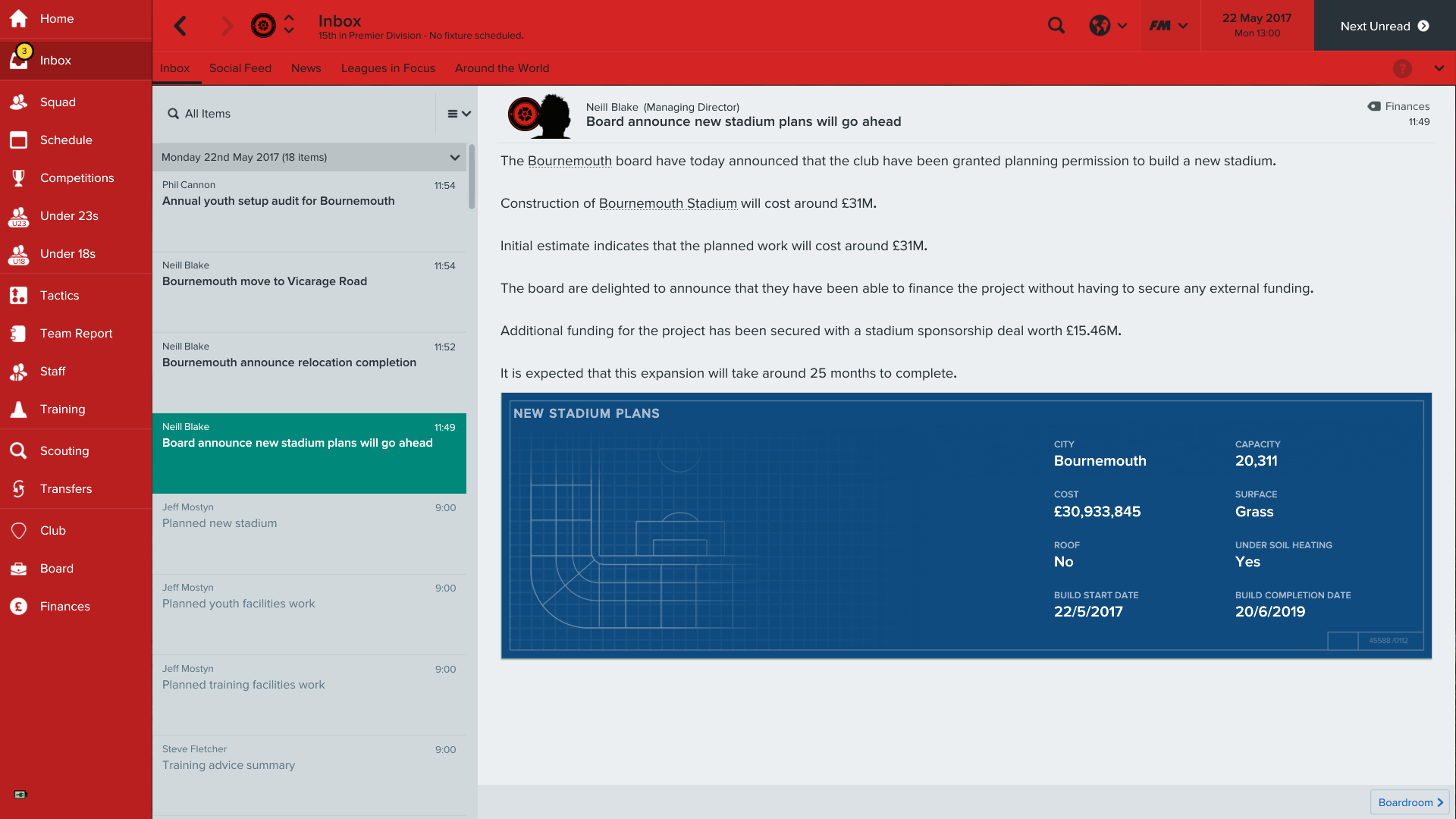 The unimaginatively named "Bournemouth Stadium" will have a capacity of 20,311 (almost double our existing capacity) and will take two years to build. It gets even better. Thanks to a sponsorship deal that covers nearly half of the total construction cost, the board have financed the stadium themselves. That means no loans and no hefty interest payments.
It's not all great news, though. As the eagle-eyed among you may have spotted in that second screencap, while Dean Court is being demolished and our new fortress is being erected, the club is relocating. To Watford. Hmm.
Only the two hours and 100+ miles in the car for every home game then. It's a bizarre choice for a groundshare; I didn't realise that relations with Southampton were that bad. Still, Vicarage Road is roughly the same size as our new ground so, theoretically, we could make more money from gate receipts than we were previously. Whether that will actually be the case, given the odyssey required for locals to get to home fixtures, remains to be seen. I doubt we can rely on a vast Cherry diaspora in Hertfordshire either.
Astonishingly, despite the vast outlay on bricks and mortar, the board arm me with a war chest so large it could house an elephant: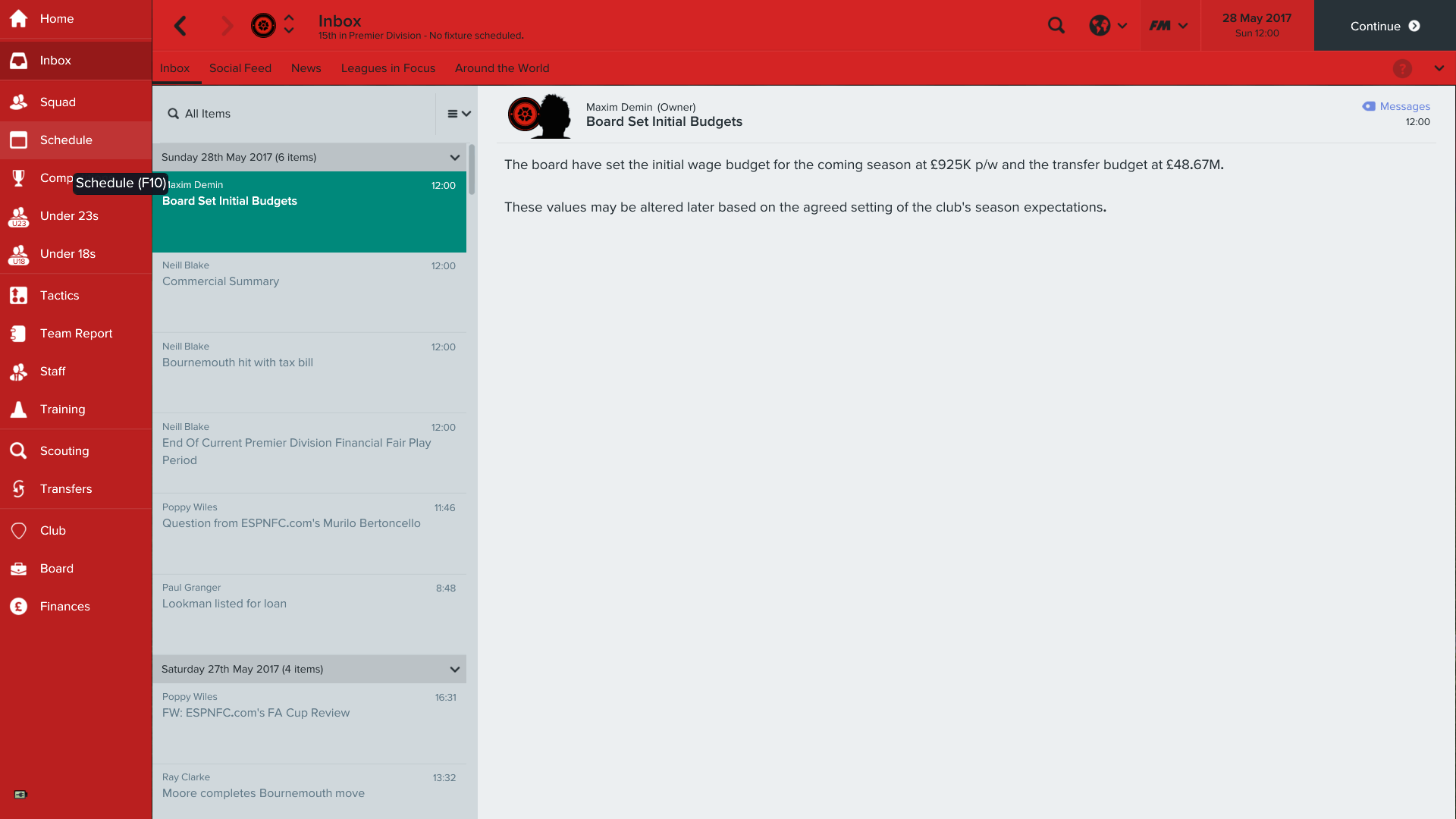 Needless to say, I spend every single penny. I dash around the transfer market like an over-caffeinated hummingbird, frantically bidding for players left, right and centre. It's somehow effective, as I managed to tie up all of my first choice targets before the window itself actually opens.
I'd sent my Director of Football, Ray Clarke, out to find me a holding midfielder to replace the creaking legs of Andrew Surman and Marc Wilson (and it was a good job I did, as Surman tore his ACL at the start of July, putting him out for 7 months). Clarke came back to me with Jordan Rossiter, who'd racked up a tidy 7.24 rating last season in the SPL. Clarke handled the negotiations and I part with £6.5 mil for a 20-year old who can play a variety of different CM/DM roles and has lots of room to grow.
Soon after, I manage to shift Marc Wilson on to Norwich, which is handy as I splurge £10 mil on the dot for long term target Nathaniel Chalobah. I'll mostly be using him as a BBM in my rejigged system (more on that in a bit), but he can cover in holding midfield which is a real bonus.
I'd been scouring the land to find a solution to the void in my life left by Jack Wilshere and I was really struggling. I'd had a look at Will Hughes but Derby wanted a scandalous amount of money for a player who was quite poor in the Championship last season. Instead, I decide that Lewis Cook is going to be my chief creative force from the centre of the park. I welcome him back into my bosom from his loan spell at Everton with open arms. Still, I'm a little short in that position and could use someone to cover for him and it is at this point that I do something rash.
Reader, I sign Ravel Morrison. English football's favourite problem child/forgotten man (delete as applicable) had spent the second half of last season on loan at Crystal Palace, where he put in some underwhelming performances, and found himself on the transfer list at Lazio. Obviously he represents a significant gamble; he's barely played for three seasons and his reputation for misbehaviour could easily be disruptive to my lovely harmonious squad. But he's got some great stats (that 20 Flair rating is tantalising), he's comparatively cheap and he's willing to be a rotation option. Plus, we all love a scoundrel and he's a superb player if we can maximise his potential. If I can turn his career around then I've just paid peanuts for a game changer.
On a similar theme, I finally snag Saido Berahino, who was demanding as ever and insisted on a release clause that I haggled up to ~£40 million, on a free transfer (although I have to pay £3mil compensation). Bournemouth is quickly developing into a rescue home for unwanted, unloved and troubled players.
Finally, on something of a whim and with a bag of loot jingling in my pocket, I decide to splash out on a goalkeeper. I had my reservations about Smithies at points last season and I decide that now's the time to strike. There's a dearth of real up-and-coming talent and I have enough in the bank, so it seems sensible to purchase an already established keeper. Sunderland and Stoke want almost identical amounts for Jack Butland and Jordan Pickford so I opt for Butland as he's marginally better statistically. Unfortunately that means I have to part with an eye-watering sum of £24.5 million upfront for him. Hopefully it'll prove to be money well spent.
However, due to a foolish financial miscalculation on my behalf, I have to delay the transfer by a week and desperately rush to sell some players because I don't have enough to complete the deal. Cue the purge of the wingers.
After their underperformance last year, I've decided against using wide players this season, so I swiftly offload Marc Pugh and Ryan Fraser to Wolves and Newcastle respectively for a combined total of around £7mil, enough to appease Stoke and enough for me to get Butland on board.
I'm exceedingly pleased with my business. Every player I signed was English, firmly in my target age range and has substantial sell on value, whereas the players I sold were aging, mostly non-English and largely on the periphery of the first team. I've improved my squad significantly, both in terms of depth and quality:
Of course, objectively speaking, I've paid way over the odds for players of this calibre, but the pool of English players of sufficient quality is even smaller than you might imagine. We're truly awful at producing decent players.
In terms of other departures, you can see that I had to say goodbye to loveable goalkeeping lager Panda Artur Boruc who is on his way to Metz, while I shipped Lewis Grabban off for a pittance to Brentford. For some reason the fans are annoyed by that particular deal, even though he failed to make a single start last season.
I get a decent loan fee for Lys Mousset but I practically have to beg someone to take Brad Smith away from us. Elsewhere, I can't seem to shift Adam Federici off the books, likely due to his £35k p/w wages, so he's running down the last year of his contract by hanging out with 19-year olds in the reserves. I also can't find a taker for Emerson Hyndman either, which is frustrating.
So due to the exodus of wingers and a desire to squeeze some more goals out of my strikers, I build a 3-5-2 system that will form my primary tactic (which I can easily rearrange into that defensive 3-4-3 I'd been using away from home) in order to accommodate my best players: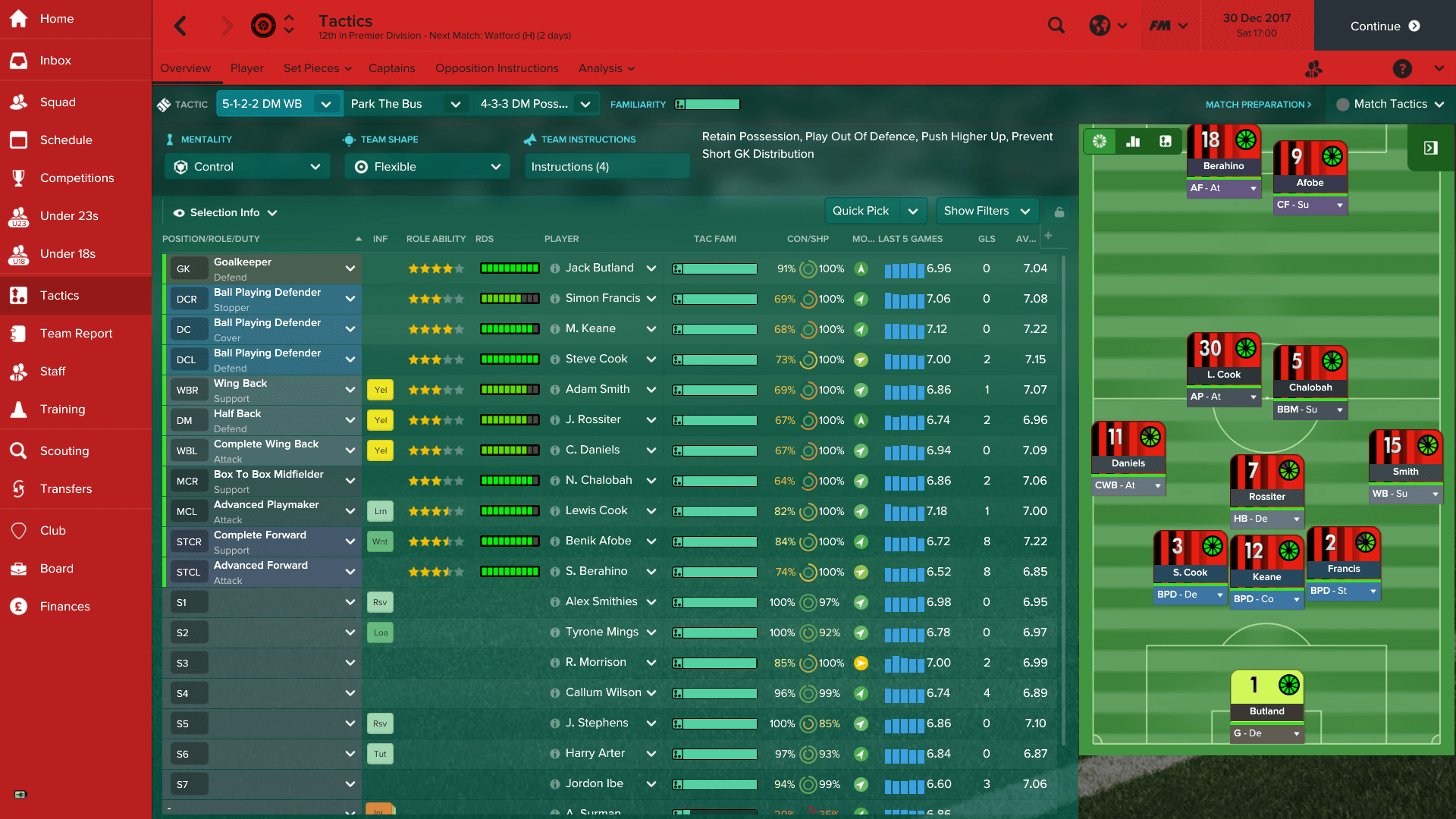 It's a quite a basic tactic underpinned by some simple thinking. The general idea behind the Half Back is that the disciplined positioning gives me four players (alongside the 3 CBs) to defend with, granting the Wing Backs license to push forward. Charlie Daniels and Adam Smith have good stats for Work Rate so they're well-suited for getting up and down the flanks. While the plan is to play centrally, utilising my midfielders' excellent passing skills to navigate congested central areas, encouraging the Wing Backs to press forward is an attempt to stretch opposition defences, hopefully giving my creative players more room to function.
Up top, I've got Afobe/ Wilson coming short to get involved with the build up and Berahino running in behind. The three of them are frighteningly quick, which enables me to transition up the pitch quickly and pose a real threat on the counter if needs be.
Of course, this leaves me in a bit of a bind with Jordon Ibe, with him fast resembling something of a square peg. There was an offer of £12 million on the table for him from West Ham over the summer, and I was briefly tempted to accept, but I decide to keep hold of him. He's still only 20, so I retrain him as an Advanced Forward to give me some more cover upfront. He's already surprisingly accomplished there (in terms of attributes, at least), so it's just a case of getting him some game time.
The new system works a treat (he says, hugely tempting fate) as I sweep aside everyone put in front of me in an unbeaten pre-season. The fixture list has been unkind, doling out a trip to White Hart Lane on the opening day, but I'm feeling heartened. New players, new tactics, new season. Let's see what it has in store.