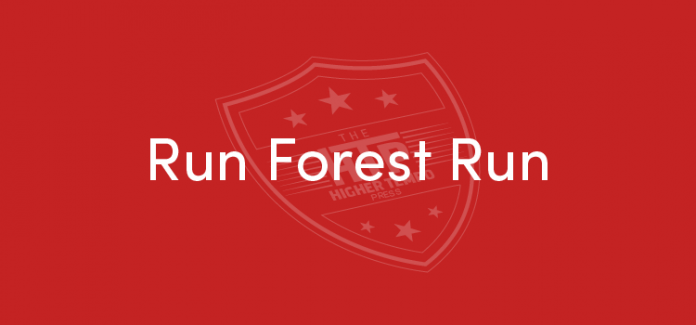 After seven matches in three weeks, the international break comes as a sweet release. I decide to use the time to devise a second tactic which I can use when the regular one does not work. I aim to make this one more direct as an alternative for the short passing system we have been using up to now. Behold:
I instruct the players to pass more directly and use a higher tempo. The plan is for the enganche and advanced forward to be the main goalscoring threats. When a winger crosses, there will be three players waiting: the enganche, the advanced forward and the other winger. I hope the higher tempo will enable us to unlock defensive sides and pick up more points. At the very least, it will allow us to use multiple approaches to winning games.
We have been given 15 days until our next match. What luxury! It gives some of the many injured players a chance to come back into the fold, an opportunity taken by Carayol, Mills, and Perquis. They will be ready for first team action when we travel to Aston Villa next. The international break gives us three more international players: Lam debuts for Finland, Assombalonga for DR Congo and Carayol for Gambia. The downside is that DR Congo qualified for the African Cup of Nations and the possibility has arisen that my main striker will be absent in January and February of the new year. But we'll cross that bridge when we get there.
The international break also allows the takeover saga to add another chapter. The Guardian reports that an unnamed investor is looking to buy a controlling stake in the club. But with the transfer window closed, any immediate possible financial injections will be irrelevant for the time being.
We start the game at Aston Villa with the regular tactic. With The Villans at 14th place I fully expect them to come at me and us passing circles around them. We can always switch to more direct if this turns out to not be true. Regarding team selection, Carayol makes his first start this season after getting injured during preseason. Assombalonga continues as advanced forward up front and Licá will get a shot at inside forward. This is pretty much my strongest set up, so I'm confident we can get a good result.
The cheering is cut short in the 24th min when Licá scores a seemingly excellent goal, only to be caught offside. A dubious decision by the linesman, who I immediately suspect of claret and blue sympahies. Besides that incident, we end the first half at a familiar 0-0 score. I'm afraid we will never be regarded as one of the great attacking sides of the 21st century. The deadlock is broken however in the 65th minute, when Assombalonga puts one past Aston Villa 'keeper Gollini with a shot from 16 meters with his weaker left foot. I immediately switch to counter, because I'm a coward like that. With 10 mins to go, I switch to defensive and give more players defensive roles. Aston Villa don't cause us any more problems and we take the three points home for the first time in 4 games.
The next match is against relegation candidates Rotherham United. They are 16th in the table and are therefore doing better than expected. They just come off a fine 2-0 win against Bristol City and have a very dangerous striker in Peter Odemwingie, who has scored 5 in 6 games. We have to watch that wily old forward. Since this is a midweek fixture, I'm going to rotate some players. Dumitru is coming on for Licá and Williams plays instead of Lansbury. We start in our regular tactic, but I have a feeling this is the type of game I can finally use my alternate formation.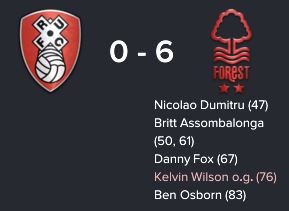 The game is very close in the first half, with good chances on both sides. Carayol hits the side netting and Rotherham United makes the woodwork rattle, twice. But after 45 mins, the 0-0 score is still on the scoreboard and I realise it's time to pull out the big guns. We go direct! And the effect is almost immediate. Kasami sends Assombalonga into the penalty area, he puts the ball wide to Dumitru and the Italian opens the score. We're 0-1 up! And within 4 minutes, we double the score. Carayol races down the right flank, crosses to Assombalonga and that beautiful man puts it past Rotherham 'keeper Camp. With 30 minutes left on the clock, Assombalonga strikes again. And it's Carayol who again provides the assist. They look like a match made in heaven. Six minutes later we're 0-4 up. Cohen crosses, Fox heads the ball and Camp stumbles. In the 77th min Kelvin Wilson helps his old club when he heads a cross by Assombalonga behind his own 'keeper. Five minutes later, we strike again. Lichaj plays the ball out wide to Osborn, who finds the net in the far corner. That's 0-6. We needed 5 games to score that many before this match. It's fair to say the new tactic is working okay. I'm very aroused.
As registered opportunist, I decide to promote the alternate tactic to the main tactic against Norwich City. The Canaries are one place and one point behind us and as a recent Premier League side, they could hurt us. Lansbury returns as enganche and Osborn is our left winger. And of course, Assombalonga remains in the side because he is just awesome. Time to get our third win in a row!
We don't start well. In fact, we start terrible. With barely 3 mins on the clock, Pritchard crosses into our area and Howson makes it 0-1. Not the start we had in mind. We respond by not responding. At all. Howson is getting a lot of room in his AM (C) position, so I employ our regular tactic. That way Kasami can keep him in line, a task I trust him to perform with the right amount of bloodlust. As we negate the threat posed by Norwich, we also negate our own threat. I take the horrible Lansbury off for Cash. Maybe some youthful enthousiasm will get this side moving. And it does. Within ten minutes after coming on, Cash sends Assombalonga into the penalty area and our striker does what he does best: score. We're tied. With ten minutes to play, Fox puts the City Ground into uproar when he puts a free kick behind Norwich 'keeper Ruddy. We can't hold on, however. In the 86th min, Olsson crosses for Jerome and he puts the ball behind Stojkovic. We're tied again and end the match that way, unfortunately.
Next up, we travel to Sheffield Wednesday after a WHOLE WEEK without a single match. It is eerily quiet without a match. I play some darts, teach some inner city children to believe in themselves and see a Marvel movie. Which one? Nobody cares. Sheff Wed are doing more than alright. They're 6th in the table with just one point behind us. This is going to be tight. According to my data analyst, Sheff Wed are vulnerable to a 4-2-3-1 Wide, which is exactly what my alternate tactic is all about. So let's go direct!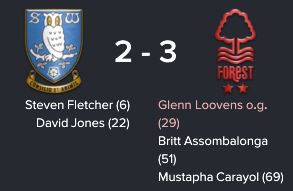 Again, we suffer the ignominy of an early goal. It's Steven Fletcher who is allowed to walk away from Mancienne and put the ball behind Stojkovic. I'm going to fire my data analyst. Things become worst when David Jones scores a direct free kick in the 22nd min. Did I say 'fire' just now? I'm now on kill mode. But we're not out of the game yet. Glenn Loovens redirects a Dumitru strike behind his own 'keeper to pull one back: 2-1. The second half is five minutes underway, when Assombalonga scores the equaliser from a tight angle. The Great Comeback is on! In the 69th min, Carayol dribbles to the middle and puts one behind Sheff Wed 'keeper Westwood with his weaker left foot: 2-3. Sheff Wed are dumbfounded by our resilience and aren't able to do anything about it. This is a great win.
Meanwhile, our squad is ravaged by Lord Bendtner's demand to play more. No, I'm kidding. Nobody cares, including me. I decide it's time for the great Dane to leave and transfer list him. We still have Vellios and Dumitru who can play as striker. Any club with £2,000,000 to spare can have him. To my utter surprise, there are enough clubs who want him. Udinese, Bologna, Feyenoord and Reading apparently love lazy forwards. I except everyone's offer, except Reading's since they are in the same division.
Three days after that great comeback against Sheff Wed, we play our last match of the month at the City Ground against Fulham. The Cottagers are 7th in the table and won their last match against Bristol City. We're lucky Tom Cairney, their best player, is out injured. It's nice to know the injury shoe can be on the other foot. The comeback has tired some players out, so I decide to rest Osborn and Dumitru.
The City Ground is full of yawns during the first half since nothing happens. Literally, nothing. I decide to get some sleep myself. Throwing small pebbles at Bendtner's house all night has been tiring. But I want the second half to be different. I've slept enough and want some excitement! I switch to 4-3-3 and bring Licá and Lansbury on for Traoré and Williams. After 58 minutes, Neeskens Kebano gets the first opportunity, but Stojkovic keeps the ball out of the goal. Some minutes after that, Assombalonga sends Lansbury deep and our playmaker wakes the City Ground up by opening the score. It's a fine goal by a man who has been disappointing as of late. And it's enough. Fulham doesn't create a chance and we end up victorious. A really nice way to end the month.
After the game, another striker on the transfer list gets a good offer. 21 year-old striker Lewis Walters receives an offer from National League South side Ebbsfleet. It's a little beneath his level to be honest, but who cares? Maybe he can pull a Vardy and make me look stupid. But I don't count on it and accept the offer.
Following a lot of speculation in the press earlier, the person behind the takeover bid finally reveals himself. He is none other than Lithuanian business man Roman Romanov, the son of former Heart of Midlothian owner Vladimir Romanov. His disgraceful reign in charge of Hearts only came to an end when he had to sell the club following the collapse of his business empire in 2014. I'm less than enthusiastic. He's certainly no Abramovich… With tearful eyes I remove the desktop wallpaper I made of Lionel Messi sporting the Nottm Forest kit from my computer.
And so, September comes to an end. It was a good month. We remained unbeaten in five games. We won four, drew one and scored thirteen goals. And with these sort of performances come great rewards. We're in second place, three points behind league leaders and arch rivals Derby County. However, the next three teams are only a point behind. It would be a magnificent feat to keep hold of this position.