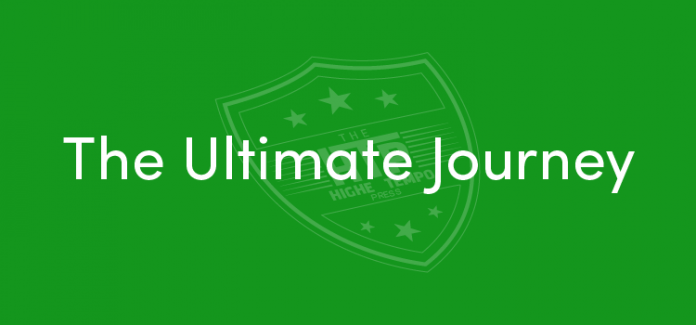 You're telling me that I have already won the league?
I got this comment in my recent post from Patricio Marcos who explained how I had already won the league in Australia twice. So to put this into context he spoke about the Hyundai Finals Series which is something like the playoff or final round which would determine who would win the league. Now taking this into consideration I have won the league twice as I have won the Finals Series twice once with Wellington and now with Melbourne. I was absolutely shocked, and I did research about it online which I probably should have done much earlier but I did get to know that yes the winner is determined as mentioned by Patricio by the person who wins the Finals Round.
What does this mean for the save? This would mean that we have already won the league twice which using my rules does qualify us for the next job which I can take in an Asian country. So I am absolutely excited for that and I can't wait to be looking for jobs there.
Asian Champions League
Though I was able to leave Melbourne on a high as I won my first continental trophy in the series and it was the big one as it was the Asian Champions League.
We went in the quarter-final draw expecting to just enjoy as taking our expectations into consideration we can make out that our board didn't expect us to challenge for it and even our team was the best in the competition.
In the quarter-final, we faced another team from the A-League and it was the mighty Sydney FC. I went into the match expecting nothing as we had been shocking in the league and as the game went on we were able to grab a 1-1 which was something I would take every day as we would be getting the all-important away goal. This made me confident going into the home leg and this confidence was shown by my players on the pitch as we ran away 2-1 victors and 3-2 on agg so this wasn't the biggest of wins but I feel as if 3-2 did flatter Sydney as they did nothing in the return leg.
Moving into the Semis we were given the big draw of our arch rivals Melbourne Victory and there was a post-draw press conference and I was asked which would be greater beating Victory to reach the final or winning the final and I would definitely take the first one there. The first match was in Melbourne obviously and to my surprise, we were more comfortable than what I was expecting but 2-0 it ended to us. Moving into the second leg I was in a very good position as we were 2-0 up and Victory not even having an away goal. Victory did throw the kitchen sink at us in the second leg as I pictured though they were only able to hint the back of the net once of their 17 attempts on target to our 4 in which we scored 2 so that was really satisfying not as a match but really irritating our opponents.
Onto the finals, it was a final but there is this weird thing in the Asian Champions League that there isn't a single match for the final though it is contested over two legs and this time we were up against probably the biggest team in Asia who are Al-Ahli. We were given the home leg which is something that I don't quite enjoy but even had to get on with it. So the getting in the match Al-Ahli scored in the first few moments and I starting thinking this could be the end of our fairytale run in the Asian Champions League but that wasn't it as we scored in the 52nd minute through Brad Nortan and I was demanding my players to get into the faces of those of Al-Ahli and it did pay off as we scored once again in the 80th minute through our striker Steven Reid. This did put us in a good position for the second leg where we could topple Al-Ahli to win our first Asian trophy. I was suited and ready for the second leg, I knew they had an away goal which would be really tricky and even if we loose and if our team shows character then I would take it. Though that wasn't to be as Steven Reid opened the scoring early on in the 14th minute and did give us an advantage, our attack was looking men icing as we did score another couple before the 90 to seal us our 2nd trophy at Melbourne and our first Champions League trophy it was a mammoth occasion as I couldn't believe myself.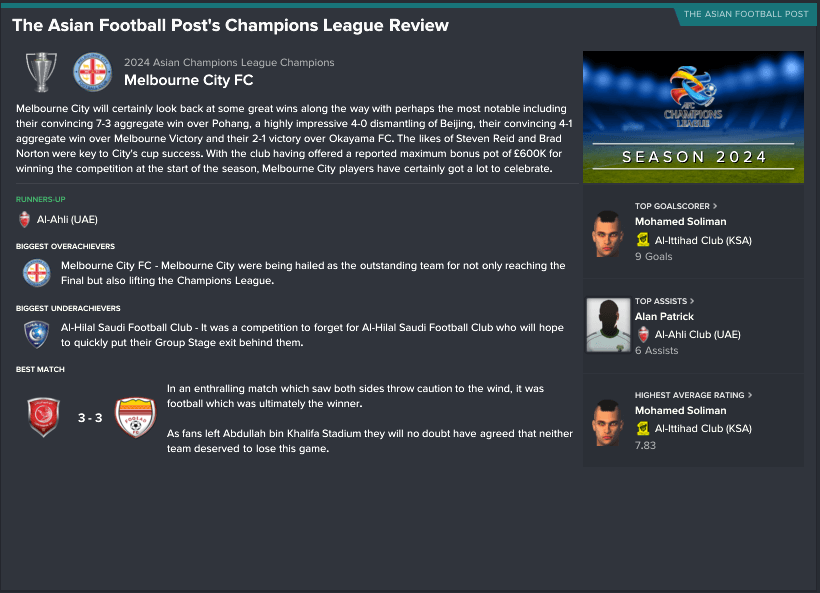 Follow My Blog
If you want to keep in touch with me and get to know the exclusives of the series then follow me on Twitter and Slack.