Well, that's it – the season is over. It's time to put away your Paddy Power app for the summer (other betting companies are available), kiss the missus goodbye, and get ready for another "ladz" holiday in Ayia Napa. Don't let the fact that you're 34 year old project manager with a receding hairline ruin your teenager's holiday. And pay no attention the fact that when you're wearing nothing but that pair of red swim shorts – which were too small for you when you bought them 6 years ago – your belly hangs down to your knees, and the "birds" are disgusted by you. Go – get out there and relive your youth!
… But before you go, let's have a quick look at what has happened since Christmas, shall we?
When we finished up last time, it was Christmas Day and Aberdeen were ahead of us at top of the table by 1 point, after a disappointing run of results in December. By the New Year, however, we were back on top – a 6-3 win at home to Ross County and a 0-0 draw at Ibrox were enough to put Celtic back on top of the league when the chimes sounded to usher in the new year – albeit only on goal difference.
As the new year began, we delved into the transfer market quickly. First in was Ryan Gauld on loan from Sporting CP, to give us some extra quality in the centre of the park. Matthew Pennington, the young Everton centre-back, was next in. With Bennett still injured, we needed an extra body, so he filled a gap there. We also turned our attention to next season, picking up three players on Bosman deals. They were Cameron Dawson; a 21-year old Goalkeeper from Sheffield Wednesday with reasonable potential – probably a cup game player, if I'm being honest, Conor McAleny; a left winger from Everton that I have high hopes for – in the short term, at least, and Ben Reeves; an attacking midfielder from MK Dons…
… Have you ever signed someone on a Bosman that you thought was amazing, but then as soon as you confirmed the deal, you realised he's actually bobbins? Well, that's what happened with Ben Reeves. What a mess.
On a more positive note, Jordan Williams was named Welsh Young Player of the Year – a thoroughly deserved award, based on his performances since signing for Celtic. Tom Rogic was also named in the Asian All-Star XI, somehow – he barely played for me, but I was pleased to see him increase his profile, so that we could hopefully move him on.
And we did start shifting players out. Eoghan O'Connell agreed to join Bristol City in the summer, which was a shame because I thought we could have made some decent money from him if anyone needed him there and then, but it wasn't a massive blow. We also released 3 more Irish players – Conor Hazard, Fiacre Kelleher and Brandon Payne – and sold Dorus de Vries and Kouassi Eboue for a grand total of £105k… Not exactly record-breaking figures, but it got their wages off the books, at least.
It was around this time that we offered goalkeeper John Ruddy and left back Charlie Taylor a contract, but they had no interest in signing – they wanted to keep their options open. But then Watford made a bid for Taylor, thus forcing our hand. Arsenal were sniffing around Kieran Tierney, so we couldn't afford to let a player with Taylor's quality pass us by. We matched their bid – £5m rising to £6m after 50 games. With only £2.2m available, we needed to be creative with our payment plans and shift some players on, or risk losing out on the Leeds full-back.
It seems that Rogic's raised profile did the trick, with Vitesse offering £1.6m for the unwanted midfielder. That money would be enough to cover the initial outlay for Taylor, so we were optimistic about getting the deal done. Then suddenly, I was also in demand. First, I was asked about the vacant Swansea job, before also being linked to the Everton job a few days later. I denied any interest in either – that pleased the board. Not enough for them to increase the transfer budget, mind…
Arsenal finally came in for Tierney, and although I wanted him to stay, it was clear that he wanted to speak to them. We negotiated a deal of £4.7m up front, with a 50% fee of any future sale. They also agreed to give us £150k per game for 10 games, £750k after 5 internationals and £750k after 10 league games, so the deal could potentially be worth a lot of money for us in the future.
Tom Rogic's work permit for the move to Vitesse failed, which meant that we had to delay the deal for Taylor for a week, while Tierney's deal was finalised. Once that deal was competed, and we wished Kieran all the best at his new club, we were able to sign Taylor as his replacement. Rogic's work permit appeal was finally accepted on deadline day and, with just a couple of hours left until the window slammed shut, we moved to bring in Dan Gosling from Bournemouth for £2.2m. With Scott Brown constantly injured or suspended, he would offer us something a little bit more solid in the middle of the park, to counterbalance the attacking threats of Armstrong, Henderson and Gauld. Not all at the same time, obviously.
Here's our transfer activity for January: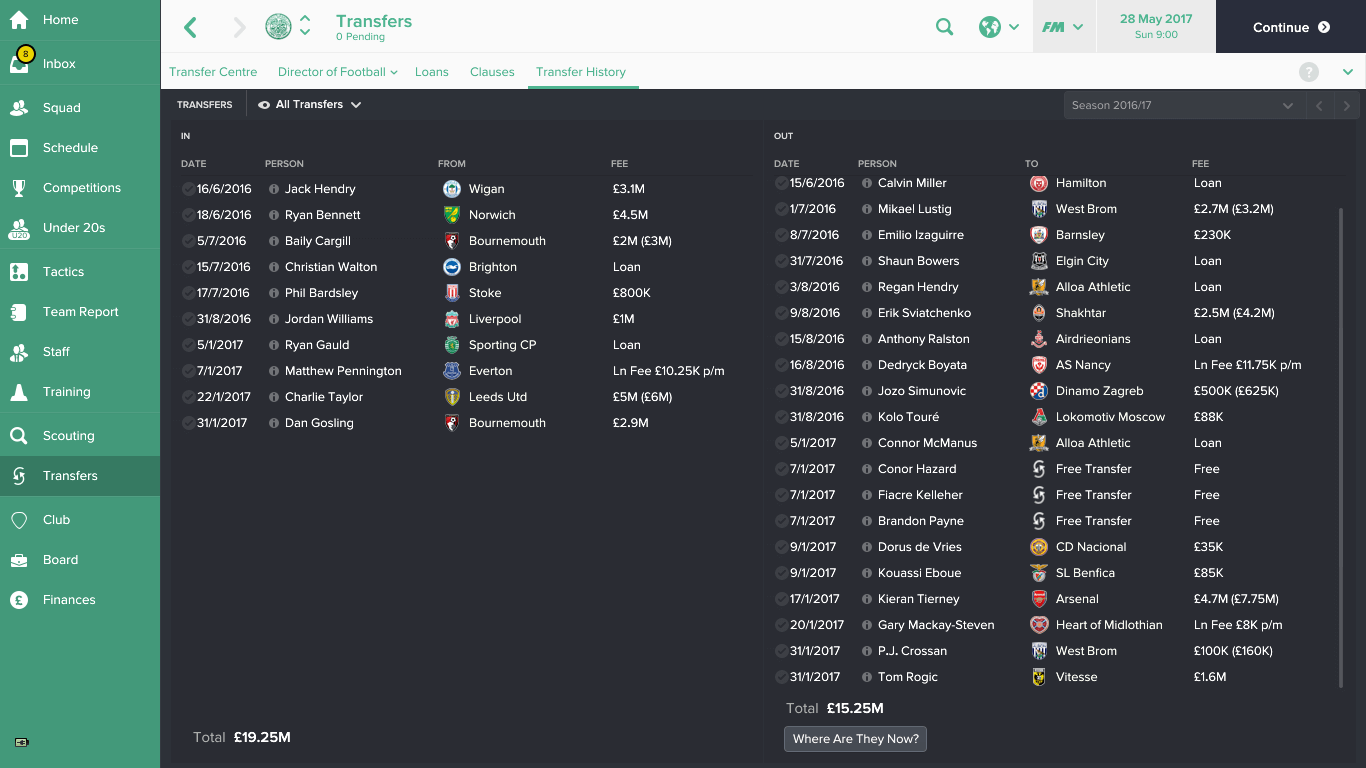 Meanwhile in the league, we came back from the winter break in fine form. A debut goal from Ryan Gauld was enough to beat Arbroath, before we dismantled Hearts 4-1. It was then time to host Aberdeen, but once again they beat us 2-0 to end a six-game unbeaten run and move back above us at the top of the SPL.
We bounced back from that result with a seven-game winning streak, scoring 18 goals and conceding just two. We also took in the class of 2017, but there wasn't a decent player between them. Not only that, but the Head of Youth Development obviously didn't get the memo about signing British players only – he insisted that the three young Irish lads he had brought through the ranks would be world-beaters… They were not.
Things were looking rosy in the league and the board finally agreed to one of my requests to improve the youth facilities, as well as setting up a link with a feeder club, but a draw at Dundee and defeat at Hearts was enough to put Aberdeen 4 points clear at the top of the league with just 8 games to go:
Things were getting desperate, so it was time for desperate measures. We switched to a 5-2-3 formation after the Hearts game, which seemed to catch the opposition off guard. Ryan Bennett returned from injury to score the winner against Partick Thistle in a 2-0 win, before we beat Kilmarnock (3-1) and Ross County (2-0) to give us momentum leading into a Scottish Cup Semi-Final with Falkirk.
We switched back to our usual 4-1-2-3 formation and a Moussa Dembélé hat-trick helped blast us into the final with a 4-1 win. From there, everything seemed to go to plan – we beat Aberdeen 3-2 at Pittodrie to move back up to the top of the league, avenged our defeat to Hearts with a 2-0 victory, then embarrassed Rangers manager Mauro Camoranesi with a 2-0 win at Ibrox, after the Italian had tried to get under our skin in the build up.
Needing just a point from our final two games of the season, we put 4 past Inverness, and it was party time at Celtic Park! That gave us a chance to rest our Cup Final squad for the final game at Dundee, which we drew 1-1. At the end of the season, the table looked like this: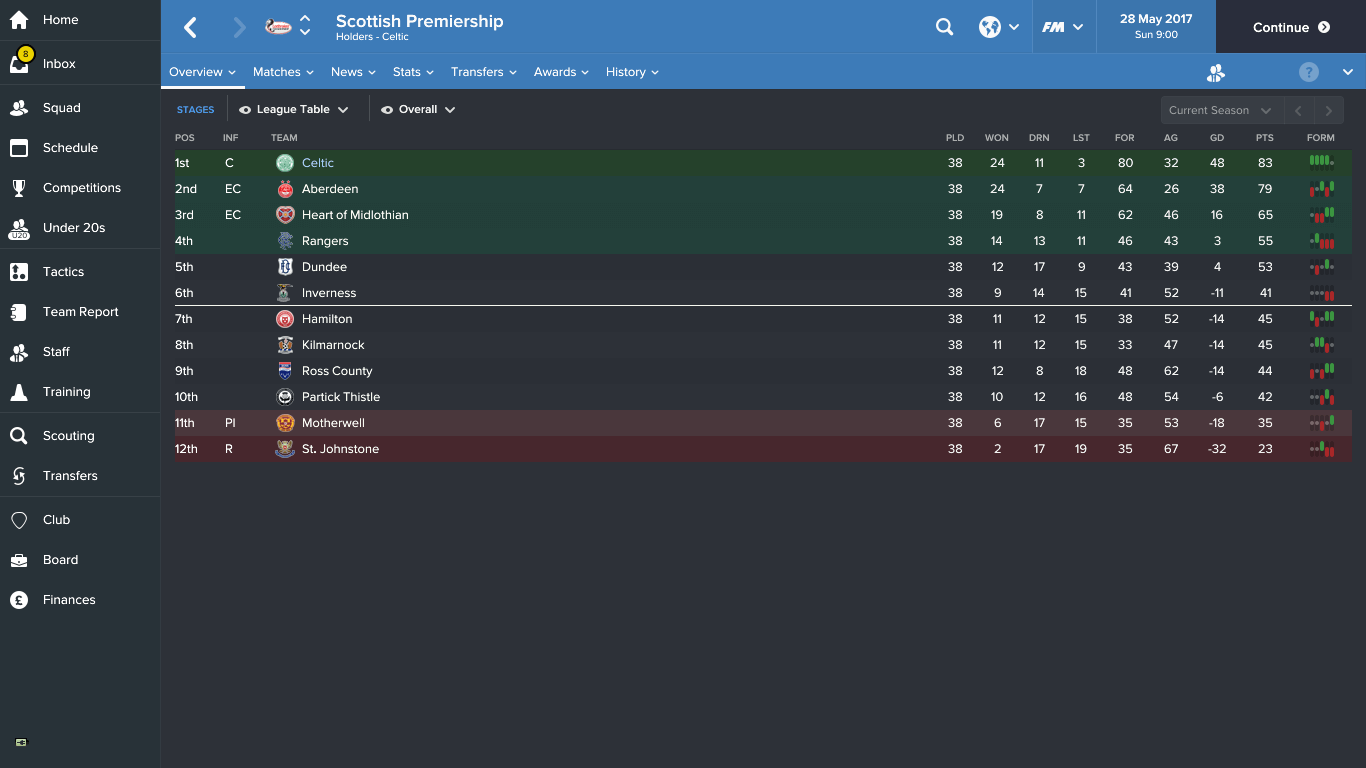 The sharp-eyed among you will have spotted that Rangers, in 4th place, are in an European spot. Which can only mean one thing….
Celtic 1 – 0 Aberdeen: Scottish Cup Final
In front of 51,866 fans, Celtic completed the domestic treble, thanks to a goal from loanee Ryan Gauld in the 69th minute. In truth, it could – and probably should – have been 3 or 4-0, but Joe Lewis in the Aberdeen goal kept his team in the game. Playing in our 5-2-3 formation, we dominated the game and Dan Gosling in particular could count himself unlucky not to have scored a hat-trick.
It was a great way to end a season that turned around in 2017. Our fantastic run in the league after Christmas made up for a disappointing first half of the season, and winning the cup to complete the treble was just icing on the cake. Sure, it's Celtic, so bragging about it would be like bragging about beating a deaf person at a game of "Name That Tune", but nevertheless – it's a decent achievement, and something to build on. By the end of the season, we only had 2 foreign players in the first-team squad – Dembélé and Gamboa – so the foundation is there. Domestically, there's no reason why we can't dominate with the squad we have, even without those two. Obviously, Dembélé would be the big miss, but Leigh Griffiths had a great season, so switching back to 1 up front wouldn't be a problem.
There were a number of players that stood out this season for their excellent performances. In defence, Jack Hendry was a rock – at 22 years of age, he has his entire career ahead of him, and this season saw him pick up his first three caps for Scotland. I have no doubt that he will be integral to that team for years to come as he continues to improve.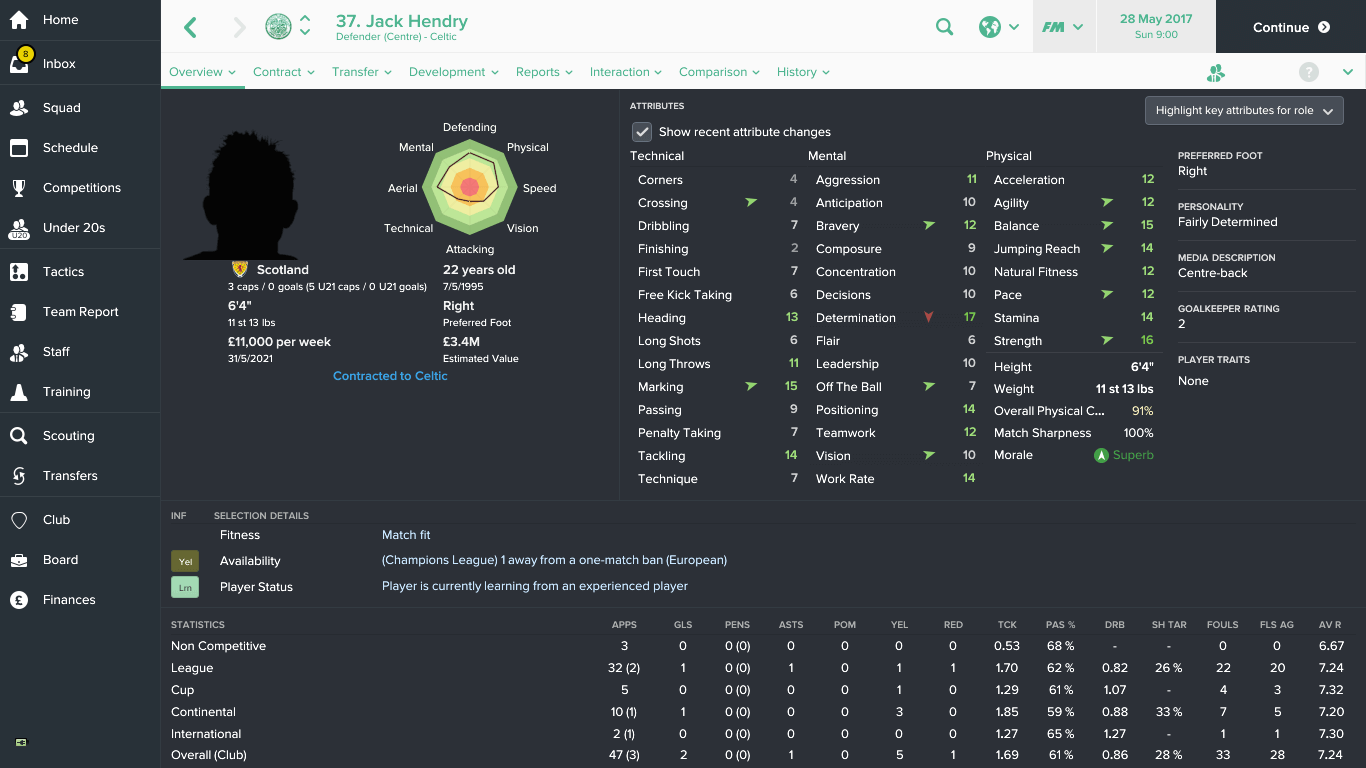 In midfield, the four players that rotated in centre midfield for the 2nd half of the season were all superb. Ryan Gauld made 18 appearances, scoring 5 goals and contributing 2 assists, with an average rating of 7.37 – I have already extended his loan spell for another season. Fellow January signing Dan Gosling was excellent as a box-to-box midfielder, contributing 4 goals and an assist in his 18 games.
Liam Henderson was rested a lot more in the 2nd half of the season, but still made 46 appearances, scoring and assisting 7 goals, which isn't too bad for his first season as a regular. He still has a long way to go to become the star I hope he can be, but it's a good start.
The undoubted star of the show in midfield, however, was Stuart Armstrong. A player that FM_Samo has a man-crush on, he quickly became my favourite player at Celtic. In 49 appearances, he scored 12 and assisted 12. Across the entire squad, he was probably the 3rd best player – just ahead of the excellent Leigh Griffiths, whom scored 21 and assisted 4 in 35 appearances, and just behind this man…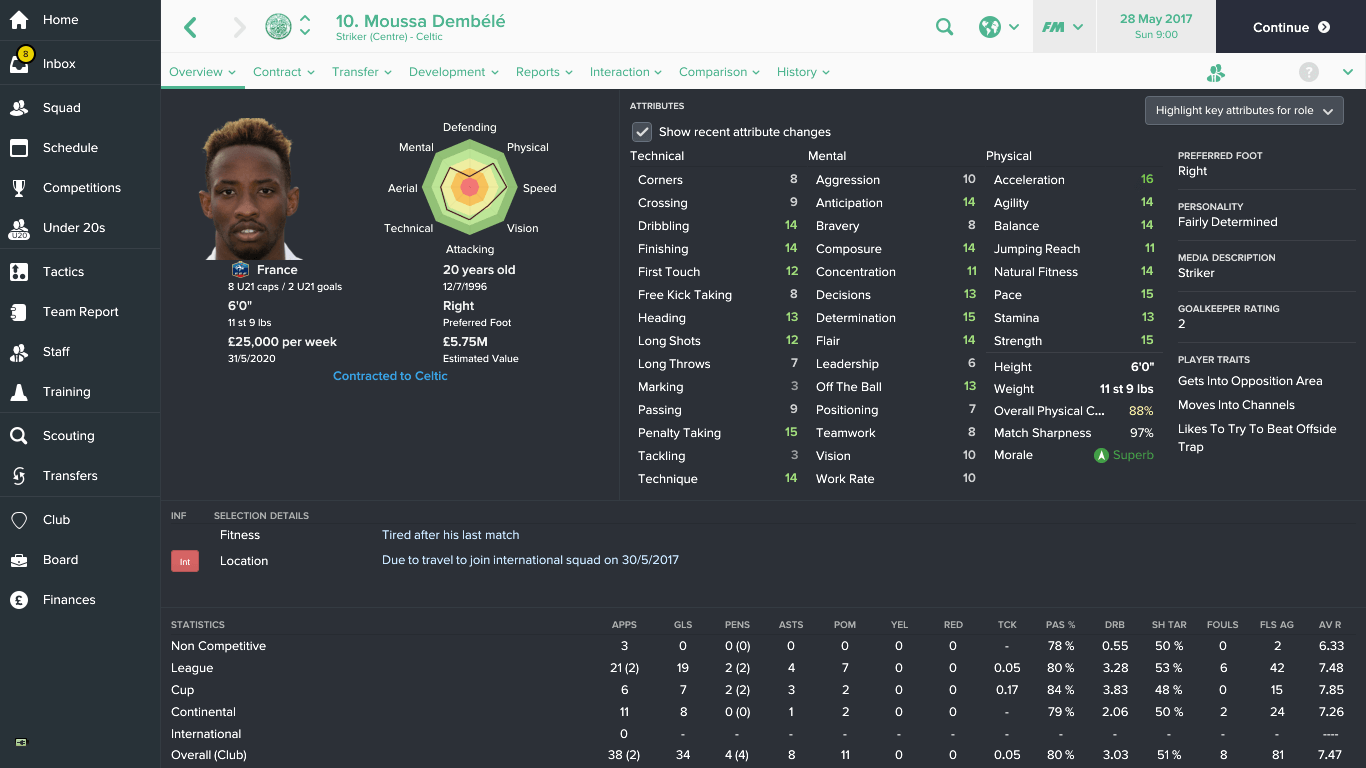 40 games, 34 goals, 8 assists. Moussa Dembélé is an incredible talent, and it's a shame that he will have to be sold. I'll be honest – if he gains British citizenship, I'll be tempted to break my own Brexit rules to keep him. We don't need him to dominate in Scotland, but we definitely need him to make a dent in Europe.
So, who takes the award for my Star of the Season? To beat Dembélé, it would need a player of immense quality, whom has been consistently brilliant all season.
There could only be one player that could contribute more than a 34-goal-a-season man: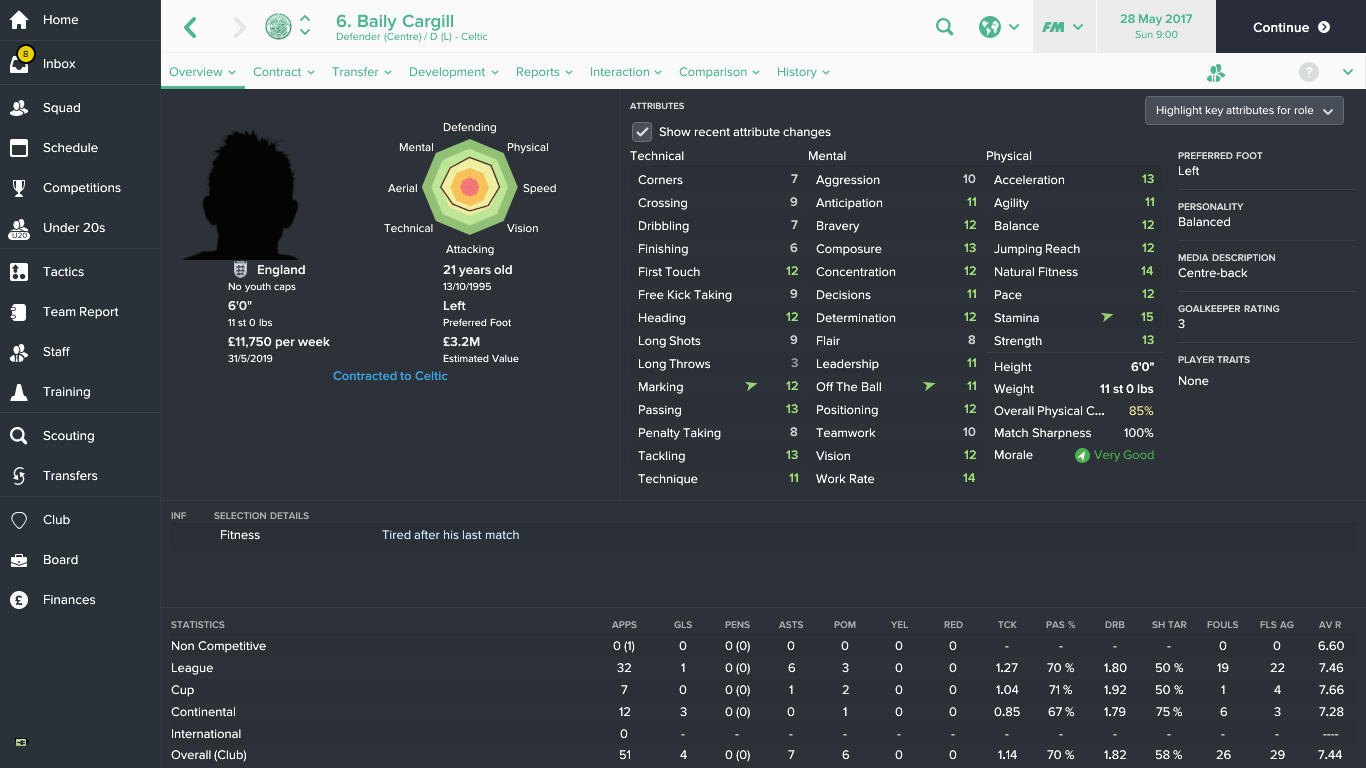 Yes, the tackles per game are low for a defender, but the majority of matches were played in the opposition's final third – with us on the ball. But when it mattered, he was there.
Where? There – making last-ditch tackles. There – scoring vital goals from set pieces. There – making key passes for others to score. Baily Cargill, for £2m, should be an absolute certainty for signing of the season – and indeed he was named the fans' signing of the season at the club's end of season awards. 21 years of age and absolutely superb already, this is the player I'm most excited about, moving forward. For the record, Dembélé pipped him to the Fans' Player of the Year award with 40% of the vote, in comparison to Cargill's 38%.
Cargill and Hendry in defence are going to be vital for us. To find British defenders better than those two, we would have to spend 3 years' worth of transfer budget, so keeping hold of them will be the biggest challenge we face in defence. We need a keeper in the summer, because only Craig Gordon averaged less than 7.00 for any of the regular first team squad, and we need a good right back to replace Gamboa, but I'm very happy with what we've got defensively for the future.
Next Season
Reinforcements are required. Goalkeeper, right back and striker – those are my three areas for improvement. We've only been given £1m to spend, so my incomings will depend entirely on what I can get for moving players on. On the plus side, there are a lot of valuable foreign players that have been on loan this season, whom could fetch a decent fee. The most obvious of these is Kristoffer Ajer, although as he's valued at £675k with 3 years left on his deal, I will probably look at keeping him on for another year to increase his value before moving him on.
Derdyck Boyata (£2.2m) is a more realistic option for generating funds. Part of an exciting generation of Belgian players, he could provide a reasonable boost to the coffers. Depending on how much we can get for him, his sale would be enough for a new keeper and a new right-back, but more realistically, we'll use the funds to replace Craig Gordon. I'd like to keep Gordon around, though – possibly as a coach. Which brings me to my final point, inspired by a fellow HTP writer…
Haynesar1's Heroes
Popular demand (also known as "someone posted a comment so I'll try to give them what they want") requires me to provide a little bit of information about something I skimmed over in the first episode – the backroom staff.
Chief Scout Tommy Miller has already announced his retirement at the end of the season, so I'll be on the lookout for someone to fill that role. It's a shame he's leaving, because he's identified a few players that would add quality to the squad – he was also the scout that told me to sign Cargill…
On the coaching side, Assistant Manager Chris Davies has done a good job with opposition instructions. His tactical knowledge is fantastic, and is also a 4-star coach for tactics. The best coach at the club currently is David Coles, without question. He has a great eye for talent, he's tactically astute and his determined personality is a credit to the club.
Sure, he's technically as skilled as Emile Heskey, but c'mon, give the guy a break…
We've also got a guy called Brian Wilson at the club as a director… We're a bit far from the beach, but he seems to be bringing Good Vibrations our way, and God Only Knows we need them… There will be Heroes and Villains along the way, but I'm sure there will also be be Fun, Fun, Fun, and we will ultimately Dance, Dance, Dance our way to European glory…
…
Yeah…
At the end of the season, I asked the board to increase the number of coaches allowed for the first team squad. They agreed to increase the capacity from 6 to 7, so I'm on the lookout for a new coach. Ideally, we need an attacking or shooting coach to increase the rating from 3½ star to 4 star coaching, but I wouldn't mind a general dogsbody that could cover a couple of specialties to ease the burden.
In truth, it doesn't really matter who we've got on the coaching team – it comes down to the players and the performances on the pitch. Next season, I expect nothing less than what we achieved this season – domestic treble and Champions League Group Stage is our benchmark, and I see no reason why we can't replicate or better that next season.
Brexit-watch remains as quiet and dull as Badgerwatch, or whatever that terrible TV special Liz Bonnin did a couple of years ago was called – I tuned in expecting an entirely different show… Hopefully there will be some movement on that front towards the end of next season, so that I have a firm deadline for shipping out the rest of the foreign players. I'll probably sell most of them during the upcoming window, but I'll keep hold of Dembélé as long as possible…
Until next time… don't jump in the bath with a toaster.