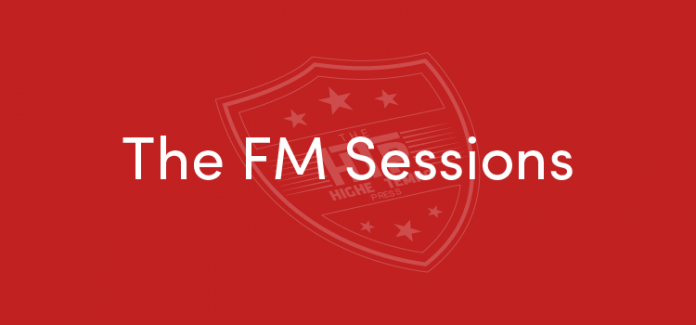 It's episode 3 of the new season and the atmosphere at Tannadice could not be better. We've just beaten our city rivals Dundee 4-0, and in the final days of the transfer window signed Hibernian striker Jason Cummings after he won our second poll of the series. Now, we move onto a match against another of our rivals – Aberdeen.
Although we are a side brimming with confidence I've got a few tricky selection decisions to make. To accommodate the £1.5 million-pound man Jason Cummings I've adjusted my tactics somewhat, switching to a flat 442 to start. Whether the players are able to shift to this formation quickly I'm not sure, but we can't drop Vaughan and I want Cummings starting from the off.
Phew. We didn't deserve that but Cummings has already shown his value in games like this, with a goal 5 minutes in the game. Although they were by far the better team, it took Niall McGinn until the 77th minute to equalize, and then we held on to take a point back South. A point is huge but if you look at the chances we gave up, it's even bigger. We might need to put more work into that 442 system on the training ground.
The arrival of Rangers brings back some bad memories for me. Back in the early days of our first season, we travelled to Ibrox and conceded 7 goals in a dismal Betfred Cup performance. Now's our chance to establish how far we've really come since August 2016, against a side who only finished 5th last season. Maybe they're not all I've cracked them up to be. We've switched back to our 4231 formation; Jason Cummings is a little jaded after his debut so Vaughan leads the line on his own.
Now that is a performance. Our strikers were clinical and tactically we dominated Rangers with the extra man in midfield. It'll be difficult for me to move away from the 4231 formation for good if we're able to put in displays like this. To put this result into perspective, Rangers have a budget 6 times the size of ours. And we've put 5 goals past them, jumping into 2nd in the process. What a difference 13 months can make in football.
We head into our Betfred Cup Quarter Final match against Hearts and I've taken a bit of a gamble. I know that adding another cup to our trophy cabinet would be brilliant, and I know we're only two games from the final. But I'm almost ready to make the league my priority straight away. So, we field a semi-rotated side, with youngsters Josh Donaldson and Jassem Sukar in the side.
To my surprise, the game goes very smoothly and we pick up a 2-0 win. We're in the semi-finals of a competition I've not exactly prioritised, and we'll be travelling to Hampden to face Aberdeen. The players are starting to believe we might have another trophy in our hands by the end of the year and I think their optimism is starting to brush off onto me too.
Our next two games are a couple of away ties at Hamilton and St Johnstone. If we hadn't been so impressive this season I'd be nervous about both ties, but even then, our wage budget is far superior to both clubs. They're the sort of games we should be winning if we want to challenge for a European spot, and win them we do (2-1 and 2-0 respectively). Jason Cummings is in the goals again on his second start, and he'll be itching to bag another against his old side's fiercest rivals as Hearts travel to Tannadice.
We might not have been the better team stats wise, but it's another welcome 3 points as we cement our place 2nd in the league. Somehow, we've created a 7-point gap between ourselves and 3rd placed Rangers. This team keep on surprising me and the sky is certainly the limit for this bunch. Jason Cummings might not have scored but his assist for Lewis Vaughan was exquisite, he's lived up to his price tag thus far.
Our final match of the week is the aforementioned Cup Semi-Final against Aberdeen. With a week's rest, I'm able to field my strongest side (bar Jason Cummings and Lewis Vaughan annoyingly, who have both picked up niggling injuries) and finally give this competition the respect it deserves. Surprisingly the SFA have decided this game should be played on a Tuesday night… In Glasgow. Employers in Aberdeen or Dundee must be as furious as the fans. Anyway, let's hope we can put on a display which merits fans taking a half day off work.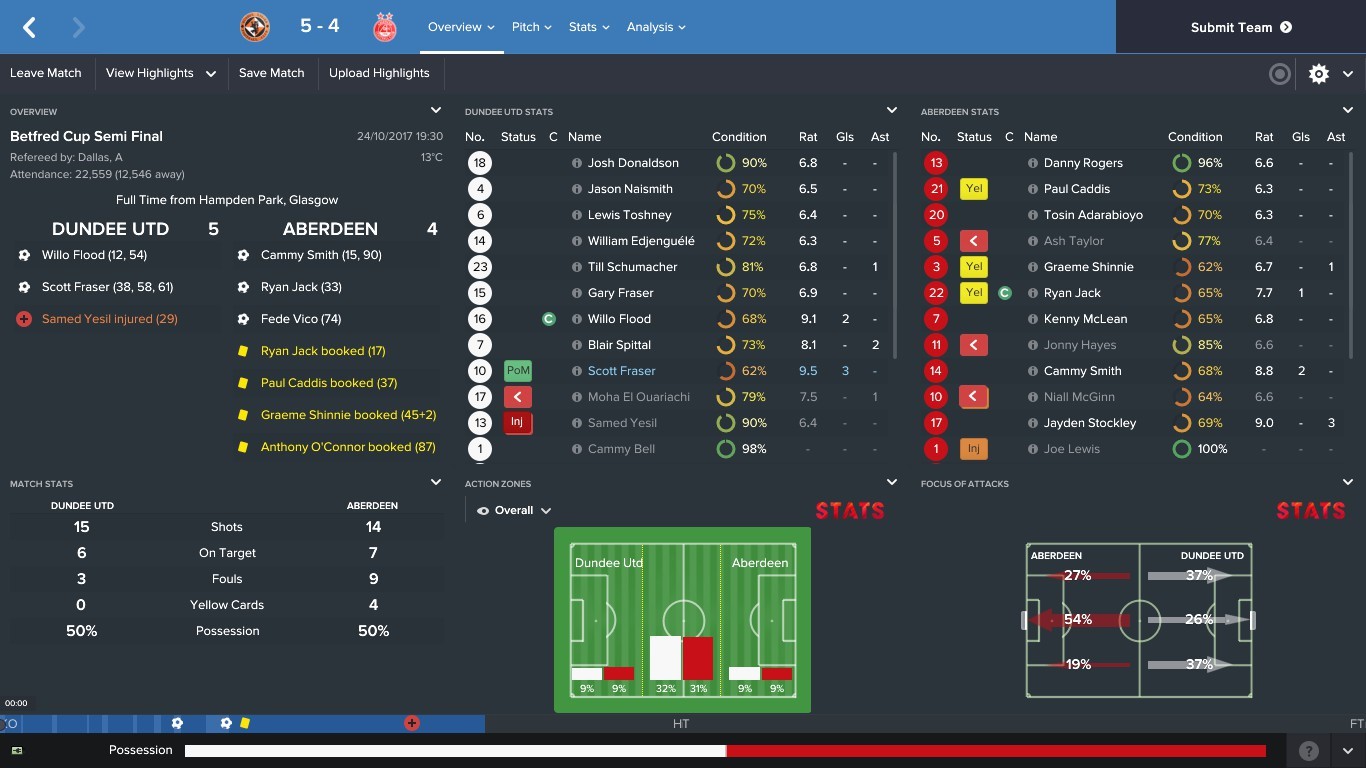 Well, we've certainly given them a night's entertainment that's for sure. I'll be honest, I've literally no idea what happened in this 90 minutes, but I'll do my best to do the story justice. Samed Yesil, who's somewhat been a forgotten man this season, started as our lone striker but couldn't last half an hour. My initial decision was to bring on Liam Polworth, who would play attacking midfield in what could be described as a 4240 formation. 5 minutes into this tactical blunder, Aberdeen had carved two great chances scoring one of them. Something had to change.
I'll take this moment to apologise now to Liam Polworth publicly, because it was my fault that I hooked him 4 minutes after he came on. Stewart Murdoch arrived ready to steady the ship, as we shifted to a 41230 formation. And somehow it worked. 4 goals in 7 minutes, three of them Scott Fraser the attacking midfielder I kept on, was enough to put the game beyond doubt. Wasn't it? Aberdeen forced the game, pushing us deeper and deeper until the dying seconds – but it was enough. We'd done it, another visit to Hampden (hopefully not on a Tuesday) with a chance to lift silverware in consecutive seasons. I say a chance, but our opponents in this final are Celtic obviously, so let's call it half a chance.