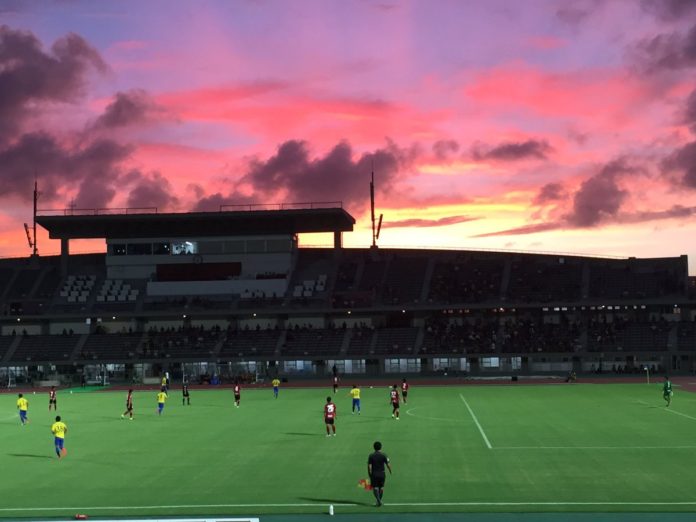 OSU!
I must apologise for the lack of recent updates – I just haven't had a chance to pen my thoughts on the 2019 season for FC Ryukyu until now. I've had a quick read back over where we got up to and I reckon the best thing to do is to walk you through the complete season. Sorry about that.
Let's talk about the elephant in the room first of all. Ren.
We went into the first game of the season with him still in tow and we were fecking incredible. We won 4-0, played them off the park and Ren was instrumental. With no team showing an interest in him and him not showing any real desire to leave the club despite being on a month-to-month deal I thought we might have got away with it. Fat chance. After his MOM performance J1 side Omiya Ardija offered us €125k. Not wanting to risk him walking away for nothing if I upset him by turning it down, I agreed to sell Ren. Still, if nothing else we had raised about €300k in player sales so every cloud.
Early hopes of a promotion push after the 4-0 head start soon disappeared.

Yeah, ouch. It looked like we were going to be in a relegation battle. We could not settle into a rhythm, goals were hard to come by and I was losing faith in my young squad. But things changed, and we put together a run of four wins in the next unbeaten six matches, conceding only once. It's on! Except it wasn't on at all. Ren's replacement, Otsuka, had just started scoring and then got injured. Cue one draw in eight games with seven defeats and a single goal. I'll tell you what is on, relegation.
We had reached a critical point in my time on the Island. I knew that if I stuck to the #ArgSt17 through this period we were going down. I didn't know what to do, who to pick or who to even trust. We've all been there, suddenly the journey takes you on to a very bumpy bit of the road and you think about calling it a day and going home. I nearly did. Following two nights of going to bed very, very grumpy I devised a strategy that I hoped would just about turn the tide.
One of my fundamental FM rules is that I find it easier to score a goal than defend a goal, so in times of trouble I tend to attack my way out of it. I quickly knocked up a 4141 overload tactic and preyed. Naturally, good vibrations alone was not going to be enough. The window was open and I had players that were going to leave in the winter that I could probably move on now. I had an overnight fire sale. Out went my three first choice central defenders, all of which were starting to get itchy feet. Club captain Ohashi went to Tokyo Verdy for €61k, Tani dropped down to J3 for €30k and, somehow, I talked fellow strugglers Kyoto into giving me €100k for Shiyu. I also finally flogged Kodera for €20k and decided to release 15 players that were never going to play for the first team for around €30k. I felt it was good business.
In came some kids from J1 clubs on loan to fill the gaps at the back and we went again, trying to attack our way out of trouble. The electric shock therapy seemed to work, as we won four out of our next eight fixtures, before embarking on a run of three draws and a loss, albeit against stronger sides. I felt the overload approach had had its maximum impact and we reverted back to a more technical version of the #ArgSt17. And boy did we kick on!
It's worth remembering that at the start of the season I targeted a top ten finish. For most of the season I was looking below, rather than up. Incredibly, our win against Fukushima on the last day meant the table looked like this.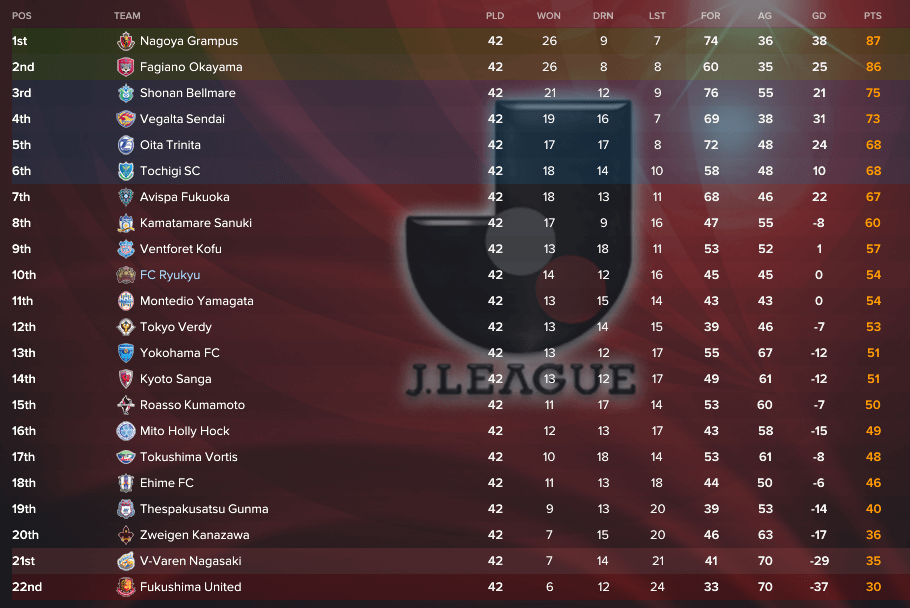 And, we took points off each of the boys up the top over the course of the season. It turned out alright, all in all. God knows how.
But, as you know, I am a realistic man. I know all I have done is paper over some cracks this season. It looks like we have made progress, but I am not convinced. There needs to be come full on recruitment over the winter otherwise there is no way on earth we will match that league finish.
Next season is the season I want to push on, so I have accepted that I might have to invest a little in transfers and wages. One reason why I feel a little more free and easy with the club funds is the revelation that the Emperor's Cup is a competition where we can make money. We lost 2-0 away to Gamba Osaka in the 2nd round. So what? Well, we played in front of 30,000 people and made about €350k in gate receipts. That changes everything. So, I will make a calculated gamble for next season – we will invest a little in better players and then hope we get a money spinning cup draw. Risky, but worth it.
The shopping list is pretty simple. We need a right back, a centre back, a defensive midfielder and a blow your mind attacking midfielder. A mere four additions providing nobody leaves over the winter. On top of that, if I stumble across a take my breath away central midfielder then I would be interested as Morita is frustratingly inconsistent in that role.
The next few weeks are massive to FC Ryukyu. We leave our 25,000 Okinawa Sports Stadium and move into our new 3,000 stadium which, as of yet, I know little about. We have to get our recruitment and retention right and commit to our identity for the next season. Chopping and changing tactic was necessary this season, but not something I plan to make a habit of.
I will be using a watered down version of StS to recruit my new players, so in the next update I will talk a little of that and set the scene for the 2020 season which I hope will be a vision of perfection.
OSU! And, Sayonara!