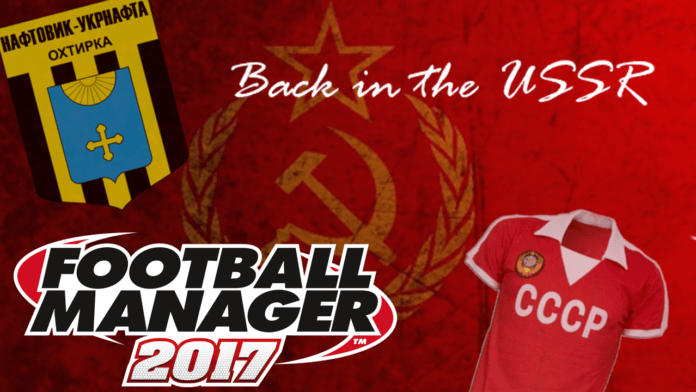 These days, they reckon you spend more time with you colleagues than you do with your own family. It's a bizarre idea isn't it? To be forced, every day, to interact, compromise and co-operate with complete strangers. It is inevitable then that you might, from time to time, not see eye to eye on certain matters.
I've found advice all over the internet on how to deal with disagreements: Think carefully before saying something you may regret, try to see it from the other person's point of view, counting to ten, keeping calm.
These are all well and good and very effective, but I swear if my assistant strolls into my office again and says this about my Yuriy, there are few things in the world that would stop me from leaping over the desk and beating him to death with his own clipboard.
Next, we face Arsenal-Keiv who are currently languishing in 14th place. On average they concede 1.5 goals per game whilst only scoring one. Shame we can't score half a goal. I reckon we'd be good at that. The team remains the same and are well rested from a 13 day break in the schedule.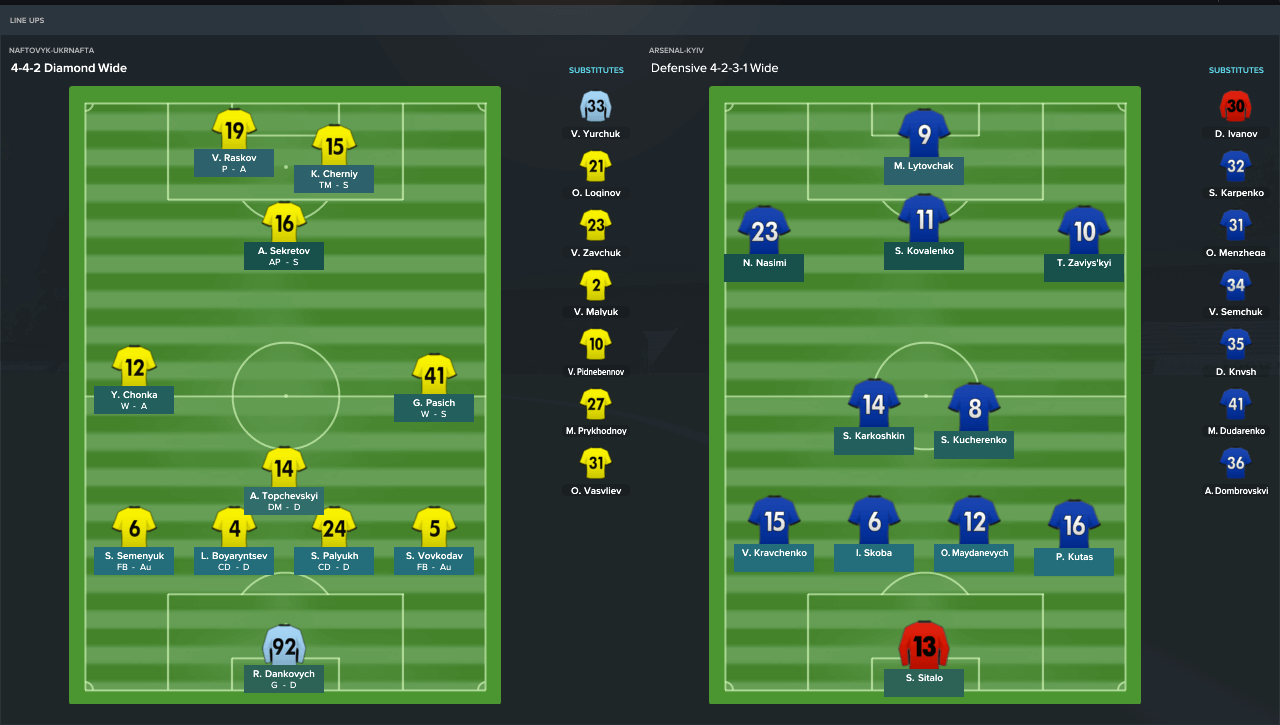 Christ alive. The performance was so frustrating I had to have a lie down before I could talk about it.
We're behind after 14 minutes, a half cleared a corner leads to a teasing cross and Navid Nasimi fires home. One thing I'm beginning to realise is that we're pretty bloody terrible at defending corners.
It takes them 20 minutes before they double their lead. A long aimless punt down field completely bamboozles my defenders, who act like they've never seen this white sphere before and so steer clear of it. Marjan Lytovchak, who is seemingly far more familiar with the concept of football, races onto it and slides it past my keeper. I'm pretty despondent by now but my spirits are briefly lifted just two minutes later as we capitlise on a goalmouth scramble and Semenyuk is on hand to prod the ball home from close range.
At half time I have to take off loanee Sergiy Palyukh. He looks so incredibly nervous that I worry his heart might give out if anyone so much as looks in his general direction. He's sent for a lie down and a cuddle, the boys are sent out to salvage the game.
It only takes ten minutes before we're back on level terms. A low cross from the right is controlled and caressed home by Semenyuk who, in this game, has scored his first two goals for the club. The crowd is pumped, the boys have done brilliantly to fight back and the momentum is swinging in our favour. I feel there's only one team that can win this now…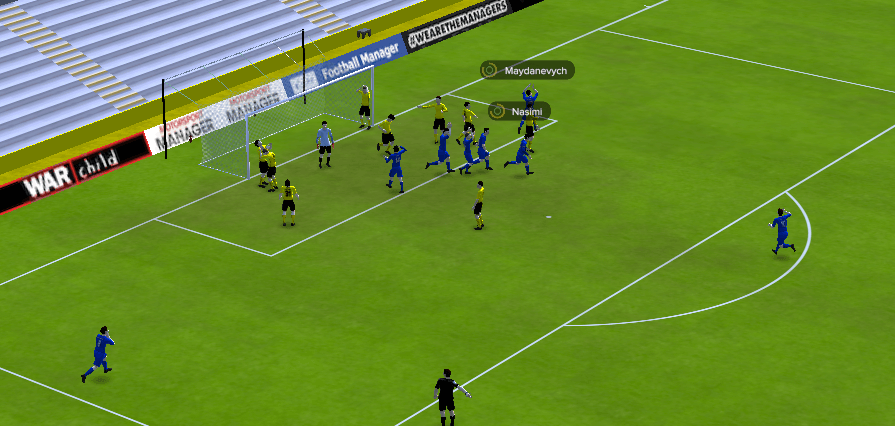 Bugger it.
Another sodding corner. We've got to do something about this.
To make matters worse, the violent maniac, Sergiy Vovkodav picks up his second red card of the season, so any hope of a comeback disappears with him as he trudges off the field.
We've got one week before our next game against Illichivets Mariupol and you won't be surprised to hear that I force every member of the first team squad to train everyday on one thing: defending bloody set pieces. Throughout the week, there are tears, a lot of swearing and some rather ungentlemanly conduct but eventually I calm down and training gets underway.
Illichivets were relegated from the premier division last year and a quick look at their players makes me feel a little unwell. They're good. Really good. It's a mystery why they're below us in the league but nevertheless, I'm expecting a tough game.
I opt for my trusty 4-3-2-1 formation with a DMC in the hope that I can keep things tight and maybe snatch a late winner that we absolutely don't deserve. That, my friends, is what we call a solid game plan.
Well, half the game plan worked at least. We kept the game so tight that almost nothing happens. We're able to create a couple of half chances but nothing that threatened their keeper. I wait until the 80th minute and then switch to the 4-4-2 diamond formation, hoping it'll generate a goal. We threaten a bit more but fail to make the breakthrough.
There are some positives to take from this bilge though. We didn't concede from any corner and they had seven of them…apparently. We did look threatening when we went with two up front and to be fair, it was my intention to stink the place up, so at least my players were listening.
Cherkaskyi Dnipro are our next opponents and I'm taking no chances. We keep our ultra tight formation and I'll see how it goes. If we get another point, that'll be fine; I'm turning into the Allardyce of the Ukraine.
Maxym Prykhodnoy comes in to lead the line, mainly just to get him away from our scout who is still rather infatuated with him; following him around with his hands…well I won't go into specifics. Let's just say he's safer on the pitch.
Well, our 'ultra tight' formation may be utter bollocks. This was an absolute barnstormer. We start brilliantly, scoring two inside the first 20 minutes. The first, on 13 minutes, was nice to watch; Chonka scampered down the left flank and whipped a ball into Prykhodnoy who made no mistake. Three minutes later and we play some liquid football: Chonka again has the ball at his feet, his reverse pass to the overlapping Semenyuk is glorious and it's Prykhodnoy again who gets on the end of it with a rifled shot into the top corner. He must have taken me seriously when I said 'play well or I'll lock you in room with the Chief Scout and play Barry White all evening'.
Anyway, we're two nil up at the break and I'm feeling a little light headed.
The second half proves to be less of a walk in the park, more like a clumsy shuffle in the middle of the night over upturned plugs and Lego pieces. That painful.
It takes 10 minutes for Cherkaskyi to get themselves back into the game. Our defence seems to have a collective temporary existential crisis and just stood staring vaguely into the middle distance as Olexandr Batalskyi arrived into the box in an obscene amount of space to tap in. We responded immediately with more great interplay. Chonka picked up his second assist of the day, feeding Sekretov who drilled one from the edge of the box.
Then everything went bonkers. Chonka secured his man of the match award by scoring a tap in at the near post. Cherkaskyi replied immediately with a ridiculous cross-come-shot which evaded my 'keeper. Six minutes later we went 5-2 up with a great header from Palyukh. We then let Yuriy Bushman score twice, in the 76th and 91st minute to avoid making anything look easy.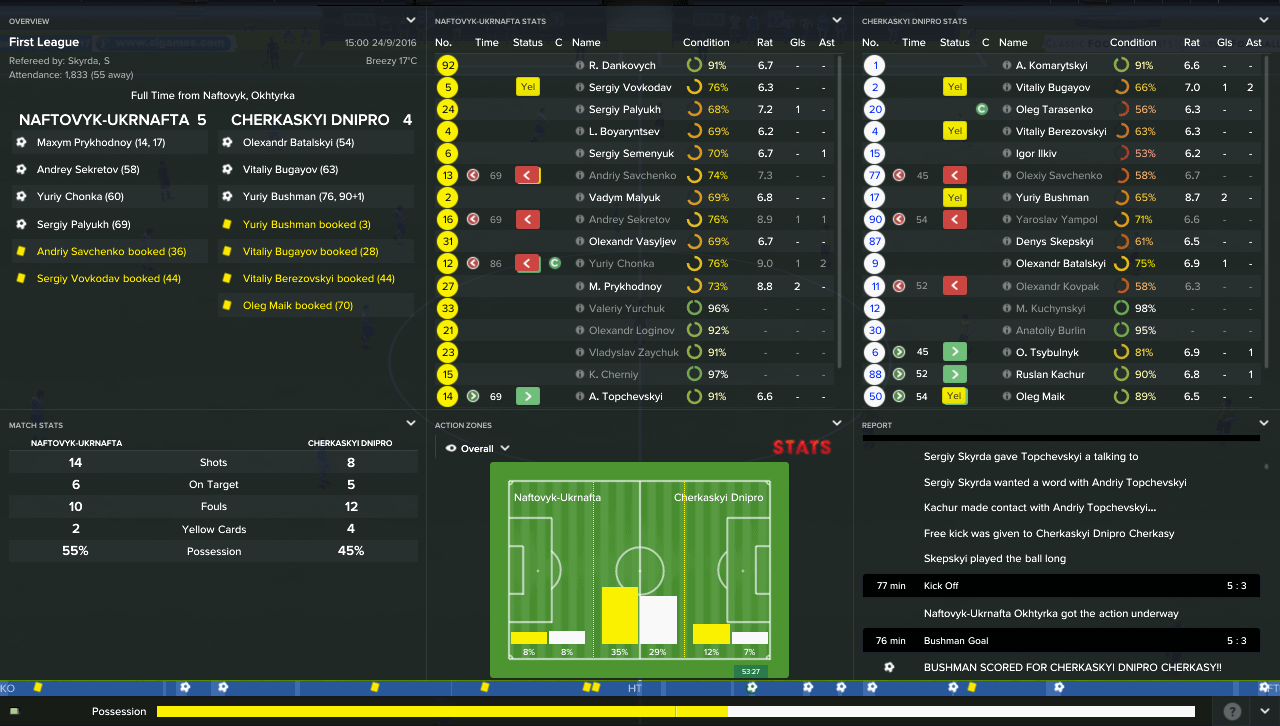 After the game I tell the players they were outstanding in the first half but a bit rubbish defensively in the second. They all look confused. I don't know how I can dumb down 'First half good, second half not good' anymore; I even drew pictures.
Someone find Yuriy, I need a lie down and a cuddle.