Over the last few months at Hapoel Ashkelon FC I've been mulling over the kinds of players we'll need to bring in and developing a shortlist for the purpose. At this time of year, I have two such lists: a general one and a shorter list of preferred targets for the window. The latter is a sub-set of the former.
On the day before the opening of the window I sat down with Seb Rozental, my assistant manager, at the small round table in my office and finalise decisions about what we want.
We decided we needed:
Goalkeeping cover, especially since our youngster, Eliran Gabay, has just got injured and our Nigerian international, Dele Aiyenugba, is seeking more first-team football than I think his waning powers deserve.
Cover for our strikers: with Swisa departing, we'll be down to three.
Cover at full-back, especially since Itsrin's also earmarked for departure
Another player who can play out wide on the left side of midfield (LM).
Acquiring an LM will enable me to introduce a new formation: the mirror image of the asymmetric diamond, loosely based on Sir Alf's 1966 team, that I've been using.
To date, really our only option at LM has been Baruch Dego, a good team-man but declining physically.
The market proved easy to negotiate. We brought in:
Itay Duani, 19 year-old goalie (on loan from SC Ashdod)
Paul Gomis, a striker I'd considered in the summer and have had back in on trial
Ofek Bentulila, who I'd also considered in the summer. He's a bit slow, but can play anywhere in defence.
Liel Zaguri, an LM who is less than rounded but works hard and can cross a ball.
In addition, there were a couple of less planned transactions. Maccabi Herzliya wanted Victor Aulov, our young shadow striker who was showing no signs of developing his early promise, and were even prepared to pay a couple of grand: I took the opportunity to replace him with Yoni Yosipovich on a free from Tsur-Shalom.
I'm intrigued by how transfers can have knock-on effects. My first choice to play behind the strikers is Pedro Galván. I want to renew his contract – he's the captain and good with the dead ball – but it's a risk: his never-impressive physical powers are on the wane. Signing Yosipovich gives me the confidence to make an offer to Galván, knowing that I now have back-up in the squad.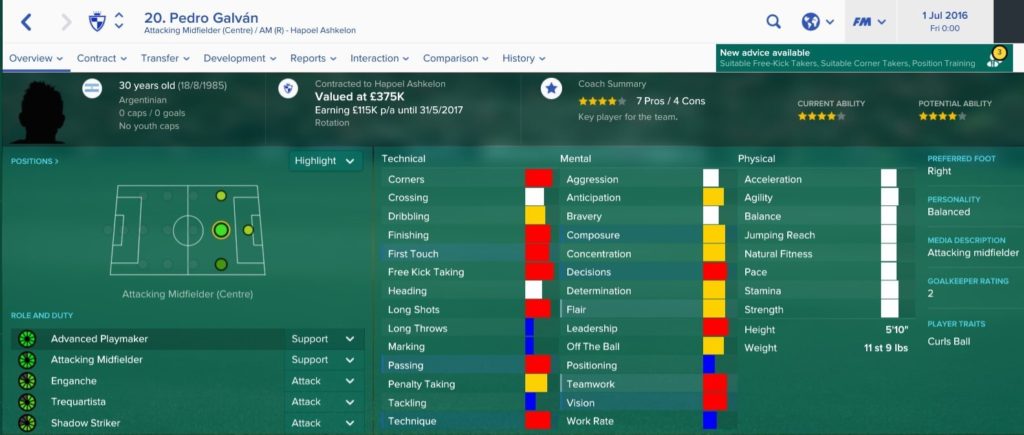 Galván plays as an enganche, mainly. I start training Yosipovich (who is currently more of a playmaker or shadow striker) for that role. But Yosipovich can also play as an attacking midfielder (AM). This interests me because it means I can contemplate playing a wide diamond (defensive midfielder + two wide midfielders/wingers + AM). The good thing about an AM is that they will drop back on occasion to help remove the void in the middle of the park.
The window proved extraordinarily unproblematic. We got rid of the players we wanted out and we replaced them. And we've reduced our wage costs.
But our acquisitions have been low-cost backups: in the summer we'll need to make more difficult decisions about our high-earning players and who our stars of next season are going to be.