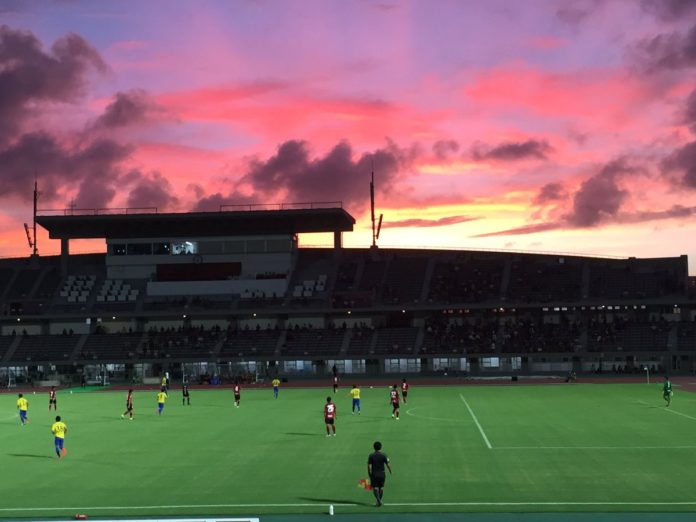 So here we are folks.  Just hours before our first leg in the Play Off against Giravanz.  I've been pretty nervous preparing for this match as, mentioned in the last post, I have no idea what the opposition are going to be like.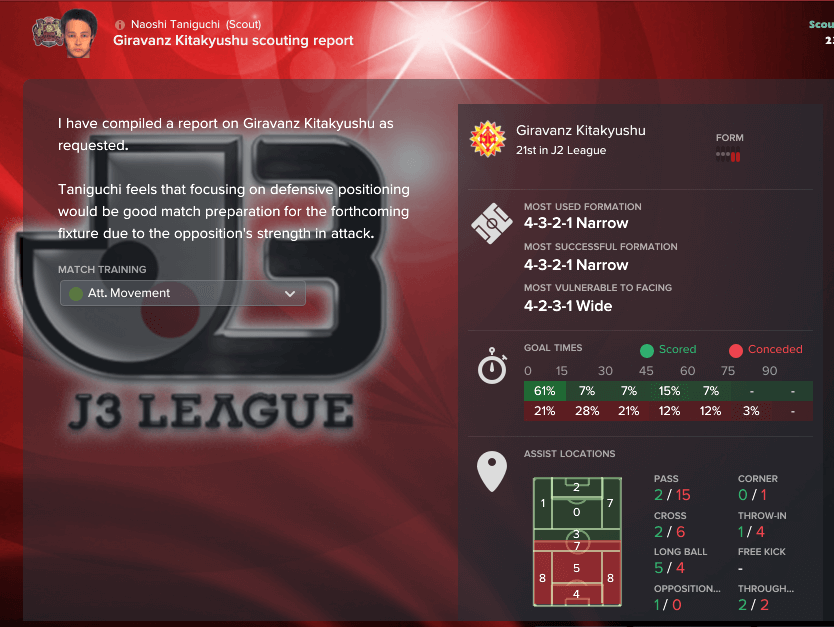 Yeah, I know we get one of these every week but who actually reads them?  I don't.  Mind you, I get a tiny sense of alarm when the scout suggests we should work on defensive positioning.  I never do, but it makes me think they might be ok going forward.
The team has pretty much picked itself for the first leg, with Akimoto coming in at right back as Yumisaki is banned for both matches.  Other than that it is my first choice team, which is good.  As you can see, Ren has 24 goals from the shadow striker position.  It should have been 25 but he missed a last minute spot kick in the final league match, denying him his 4th hat-trick of the season.  Talent, or Stimpy as he is now known, has weighed in with a few goals too so I am hoping we can score.
We'll line up like this.
What do I really know about the opposition?
At first glance, they look a bit rubbish don't they?  They might feel a little unfortunate to have finished below Mito.  Lots of goals conceded, not many scored.  These facts are making me even more nervous!
Anyway, I am from the school of Wenger.  I don't believe in analysing the opposition, I believe in making them sing to our tune.  So, onward!
===
Ah, Mr Venables must be coaching them.  You don't see too many Christmas Tree formations nowadays.
You will now see some screen shots from the match.
Get in!  Stimpy would have run to the fans behind the goal except, well, they were none!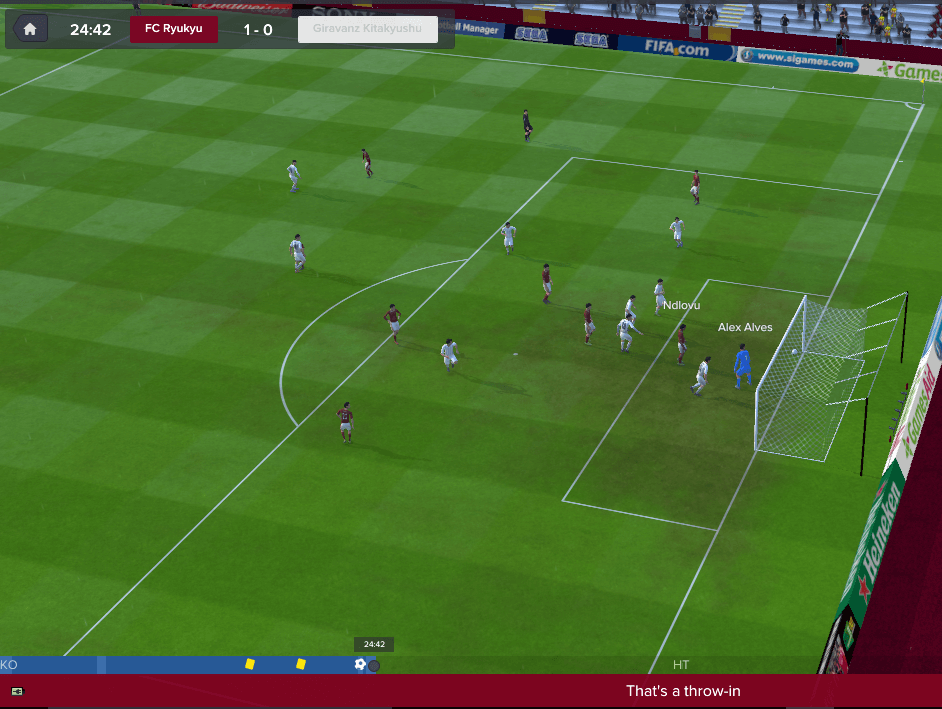 I mean, I'd rather he hadn't hit the post from a fucking yard out.  Emotions are running high.
Stop hitting the post.  Stop it!!
I am always like this at half time whether winning or losing.  And Ren always reacts like this, bless him.
Yeah, I'll take that.  They won't be too disappointed either mind.  But, we have a slender advantage and as long as we don't concede and all that…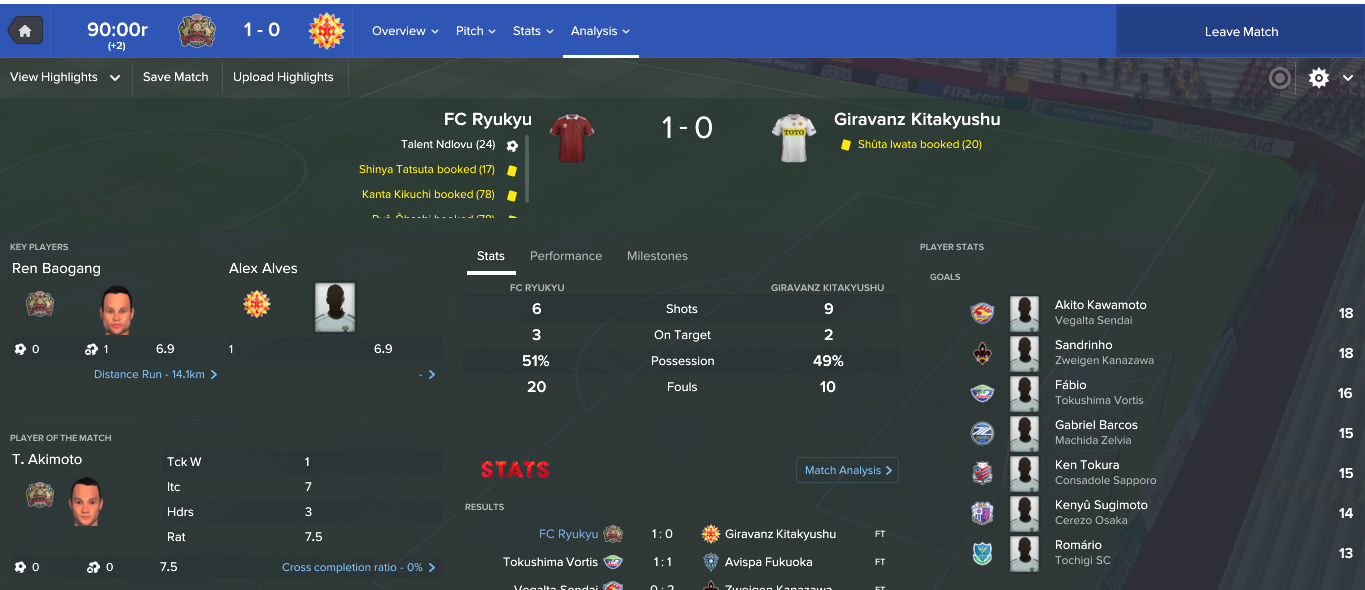 ===
We've all been there, that week before a final where you just prey nobody gets injured in training.  Yeah, one of those weeks.  Nothing to be done, nothing to be said, just keep clicking continue until we get to match day.  In one piece, please let it be in one piece.
Still, that's nice to see.  Plus, nobody ever got injured picking up an award.
We made it match day.  In one piece.  Let's do this.
===
So, they learned nothing then?  Mind you, we hardly blew them away in the first match so I can't blame them for not changing anything.
Even through a laptop screen you could feel the nerves in the first 20 minutes.  Both Ren and Stimpy had chances to put the game firmly in our hands and both Ren and Stimpy managed to hit their keeper with their shots.  Come on boys, show me all of that 5 for composure please!  On the stroke of half time Tani missed a headed clearance and I held my breath as their boy faced our goal.  Luckily he put it out of the stadium, a regular sight in the J3 when 1v1.  
You don't need to see another screen shot of me bollocking everyone.
It was important we did nothing silly, so what do we do?  Give them a chance right from kick off.  Otsubu flew to his left and tipped it wide.  It served to wake us up though, as we broke from the corner and Ren legged it through.  Again, he hit the keeper.  Dammit.  

Win that Ren my son, win that!

He's away!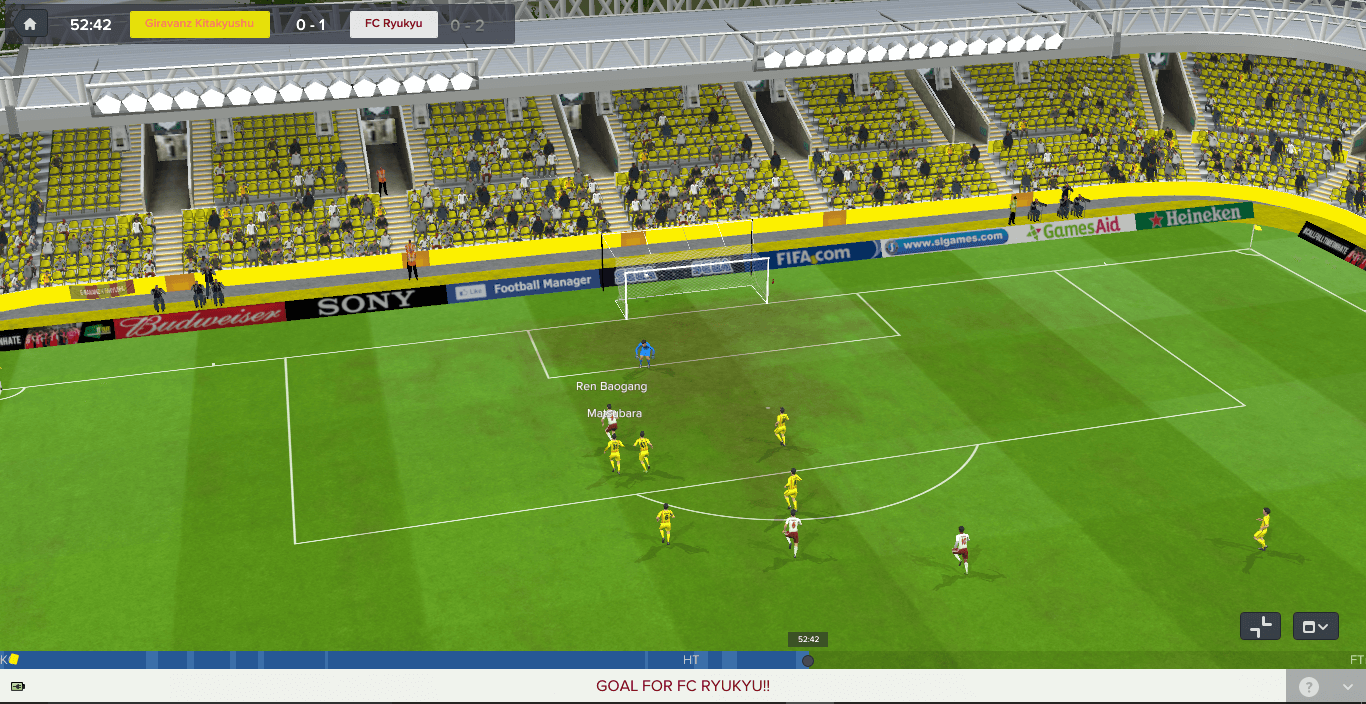 Get the fuck in!!!!
Come on boys.  At this point I realised I hadn't check the away goal situation, but hey.  His 25th and most important of the season.
Suddenly we were so comfortable we could have got the pipe and slippers out.  Their shots were flying in from further and further away and we were picking them off on the break at ease.  Ok, we weren't scoring but we looked like we might.  And finally, the final whistle.  It was a job very, very well done.  Ren and Stimpy had scored the goals over the two legs that sealed our promotion.  Scenes.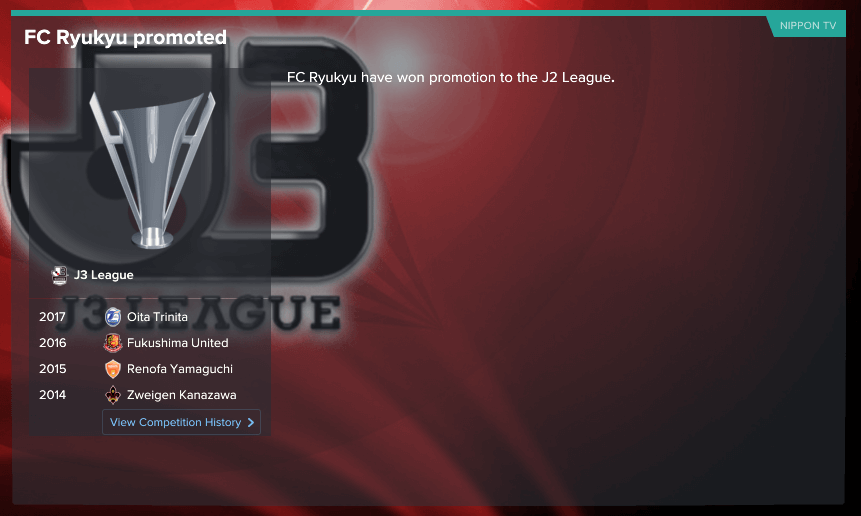 Oh yes.
Don't spend it all at once, right?
So that, my friends, is that as far as 2017 is concerned.  We're up!  God knows how we will survive but that is a story for another day.
Immediate thoughts about next season?  Financially I do not need to sell anyone at all, we've had a good year money wise.  But I know what I am like, if the right offer comes in I'll be letting some of these boys move on for sure.  So some time will be spent right now making sure I have the right values in their transfer statuses and that I have some replacements earmarked from the academy and beyond.
Love it.  J2 here we come.
Sayonara!