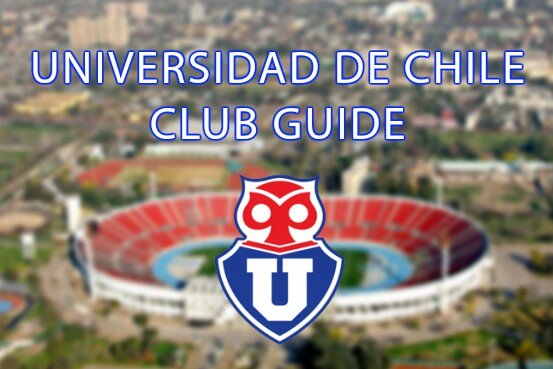 Full Name: Club Universidad de Chile
Known as: Universidad de Chile
Nickname: La U
Universidad de Chile are based in Santiago, the capital city of Chile. Formed in 1927, the club have a rich history with 17 Primera Division titles to their name. They are fierce rivals with Colo-Colo, the most successful Chilean club, and have bettered their results in the last decade by winning six of the last ten titles.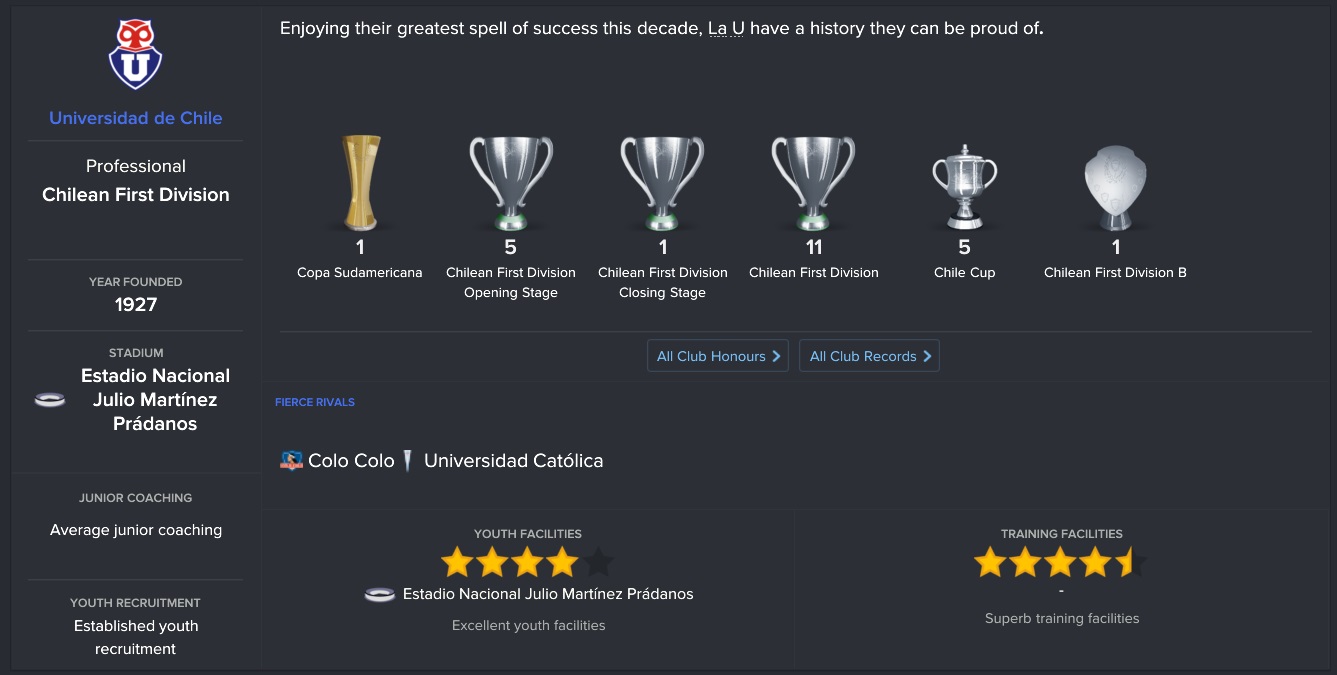 Uni de Chile's only continental success came in 2011, winning the Copa Sudamericana (South America's equivalent of the Europa League). They did this in impressive fashion, remaining undefeated throughout the tournament. Domestically, the club have won 17 league titles and 5 Chile Cups.
The Chilean league system is currently undergoing a transition. To find out more about this transition and how it will affect your saves in Chile read this article.
Facilities
They play at Estadio Nacional Julio Martinez Pradanos (Estadio Nacional for short) with a capacity of 49,000.
Training Facilities: Superb
Youth Facilities: Excellent
Junior Coaching: Average
Youth Recruitment: Established
Universidad de Chile have good facilities that will enable the club to produce good youth players in the future. However, there is room for improvement, especially with regards to junior coaching.
Expectations
The board expect you to continue the excellent period of success by winning the league. They, like Colo-Colo, do not value the importance of the Chilean domestic cups, though it will never hurt to please the fans by winning cups.
Considering the dominance of Uni de Chile over the last ten years you should be favourites for the league, however Col0-Colo are the team who have been predicted to finish first this season.

Squad
The squad you inherit will have no real stand-out players.
Gonzalo Jara

With 79 caps for Chile, Gonzalo Jara is your most experienced player internationally. At 30 years of age he could still be a key figure in your defence.
Jean Beausejour

Jean Beausejour will be known to many English football fans as having played for both Birmingham and Wigan. The left-sided winger is another one of your experienced players and is still physically good despite his advancing years.
Bruno Miranda

Hot-prospect for Uni de Chile this year is Bruno Miranda. The young Bolivian will take up one of your foreign player spots, however he will also be counted towards the minimum of two under 20's in the match day selection. He has potential to be a key player for you moving forward, or indeed a potential money-maker if a foreign club comes in for him.
Matias Rodriguez

You might look to sell on Argentinean wing-back Matias Rodriguez. He's 30 years old and so will not get much better, and although he would be one of your first-choice full-backs he earns £13,750 per week, the highest wage in the league. You may find a better player to take up his foreign player spot.
Finances
Like Colo-Colo, Universidad de Chile have also been bankrupt in recent years. From 2006-2008 the club were declared bankrupt but have since stabilised their finances.
There won't be a lot of money to spend in the first season with a transfer budget of £3.5M and a wage budget of £149K p/w. Your club currently has just £1.5M in their balance, meaning any hefty transfer fees will send you into debt. In addition, you are currently over the wage budget by £3K p/w.
You'll have to get the finances under control in order to succeed with this club.
Overview
Universidad de Chile are clearly one of the better sides in Chilean football, but this will not be an easy team to manage, at least not in the first few seasons. Your facilities should produce several good youngsters which will allow you to make a good profit in the future through player sales should you choose to.
But you will have to remain in charge long enough to do so. And with an expectant board and success-craving fans it will be a tough job explaining a title loss to fierce rivals Colo-Colo.
---
Thanks for reading. I'm VivaLaVidaFM and I am a Football Manager blogger. I write stories, guides and experiments over on my blog for clubs all around the world. If this sounds like your kind of thing then follow me through the links below!
Twitter: @VivaLaVidaFM
Website: VivaLaVidaFM
---