After sporadically semi-blogging many a save on Twitter, I've decided to give actual blogging a go. Now, with me leaving the Twittersphere with my Football Manager escapades, I thought I'd pay homage to it and the political shit-fest it morphed into for a good chunk of 2016. So, I'm vowing to make a club great again; except, y'know, without any hatred, fear mongering, hate fulling – unless we're talking about Ajax – and general prick-ness.
I've always liked to challenge the status quo on Football Manager, and, after brief success with AC Milan and Marseille I think I'm ready to take on a bit of a bigger challenge. The options: Rangers, Deportivo la Coruña, AFC Bournemouth and Feyenoord. The options went to a Twitter vote whilst I got a shower. I was greeted post-shower by a 43% tie between AFC Bournemouth and Feyenoord, and, with me still reeling from Liverpool's seaside capitulation this weekend, I decided to go to Rotterdam and the loving embrace of Dirk Kuyt.
Any success with Feyenoord wouldn't really be considered smashing the status quo. They're part of the status quo; the nearly-men of Dutch football for 17 years – since they last won the title. Granted, the title would be great, but I think that challenging on the continental stage will be the challenge.
First, I have to have a blueprint. This is what I will work towards; it's my template for everything at the club to adhere to, from the staff, to the players, to the youth. Feyenoord is a club that embrace's it's blue collar roots; notorious for it's gritty methods that would bring any superstar crashing back down to Earth. There is a saying: "Amsterdam to party, Den Haag to live and Rotterdam to work." So, we'll work. My philosophy is as follows:
Any players not willing to work hard, as a unit will be left at the wayside. This means targeting particular attributes such as work rate, teamwork, bravery, determination, etc.
Buy low, sell high. It always sounds so simple, and it is if you do it the right way.
Re-invest profits into the club. Predominantly into facilities so that we can rival those bastards over in Amsterdam.
Embrace the academy. For the early years anyway, we aren't going to have much money. Using young players is cheap and shouldn't be a problem considering Feyenoord's history of producing talent; we've just got to make sure that talent is nurtured
Implement an iconic style of play. When I first join the club, I will have to assess the squad – this means the first season could be rather pragmatic. Once I've weighed my options, I can plan for which direction I want the club to go in.
I booted up the game, made my manager and waltzed through all of the formalities – meetings, etc. I did a quick assessment of my squad and found a few things immediately:
We lack in wide areas – which I'm fine with as I've developed a knack for a good 4-3-1-2 on FM17.
We don't have enough bastards. I love a good bastard, preferably a smaller bastard because you know they're a proper bastard. I'd take a Mascherano or Medel over a big bastard like Fellaini all-day any-day.
Elia and Jorgensen can fund our summer spending. They don't match my aforementioned criteria, the selfish gits, so will be cast to the wayside for Europe's bottom-feeders to nibble at.
I whip up a quick counter attacking, direct 4-3-1-2 and off we go into the pre-season fixtures. We get numerous offers for our top talents; namely Karsdorp, Van Beek and Kongolo. I let the latter go, and managed to tie Van Beek down to a new 4-year-deal. The financial's on offer for Kongolo were just too good, especially for a player I don't think is that good and proved the catalyst to us tying down our best defender. I won't bore you with the rest of the first pre-season as they're always rather plain, so, here's our business and results – I got my bastard and Lovely Lasagna, so I was happy: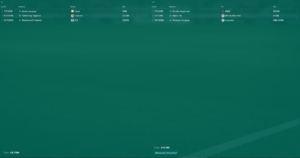 Eredivisie: 
We began the season very well. 4 clean sheets and we're keeping up pace with Ajax for the moment – who I'm anticipating to be the bane of this save.

We then travelled to Amsterdam to face Ajax. I was anticipating the worst, but surprisingly we were by far the better team and walked out with a point – despite us being rather shite in the finishing department, which was a bit of a reoccurring theme in the run-up to the winter break. Here's me venting my frustrations on Twitter.
We then continued our rather fine form up until Christmas. Kevin Lasagna was prolific, whilst we kept tinkering with our 4-3-1-2 until we found a happy resolution, scoring 5 in 3, winning all 3 and conceding 0. Our only losses came during a bizarre game vs. Heracles and away at FC Utrecht, who until December were unbeaten league leaders.

This run of form would leave us in 3rd place going into the winter break; 5 points behind leaders Utrecht and Ajax whilst having a game-in-hand.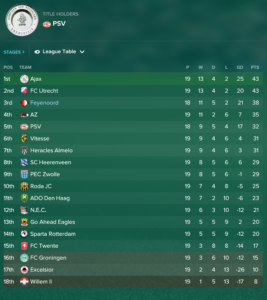 Europa League:
Our Europa League group-stage campaign went very well. We were drawn with Rejka, Young Boys and Manchester United. We beat both Rejka and Young Boys home and away – which impressed me – and even created more chances than United in both games we played against them. But, remember the finishing issues I had vs. Ajax? Yeah, that. If it hadn't have been for our forwards inability to even hit the target, we may have even topped the group, but we didn't as United beat us twice. Both performances were very promising nonetheless and give me a hope of progressing a bit further into the tournament – depending on the draw of course.

Conclusion:
And, that's all folks. I'm still finding my feet stylistically, etc; but I'm sure as the save goes on I'll have more to whinge about and hopefully celebrate. I'll be adding a bit more side-story into the next post; regarding my bastards and why playmakers are the devil – so keep an eye out.