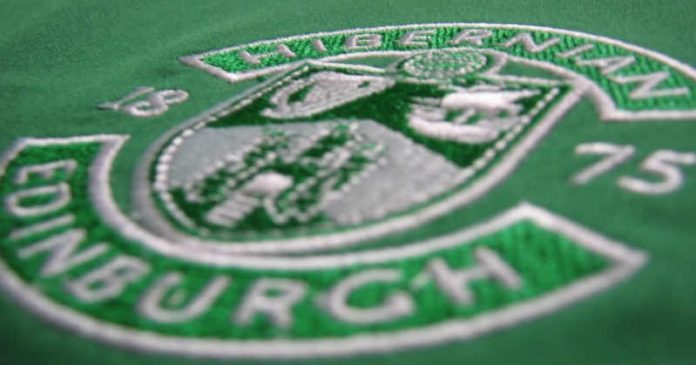 The Last King of Scotland
A Hibernian Tale: Part 2:2
Extract from the Managers diary:
'Garry, I know this is a strange question but do you have a paddle?'
My assistant Garry only has to think about it briefly. 'No Gaffer. I don't. Why?'
'Because we're up shit creek here without a bloody paddle!'
Year two, part 2. All is not well. All is not good. All is pretty fucking terrible, actually.
A summation for any of you that missed the first part of my second season as boss of Hibernian in the beautiful city of Edinburgh, Scotland: After a wonderful first season I was being touted as the second coming, after a terrible start to the second, questions are being asked of me. And rightfully so. The first six weeks were a bundle of shite. Nay. A shower of colossal cow shit. One win and one draw out of the opening five games was simply not good enough and something had to change. The question was, would it be me who made it, or my employers?
Not willing to take a chance I knew I had to change something fast. But what? Why was the same tactic from the year before failing so spectacularly? Granted I always seem to start the season slowly but not like this. One win out of five. Christ. This is what it must feel like to be Roy Hodgson or Tim Sherwood. No, I simply couldn't have myself uttered in the same breath as those two. Heaven forbid, I may even find myself compared to Roberto Di Matteo next.
So what then?
I took a minute to think about it. Initially all I wanted to do was throw my dummy out of my pram and blame the players. They were all lazy. They all think they are too big for the club. They were letting me down big time. Me, the man who yanked them from obscurity and propelled them into the spotlight. Ungrateful bastards, the lot of them.
But then, after a deep breath and a nice hot chocolate I considered that perhaps the issue is with me, not them. Hmm. I mean, it was unlikely but worth considering at least.
Nope, they are definitely just ungrateful bastards.
So what had I noticed in our opening games? Firstly we are conceding. A lot. More than even my gung-ho style of play warranted. At one stage I was genuinely worried if we kept conceding this many goals we would be goners. As in, right back down to the depths of lower leagues. So I made one change. A small thing but I'd noticed a common theme used by the opposition which was a long ball being pinged over the top of my CB's. In almost every instance of us conceding it was because they'd simply played it over the top. So I lowered our Defensive Line from the ridiculous Higher to Slightly higher. Surely that wouldn't make much difference though?…
My next move was morale. Confidence is shot from our continued poor results, so I gathered the lads in a meeting and politely told them to work a bit harder and it will all pan out for us. In the mean time I would simply piss in their boots every Friday night until we started winning again.
Another issue, something I mentioned in the first part of this season, was how small my squad is. We were scrapping by, just, but one or two injuries would seriously affect our squad depth. To resolve this I made some signings for January.
Transfers:
Incomings:
Three lads walked through the door in January. Well, two did, one of them kind of stumbled into the door, fell over, then was hoisted out again.
Fidelis Irhene came in to be HB cover but unfortunately is ineligible for a work permit (I hate you Scottish F.A.) so he has been loaned out to Norway's Osters IF until the summer. Hopefully after some first team football he'll have a better chance of his permit being granted.
Sergio Ribeiro is a right-midfielder brought in to rotate with the golden boy Ben Sheaf, who, admittedly has struggled with the intensity of so many games and zero cover. For that price Ribeiro can only be a success surely? £20-fricken-grand. The fact he came on and scored on his debut as a sub makes me think he will be worth ten times that amount soon. Hopefully.
Davide Bertoncini is a CB who will be used as cover. I brought him in with the intention of replacing a departing CB Paul Hanlon, but with a change of heart, Hanlon now wants to stay and to be honest, I might look to get rid of Bertoncini in the summer as I feel I can make some money off of him.
I seriously debated bringing back Luca Zidane on loan to go in goal because Jose Sa hasn't been hugely convincing. But I had to consider if that is down to the player or down to the teams performance. It's because of this niggling doubt I've decided to put my trust in Sa and leave him in between the sticks until the summer. If I'm still not satisfied with him, then I'll look to bring in a replacement.
Another signing I've made is one for the future. I've agreed a pre-contract with Antonio Cotan who will join us in July. I'm fairly pleased with this signing, as he has some pretty good stats and could be a star for us. The fact the deal is practically free makes my thrifty heart jump for joy. The one thing that worries me however is his low determination. Determination is something I value highly. If a young player doesn't have at least a 12 (out of 20) I wont sign him, simple as that. As Cotan has only an 11, I worry he might not be a great team player. But that's something to worry about down the line, not now because no one loves a mood hoover.
Fixtures & Results:
So, the important part. How did the tweak of my tactics help me? Or did it in fact hinder me?

Nah, it worked a treat. Patrick Thistle was the turning point. A game I would have lost just days before so I was happy to walk away with a point to put in place the building blocks for our season. And with our new foundations, our rebuild flourished. We are still conceding goals but now it wasn't costing us in every game. Now it just made the games more exciting to watch, rather than having my head in my hands and sobbing into Sheaf's dirty underwear.
One of the issues that troubled me this season was there wasn't any outstanding individual performances. My lads up front (Hardie and Cummings) were scoring just fine, but everyone else had started the season flatter than a prepubescent teens chest. Last year I could have picked at random and found a number of star players. Now I couldn't find one if I tried. But that, with the results, soon started to change too. Harry Wilson, our loanee got his act together and started putting in the performances I hoped for when signing him. If he keeps it up I'll find it hard to replace him when he leaves because at this moment he's instrumental to our style of play.
Some of our most impressive performances since mid September [Part 1] was the Rangers game. 6-2 we beat them, maybe, I thought, maybe I have something to work with after all… From that point it was all pretty much up hill. Sure I've lost a couple since, but they are now minor bumps in the road compared to the previous insurmountable craters of yester-month. Another huge win came recently, as we cruised past Aberdeen 7-1, with Cummings netting four. Suddenly we were back in business and everything was golden again. A statement verified when we reached the Betfred Cup Final, facing the mighty *er hem* Inverness CT. Naturally we battered them 4-1, with it never threatening to be anything other than a formality. Whoopie.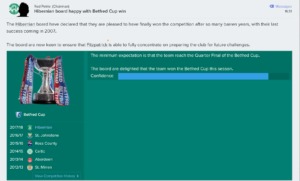 So with a promotion and two cups to my name, my star was continuing to rise. And with my growing reputation, I began to feel the nagging feeling I was being watched. Like a Saturday night in a fancy VIP area, gold diggers were circling and looking to to climb on board the gravy train. None of which really interested me to be honest as it was a struggling Charlton and Derby. Both asked me to interview but I said no. There was also speculation from West Brom being interested but nothing ever materialised. My contract has me tied down until 2019 anyway, and unless something huge comes in, I'm staying put so I can finish this three year plan.
Anyway, for the time being I'm still fighting to cement myself within the league. The title is pretty much done and dusted by mid-January, with Celtic a comfortable 15 points ahead of the chasing pack, but the Champions League places are all to play for, with me topping the stragglers in second, separated marginally on goal difference for now. So it's still all to play for, but I'm just grateful to still be in a job, anything else is a bonus at this point.
Until next time.
Up the Hibees.
====
Never miss another post on Tempo! Subscribe here.
Would you like to write for Tempo? Get in touch!