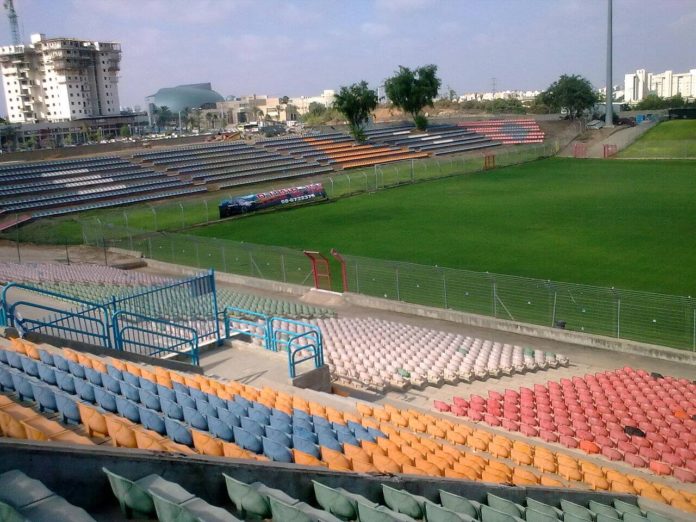 On the evening of the first day of Hapoel Ashkelon FC's training camp in Berlin, I sneak out for a wheat beer. I need time to think about what our starting formations will be. Plus I like wheat beer.
On the plane from Israel I decided we'd try a kind of 4-4-2, in effect a blend between a wide and a narrow diamond.
I already know, without needing to think, what our second formation will be. By far and away my most used formation – the one I specify on my profile – is a 5-3-2 sweeper-based formation.
When I first used this formation, with Fulham in the Premier League (with Danilo or Heitinga as sweeper) I found it to be defensively sound, but we had trouble scoring. We seemed always to be losing 0-1.
But a few tweaks, as I tried it elsewhere, started to turn the goals for:against ratio round the right way. The tweaks were:
if you can find the right player, play a libero rather than a sweeper
use the FBs to attack: ideally, convert their roles to wing back or complete wing back, have them overlap as much as stamina will allow, and set them to attacking mode as much a match circumstances allow
make everything less static by permitting the team to play fluently and, perhaps, allowing players to roam from position.
When I use the formation now, it looks something like this: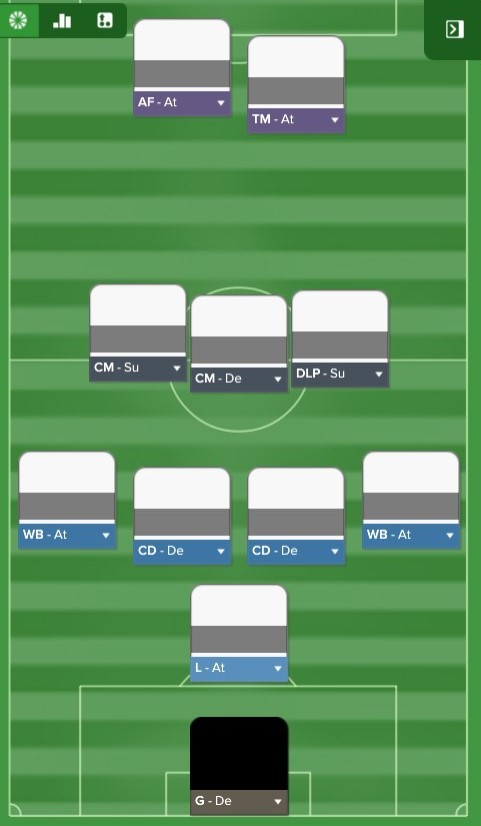 The reason I tried the sweeper formation in the first place was to try to compensate for defenders' deficiencies. The marking was poor, so I set them to mark more tightly. The risk then is that an attacker will nevertheless shrug off or get past his marker and nobody else will be well placed to assist. But a sweeper provides some cover.
I've persisted with the formation, over many seasons at many clubs, for this reason, but also because it's worked well. In part this is because I've used it in leagues where the opposition aren't used to it. Lower league opponents find it particularly difficult to adjust.
And I like the style of football it produces. I like the way that it helps my team to smother opponents' strikers – and how we start to play with a real pattern to our game. You can play counter-attacking, which is where the full backs really come in, yet feel you're controlling the game.
There are, I find, two challenges. First, deciding what kind of striker roles to use. I want to have at least one target man –I'm sure I'd do that ITRW – but too often I've found that produces scrappy play where, regardless of instructions, defenders look to launch the long ball. We have, after all, only three in midfield, so the attempt to by-pass them is understandable.
The solution seems to be to use a defensive forward, who will often show to receive the ball inducing everyone to play it long. The other forward can play as an advanced forward or perhaps as a poacher or even trequartista.
If, as sometimes happens, the strikers get divorced from the rest of the team, I'll play with one up to and introduce a shadow striker to bridge the gap. I also like to play quite a high line, which reduces the gaps somewhat.
The other challenge is sourcing a sweeper. Really, you need to find four: a first choice; a back-up; a youngster to come through; and an option on the shortlist as insurance. If you play in a league where sweepers aren't used, this really is a challenge.
I'll explain how I try to solve this problem, once I've had a good night's sleep. I think maybe I've had one too many wheat beers.