THERE ARE SO MANY THINGS TO CLICK ON. Oh, hello there. I've fired up FM17 and I'm desperately trying to get to grips with it. I've just inked a one year contract with Newcastle, earning a cool £47.5k per week, but with it being a one year deal I'm going to have my work cut out. The club philosophy is to sign young players for the first team, but that's the least of my worries right now. Let's get stuck in.
First things first, who am I going to be blaming when this all goes wrong? Rafa went to a lot of trouble assembling this team:
My old pal Peter Beardsley manages the Under 23 team, but I'd love him to be my assistant. I wonder if Antia would agree to a mutual termination?

In your dreams, pal. Back to work. I guess I'll trust Rafa on this one, and leave the backroom staff. We apparently have one more coach than the board deems necessary, but unless mad Mike wants to shell out a swift million he's going to have to put up with it. I think I'll turn my attention to the playing staff, and how I'm going to set these idiots up. Keepers and Defenders are up first.

So, the positives – the squad looks easily good enough to get out of the Championship, but you don't have to be an FM whizz to know that. In Mbemba, Lascelles and Hanley we have three excellent centre halves, with Clark more than adequate as backup. Dummett is my only out and out left back, but Lazaar is more than comfortable there even if he is better going forwards. I'm stocked at right back with Yedlin, Anita and Gamez, so it's all good. Sels and Darlow can scrap over the goalie's jersey.
Looking at the midfield, I want to build the team around Shelvey spraying the ball to Ritchie and Atsu as wingers. He needs a bodyguard though, which Tiote would be ideal for but he doesn't fancy Championship life and he starts the game transfer listed. Maybe I'll have a chat with him. Elsewhere, Gayle & Mitrovic could probably work as a duo but this isn't CM9798, so it'll have to be one or the other. The simpleton in me thinks Gayle against slow defences and Mitrovic against teams who play deep. We'll see.
Firstly though, let's get some opinions on Tiote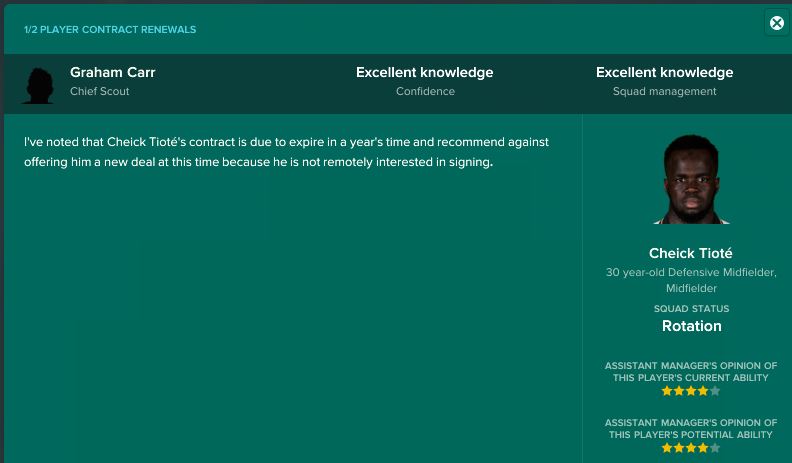 Ah, now I see. I think he could be the proverbial bad egg, so I'm ruling with an iron fist and sending him to the reserves. If he doesn't want to be here in the Championship, he's not going to be part of this project.
So, tactics. I think 4-2-3-1 is the obvious starting formation. I've settled on this:
My idea here is that Yedlin can overlap whilst Ritchie drifts inside. Yedlin is rapid so should be able to use his pace to recover if he's caught up field. Atsu is just an out and out winger, so Dummett on his side can be less gung ho. I guess as a rotation possibility Gouffran could play wide left with Lazaar in as an attacking left back. In the middle, Hayden is going to win it and Shelvey is going to spray it. That's the technical term. Shelvey wants to play as an advanced playmaker but it's just not going to happen in this formation. As I can give every player a role, I've picked the one where the circle is at its most full for everybody. Even an idiot can work out that that is a good idea. As if one isn't bad enough, FM allows you to have three formations on the go at once. Great. Pen and paper out. This is where the notebook will come into its own.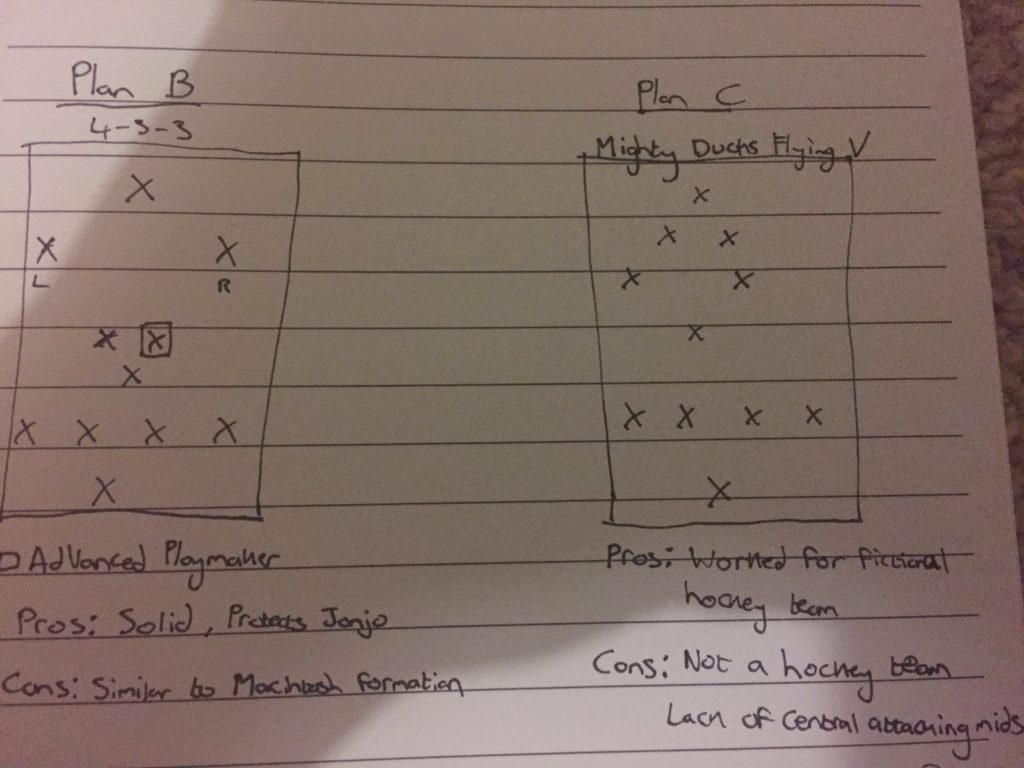 With Perez the only player really suited to play in the hole (one in the hole you say) I suppose it is a good idea to plan a formation without him. I haven't even looked at team instructions yet. Fortunately, the season is a month away. Let's take a look at the training plan.
Having read what FMPressure and Cleon have had to say on training, I'm just going to do what they say and blame them if it all goes wrong. It will go wrong. You can read all about that here. (On a serious note, this is really helpful to novices like me so thank you)
What's next? The transfer market. Trusty old player search. I can send scouts places too, so that'll help. Off you go, lads. Go and find me the next Nobby Solano, or failing that Clarence Acuna. Acuna once got arrested dressed as Captain Hook which makes him a hero to me. I'd like a right footed winger, as Ritchie and Atsu are both lefties, and Gouffran is fundamentally crap. Aarons is very young and injury prone, so another option in there would be wonderful. By default, two of my scouts are looking at our next opposition and the Under 18s Premier Division. That fits the club remit at least. The furthest we can scout is Europe (cheers Mike), and in a pretty neat addition I can send a scout to look for a specific position. So old Norman Wooster is off looking for a right footed winger for me. We've got £5m to spend so I'm confident the people who went and found Thauvin and Riviere will deliver again…
The expectation is that we'll win the Championship. In other words, get off to a good start or I'll be joining Iain down the job centre.
Time to meet the players, I'm telling them we're in it to win it and they're all lapping it up. Captain Lascelles (for now) tells me he's looking forward to it. No sooner have I left the meeting, my old pal Beardsley is at the door. Play against the Under 23s you say? That sounds like an opportunity to be humiliated. I'm in. Make it happen Pedro. 3pm tomorrow, we'll see if it is men against boys.
Just as I think it's safe to go home for the day, Anita's agent is on. AC Milan want to buy him, his contract is up in 12 months and his agent thinks it is time for a new one. He's valued at a ludicrous £9m but his versatility is a massive plus for me. We won't stretch to £54k a week. The agent storms off. Modern football is a pain.
That's all I can take for one update, but I'll be back tomorrow with the intra-squad friendly and all the other admin nonsense I have to deal with.
=====