Indonesian Premier League – Second Phase
Eyes on the prize, it was time to regroup after letting our concentration drop just a little at the close of the first phase. Now this was it, the cream of the crop, three tough games away from the holy grail of the Indonesian Super League.
First up was our only "away" trip, hopping over to Rembang in Java to take on PSIR. At least so I thought, thankfully being reminded by administrators just before setting off that actually all games were to take place in Bantul, despite games being classified as home and away. PSIR had finished second in group B on goal difference, being significantly outscored by Persiba Bantul. Having finished with 8 points fewer than we had managed, I had high hopes that we could set off on the right foot and give ourselves the best chance of promotion.
Much like the season in general, it went far better than I could have expected, especially when experienced winger Ade Iwan Setiawan had to limp off with a calf strain before half an hour had elapsed. His replacement, Cakti Restu Andanu, had not even played a cumulative 90 minutes of first team football all season, seeing most of his action for the under 21s, but he impressed and got onto the end of a corner to add to PSIR's miserable day. With Persibal Bantul and Persepam grinding out a draw, we were looking to seal the deal, the deal being promotion, early when we "hosted" Perisbal Bantul (in their stadium).
Preparations didn't go too well, however. With Setiawan facing several weeks on the sidelines, Andanu would have to be trusted to carry on impressing for the rest of the second phase at least. Then Helma Madila, our only left-back, picked up a dose of the flu to rule him out as well. Earlier in the season, as the plainly sub-par Madila struggled to adapt, this wouldn't have been too much of a loss, but he had matured and ended the season, if not playing brilliantly, at least looking like he could keep pace with the team. So it was up to left midfielder Oktavianus to drop down to full-back, and Zaenal Anwar came in on the wing – a combo that had worked reasonably for a spell earlier the season.
My assistant recommended holding a team meeting for encouragement. I wasn't sure on this, fearing that the team wouldn't appreciate it, but decided to give it a whirl and tell them promotion was so close, they just had to keep going that little bit longer. Well let me tell you, they did not like it. They got really, really mad. Madder than a rattlesnake at a Thai wedding. The pressure I was putting on them was far too much, apparently. That's me told.
Nevertheless, I decided to take a risk and do something I'd never done all season – go attacking from the start.
It worked! Well, it could have worked better. In front of a mammoth crowd (seriously, our average for the season was around 200), we dominated proceedings in the first half, scoring one and missing many other good chances. Having attempted to keep up the pressure into the second half, Bantul began to threaten, so we switched into defensive mode. It worked! We held on and grabbed a goal on the counter to confirm that Celebest are promoted!
With Persepam and PSIR drawing, we were confirmed as group winners. Oh yes, dear reader, because it doesn't just stop here – to decide the actual league winner, the top teams in both second phase groups face off. With our guaranteed status, I debated internally whether to give our younger players a run out in the final match, fearing that doing so and getting battered might damage our confidence too much ahead of the final. To hell with caution, I thought, and played the kids. Or a few of them anyway.
It worked! Sort of. Having had our first choice DM limp off (and ultimately ruled out of the final) and fallen behind, we did well to claw it back to 1-1 at half time, but looked vulnerable. I brought on Firman Usman to add some experience going forward, and it paid off beautifully, the 37-year old latching onto a ball over the defence and sliding home to give us a 100% record for the second phase.
Indonesian Premier League Final
So off we flew to Jakarta, ready to take on the might of Persis Solo, the second best performing team of the first phase (behind us) and second best performing team of the second phase (behind us). Quietly, I had confidence. This was even so in spite of our first and second choice DMs being injured and suspended, respectively. Sahroni, our inspirational captain, would step forward from his regular CB spot, with vice-captain Afriyandi taking his place in the defence.
I was all prepared for a thrilling encounter, with one eye on the trophy, when…
…we bottled it. After a season of inspired, strong performances, we wilted like so many lettuce leaves. Afriyandi bundled over a forward in the box, and Syarifudin just couldn't quite reach it. And that was it. Andrean, on as a sub, had a one-on-one in the 90th minute, but hit it straight at the goalkeeper, and that was us for the year. A limp way to end an impressive season, with no trophy for the cabinet.
Nevertheless, it was nice to get some recognition from the league. Amin Syarifudin and Sahroni were in the team of the year, and I was named manager of the year. Oh gee, you guys.
Adriansyah Ardi was the second highest scorer in the league, unsurprisingly outgunned by this character.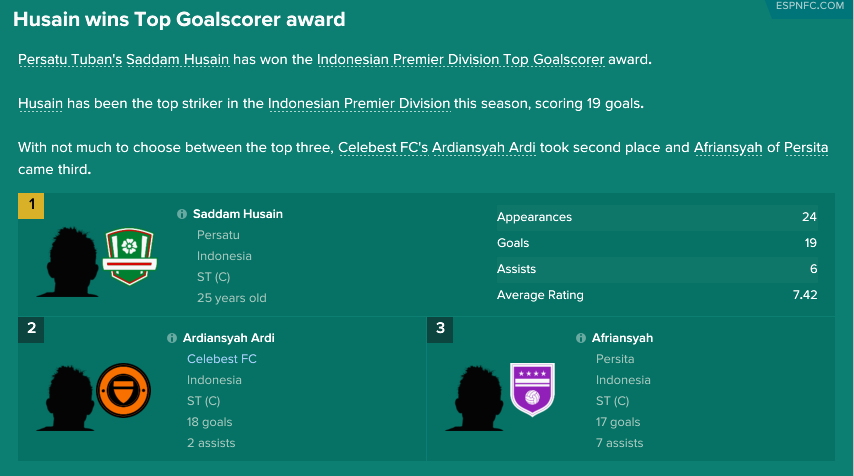 The Future Will Come
So onwards to next season. In an 18 team league, 4 teams get relegated from the Super League. Right now that seems a daunting prospect. I like this group of players, but they are quite old, quite average, really, and we as a club are losing money hand over fist, so I doubt we'll be able to challenge for players with the teams around us. So I retire to my Palu bunker to plan what happens next with this squad, and hopefully build a team capable of being the 14th best in Indonesia.
=====
If you enjoyed that, make sure you never miss the next post by signing up to the daily updates from Tempo.