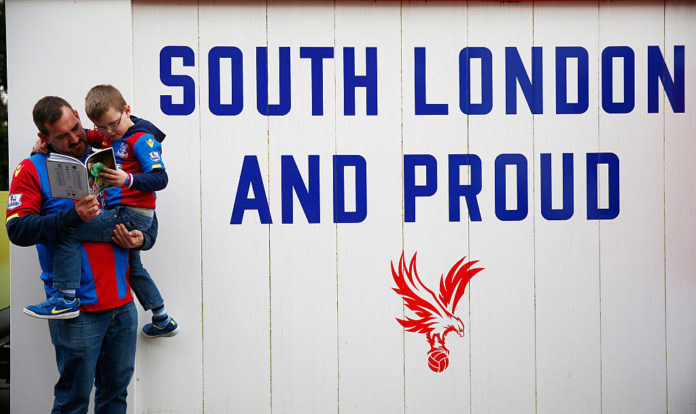 Last time we easily win two pre-season friendlies but this episode we have got some proper Premier League ties to sink our teeth into. We have a pretty gentle start to life in the Premier League with Stoke, West Brom and West Ham all very winnable games. 
Bristol City have made an offer for Appiah and while it's pretty low I just want to get the guy off our books so I shall accept. 
I'm going to stick with the same captain/vice-captain combo of Dann and Delaney as I don't want to rock the boat. Also we've got League One Northampton at home in the EFL Cup. After the obligatory pre-match press conference let's get into the match. 
13th August – Stoke City (H)
Tactics: 
Line Ups:
Summary:
After reminding the players this one is for the fans we are underway.

Grant saves a shot from Remy at 9 minutes. 0-0

Shaquiri hits the side netting. 16 minutes. 0-0

Joe Allen shoots over at 37 minutes. 0-0

Goal for Stoke as Imbula rifles home outside the box. 0-1

Half Time: 0-1. Close game but Palace need to do better

 

After I give an aggressive team talk we are underway.

 

Townsend shoots wide at 50 minutes. 0-1

Another goal for Imbula. Well this is going well. At 60 minutes 0-2

Subs at 62 Minutes: Wickham and Mutch for Benteke and Ledley

Wickham shoots wide. 65 minutes 0-2

Sub at 78 minutes: Sako for Cabaye

 

Diouf should score at 82 minutes but he puts it wide. 0-

Imbula hat trick. FFS. At 85 minutes 0-3

Full Time. I give an aggressive team talk as I am genuinely angry

 
Final Score: 0-3
Man of the Match: Imbula 
Well that was dreadful. We've got West Brom away next and things need to change pretty quickly. Oh and now Souare is out for 4 weeks.
20th August – West Brom (A) 
Tactics:
Line Ups:
Summary:
After another aggressive team talk we are underway.

 

Pretty even start. 10 minutes 0-0

Lascelles booked at 14 minutes. 0-0

Goal! Defensive error from the Baggies means Remy scores. 16 minutes 0-1

Cabaye has a free kick that barely misses. 28 minutes 0-1

Goal for Rondon from a Morrison cross. 32 minutes 1-1

Booking for Dann at 45 minutes

Half Time: 1-1. Better from the lads but room for improvement.

After a passionate team talk we are underway.

Foster saves a Remy shot from close range at 55 minutes. 1-1

Rondon rips through our 'defence' and it's 2-1 at 60 minutes.

Sub at 62 minutes: Wickham for Ledley

A Zaha effort is easily saved at 75 minutes. 2-1

Subs at 76 minutes: Mutch and Tomkins for Fryers and Dann

Benteke heads just wide at 85 minutes. 2-1

Full Time and yet another aggressive team talk.
Final Score: 2-1
Man of the Match: Rondon 
Before we dissect that I'm going to accept this transfer offer for Puncheon from Valencia.

Right it's clear that 4-2-4 just isn't working at all and that my defence desperately needs more protection so I'm switching to a 4-3-3 for my next premier league game. Also the squad ain't happy!
The lads want more depth in midfield and to be fair I may consider bringing in an extra DM and offing Fraizer Campbell now we're switching to 4-3-3. Anyway before we get to all that excitement we've got Northampton town in the league cup.
23rd August – Northampton (A)
Tactics: 
Line Ups:
Summary:
After a calm team talk we are underway.

Mutch hits the bar off a free kick. 1 minute 0-0

Smith tips a Sako cross over the bar. 22 minutes 0-0

Penalty to Palace at 23 minutes!

Goal! Sako converts the pen at 24 minutes. 1-0

Fryers booked at 30 minutes.

Tomkins shoots wide from a long way out. 40 minutes. 1-0

Half Time: 1-0. Not bad from the lads but could be better.
After another calm team talk we are underway.

 

Delaney has header off a free kick but hits the bar. 55 minutes 1-0.

 

Subs at 64 Minutes: Remy and Cabaye for Wickham and MacArthur

Flamini booked at 65 minutes.

 

Taylor shoots wide. 79 minutes 1-0.

Goal! Fryers heads in a corner at 83 minutes. 2-0

Penalty! Another one for Palace at 87 minutes.

Goal! Remy scores the pen in the 88th minute. 3-0

Sub at 89 minutes: Dann for Tomkins

 

Goal! When it rains it pours! Remy scores in the 91st minute. 4-0

Full Time as I congratulate the team
Final Score: 4-0 
Man of the Match: Joel Ward 
Well that was certainly better. Admittedly it's only Northampton but that's the first time we've kept a clean sheet all season including pre season.
And on that bombshell it's the end of episode three! A follow on twitter @cameroneyles would be great and here's what's coming up next time:
Will we sell Fraizer Campbell?

Can we bring in a midfielder before deadline day?

Will 4-3-3 actually get us a win in the Premier League?
---
If you enjoyed that post, give Cameron a follow on Twitter and then subscribe to our daily bulletin so you don't miss his next update!