"Lads, next time we take the lead against fucking Juve would you mind holding on to it just for once?"  I admit, I didn't say this to the boys after the TIM Cup Final but I was tempted.  Three times this season we had scored first in the Turin derby and each time Juventus ended up getting something out of the game.  This time though, this time they ended up with silverware.  The Old Lady were clearly still smarting from losing their Scudetto to Napoli and decided to take it out on us.  It is never nice to lose a cup final, but to lose one 4-1 is particularly galling.  But, we choked.  We really, really choked.
I scanned the changing room and my aging squad.  They had performed well above expectation to qualify for the Europa League ending the season above AC Milan and claiming 5th place.  To add a cup final to that means the season had to be considered a success.  My "esercito di Papá" had overachieved for sure, but they were nearer the end than the beginning.  Sure, a few of them had another campaign left in their legs.  Piatti, Tore, the goal machine Necid, Cavanda and Carole were all likely to be bedrocks next time around.  We'd already secured a few more experienced heads in Nemanja Matic and Gonzalo Escalante.  But we also needed to add to our younger heads, we need a few more boys who can run around a bit.
My president Maurizio D'Agostino and I embraced in the directors box at the Olimpico.  "Sfortuna, sfortuna" he said, clearly disappointed but knowing that his beloved club were pointing in the right direction.  He was right, we are.  Next season was going to be very special.
Bloody Juventus.  I've never been beaten like that in a cup final.  Mainly because I don't get to many, granted, but still.  4-1.  Battered.  I feel like Chelsea must have felt when United did them back in the 90's.  Yeah, I am that old.  I can't even think of a modern reference.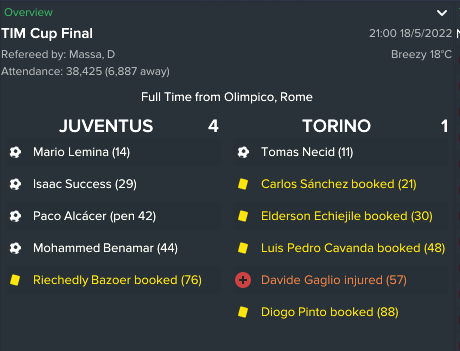 The highlight was Tomas Necid netting his 30th goal of a remarkable season.  He reminds me of Tomáš Skuhravý who first saw play in Italia 90.  The similarities end with the height and nationality however, as Necid scores goals.
The Czech big man managed to score 30 times in 41 games which is one of the finer returns I have ever got from a front man.  For the amount of goals he scored, he was fairly inconsistent so god knows what we could have done if he'd not gone missing in some matches.  His complete lack of style meant he was very much a six yard box player, scoring the majority of his goals from a few yards out.  
Let's go back to the beginning, I appreciate I've not updated you all season and you must have been wondering what was going on in Italy.
I arrived at the Olimpico feeling the weight of history and instantly ruled out using the #ArgSt17.  We had a squad, but not a squad that could cope with the rigours of the formation and considering the adage "you can't teach old dogs new tricks" I didn't fancy trying to convince a group of mid-30's to prove the saying wrong.  But with age there has to be some kind of experience so I figured that if I set them up in a fairly simple system that might even play to some of their strengths we might do ok.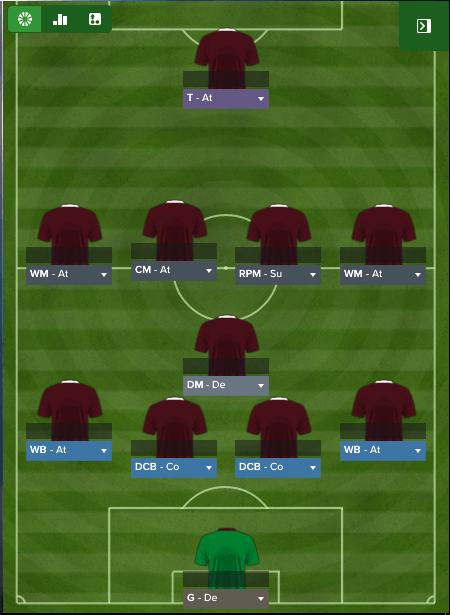 This is pretty much the tactic I had some fun with at the end of FM16, when I finally toppled Steaua with U Cluj before my old laptop finally died on me.  It then worked well when I started testing out my B team theory with Dortmund B, so it's fair to say I like it.  I also felt it would get the best out of Pablo Piatti and Gabriel Torje, both ideal for the narrow WM role.  Piatti has always been a player that fascinates me.  Anyone that can manage to make a career in the game when only marginally taller than a dwarf will have special place in my footballing heart.  He also has quite the left foot, which he put to pretty good use for me.
I think I can get one more year out of him before I put him out to graze and Diogo Pinto, fractionally taller, gets his long term chance.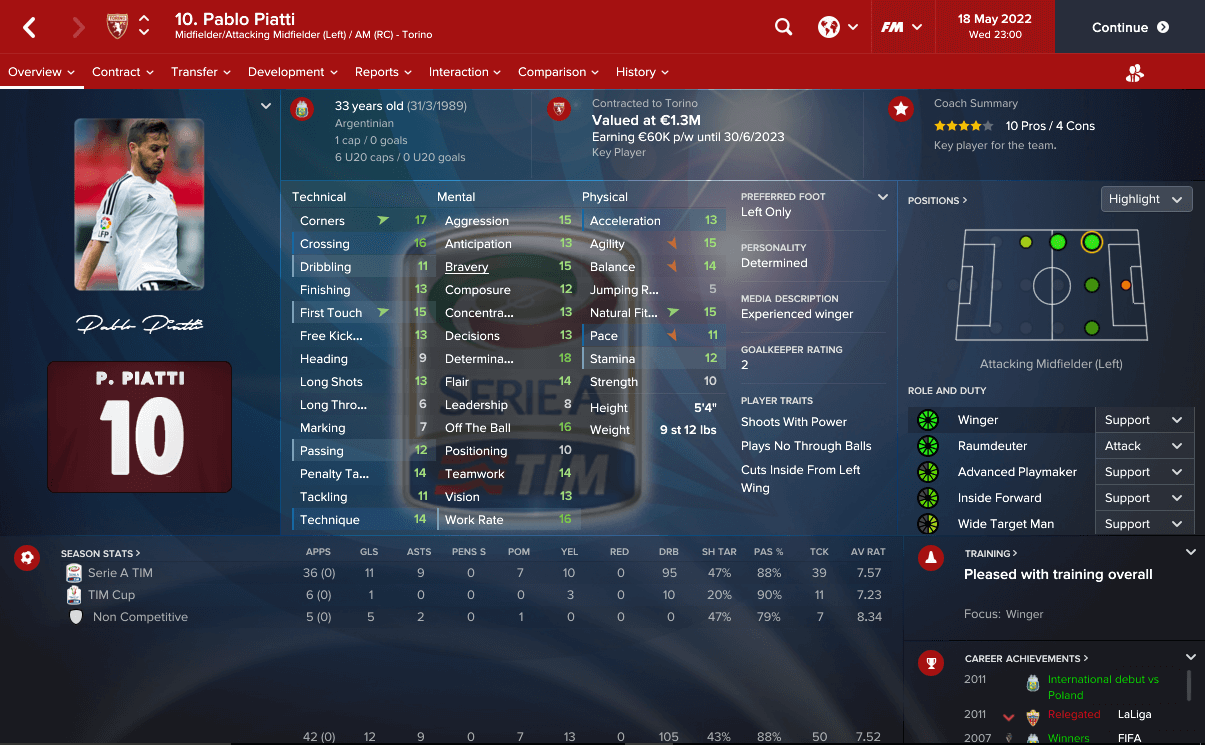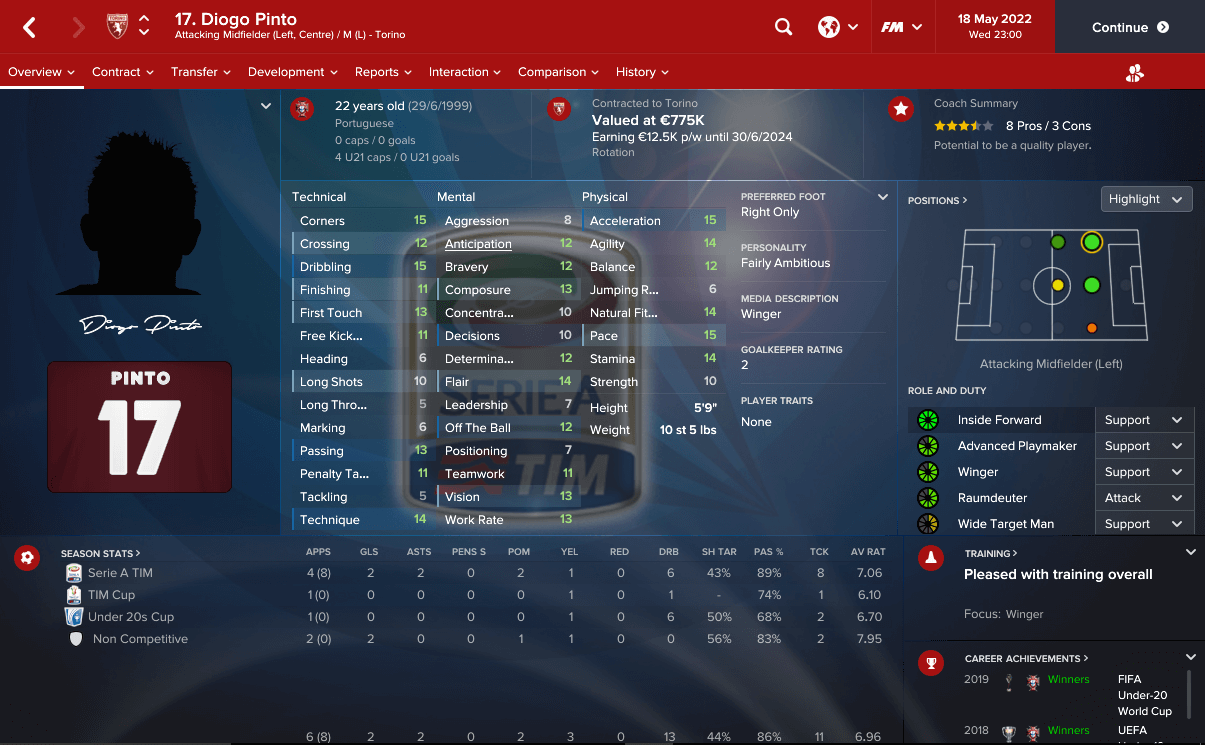 On the other side, Torje wasn't as prolific but still good value.  He will be phased out for Nuno Santos next season.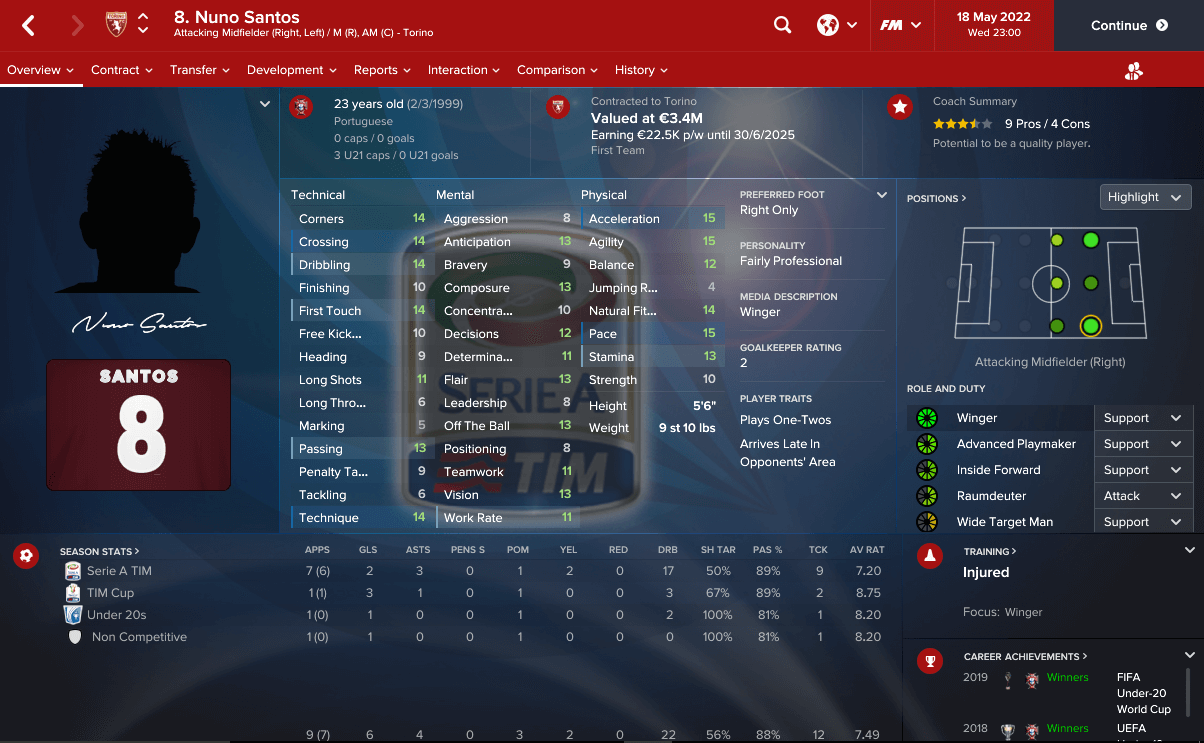 As I've mentioned, we had quite an old squad when I rocked up but the additions of Nuno and Pinto for £500k combined from Benfica brought the age down.  We also made a few other small transfers.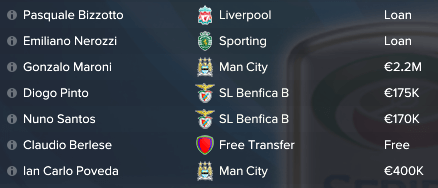 I think we did excellent business.  Maroni is a former Boca wonderkid who lost his way after a big move to City.  £2.2m netted me 11 goals, 4 assists and an average rating of 7.31 from the central midfield role he is being retrained to play.  However, I feel his long term position for the club will be playing as the trequartista when Necid starts to fade.  That is, of course, if he doesn't go all Billy Big Time and think he needs another crack at an elite club.  Good looking lad too, the girls seem to like him in Turin.
Bizzy did a fine job as the roaming playmaker, on loan from Liverpool.  I won't be looking to take him again next season, but he and Maroni provided youth and energy in the middle of the park.  I have earmarked an aging Matic to play there next season, as I still feel the RPM is better played by a veteran.  It's a weird feeling, signing a player that I actually have very little real life interest in.  Especially when I am paying him a fair bit too.  But still Nemanja, I can forgive your Chelsea past if you can make Maroni world class.
We also had a couple of academy players in the side regularly, not something that I feel will be a long term thing given the state of our youth recruitment.  I have Michael Essien as my HoYD and he is as effective in the role as he was when Mourinho used to play him right back.  I may as well have recruited Geremi, he could do a job.  Of the entire intake I have been gifted three players that might, one day, play a game of professional football on a day when we are ruined by injury and suspensions.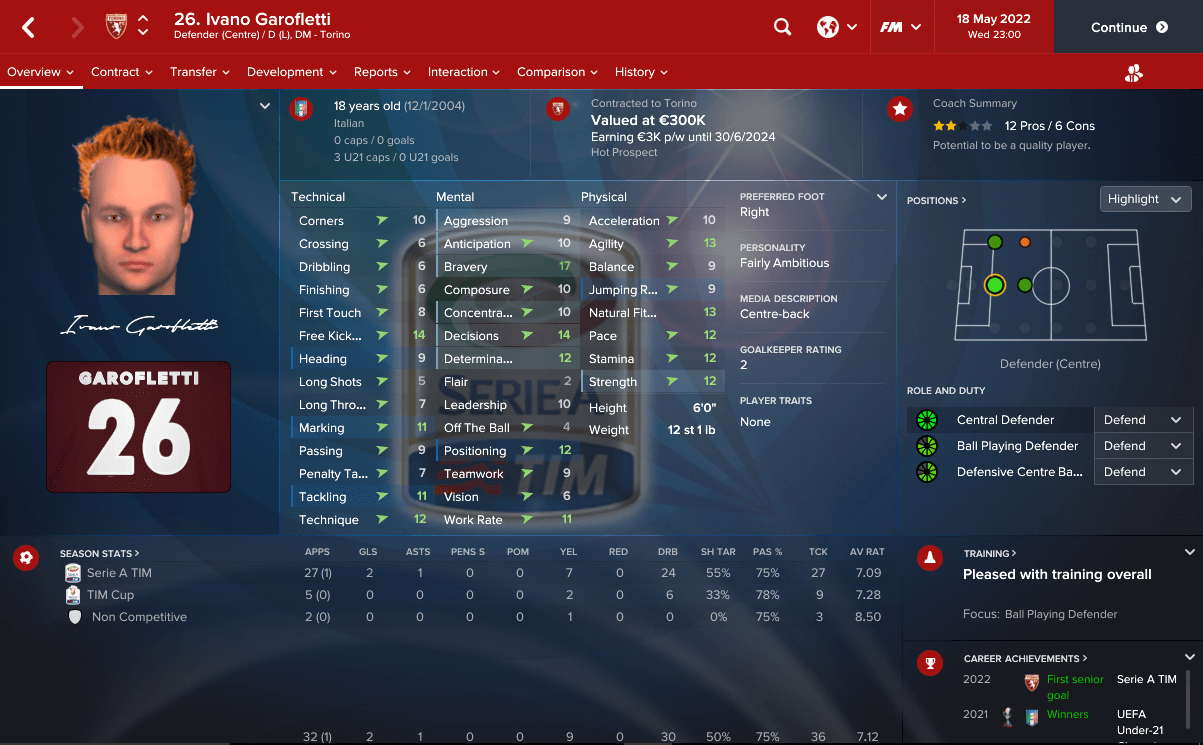 These two boys should, in theory, go on to be our club icons for years to come.  
Atalanta were as bad as Napoli were good.  Atalanta were also managed by my former number two, the Beast.  Yeah, Julio Baptista clearly didn't pick up many management tips from my good self as he bombed badly.  In our three games with Napoli we lost 2-1 twice in the league and beat them 2-1 in the cup quarter final.  We are not a million miles away from these teams, much closer than it looks.
Over the course of the season we schooled Roma twice and shared the points with Inter.  Good times are coming to Torino.  Well, if we can figure out how to break our Juve curse.
Looking ahead to next season we have already tied up the two guys previously mentioned but also an old favourite of mine.  Dalibor Balaban is joining me from United and will be my first choice centre back.  At £3.5m I reckon he will be a watershed signing, like when United snapped up Vidic for around the same price.
If you can find me a giant who can play full back then I am yours for life, so relieving Roma of Klostermann has pleased me more than it should.
The squad is taking shape nicely for next season already, and anything other than Champions League qualification will be seen as a failure.
Over in Bilbao they have recovered from their period of Rafaness.  Fernando Hierro is now in charge and he has led them to 5th place in La Liga which is about right.  However, they and the others are about 20 points off the Champions League conversation.  There is a hell of a gap opening up in Spain.
Now, there is every chance that BoB might be going on a winter break as there is potentially quite an exciting FM writing project that I've been sounded out about.  It's not confirmed so I cannot reveal, but it means I would have to park BoB temporarily and focus on that.  But, I will still be playing and making notes as I go so if I do complete another season before this new thing gets underway then I will fire some updates out.  I just don't want to leave you hanging mid-season.  Categorically, this save will continue folks!
Speak soon.
===============
PPS:  Subscribe to the newsletter and get things that don't get published on the website, you know, as a special treat to you.