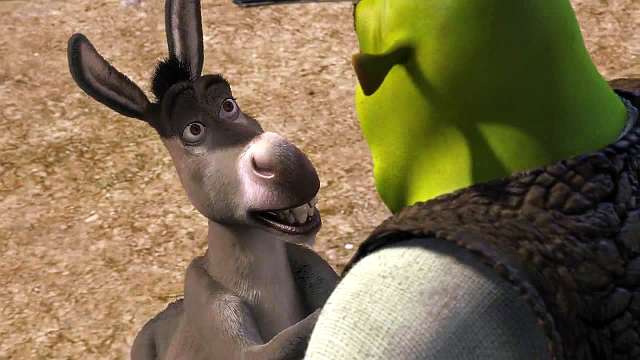 I did not expect to get as far as a part 4. Welcome back! Last time out we had a surprisingly successful start to our tour of Holland. Yes, they are pre-season friendlies, but I'll take any victory going. My to-do list is mounting though, with some positions to be bolstered and my assistant manager having a fit about the way we defend set pieces.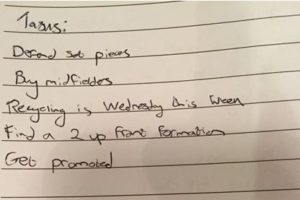 Our final opponents on this tour of Holland are Jupiler League side RKC. I'm going to try out 4-2-3-1 again because I'm confident in the 4-1-2-3 to grind out results, but we'll be heavy favourites in a lot of Championship games this season (until the bookies catch on that I am an idiot) so if we can work on something more attacking, that'll help. I also want to try out a 2 up front formation before the end of pre-season, which may be in the last match at Gateshead. Just in case we need to really go for it at some point.
My search for reinforcements is going nowhere fast. I have picked out some youngsters, like Wolves' George Saville, who have a lot of potential but could still do a job if needed this season. My scouts are doubtful but I'm tired of waiting for them to find me somebody suitable themselves. Fiorentina are in for Tiote, who will hopefully actually go this time.
Match time then, and here's how we're lining up. A lot of these players need match time so there might not be a raft of substitutions.
How we didn't win that game, I'm not sure. A very late equaliser pegged us back but we had so many chances to get the second goal.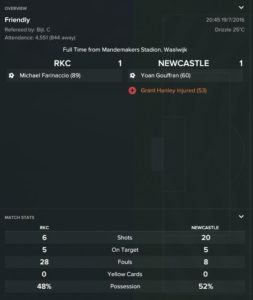 Diame cracked one off the underside of the bar but overall he had 5 shots and only one on target. That's not really good enough. In a strangely gruelling match, Mitrovic got a bang on the head in the second minute and Hanley came off with concussion. Let's go home!
Good news! George Saville has signed on a 3 year contract

Bad news – it's Napoli at St James' in 3 days. A real test and it's nice to have such a glamour friendly, on the TV no less. It's also time to announce the squad numbers, with Saville taking 25. The bookies have us as promotion favourites – as ever, Twitter knows
The signing of George Saville has also set the #Saville hashtag into motion again. Nobody is a fan of that.
Napoli then, and we've gone back to 4-1-2-3 but we're playing counter even though we're at home.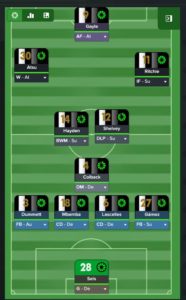 Oh, hello…
The defence all played well, which is obvious when keeping out one of Serie A's top sides. Gayle and Ritchie were disappointing though, and Shelvey hasn't really found his range yet. I'm eager to get the season started, so as Tiote leaves for Fiorentina and we are £4.5m richer, it seems typical that we develop a mini injury crisis. Mitrovic does his hamstring, Dummett's out for 10 days and Saville has a bruised head. What we do in training is nothing short of worrying. No matter, my attacking 4-2-4 is unleashed at Gateshead and we win 4-0. If we play teams of Gateshead's quality every week, we'll be fine. We won't though, and that's a shame. The notebook has conveniently logged who has played what minutes, so I'm on top of that.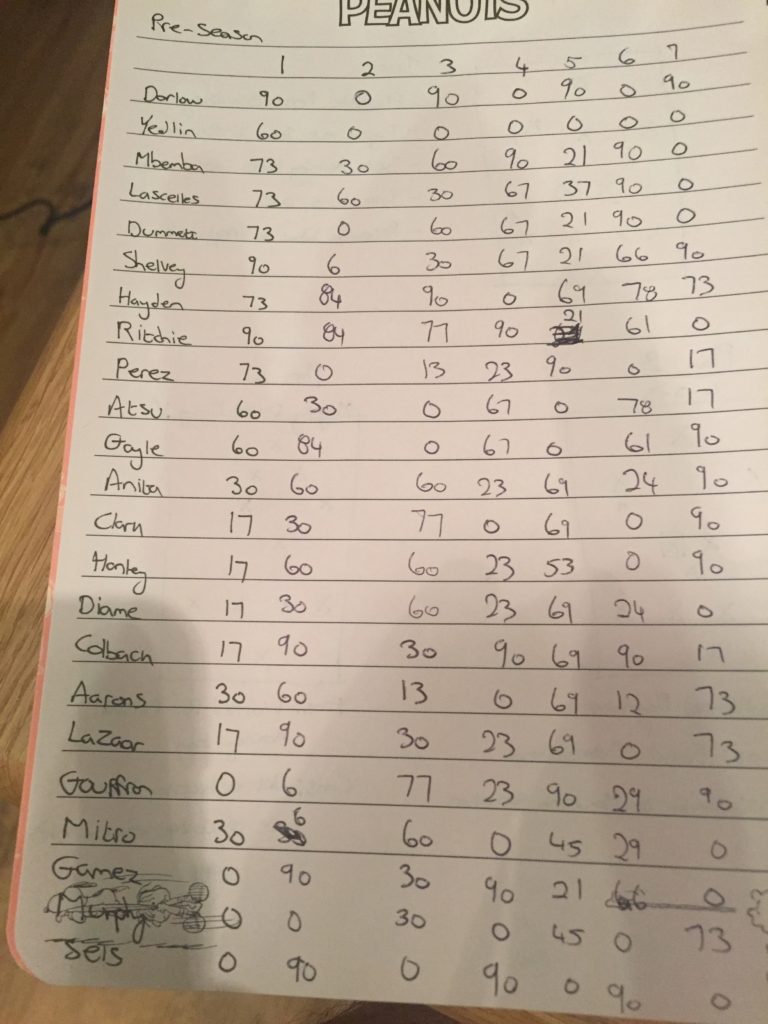 Preparation is over, we're away to Rotherham in 6 days. It's the Sunday 4pm TV game, no doubt Sky begging us for us to get tripped over by our underdog opponents. Don't rule it out…
The scouts have done their homework. They think Kenny Jackett (who will hopefully stick around more than a few weeks this time) will play a 4-4-2 and, to cut to the gist, they can't defend. They are however very direct so I need to make sure my centre halves are up for the challenge. Grant Hanley comes into my thinking for that reason, though in my mind Lascelles and Mbemba are first choice.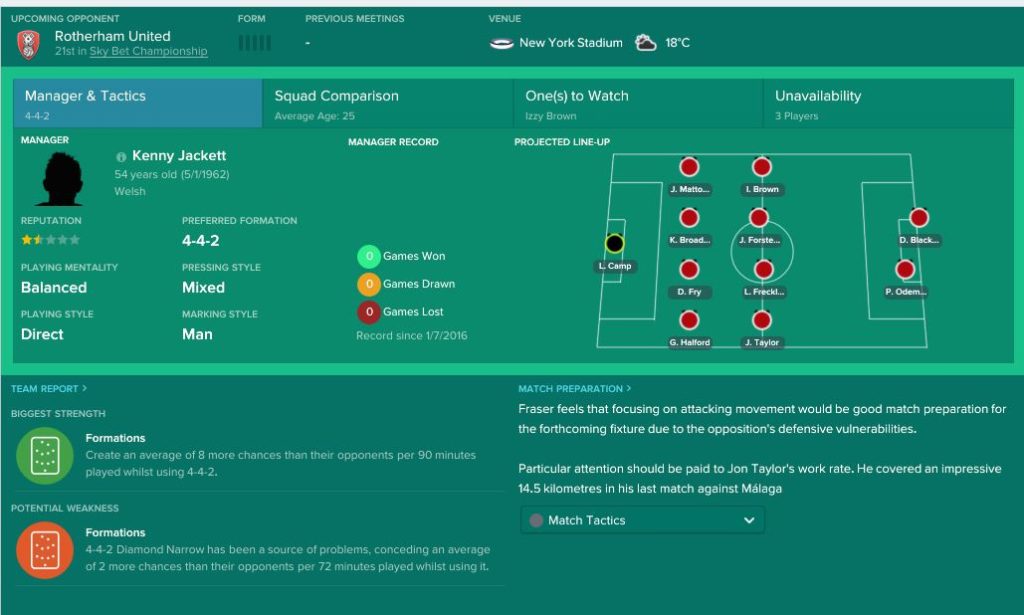 We're playing 4-1-2-3 at Rotherham, it seems our best choice for an away formation. We'll start on counter, hopefully the early season enthusiasm from them leads to some over indulgence and then we'll pick them off. They are indeed playing 4-4-2, and whilst Odemwingie worries me, we should give Rotherham far more to be bothered about.
We're dealt a blow on the day before the game as Daryl Murphy joins Mitrovic and Dummett on the treatment table. He wouldn't have started but I'm down to one out and out striker, so it's all on Gayle now.
After a small amount of deliberation, here's how we line-up
What followed was 90 of the dourest minutes you'll ever see. We had plenty of the ball but no creativity. Gayle had 4 shots, zero hit the target. That's woeful. On Key highlights, there were none. I've taken the division's best team to the worst and passed the ball around for 90 minutes.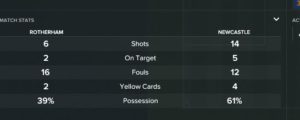 The front 3 all performed poorly. Starved of the ball and not involved a great deal. We welcome Reading to St James' on Friday night, so the TV cameras are here again. The great news is Perez has joined the injury list, depleting our attacking options even further.
For Reading then, I'm sticking with the same team but the mentality is attacking. It's probably seen as a bit of a kneejerk reaction after a 0-0 draw but I couldn't care less, goals win games.
Fortunately for me, that cliché turns out to be true as goals do win us the game. Three goals, to be exact. Two for Ritchie and one for Gayle. Having gone 2-0 up inside half an hour, Sels and the defence left the ball to each other and Reading got one back. Atsu pulled a hamstring but his replacement, Aarons, set up Ritchie for the clincher 10 minutes from the end. Japp Stam should be ashamed, but he's much, much bigger than me. I politely remind him he took the worst penalty I've ever seen at Euro 2000 and grin, but he stares a hole through me and tells me I'm a joke. A joke in a nice suit though, and don't you forget it tracksuit Stam.
We conceded possession and didn't exactly dominate but a wins a win.
With us playing the Friday, we go temporarily top of the pile. Long may it continue. Unfortunately, it doesn't last and Saturday's results see us slip to 5th. We go to Barnsley, one of three teams to win both of their opening games, in just 3 days' time, but it's early days all round.
So, this disaster rolls on for another episode. It hasn't been as bad as it might have been, I am somehow still unbeaten across all matches, even if they were mostly friendlies, but that 0-0 at Rotherham will haunt me for a time to come. If that is what I have to look forward to, it's going to be a long season. Join me next time to see if I have managed to take the Championship by storm, or if I am under severe pressure.