First glance of the squad was just as I expected. A bloated squad, more quantity than quality really in the first team. The u20s look like there's a few gems to be polished. I plan on bleeding a few in at the end of the season.
Goalkeepers


We could improve here, however Craig Gordon is more than adequate at the moment. Doris De Vries/Logan Bailly/Leo Fasan will do as back up for now but I would like to bring in better eventually. Ideally I want my keeper to be with the ball at their feet.
Defenders


The defence looks solid. At full back you have experienced Mikael Lustig and a phenomenal talent in Kieran Tierney. Tierney, if I can keep hold of him will be top class when he is developed. We have decent back-up in Cristian Gamboa and Emilio Izaguirre. Izaguirre might end up wanting to leave due to his age and being 2nd choice to young KT.
The centre backs are solid. Erik Sviatchenko is a starter with rotation between Kolo Toure and Jozo Simunovic. We also have Eoghan O'Connell who looks more than capable of stepping in a a talent going forward. There is also Efe Ambrose and Dedryk Boyata who probably won't be around long. The worry is finding a long term replacement for Kolo.
Midfielders

In my opinion we are one top class playmaker away form a very good side. This is likely to be my priority target in January along with a AMR at the end of the season.
The two starting holding midfielders will likely be Scott Brown (c) and Nir Bitton. Brown is Mr. Dependable, however I suspect he may miss a few games through suspension due to his role so adequate back-up will be necessary. I plan to utilise Liam Henderson this season as he looks exactly the sort of player I want in my side, for his age he has all the right attribute to make a great playmaker. Callum McGregor can work as an engine room player when Brown is out. Kristopher Ajer is also knocking on the door for a start. Stu Armstrong and Tom Rogic should fit in fantastic behind the striker and hope to see big assist numbers. There is also young Ryan Christie who I don't quite know what to do with. He will most likely be a utility player this season to maximise game time.
On the wings we have some real quality. New Bhoy Scott Sinclair is a class above, used as an inside forward I expect a few goals from him. Loanee Paddy Roberts is his opposite number on the right and had bags of tricks. James Forrest and Gary-Mackay Steven can step in when needed, more-so Forrest who I want to get the best of.
Strikers


Up top we are light but have two fantastic options in wondered Moussa Dembele and 40 goal striker Leigh Griffiths. I expect both of them to score a-lot of goals this year. I hope I can eventually accommodate both of them at once. Young Jack Aictchson will also feature at some point.
Other players we have but unlikely to feature are Kris Commons [I'll maybe give him a send off in the cups] and Nadir Ciftci.
We have established the rules I will follow, my initial thoughts on the squad/transfers/tactics and a more detailed analysis of the squad. I will play high pressing, high tempo football building the attack from the goalkeeper. As the tactics aren't completely set-up yet I will discuss training and player development first.
Common stats I will be looking at are passing, stamina, technique and teamwork. As the will all be key to how we play. Obviously player position will dictate the level required, but in relation to position will be vital. I will tend to avoid players who lack in more than one of them or those who do not look like they can improve [see Part I Rule #4].
Team Training
I will most likely use the 'ball control' as a default setting here changing it if needs be.
Individual Training
This will run in three cycles fitting in with the three sections off attributes; 1. Physical will run July-October (covering pre-season and the beginning of the season); 2. Technical training November – February – this is the longest section as I believe it is the key area; and 3. Mental running March – May.
Players will also be trained in the position/role that they will be playing, I fully expect this to minimise/eliminate flaws in a player's game with relation to my tactical philosophy. Centre backs will all be trained as 'CD' and in the future developed into 'BPD' and full backs 'FB' and eventually 'WB'. Centre midfielders the will be trained as 'DLP/AP' and 'BBM' as for wingers they can be either 'Winger' or 'IF' and the CAM will be a fluid role. Up top I intend to have all 'CF'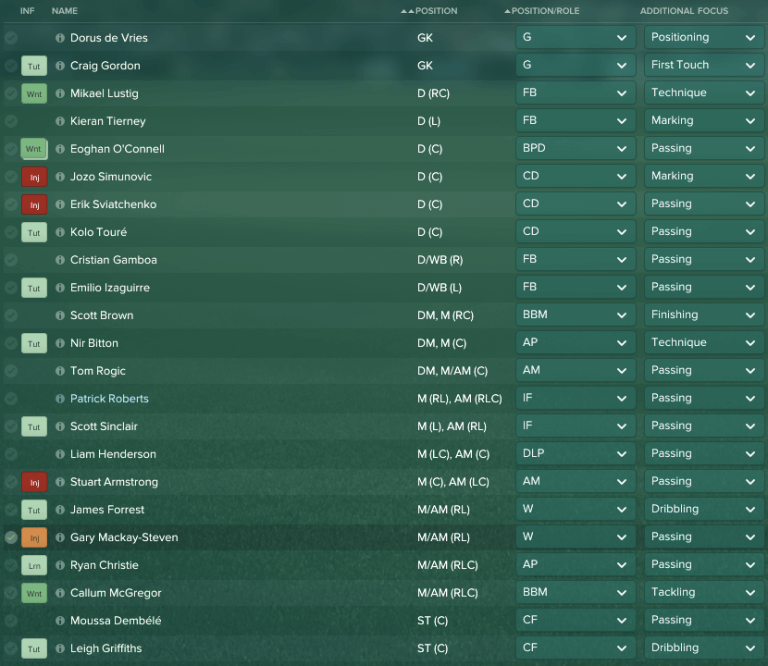 If they do not meet my standards they will be swiftly moved on. This method will be tedious and time consuming but ultimately worth it. Once the first team is set up similar methods will apply to the u20s. I plan to use the in game notes system as a reminder.
Kieran Tierney, Liam Henderson and Moussa Dembele will be used as examples at the end of the season.
Tutoring
This will be a reoccurring task throughout the season as I believe this is the most efficient way to boost mental attributes and we have some very good tutors in the squad e.g. Kolo Toure, Scott Brown, etc.
The first set of tutoring assignments is;
| Craig Gordon – Leo Fasan | Mikael Lustig – Tony Ralston | Kolo Toure – Eoghan O'Connell | Emilio Izaguirre – Daniel Church | Nir Bitton – Kristoffer Ajer | Scott Brown – Liam Henderson | Scott Sinclair – Ryan Christie | James Forrest – P.J. Corssan | Leigh Griffiths – Jack Aitchson |
Ralston, O'Connell, Ajer, Henderson and Aitchson will be used as examples at the end of the season.