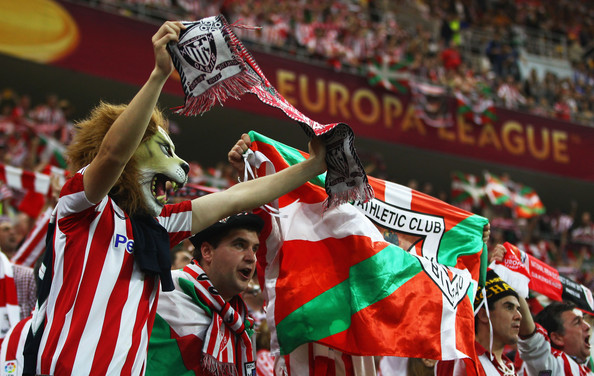 Have you ever had a season that you don't wish to end because you know it may never be the same again?  Yeah, that's how I felt after the final whistle went at El Toralín and Athletic Club Bilbao B had won the Segunda Divisíon B title against SD Ponferradina.
We had fought back from 1-0 after ten minutes in the first leg, one of those rare occasions where we fell behind this season.  But, an injury time winner from Iker meant we were able to close out the second leg 0-0 to put the final dash of icing on top of a very nicely baked cake.  We simply destroyed the Segunda B Divisíon.  Want to see a league table?  Thought you might.
Considering the board warned me that failing to avoid relegation would cost me my job, I had a nice smile on my face.  Briefly, only briefly.  It dawned on me that this might be the last time I name the following side.  Símon; Aggirzebala, Yeray, Bilbao, Onaindia; Aguado, Peréz, Undaberrena; Seguín; Nola, Iker.  Sadly Iturruspe missed out on the final day party through injury, but since Kepa's promotion to the first team squad these were the boys that had steered us home.  If I am fortunate enough to name a similar starting eleven for our first match in La Liga 1:2:3 I will be amazed.  It is more than likely that many of this side will be playing football for the first team next season, or will be sold or will be loaned to other La Liga clubs.  I could be looking at a completely fresh squad in a much harder division.  But hey, I knew that was the challenge so I shall be embracing it.
What am I going to cover in this final update of the first season in the Basque region?  I thought we could have a look at the following;
Some analysis of how we put together that incredible season, including..

Training – how we appear to have avoided all these injuries that others are suffering
Team talks and player interaction
KPI profiles of each position for future seasons
Players returning from loans elsewhere
Potential signings
Could be a long post!
Analysis
I guess we need to start off with some context – here are our results that saw us lift the Segunda Divisíon B title.
Not bad, hey?
The #ArgSt17 has been absolutely majestic.
As expected, we dominated the league average ratings.
Let's have a look at the team against my KPI's.
These numbers will help me build a profile in a later post about what good looks like for a player playing well in this system, or when looking at recruiting into this system.  For the defenders, in an attacking sense, I am looking at pass completion from the two central lads.  For the full backs I'm interested in distance covered, pass completion, dribbles and key passes – I do actually need to add crosses to this.  Strong numbers all, strong numbers.  It gets better in the DM3.  All three players with a pass completion % above 86%!  Love that.  The two laterals, Unda and Aguado, pass that ball successfully nearly 70 times each per match.  That works for me.  The goals, as you would expect, come from the false front three – a central midfielder on attack behind an enganche and a shadow striker.  All the bodies that played in those three positions, five players, scored 67 goals with a goal every 175 minutes or so.  That's not bad going.
Let's look at our defensive prowess, the bedrock on which we are built.

Just look at the two boys in the middle.  Solid.  They win over 85% of their aerial duels, 88% of their tackles and intercept that ball for fun.  And, they don't give it away that often when they win it.  Check out Pérez too, the anchor man.  What numbers from him – Kante would be proud.  The whole team put the shift in though, that is important in the system.
When I introduced the talent I picked out a potentially special few.  We should see how they have got on, shouldn't we?  Yes, yes we should.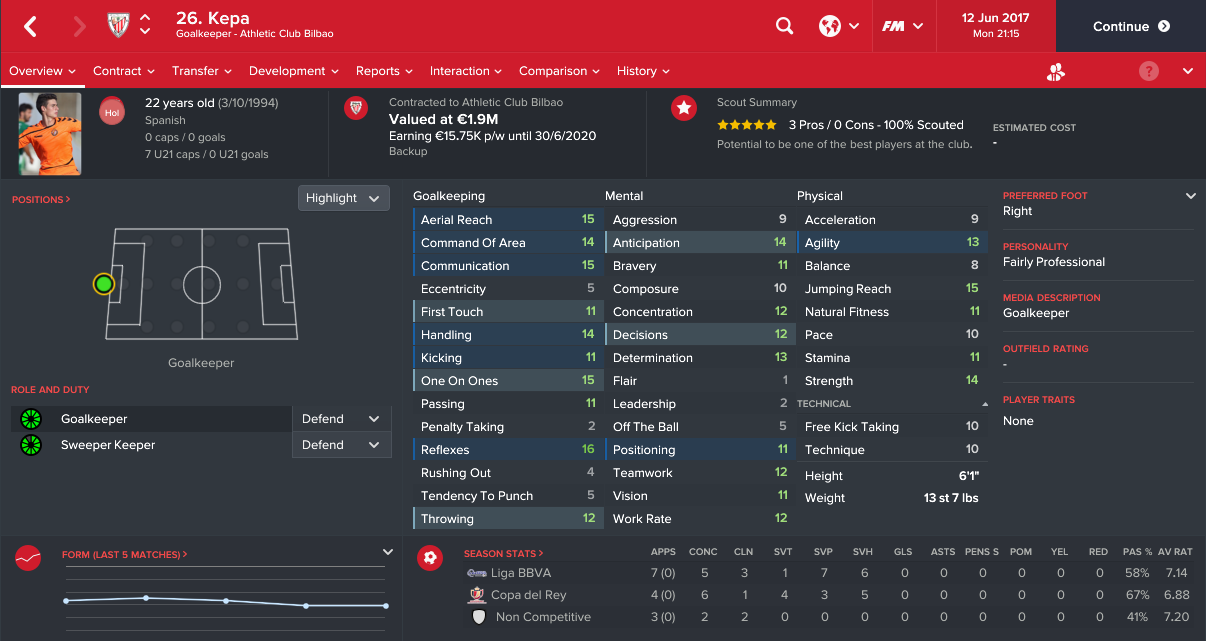 Kepa found himself promoted to the first team squad permanently after the winter break.  As you can see, he got a few games for them too.  In his 18 matches for me he kept 11 clean sheets and conceded just 8 goals.  Credit to Simón, he did a fine job when he had to step up.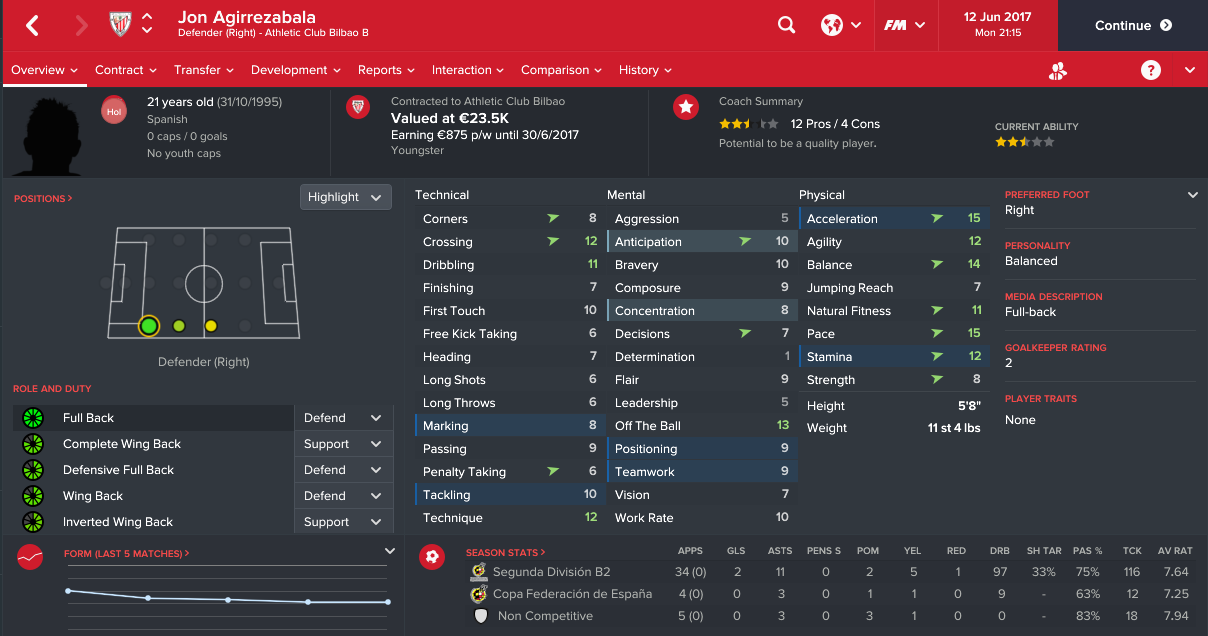 You may recall that Agirrezebala was called up to my squad from our farm team, CD Baskonia, as we were sín right back.  I think we can all agree he has come on quite nicely!  He nailed the highest average rating in the league, got 11 assists and even a couple of goals.  Nice to see some green arrows on his attributes too.
Our vice-captain was superb all season.  As you saw from the KPI's, not a lot got past him and Bilbao.  I cannot see him being with me next season, at 22 he is ready for first team football.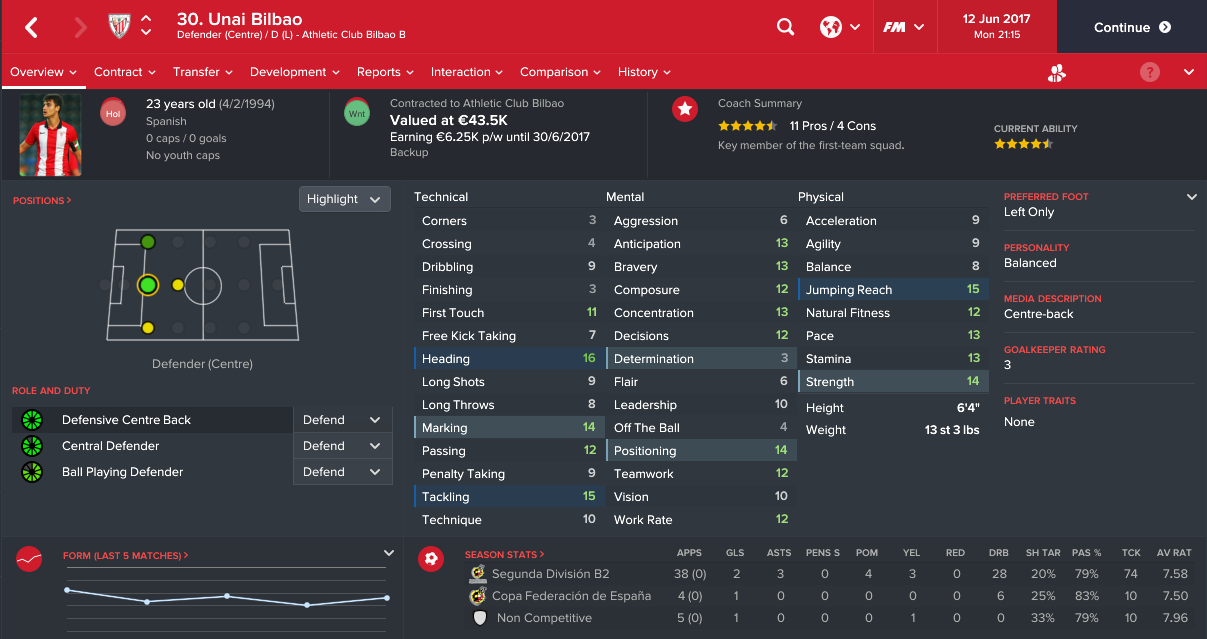 The same can be said for our captain.  He played every minute for me and what a return.  He is out of contract in the summer and I am amazed Paco Jemez, the first team gaffer, has not sorted him out yet.  At 23, I would imagine he wants to be playing in La Liga and he is certainly good enough.
Again, I cannot see this star man playing football for me next time we step on the pitch.  89% pass completion.  He ran game after game for us.  If he does not get a new contract and a place in the first team I will be stunned.
You need someone to score the majority of the goals, and Iker reminded me of some of my finest shadow strikers in this season.  Sure, he had off days but when he was in full flow he was lethal.  He got a hat-trick in the play off final first leg and scored the winner in the overall play off for the title once promotion had been secured.  Once more, he is out of contract and the club seem to be stalling in giving him one.
Nola had a stop start season.  He was one of the few boys to get injured, meaning he lost his place to Iturraspe.  When Itu got injured Nola got his place back and played very well.  I'd imagine he will be with me next season, and will be key to how we get on.
All this is very nice, but what did we actually do to achieve all this?
Training – how have we avoided all the injuries that others are suffering in BETA?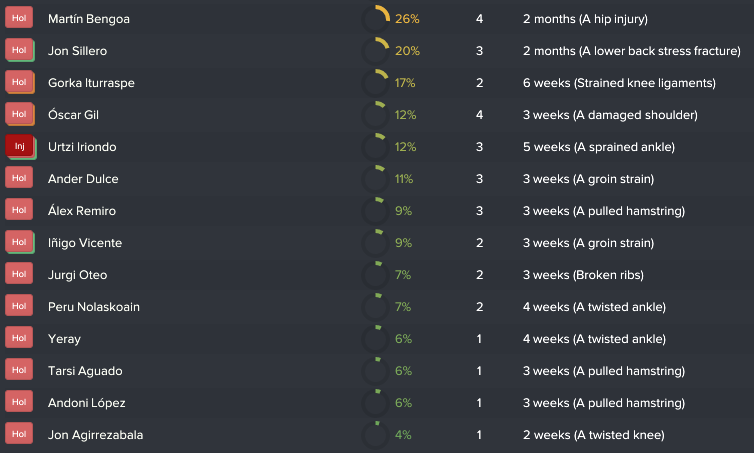 *please note, Iriondo, Gil, Dulce, Remiro & Vicente are not B team squad players so the injury list is actually even smaller.
As you can see, nothing untoward there.  It's worth pointing out that I used only 17 players all season, and of those only 3 played less than 2000 minutes.  That is down to good work in terms of keeping people fit and not picking up a great deal of suspensions.
But how?  There are two schools of thought, and the answer probably lies between the two.  Firstly, the addition of a club doctor and sports scientist.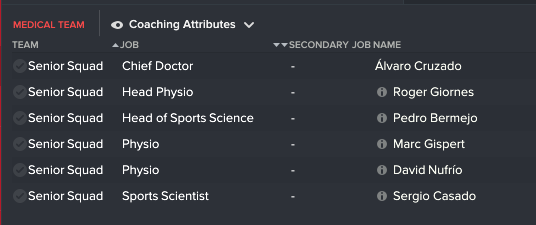 There is nothing to suggest these are anything other than superficial roles in the game and the board went out and got them for me – but, the simple fact is we have them and we don't get many injuries and others I have spoken to don't have them and they pick up quite a few.
Secondly, our training plan – something I have used since FM15 and always had a decent injury record.  I can not take credit for this, I picked it up from Football Manager Central at the time, and it worked.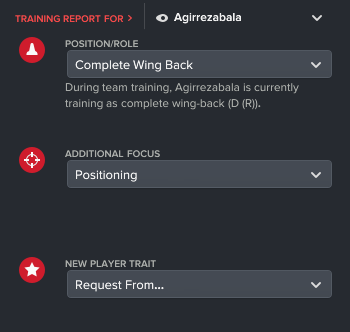 Above is the team training that I have throughout the season – yes, even in pre-season.  The second picture shows that I always have the individual on a positionally based training as well as an extra element, often chosen by the coaches – I can't take credit for this, but it works for me.
Putting the two together I appear to have a nice blend.  Players stay fit and therefore get more game time, meaning they develop as players.  They are fit enough to train, meaning they develop as players.  Oh, there is a third thing I do too.
If we have a game midweek I rest them for an extra day.  Simple.  If we don't have a game midweek, they don't get an extra rest day.
I am not saying this is the perfect way that guarantees you do not get injuries, but it is fair to say it is working for me.
Team Talks and Player Interaction
As ever, I have a feeling I may slightly different approach to the masses when it comes to team talks on FM.  This was something I picked up on FM16, and it seems to still work. My approach is simple.  I never give a pre-game team talk.  That doesn't mean I ask my assistant to give a team talk, we don't do pre-match team talks.  Why not, you may rightly ask?  Because, for me, there is too large a margin for ever.  I mean, these players are getting more sensitive each year, aren't they?  So we say nothing before the game.  Nothing.  Feel free to disagree, but the results this season speak for themselves.  Come half time, pretty much regardless of how we are doing, I kick them up their well paid behinds.  If we are losing, it is aggressive "I want more."  If we are drawing, it is aggressive "I want more."  If we are winning by a goal, I drop it to assertive "I want more" and if we are sailing I choose between mentioning my desire for more calmly or I ignore them.  Personally, the time for praise is after the match is one.  Now, this gives me a trump card.  On that rare occasion we are really up against it at half time, I can surprise them by encouraging them.  We were 1-0 down and crap in one game.  I was nice, we won 4-1.  Bingo.
Player interaction during the week is fairly simple – the end of month training report comes in and if they have got a glowing report they get praise.  If not, they get a telling off.  Again, I keep it simple as the amount of times I got stung for praising someone for something and they call me a fool on FM16 has stayed with me.  The assistants can be on at me for months telling me to praise form – not on your nelly my friend.  Your praise will be your championship medal at the end of the season!
Defensive set-pieces
This was something that came up on Twitter in the week, apologies I cannot recall who asked.  They wanted to know what I did on defensive set-pieces as they are leaking goal after goal.  I'm using exactly the same setup as I have always done, and believe in through success defending this way in real life.
We do the same on the other side – the theory is this;  the lad closing the corner down is really the 4th zonal marker.  So we basically have 4 zonal covering the six yard box and one covering the near post for that near post run and head at goal.  The two centre backs pick up the big ones, two others loiter and pick up anything else that needs picking up.  We have our shadow striker on the edge of the box.  Believe it or not, I see this as a counter attacking opportunity by setting up this way.  I don't want someone long, as that means we might pump it up there.  This way we are all close together and if we get the ball we can break fast as a unit.  Net result this season – goals conceded from corner zero, goals scored on the break from their corner five.
I have always left defensive free kicks on default.
As I alluded to, the future may well look very different for this team.  Therefore I need to start putting some kind of plan into action about having a squad ready for next season.  These breaks down into four key areas:
Players I believe will still be with me next season
Players who are returning from loan spells elsewhere
Players I can promote from the farm or academy sides
Basque players I have been scouting that impress me with their KPI's
I think I have rattled on enough tonight, so I will cover this part in the next post – give me a couple of days.  As ever, feel free to ask anything in the comments below or on Twitter!