Welcome back. Norwich's European adventure got off to a reasonable start in part 13, but if previous updates are anything to go by we quite often start our endeavours well before they go tits up in the second part of the season. As it is, we just need a draw with Sporting Lisbon and our European adventure will extend beyond Christmas. I think we can manage that.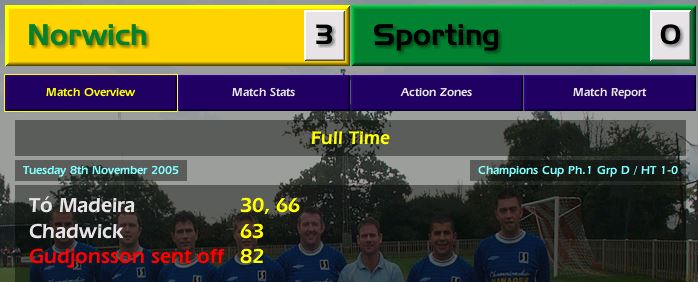 Chadwick always turns up when it matters. To Madeira just keeps on keeping on. To stage 2!
This is of course back in the day where the Champions League was played over two group stages, so our reward for coming through one group is another. But first, confirmation that we topped the group.
Oh my.

Barcelona will be coming to Carrow Road. Milan aren't bad either.
You can always rely on Gazza to raise a laugh.

Milan are on their way to Norfolk and despite playing with 10 men for 72 minutes, we pull out an incredible win. Chadders. Also, Delhommeau is a win for my scouting team. He's been in the France squad, so good for him.
I may as well cover the second game now whilst we are on European action, as it's the last game until February when European competition resumes. The trip to the Nou Camp went less well.
That gives us plenty to think about for a few months until we play Lille home and away.
Back to the domestic action then and whilst we might be doing well in Europe, we're still bloody stupid at times and throw away a 2-0 lead at home to Boro. Mexes is as reckless as he is good.

He has, however, along with Bakircioglu signed new contracts which is a sign of how far we have come.
As I was saying…
Dimi gets a 3. Which is one less than the number of goals First Division Oxford scored. The board wanted cup success…I hope they aren't too hung up on that dream.
This is a rare event. Joey Gudjonsson nets a hat-trick and Millwall are sunk. Millwall are a Premier League club, it just doesn't seem right. But a wins a win and John Hartson continues to look a bargain freebie.
But still, the opportunity to sign Marcus Bent arises for just £6m and I know you're all probably thinking that is £6m too much for Marcus Bent but he's a hero on CM01/02 and nobody really knows why. He celebrates his debut by scoring the second in a 2-0 win over Chelsea. Gud Joey continues his goalscoring form.

We're picking up some momentum, at last, and Paolo Maldini can't resist Marcus Bent. Nobody can resist Marcus Bent.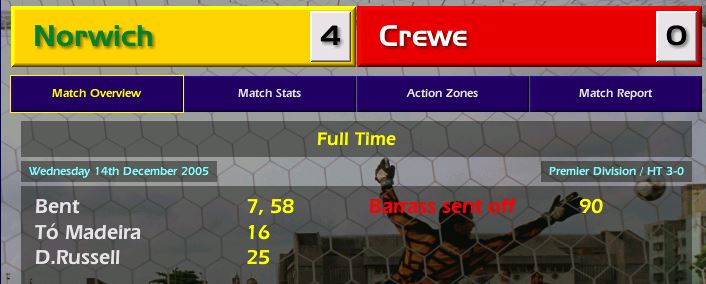 Our third home game in a week brings us 6 goals and another 3 points. 6 different scorers too, including the boy Bent as a 2-0 lead becomes 2-2 and then 6-2. What a wonderful time.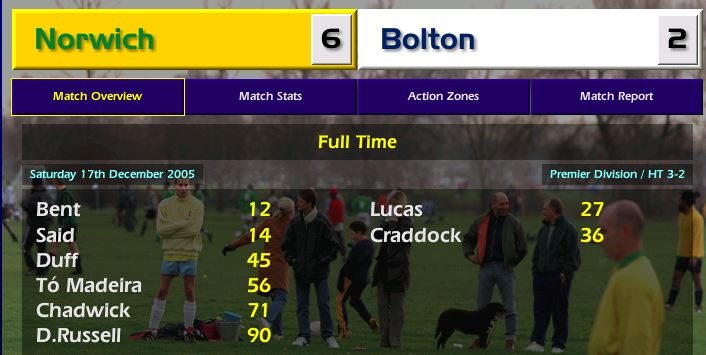 A fourth home game should be an opportunity to take 12 points but we have one of our trademark "defending is for losers" nights and another lead is blown. Former captain Gary Holt departs on a stretcher but he was great for us in our promotion season so I have nothing but love for him.
A couple of away draws over the Christmas period do us no harm before it's FA Cup 3rd round day. To Madeira hates the FA Cup and gets sent off very early on. Hull don't really go for it though and we finally land a significant punch in injury time to see us through to Round 4.
Another First Division team, WBA, are our opponents and it also looks like going to a replay until Eriksson gets his first of the season to win it.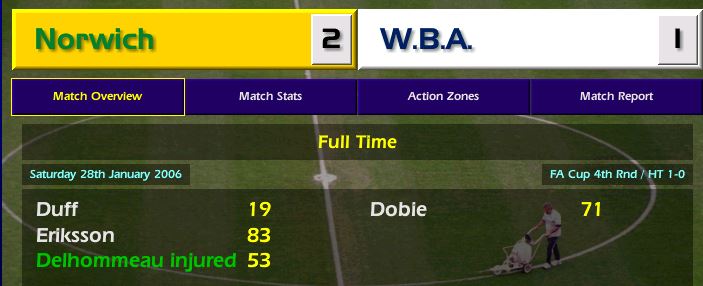 Our league form is patchy though, a home defeat to Arsenal isn't massively shocking but Bosko Balaban being on the scoresheet…for Arsenal…really is. You can't prepare yourself for that.
It's a North London double as we face Tottenham, a team we always struggle against. We throw away a lead but Jamie Victory snatches us a point, which we will absolutely take.

The tough games keep coming as Liverpool visit Carrow Road. We're not in great form but Aaron Hughes puts us 2-0 up on half-time and despite a spirited Liverpool attempt, Joe Cole's late goal counts for nothing and it's a famous win.

Man Utd are down in 7th as David O'Leary slowly starts to turn a world-class side into an average one, but they'll still fancy their chances of beating us at Old Trafford – even more so when Victory is dismissed after 22 minutes.
They are wrong.
What a result! We seem to be better against the bigger sides, though we can still handle the rest.

Every game we seem to get an injury or a red card and it's really catching up with us. We've also lost three players – Moukoko, Said and Olembe – to the African Cup of Nations. Our league game against Birmingham I have about 15 first team players available. Please, can we have the week off?
We can! They never agree to that. It doesn't look much better for our Champions League game with the added ineligibility issues but no chance of postponing that. Getting a result against Lille is going to be difficult.
With 26 played, we're 7th, on the fringes of the European places. We're still in the FA Cup so we have a few avenues back into Europe, but I don't think we'll be winning the Champions League any time soon. The top 4 is achievable though, especially as we have played many of the top teams in January alone.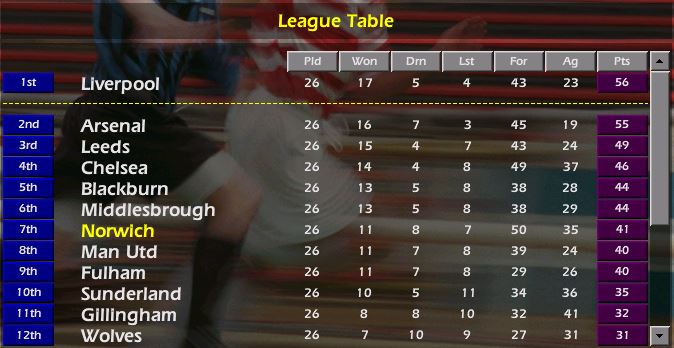 You'll have to come back for part 15 to see how we get on in trying to climb the table but also our quest to advance to the last 8 of the Champions League – if I can get a team out. See you next week.