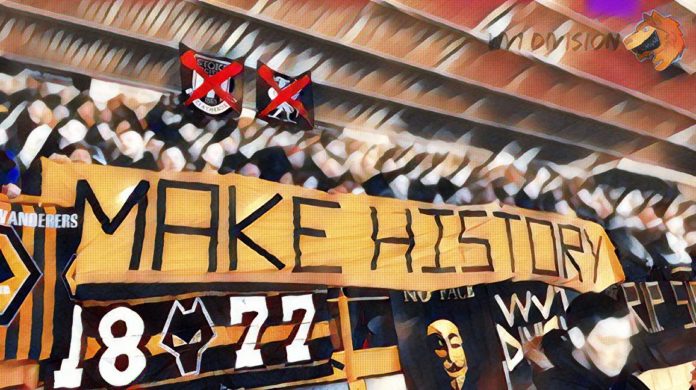 Afternoon folks, we're back for another chapter of Beating Nuno and I hope you're as excited to read it as I am to write it. No? Well, you should be! We've got a double-header this time so you're in for a right feast of football as we take a look at how my Football Manager Wolves got on in comparison to Nuno's Wolves. It's 1-1 so far as Nuno won in August, however, I bounced back in September, so it's all to play for.
October began with a Midlands derby against Aston Villa at Molineux and Nuno's team performed very well as they picked up a 2-0 win and considering it was so tight between us, it meant that I had to win as well to keep up. Against my better instincts, I went with five at the back as it was a game I didn't want to lose rather than win which is unusual for me, but I couldn't face having a loss on my record against this lot. Let's see how that went…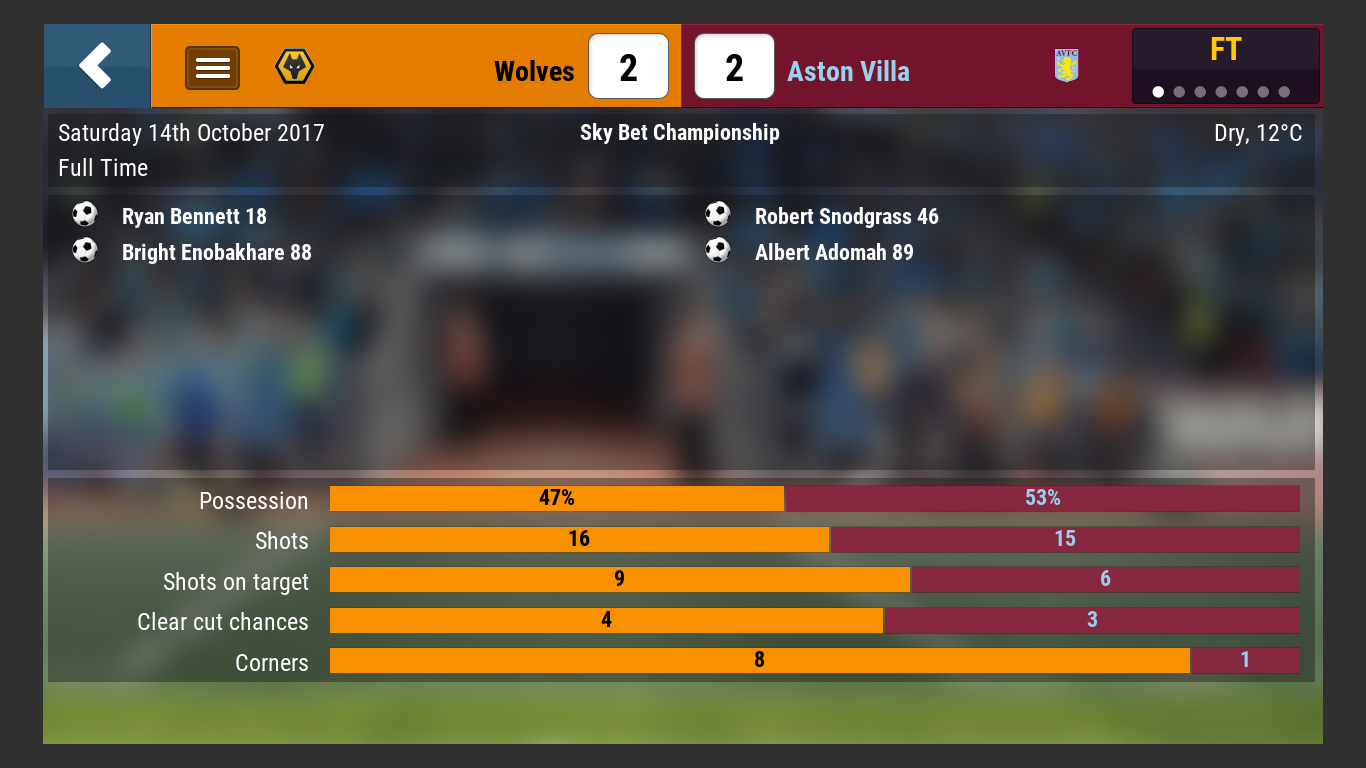 With two minutes to go, I was shirt-twirling like there was no tomorrow as I was led to believe we were going to win. As you can see, only a MINUTE had passed before they equalised, I was shirt-twirling no more. Trying to keep the glass half empty, at least we didn't lose, eh? I got it completely wrong and gave them far too much respect which was probably to do with the fact we only just scraped past Burton the game before, nevertheless, lesson learnt.
Preston North End were next on the fixture list as they came to Molineux in a game where I went back to the way it should be, 4-2-2-2. Nuno won 3-2 after nearly chucking away a three-goal lead, so yet again, we had to win, otherwise, we risked a gap opening up and that wasn't in my playbook. Luckily, the playbook rang true.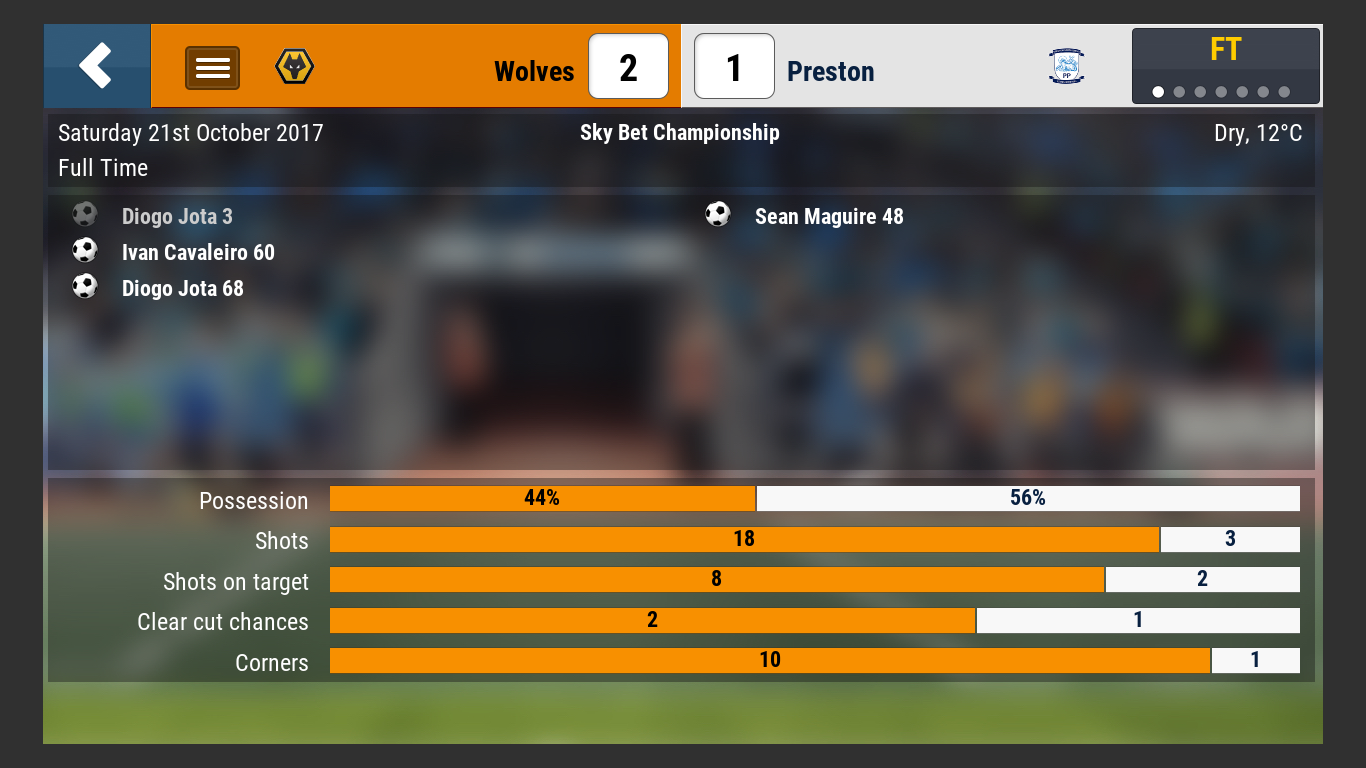 When Maguire's goal went in after Jota's got disallowed inside five minutes, I feared the worst. Jota and Cavaleiro pulled through, though and we lived to fight another day. Saiss and Ronan played in the middle of the park and looked very assured, Saiss had a 100% success when it came to his passing, Ronan only misplaced the seven and got an assist, so all was good in the world once more.
As you may recall, we got knocked out in the previous round of the Carabao Cup, losing to Chelsea 4-2 whereas Nuno's side marched onto the next round where they got drawn against Man City; they did incredibly well to hold them to a 0-0 draw over 120 minutes, albeit, Nuno's side eventually lost on penalties. A trip to London was next on the agenda as we went to Loftus Road to face a QPR side who, let's be honest, are not very good. Nuno lost 2-1 and it gave me the perfect chance to rectify the league table between us both. This is what happened…
Pish! It all started so well. Just goes to show that you should never change a winning side. When the person you bring in is Ruben Neves, mind, you should be ok. I brought in the Portuguese maestro for Romain Saiss as Ronan's form meant he was currently untouchable and he did set-up Bonatini's goal and score himself, so in a sense, my decision was vindicated. In hindsight, maybe I should've Ronan at the break and brought on Saiss to add a bit more steel. Hindsight is a wonderful thing. It wasn't the end of the world as no ground was lost, so we move on. This time to Carrow Road. Where are youuuu?
Neves still wasn't in a place where he could play two games a week so I brought in Jack Price as they're very similar players. Neves is just light years in front of him. Nuno came away with a 2-0 win which put the pressure well and truly back on us. One thing I was certain of, we weren't going to keep a clean sheet…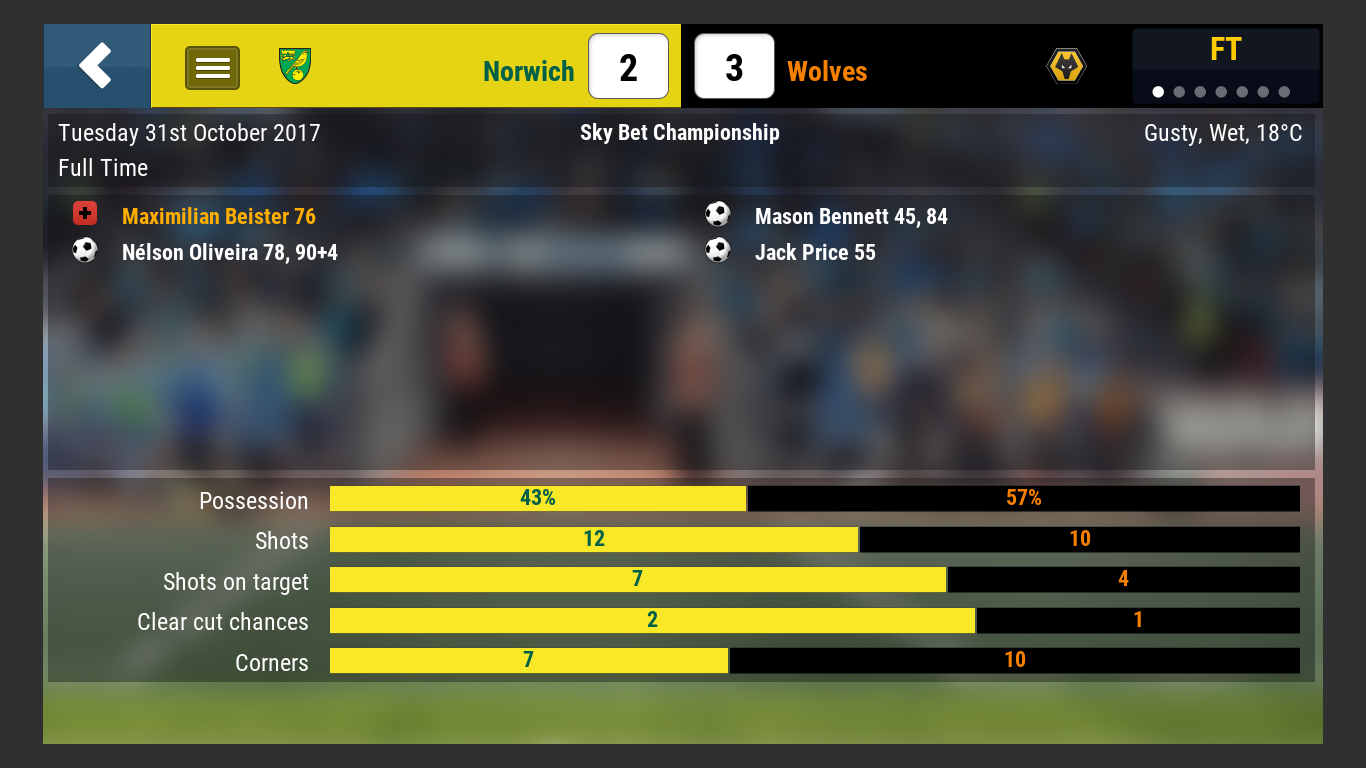 Bennett played up front alone in this game with Gibbs-White tucked just behind him as Bonatini was in a similar state to Neves and as you can see, Bennett flourished without Bonatini on the pitch which made the starting XI for the next game slightly more tricky. Price bagged as well, which vindicated my choice yet again, what a good manager I am! I also took off Ronan when we went 2-0 up to sure things up, learning from the QPR game. No such thing as mistakes, only lessons.
October ended with that win at Norwich and November started with a game at Molineux against Fulham. Nuno's side scored early as they won 2-0 meaning that the ball was back over my side of the net again, could I return the ball?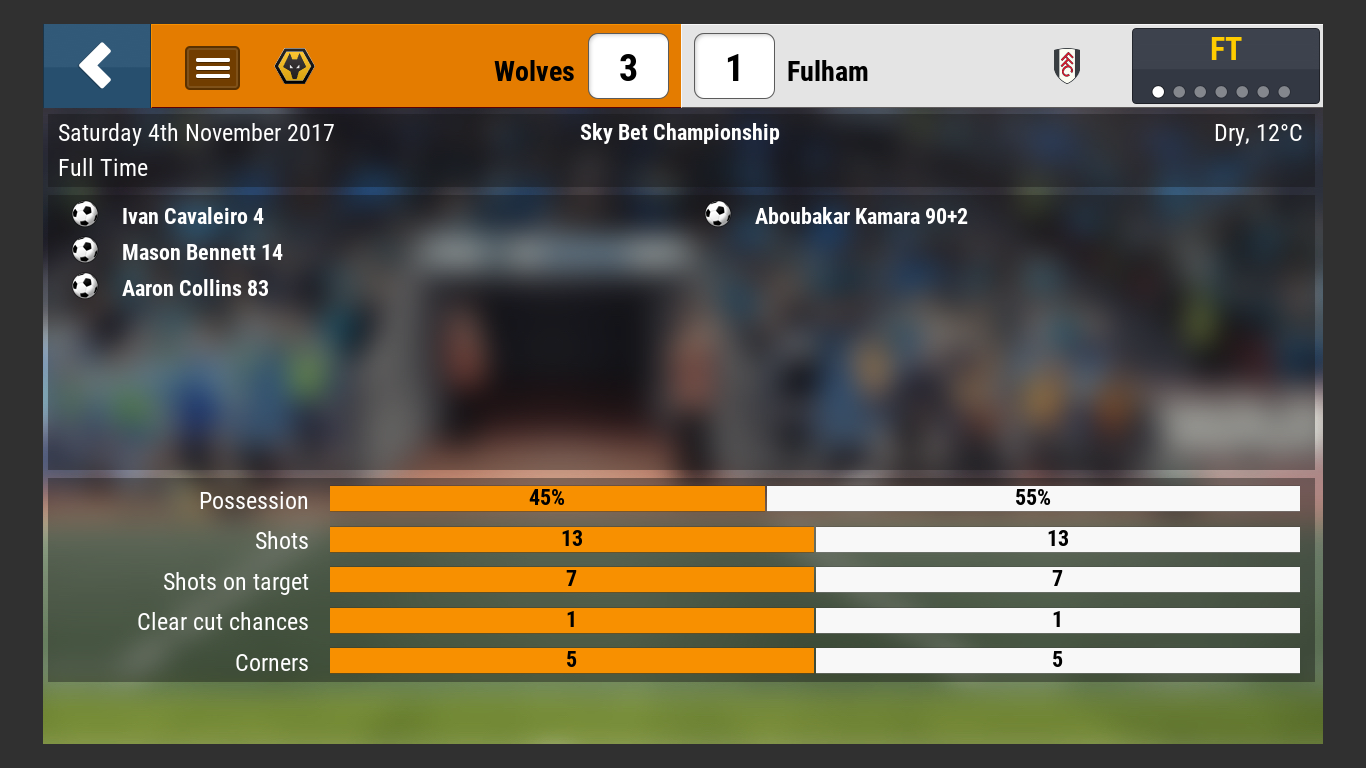 Early goals kill matches, as you can see. Well, unless it's against QPR. It was fantastic to see young Aaron Collins get on the scoresheet and I was relieved that changing a winning side didn't come back to bite me on the backside for the second time in recent weeks. For me, if Neves is fit, he has to play, no two ways about it. He got an assist as did Ronan and the two of them linked up really well once more; Saiss slotted in at centre back as I tried to find a clean sheet formula. Nearly.
Berkshire was next up on the menu as we ventured to the Madejski to face the Royals of Reading, as was becoming the norm, the bar was set by Nuno as his side won 2-0. On another day, they may have dropped points. Ruddy was the sole reason they didn't as he pulled off a couple of remarkable saves. I didn't favour Ruddy, that wouldn't matter though, would it?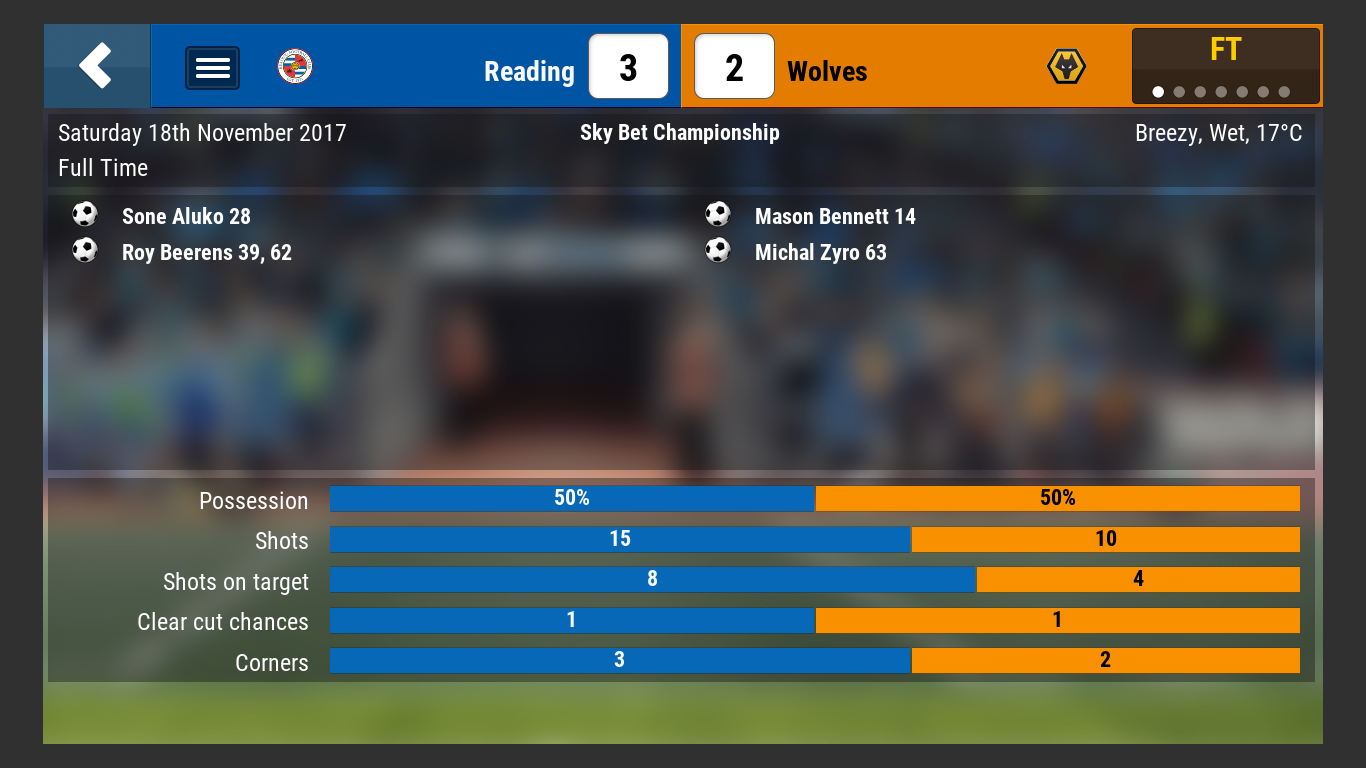 Turns out it did matter quite a bit. It was annoying because not only could we not string a run of results together, we also lost ground on Nuno again. It's like a bloody double-edged sword; it's bad enough when I lose. After a few minutes of reflection, I then remember why I'm doing this and get even more irritated. Such is the way of the world. Conveniently, we had a game in the week which meant we could make amends sooner rather than later.
Dirty Leeds arrived in WV1 and I had one word and one word only engraved in my mind. B A C K L A S H. No way was I going to lose two in a row, especially not to this lot. It was made even more crucial that I got a result after Nuno won 4-1; does he ever take a break? I had to win.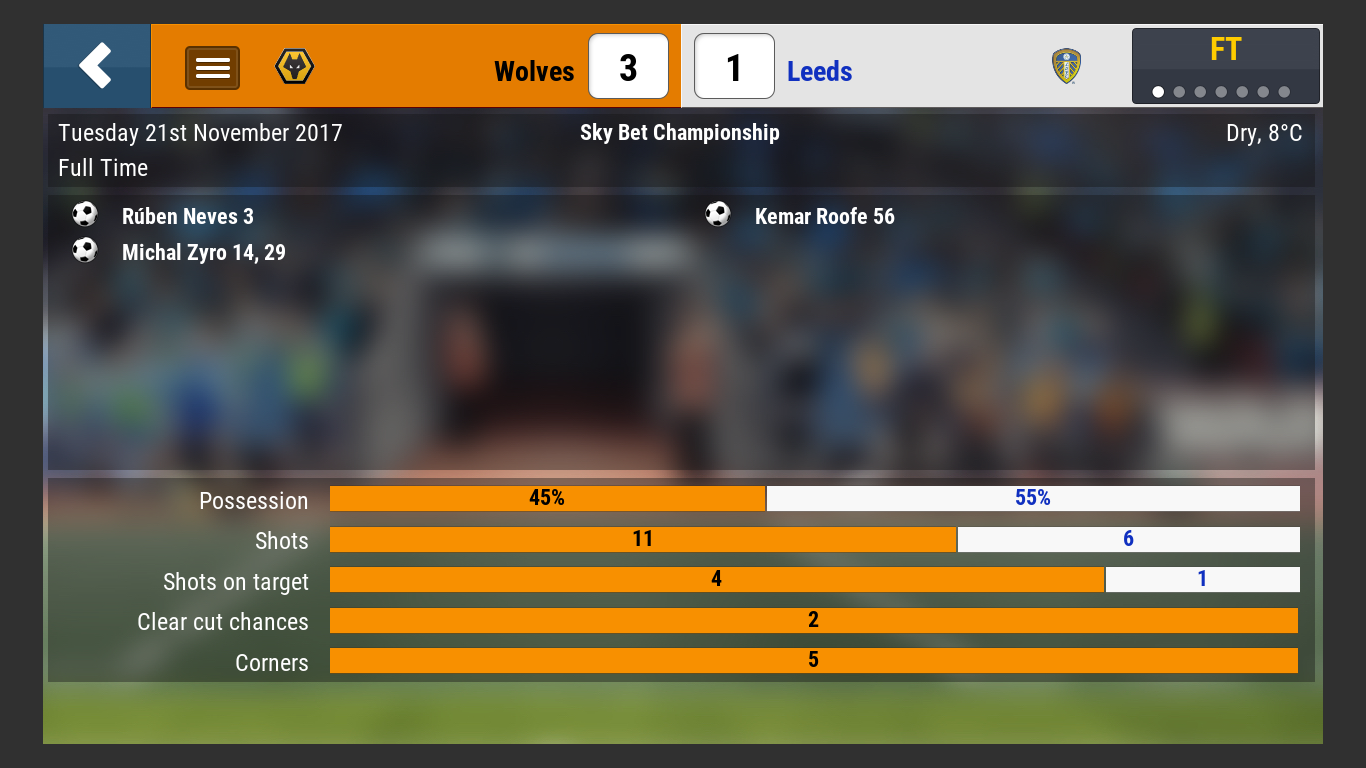 Tinkering sometimes pays off. I resorted back to the five at the back that got me the point against Villa because I was in similar territory as I really didn't want to lose and if it wasn't for us switching off after Bright scored in the 88th minute against Villa we would've won. Ronan was the one that was sacrificed and believe me it was one of the hardest managerial decision I had to make as it was a toss up between him and Neves and as much Ronan had been well, he's not Neves. No one is. Zyro's return to form was more than timely as Bonatini was ruled out for a few weeks well. No Zyro, No Party.
Molineux was the venue of the finale of this chapter as well. Notlob were in town for this one. Yes, I realise it's childish to call them Notlob as opposed to their real name, but I'm sticking to it. Nuno won 5-1. There's no stopping him. Literally. I needed to win again.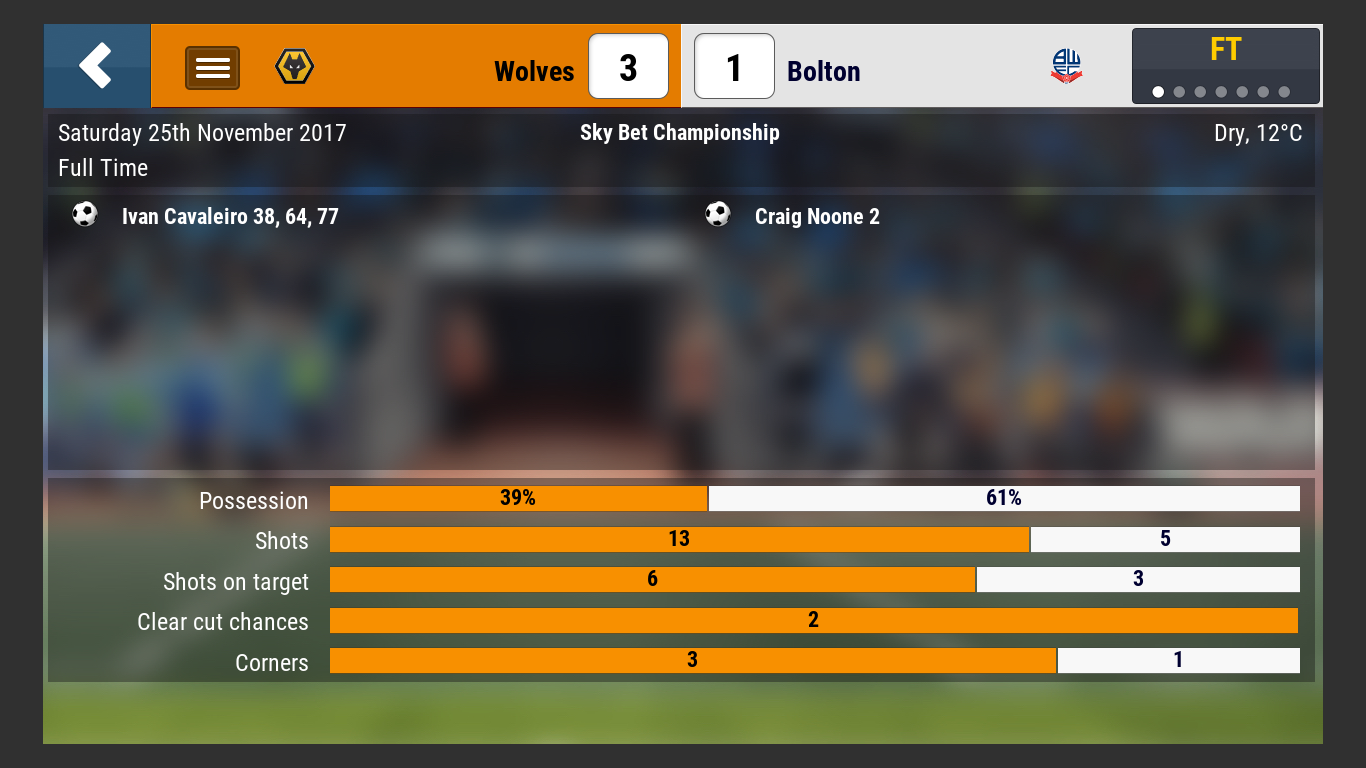 Finally, a bit of consistency! Cavaleiro was the saviour because if I'm honest, we didn't play well and the final score was very, very flattering indeed. You take what you can get! Price and Neves continued to interchange as Neves still tries to get to grip with English football, I don't mind. He could be fit for one in ten games and I'd still pick him, he's absolutely immense.
That's the end of that chapter, all that remains is for us to take a look at the table…
| | | | |
| --- | --- | --- | --- |
| Team | Played | Goal Difference | Points |
| Nuno's Wolves | 19 | +23 | 44 |
| FM Wolves | 19 | +20 | 40 |
He's clawed it back and then some. Revenge will be on the cards in December. I hope.