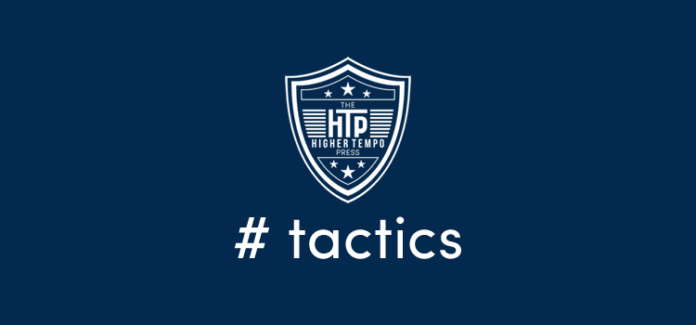 "If I want to win 1-0 I think I can as I think it is one of the easiest things in football. It is not so difficult." – Jose Mourinho
I don't believe he plays FM18 – noted sponsorship with alternative mobile football management sim aside. In my experience trying to get a 1-nil win in this version of FM is worse than that time AVB took me for a quick spin in his new motor.
After I was sacked as boss of Hadjuk Split, I found myself parachuted into a relegation dogfight with Dragovoljac. It may shock readers of an article about a nerdy computer game but I cannot fight very well. Thus following the inevitable relegation and sacking, I found myself taking over at newly promoted NK Zadar and into another scrap for our lives.
Note – no solace was taken from these sacking with my fun side save in Darwen's Indian Super League as I got the boot from Delhi Dynamos too. Three sackings in two FM sessions. What a weekend! You may want to keep this in mind whilst reading below.
I lasted ten games before I retired that save for good.
The point being is not how bad I am at FM18 – just read my channel on the FM slack to know that. No, the point of this is to take inspiration from the great defensive systems, managers and players and see if I can apply it to FM18.
FM18 Defensive Play – Part 1 The Systems
Part of my issue in FM18 is that the AI is very good at punishing you and your mistakes. The game is undoubtedly closer to real life football than it has ever been. I like my teams to win football matches so I usually set my tactics up thinking – how are we going to score goals? The game comes and although I may respond to the opponent's attacking focus by closing down a flank or dropping more cover, generally I am focused on our attacking play.
It is this lack of attention to the defensive detail that will be my undoing at some point in the game. Usually, it results in draws or close defeats.
But herein lies the point of this series – I am still looking to win matches. I am not interested in playing anti-futbol. Instead these defensive systems should give me the solid base to win games and be successful.
I will look at the following systems:
Catenaccio (1-4-4-1 or 1-4-3-2) 1947-1960 Padova or 1960-68 Inter
Zona Mista 1982 Italy National WC / Trappatoni's Juventus
Modern 5 Defender Systems

5-3-2 Pendulating WB Chain
5-4-1 5-Chain
Each system will be taken for a test drive for one season using FM18 (full-fat version) on holiday mode. I have decided to use the wonderful custom Scottish database from "The Community"'s FM Samo. He has built 15 tiers of teams and brought back the SPL as an 18 team top division. I will be running these systems with Heart of Midlothian. It seems fitting to use them here as the Jam Tarts have recently been on a great defensive run themselves under Craig Levein – the man who introduced strikerless to Scottish Football via the National Team and confirmed it is not hackz.
Catenaccio (1-4-4-1 or 1-4-3-2) 1947-1960 Padova or 1960-68 Inter
Much has been written about Catenaccio in general football terms as well as in FM – many attempts have been made to recreate it. I don't want to repeat the same old thing, however, to leave it out of this article would be an obvious omission. So to summarise – if you want to know its history etc – google catenaccio. Below is my brief take on the Herrera's Internazionale version of the formation.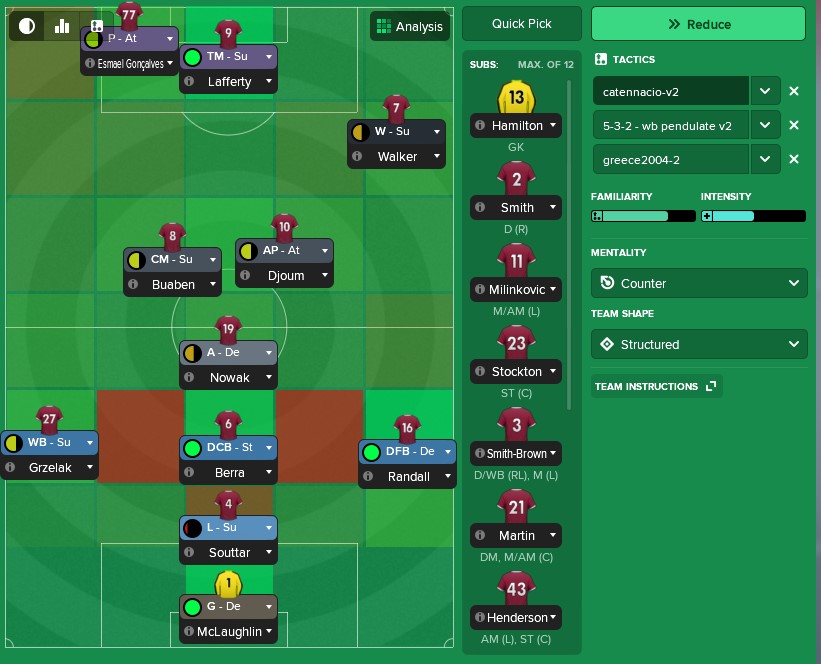 Season results
Didn't even reach the end of the season here!
The Board's expectations of a top-half finish were not being met so I got the sack after 23 games. Ignore that win at the end – that was Jim Duffy's managerial bounce!
For a defensive tactic, the number of goals conceded was ridiculous.
Here's the analysis overview from a 2-nil home defeat to Ross County. Hearts should beat them at home. The heat map shows a lot of control from Ross County down their right wing although Focus of Attacks is overwhelmingly on the left wing. Either way the flanks are definitely a weak point of this set up. The gaps between the full backs and central defender/sweeper are too great and easy to exploit. To check this here is same view but for ICT defeat, 3-1 also at home. See the similarities?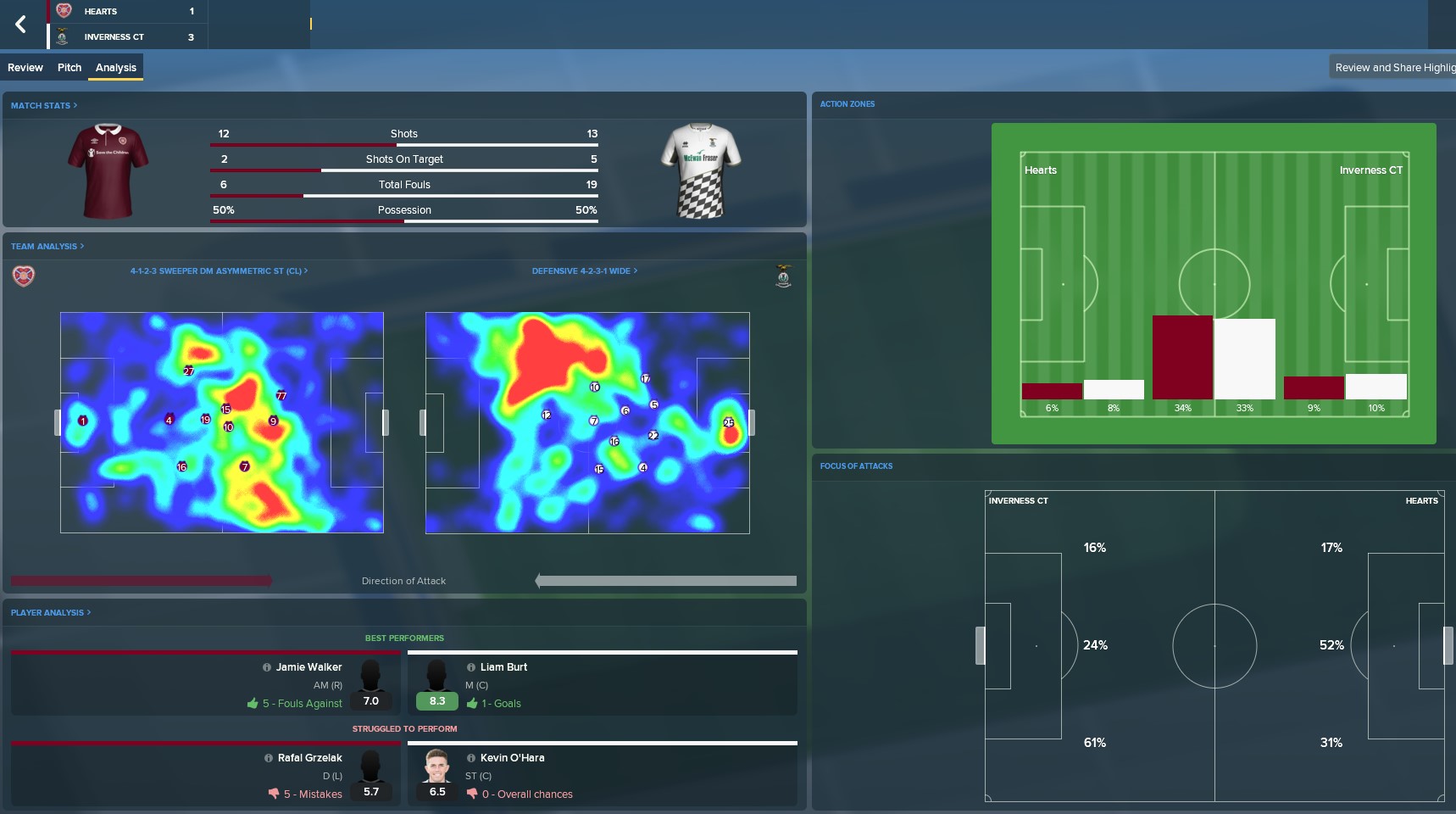 Zona Mista 1982 Italy National WC / Trappatoni's Juventus
Mentioning Giovanni Trappatoni's name might bring a shudder to football fans in Dublin as he was most recently bringing his own dour brand of football to their national team. However, his Juventus team of the late 70s/early 80s found great success using his system. The Italian Nation Team under Bearzot also won the biggest prize in football using what became to be known as Zona Mista. It is seen as the evolution of Catenaccio.
The name translated to English is "Mixed Zone" and refers to the strict zonal marking expected of the players. The defence comprises 3 defenders and a sweeper who is free to assist the others. The classic shape has a left fullback who covers the left flank. The other two defenders a Centre Backs who as stoppers mark their zones.
The midfield offers a screening defensive midfielder and supporting central midfielder. A winger on the right and playmaker make up the four.
The attack is a Centre Forward with a second striker cutting inside from the left.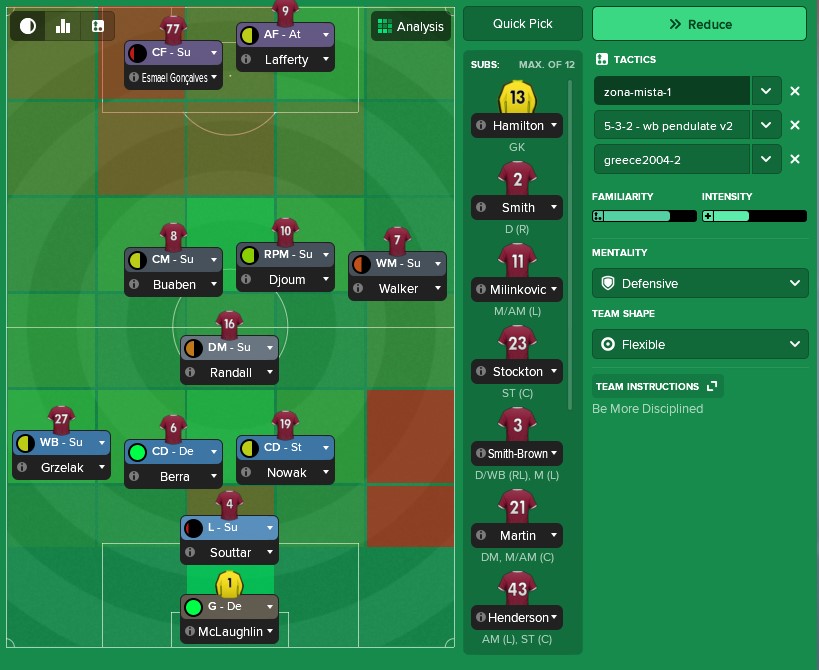 Seasons Results
Lasted even less games! Sacked so early I let the game roll on for two matches before I stopped it!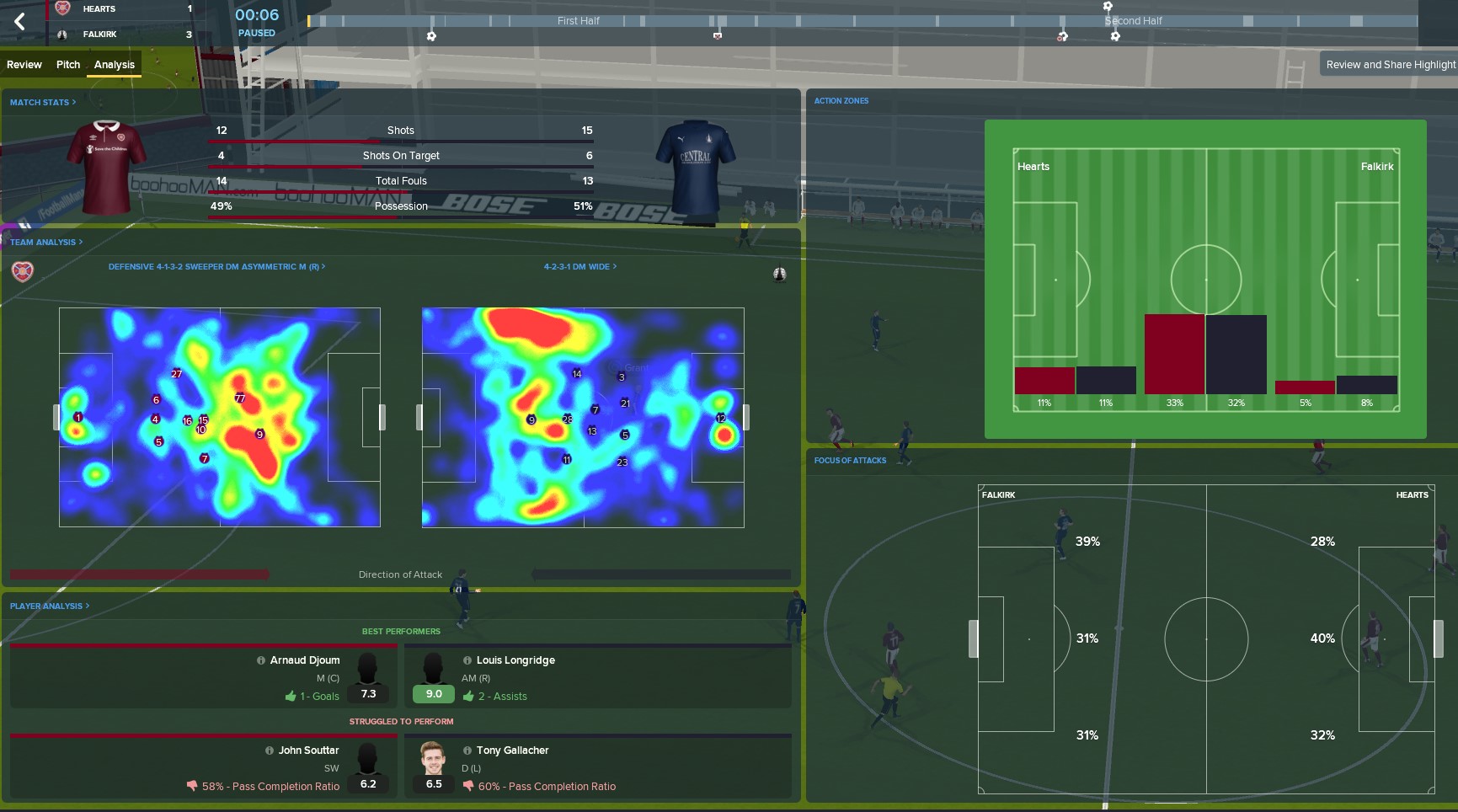 Against a 4-2-3-1 of Falkirk, the flanks were once more open wide for the opposition to flood into. We have three of our defenders marking one central striker giving too much space and time to the wide attackers. Worse was the lack of attacking control compared to the Catennacio – a terrible combination of shipping goals with no attacking threat at all.
I'm really disappointed in this tactic as this is what I got on FM Touch with WBA as I set the tactic up: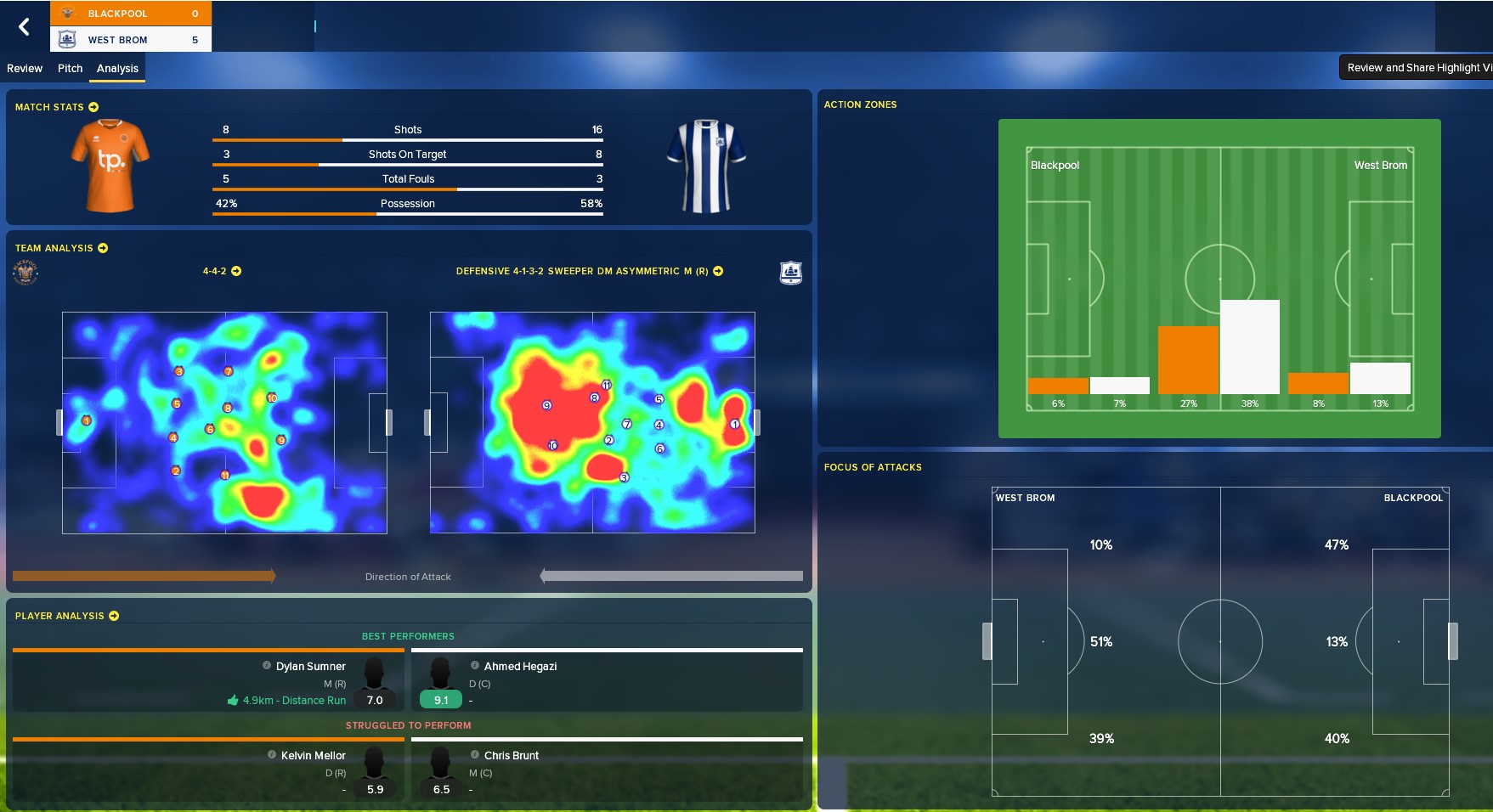 Modern 5 Men Defence
Since the 2010 World Cup, 3 central defenders have become increasingly popular across the world. You can argue it's an attacking move – a manager is freeing up one defensive player to join the midfield or attack in systems such as 3-4-3. However, when defending nearly every team will have the widest players dropping back to form a 5 man defensive line. I will look at two different systems that utilise 5 defenders in today's game.
5-4-1 5-Chain D-Line
In this system, the defensive line moves together. It is ball orientated so when the ball is with the opponents right winger, the d-line shifts left towards the ball. Each player in the line remains close together forming a compact unit that is hard to find gaps in.
Season Results
Wayhay! A full season to show you.
A shaky start but the team put together some really solid results to finish in 3rd – one place above season preview prediction. Only conceding 29 goals in 34 games was the most pleasing aspect considering this article is about the defence. And the fans also have a trip to Hampden to look forward to.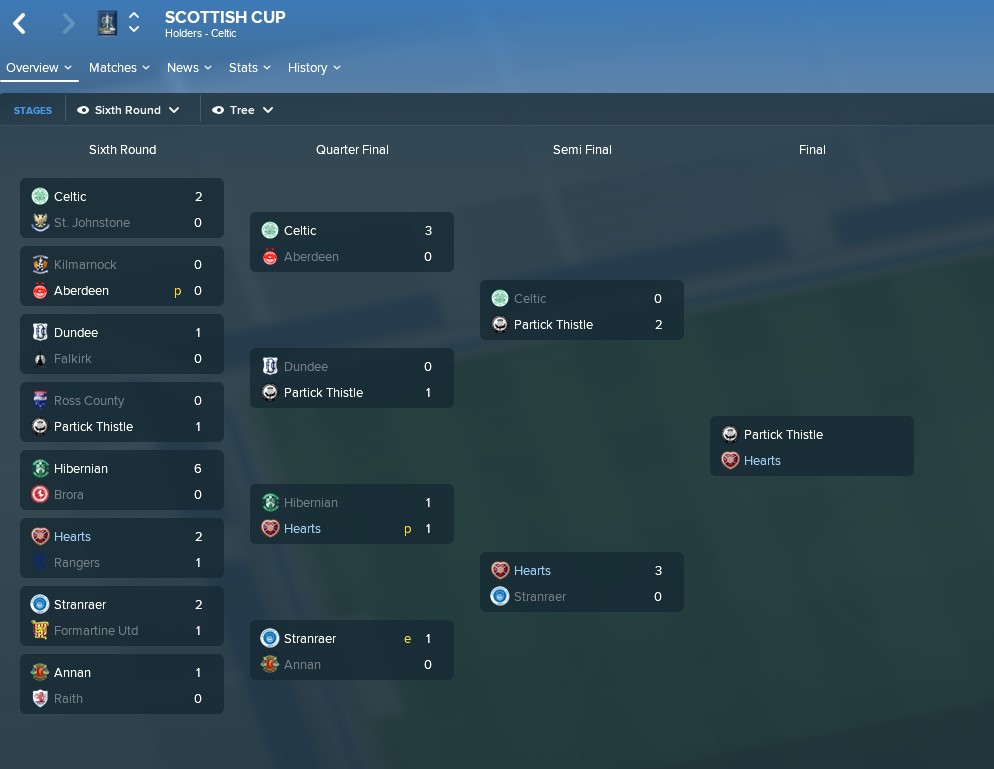 So what does this look like in game?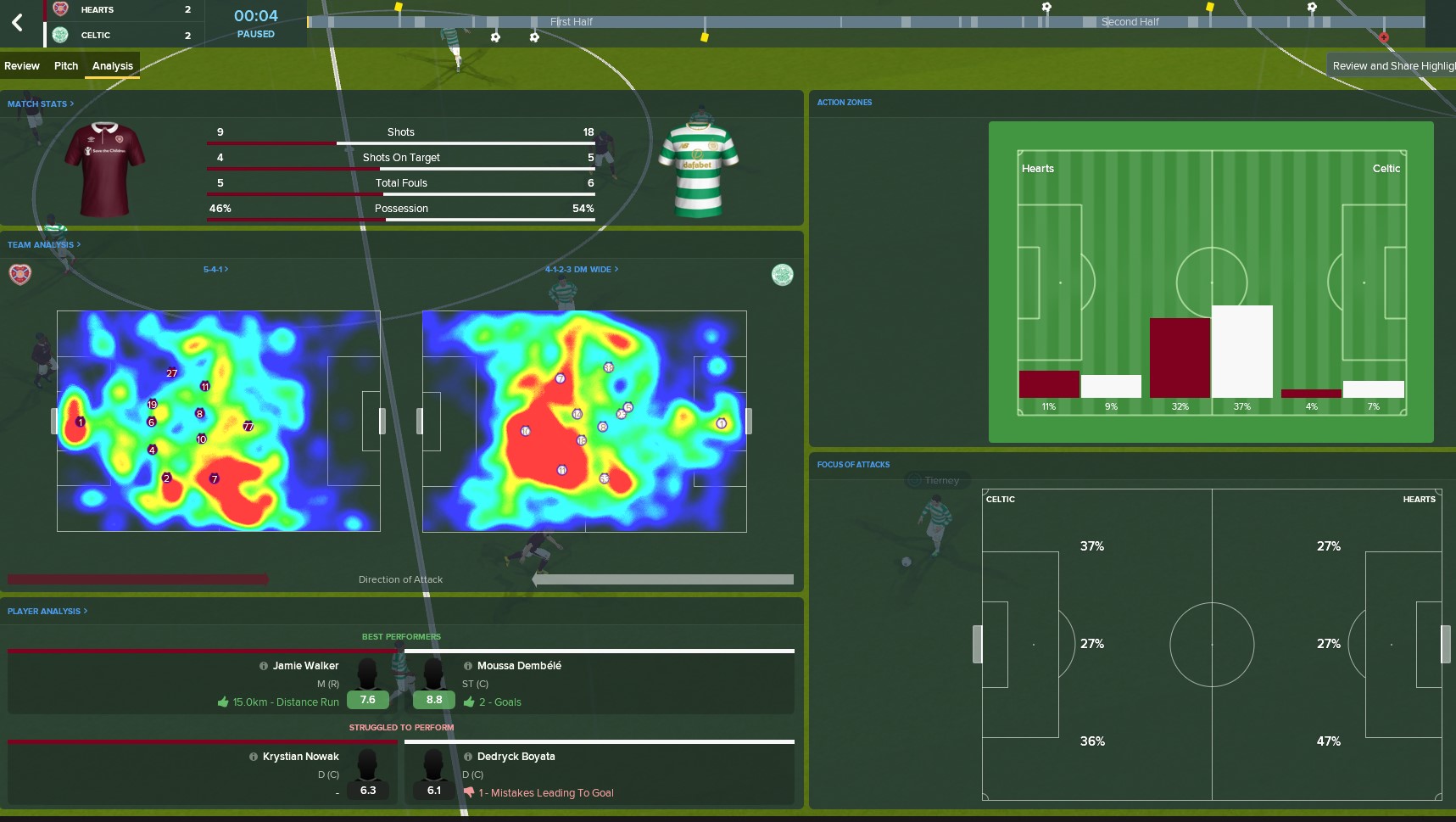 Rather than look at a clean sheet or win, here is Hearts 2-2 draw against Celtic – a side that is much, much better. You can see the control the opposition had so it is no surprise they got 18 shots away but only 28% were on target.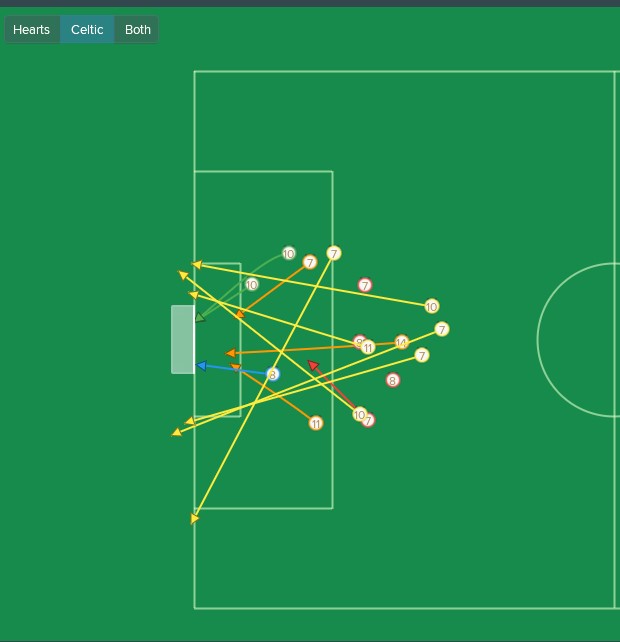 Looking at the shot map, I am happy with the quality of shots we've limited Celtic too. The Blue (woodwork) line probably should have been their winner but take a look at the build-up to one of Dembele's goals (the one further out). It highlights the superior opposition.
5-3-2 Pendulating WB Chain
The concept behind defending with a Pendulating Chain is simple enough. The 5 defenders stand in a line or slight crescent, with a bank of midfielders in front protecting the middle. The idea is to force the opposition to play out wide.When the ball goes out to the flank, the nearest wing back will move out to engage the opponent and ball – pressing high into midfield. The rest of the defensive line will shift positions along to that side to form a line of 4.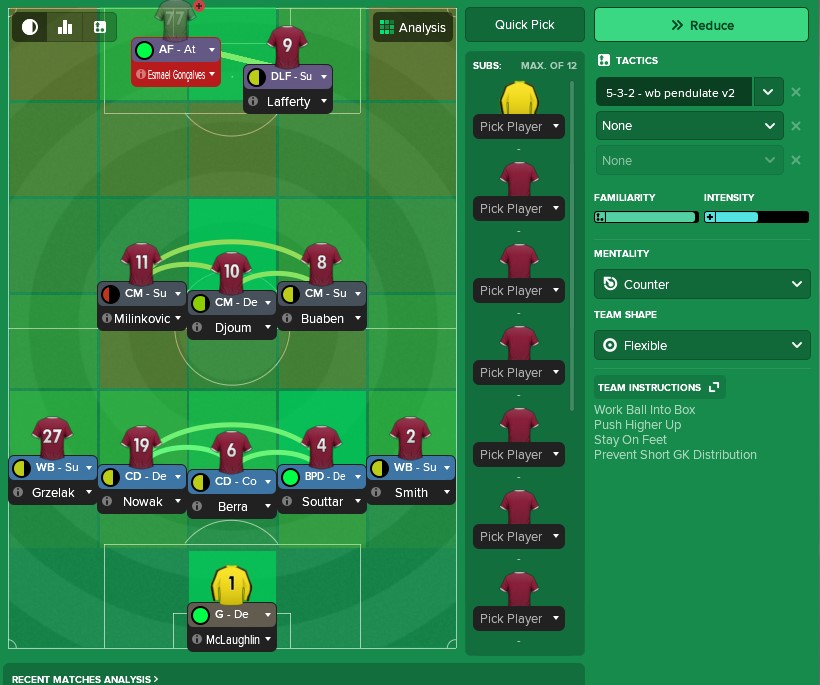 Seasons Results
Another full season – and what a run Hearts had. Watching holiday mode run through the games with the league position after our name was as much fun as you can have with your clothes on.
Losing to Queen of the South and -even worse – Hibs were pissers but that all that green in the schedule is a beautiful sight. In my opinion, this is a more attacking tactic than the 5-chain but we conceded fewer goals whilst carrying a more potent attacking threat.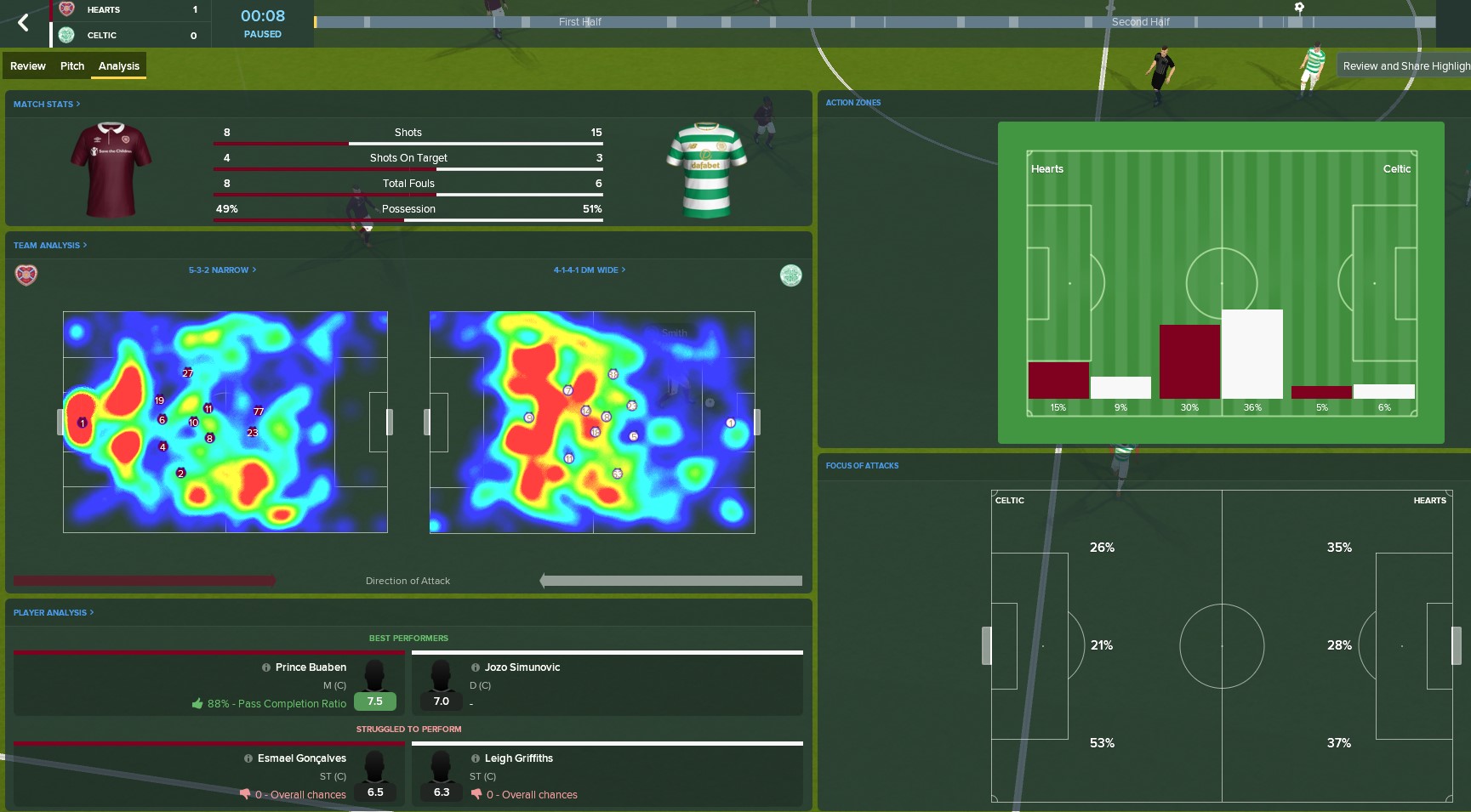 I mean which of the two wins over Celtic do I choose? The 1-nil edges it as if has the clean sheet. You can see the control Celtic has is much less than allowed by the 5-chain set up as our WBs will be engaging much more to disrupt their attacks. Again we concede 15 shots but this time, Celtic only get 20% on target. As you can see from the shot maps most are from acceptable positions.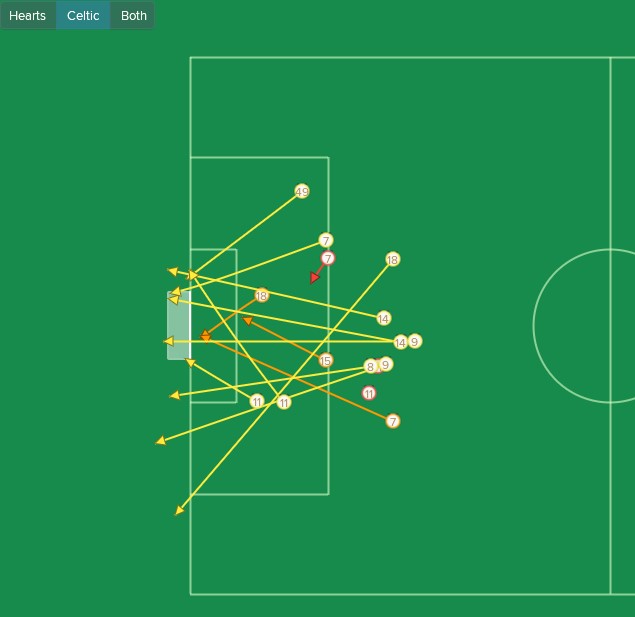 Summary of Results
This table summarises each experimental season:
| | | | | |
| --- | --- | --- | --- | --- |
| KPIS/TACTIC | Exp 1 Catenaccio | Exp 2 Zona Mista | Exp 3 5man Chain | Exp 4 WB Pendulation |
| Games | 23 | 15 | 34 | 34 |
| League Position | 12 | 18 | 3 | 3 |
| Won/Drawn/Lost | 6/6/11 | 2/3/10 | 19/9/6 | 21/10/3 |
| Conceded (League Pos) | 48 (16) | 30 (18) | 29 (3) | 22 (2) |
| Clean Sheets (League Pos) | 1 (18) | 3 (=12) | 16 (=2) | 13 (5) |
| Fouls Made  (League Pos) | 195 (18) | 173 (=9) | 192 (18) | 182 (18) |
| Tackles Won (League Pos) | 486 (10) | 336 (16) | 363 (18) | 363 (18) |
| Tackles Won Ratio  (League Pos) | 74% (12) | 71% (16) | 84% (1) | 82% (1) |
| Headers Won  (League Pos) | 1059 (1) | 688 (3) | 1202 (17) | 1166 (18) |
| Headers Won Ratio  (League Pos) | 61% (5) | 65% (4) | 68% (1) | 66% (1) |
| Mistakes Leading to goal/Total Mistakes | N/A | N/A | 6/515 1% | 5/438  1% |
| Aerial Challenges Won/Attempted/% | N/A | N/A | 1439/2101 68% | 1327/1969  67% |
| Interceptions | 674 (29 per 90) | 456 (30 per 90) | 785 (23 per 90) | 677 (20 per 90) |
| Goals Scored (League Pos) | 39 (8) | 15 (=13) | 49 (5) | 57 (2) |
| Chances Created (League Pos) | 91 (6) | 69 (17) | 97 (13) | 126 (4) |
| Shots on Target  (League Pos) | 125 (6) | 55 (=16) | 155 (9) | 188 (=5) |
| Shots on Target Ratio (League Pos) | 44% (3) | 31% (17) | 37% (10) | 42% (3) |
It wasn't a big surprise that 5 man defences will offer more defensive stability but I am shocked at the effectiveness in these experiments. Indeed, it is hard to express how much of an overachievement Hearts coming that close to winning the league is with the pendulating chain system.
It is interesting that both Modern 5 Man Defence setups resulted in the league's lowest number of fouls, lowest number of tackles and headers made but the highest success rate for both. These are quality over quantity tactics.
I was really disappointed in the results of the Italian systems – the initial signs when I was setting these up and testing them on FM Touch with WBA were very encouraging! I think under a human manager and not the AI, there still might be something in them for you to experiment with.
After all that I think it is clear what tactics will be going into my save for those tough away games. Forza 5-3-2!
If you would like to download these tactics and try them out for yourself, follow the link below.
Forthcoming #fm18 blog on defensive systems will be here soon. Download the tactics now https://t.co/1Hi10erV3P

— Stuart Davidson (@tommysboy007) February 9, 2018
Still reading?
I'll return soon with a look at defensive managers including Tony Pulis, Otto Rehhagel and George Graham. In the meantime follow me on Twitter @tommysboy007 or in FM Slack under #tommysboyonfm. My current save is with Envigado in Colombia.