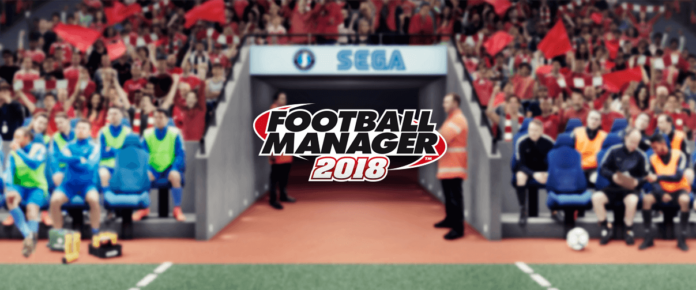 I didn't think I'd have the time to quite get through enough to justify an update this week but the gods of time have conspired with me and I got through a fair whack including finding maybe the first great young star of this save.
Transfers
As you can see, I've been a very busy boy over the summer period. Our sales column probably won't be that busy for a couple of seasons now that I've shunted out what seems like the world's supply of right-wingers. As always though we'll try not to focus too much on the outs as they're not really part of the goal to this save although a couple of the later ones are notable.
Xande was absolutely rapid and looked to be a great little young winger for the first team this season but Mainz met his release clause which was always going to be an issue. Sebastian Rincon was going to be a backup but he kicked up a fuss when I brought in Xande's replacement (who is sensational) and I shunted him out the door.
Anyway, onto the important part: the ins. We start with my panic signing which brings one of my rules back into your conscious thought. As you will remember, I'm only allowed one signing per window over the age of 20 for the off-chance I screw this up and need a star signing to bail me out. Sadly, this isn't a star but a signing of what I thought was a necessity. Left-back Ghislan Konan was a wanted man and said he'd leave when I got a replacement. Spoiler alert but he didn't and I still got the replacement in Camilo del Castillo, who is shite.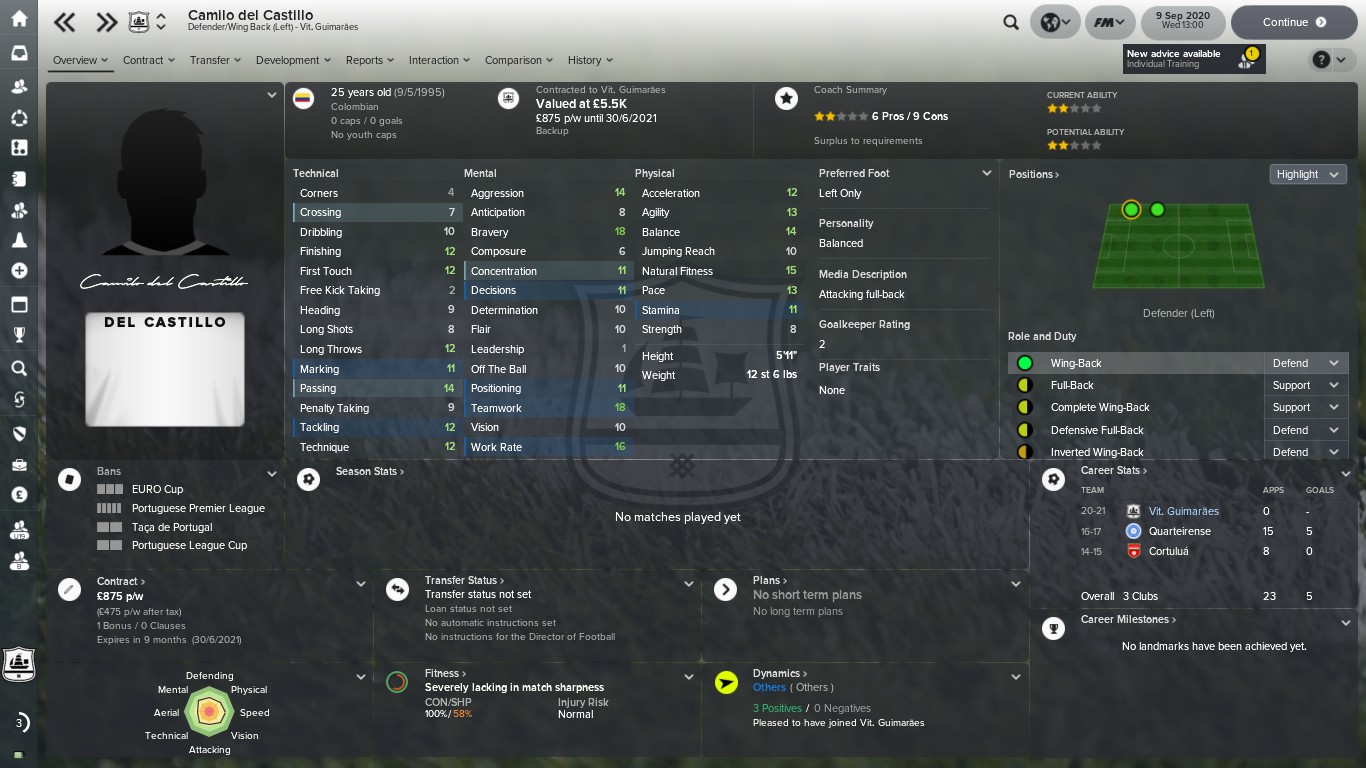 Now we've got the mistake out of the way, allow me to introduce you to the two big money moves of the window: Boris Kolev and Marco Silva.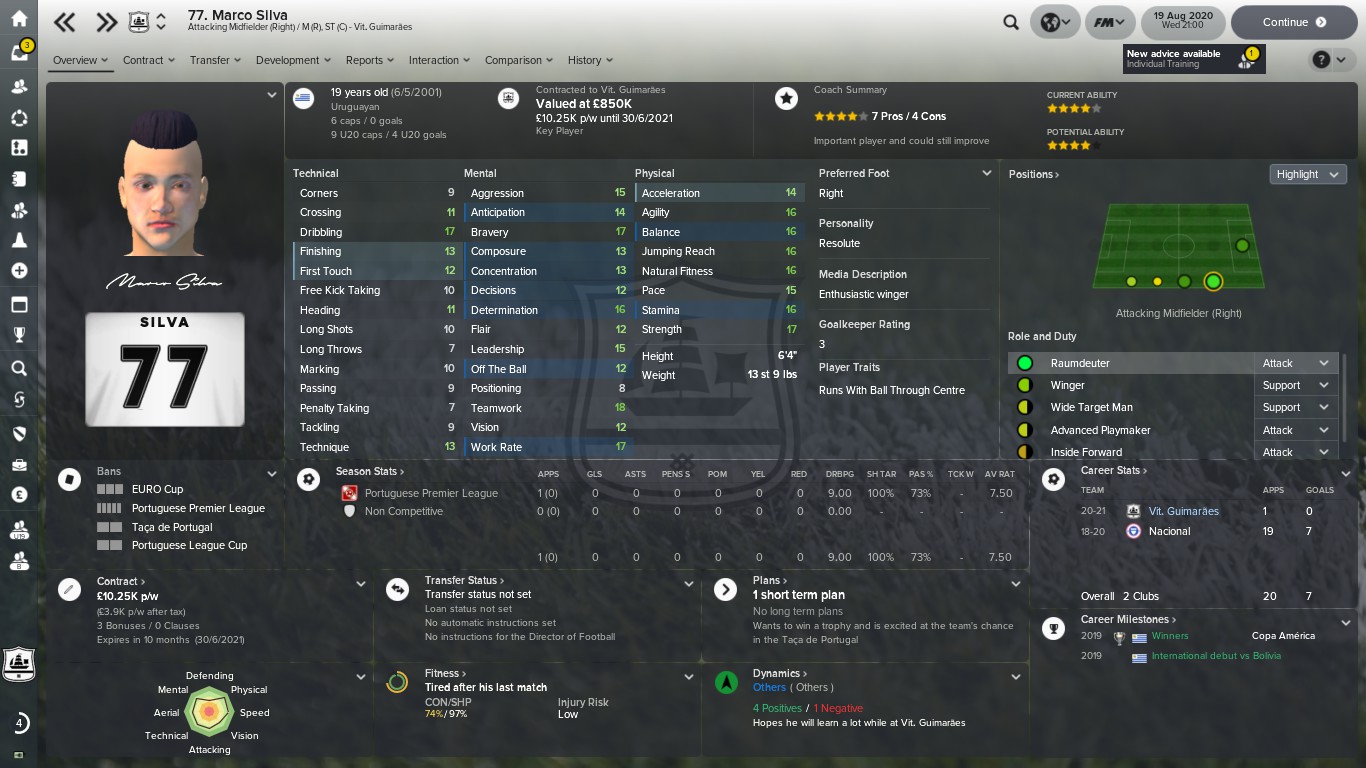 I mean take a look at those attributes on these boys. Boris arrived from Ludogorets in his native Bulgaria for £1.5 million which is probably a premium price for a Bulgarian league player but, with Juventus sniffing around and offering him a trial, he's clearly going to be a really good player.
As for Marco, his attributes scream striker but I'm going to use him on the wings. The deal to bring him to Guimaraes was expensive for us and wiped out all of our money at that point and he's only on a one year contract which is going to need to be extended ASAP. This one could end up in heartbreak.
The next lot of signings are ones I've pinched from Africa for cheap. There's a pre-contract, future signing I'm quite excited about and a couple of B team players who could be OK.
The pre-contract signing (arriving in December) is ASEC's striker Yannick Diallo: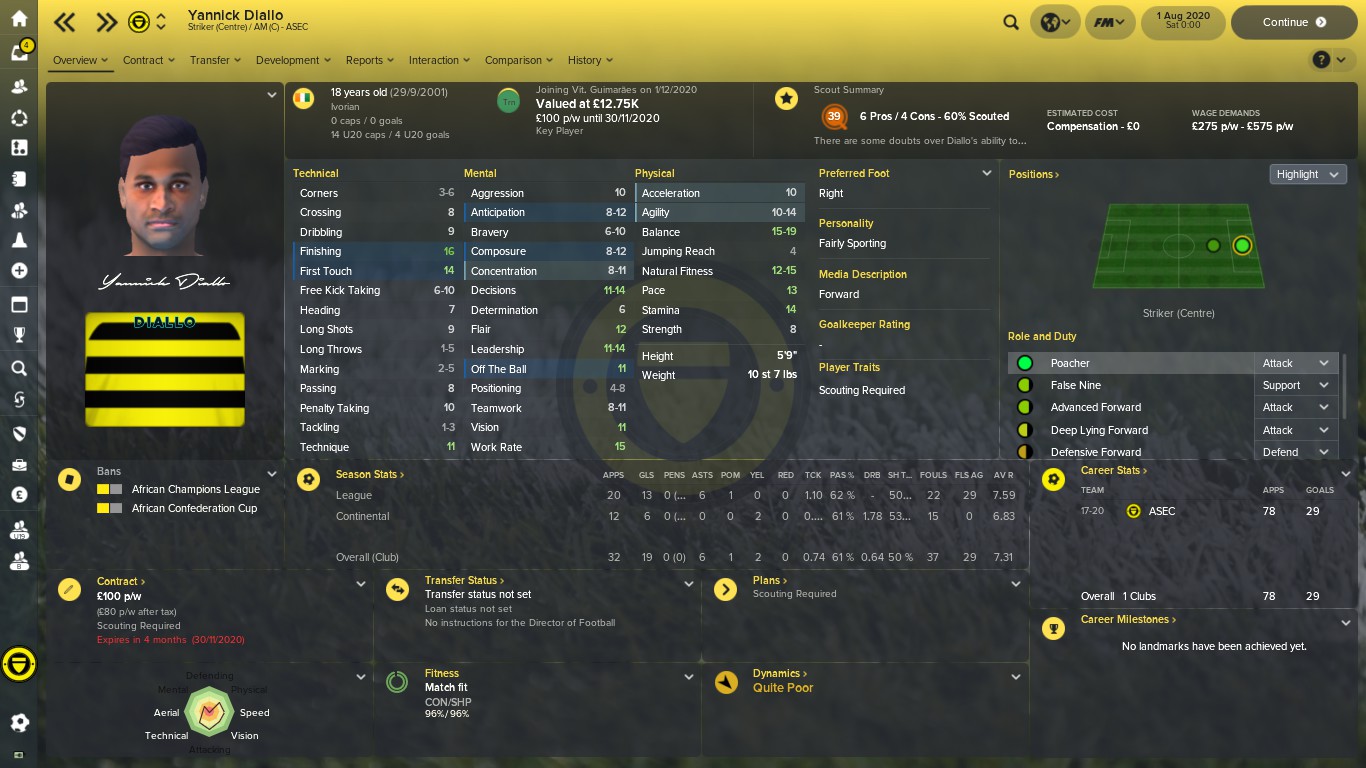 Arriving next summer is French youth international Amor Jaziri from ES Tunis for £400,000: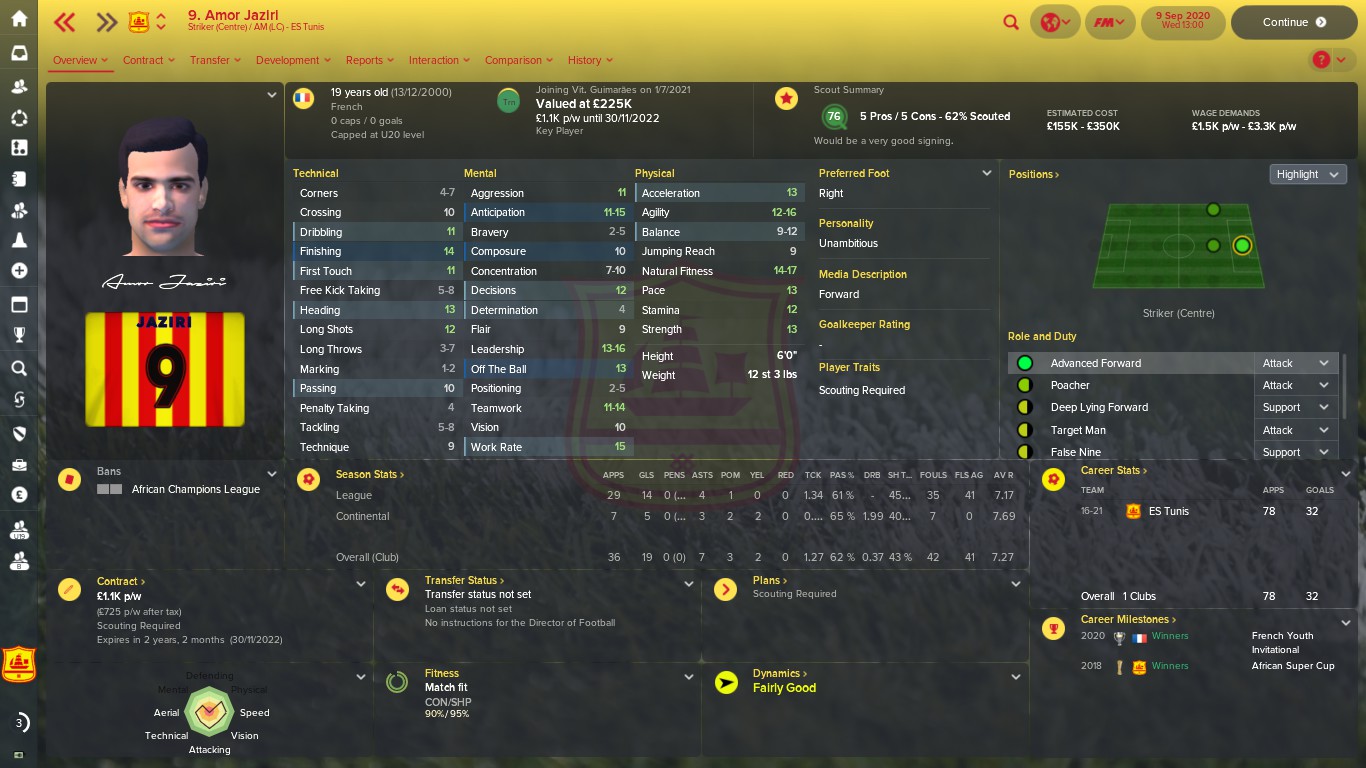 Roland Kouame was going to join on a pre-contract agreement like Diallo however a lack of depth in the B team meant that I paid Africa Sports £18,000 for his immediate service:
Tanzanian(!) keeper Bakari Kisiga arrive from the amazingly named Simba on a free:
Free agent Australian George Park was brought across to play for our B team as well: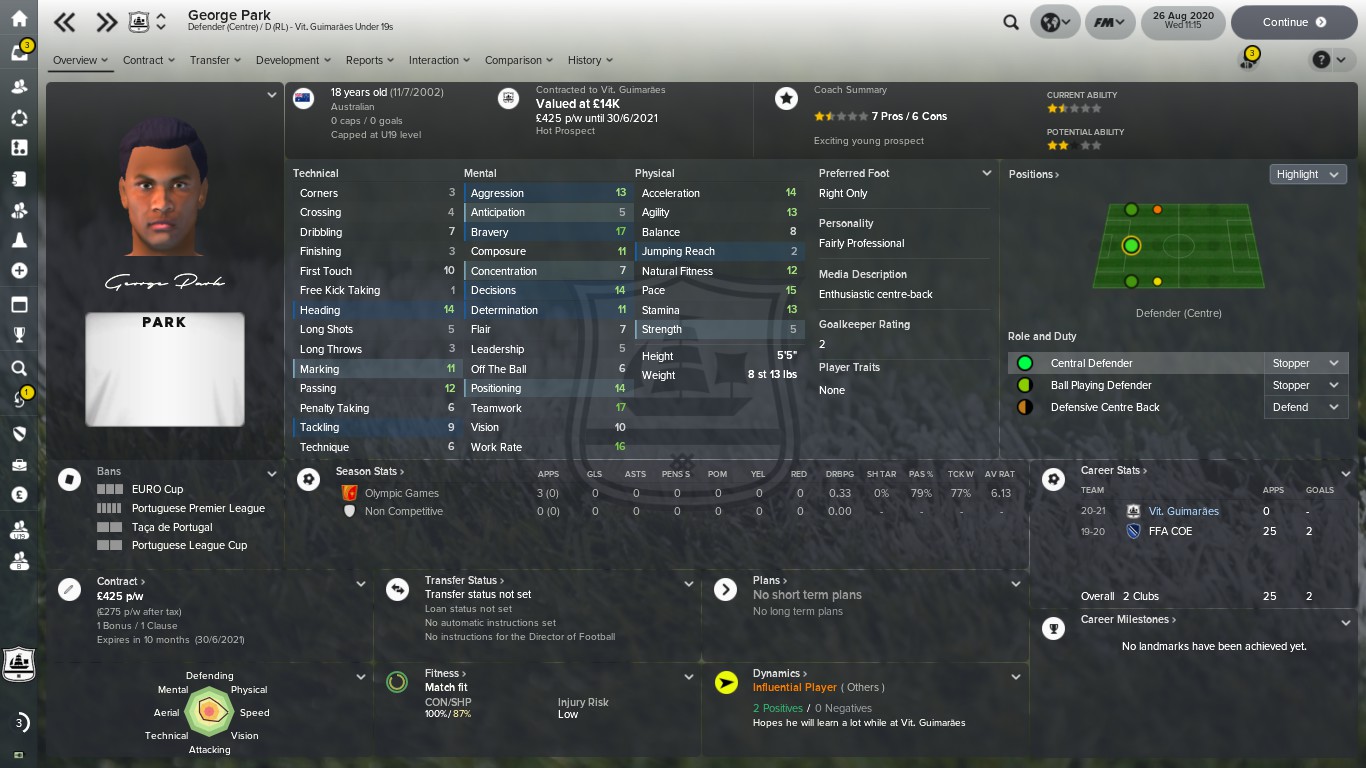 Finally, Cameroonian midfielder Daniel Nguidjol joined from Coton Sport for £30,000: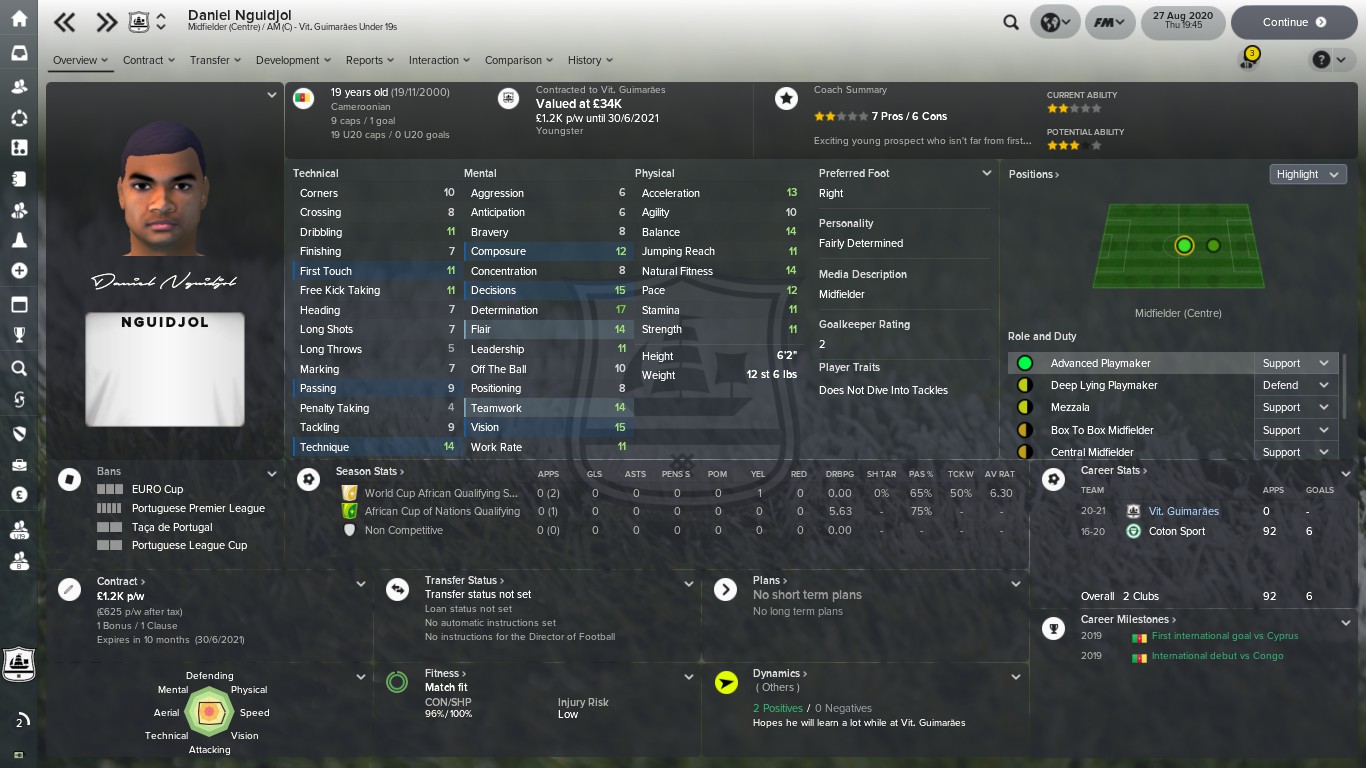 And to wrap up our summer business, I went centre back crazy and picked up the best teenage freebies I could find in Portugal. It was slim pickings:
Results
First Team
Out of Europe at the first hurdle but we've been brilliant in the league and were unfortunate to lose to Sporting. Admittedly, our games against them and Benfica have seen the big clubs end with fewer than eleven on the pitch for numerous reasons. Still, it's a whopper start to the season.
F**king Aberdeen though…
B Team
Our B team might be quite good. A very exciting start for them in the third tier.
U19

A mixed bag for the Under 19s but still a promising start and I think they'll be in and around the top of the table this season.
Loan Rangers
As you probably saw in the transfers section, there are a few new members of the loan rangers. My personal favourite is Mimito Biai who has joined Moreirense on loan which includes a clause that means we get £7,500 if they get promoted. I'm now a Moreirense fan for this season only.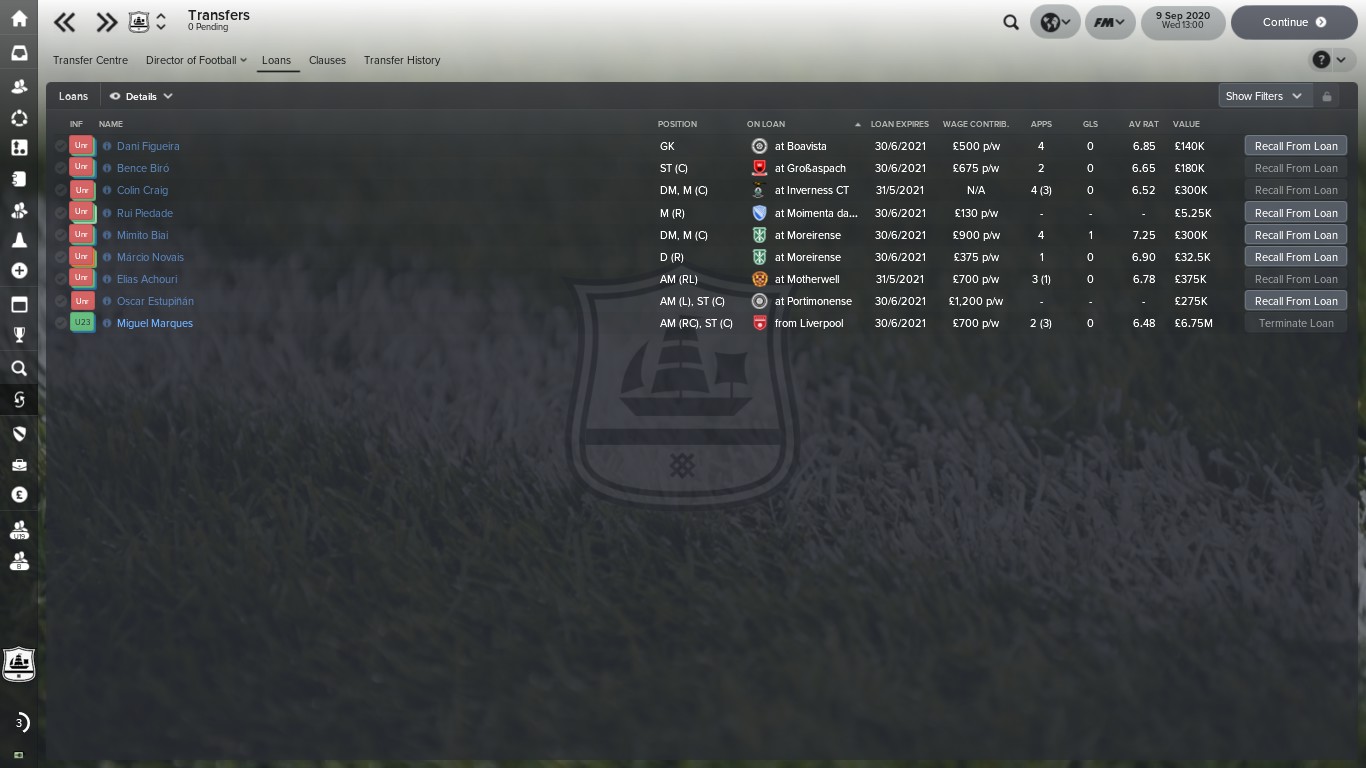 Players of the Week/Update
First Team: Raphinha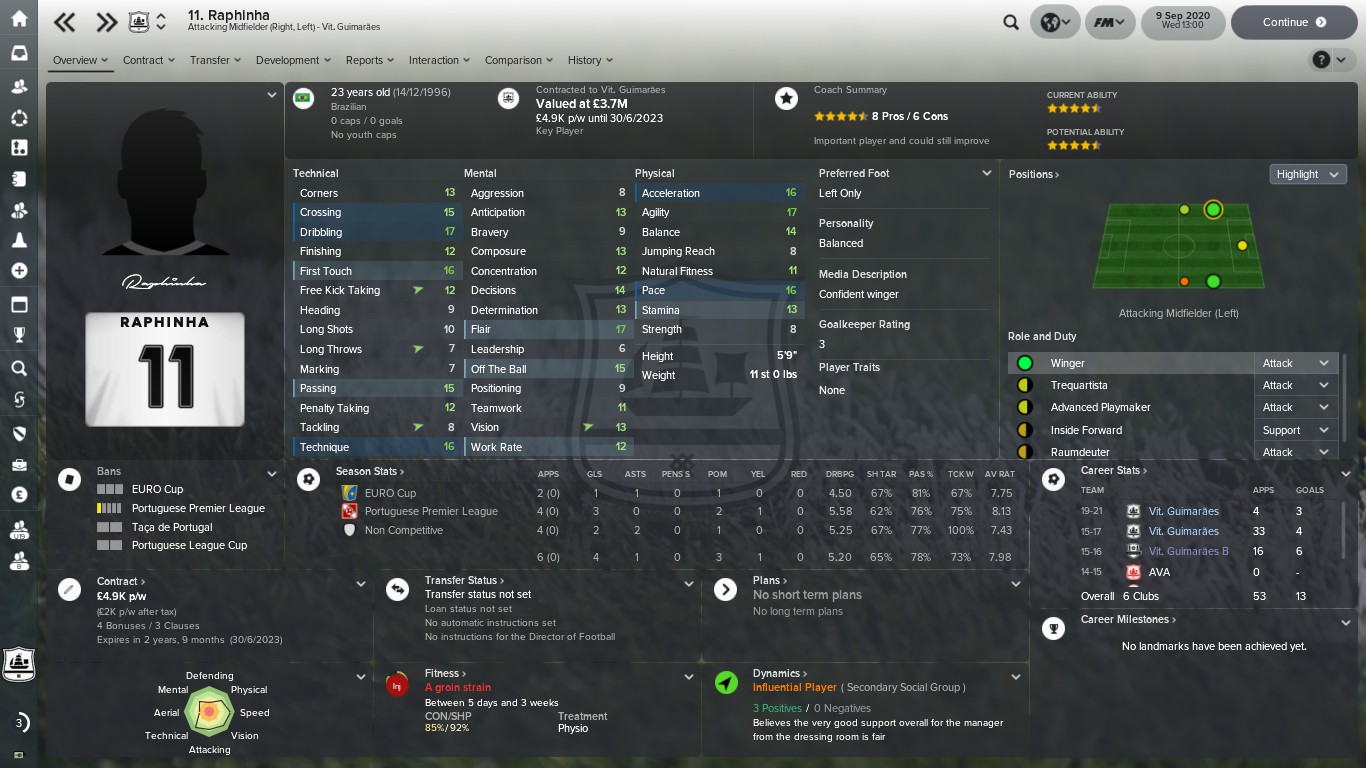 Ain't I glad I batted off the interest in him! The main man who has been our main goal threat this season in the absence of a goal threat up top.
B Team: Luis Leal
A potential immediate aid to our striker problem in the first team? If Luis keeps up this form then the answer to that question may just be a yes.
Under 19: Pedro Lopes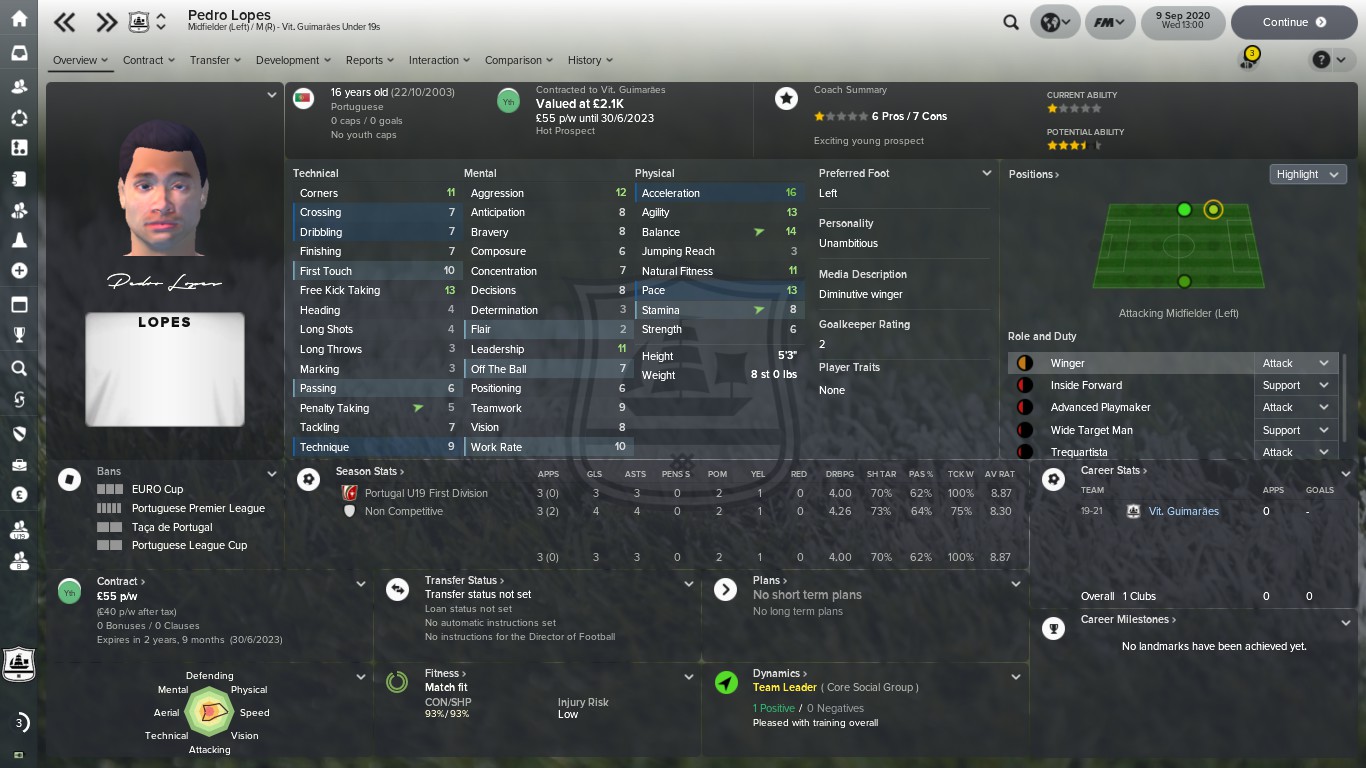 I'm not a huge fan of Lopes' skill set but I will give him immense credit for proving himself in the Under 19s. Potential B team material soon.
And that's really about it for this time. Think we've made some good signings? Let me know on Twitter (@LongBallFoot), Slack (#longballfoot) or by shouting at your screen.
Actually, that last one may not work so good…