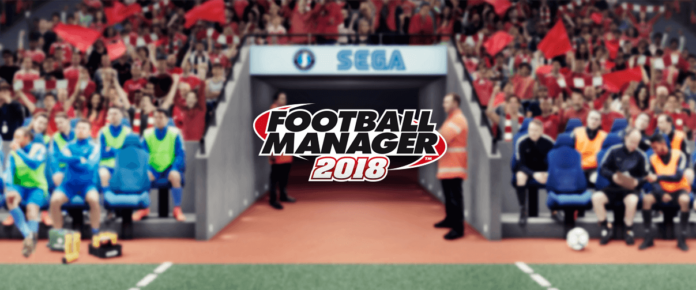 It's time. It's time for Louis Henrik to lead his Australia team out for the first time and judging by the four journalists that turn up whenever he has a press conference, the reaction has been mild at best. There's been problems with Henrik's nationality, his choice of players and his original appointment considering that the Australian FFA wanted Luis Enrique and a mistake by a Spanish secretary with a poor grasp of English led us to this point.
Henrik hasn't said much to the players, choosing instead to keep himself to himself mostly in order to not expose himself as woefully under-prepared or equipped for this job. There are some ballsy characters in this group, Mile Jedinak and Tim Cahill are not backwards about coming forward, famously you don't win anything with choir boys in the team.
Henrik's strategy is Overload. Nobody ever scores or wins on Overload… or do they??? No, they don't. The problem is, Henrik is old school. The last time he worked with players before Kidderminster Harriers in the mid-2000's was Manchester United in the early nineties as he did a bit of coaching on the side of his scouting assignments. When you've got talent coming through with the abilities of the Neville's, Scholes, Nicky Butt, Beckham and Ryan Giggs, your scouting department is somewhat redundant.
Here are Louis Henrik's initial tactics…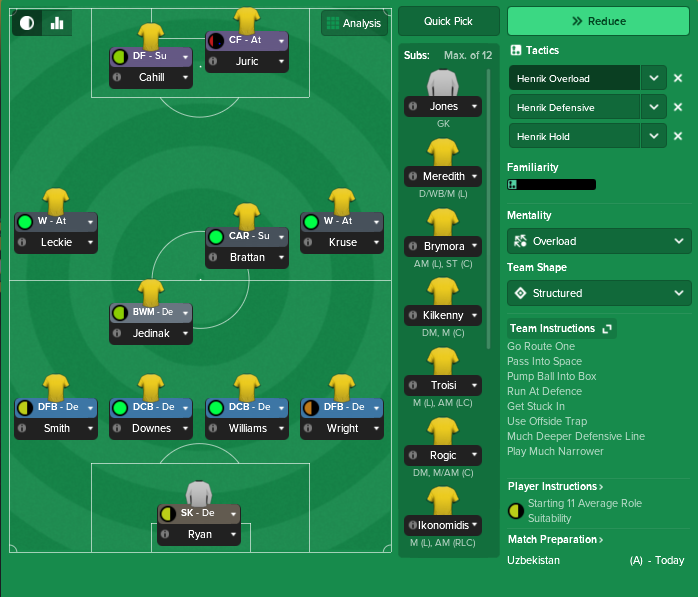 For the first few minutes, Henrik has quietly discussed with Jedinak and Luke Brattan to start slowly with a defensive mindset just to bed in before kicking into Overload. There is the elephant, of course, in the room that Tomi Juric can't play a complete forward role, he can play as a Target Man so that may get changed to make him a bit happier.
It's an archaic style of football but it's what Henrik has at his disposal. Without further ado, Australia are headed to Uzbekistan to play the first leg of a World Cup Asian Qualifying Section Final Stage first leg.
Louis Henrik is one lucky SOB.
Uzbekistan are not world beaters by any stretch of the imagination and Australia made that hard work. The opening goal was classic old school with Luke Brattan picking up the ball on the right and crossing right across the six-yard box for Andrew Leckie to volley in a finish. The second was for Tim Cahill, his 50th in an Australia shirt, completed a sweeping counter move. Mathew Leckie crosses, an Uzbekistan defender attempts to clear but only finds Cahill on the volley to put us two goals in front.
Things take a turn for the real when To'htaho'jaev crosses from the right for Rashidov to head beyond Ryan in our goal. That's kind of what happens when you select a centre-back from Cheltenham Town in League One.
It finishes 2 – 1 and the players are delighted, which odd, but then you realise that they did lose their last two matches against Japan and UAE to find themselves needing this playoff.
It says a lot when the press think that Australia are 'fortunate' to beat Uzbekistan.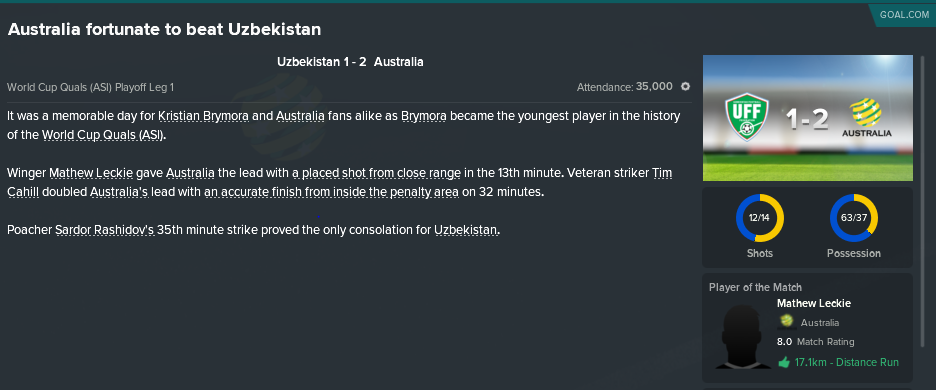 I'm just going to cut in to say that I seem to have broken Football Manager at this stage. I chose Kristian Brymora just to mess him up after declaring for Poland instead of Australia but I brought him on against Uzbekistan to make sure his allegiance stayed with Australia, now he's got a cap but his player profile says it was for Poland. Whaaaaa?
Suffice to say, as soon as I… um… as soon as Louis can drop him, he's dropped.
Back to Louis Henrik and the plaudits are coming in, notably from players in the squad such as Jackson Irvine. That's significant because Jackson Irvine didn't actually get on the pitch so even the subs are happy.
All Henrik has to do is oversee a second leg victory. Tim Cahill is a yellow card away from suspension and Henrik doesn't exactly know what match that would be for. The World Cup finals themselves? Best to drop him just to make sure. After Jackson Irvine was so complementary, he can join Tomi Juric up top. He's not a striker, no, but he's got lovely hair.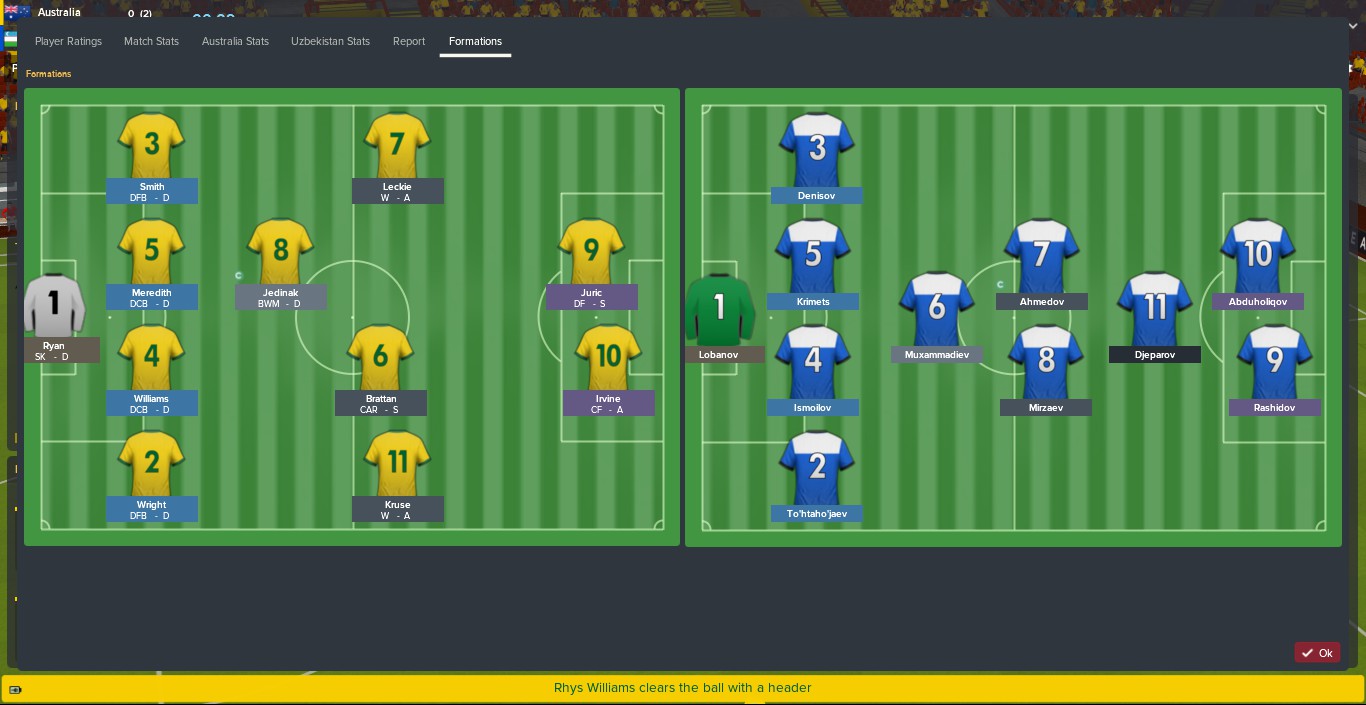 Good goal Uzbekistan. Odil Ahmedov scores from 25 yards. It's happening again.
Winger to Winger! Henrik's sort-of 4-4-2 formation is built on the wing play and Kruse's cross is converted by Mathew Leckie practically on top of the goalkeeper to level. Game on!
Poor old Louis is being put through the mill here. An Uzbekistan corner is floated across and the boy To'htaho'jaev shoots, it's blocked but it rebounds to Yegor Krimets for the simple finish. 2 – 1 and it's mirrored the game from last week.
There it is! Henrik is off his seat in celebration as Juric plays in Jackson Irvine and the Hull City player slots under the goalkeeper! And minutes later the same combination puts us 3 – 2 in the lead on the night!
James Troisi on as a substitute scores moments after coming on to make it 4 – 2 and Louis is handed a lovely cup of tea to celebrate victory with half an hour to go. He puts his slippers, flat cap and dressing gown on as Rogic makes things safe as houses.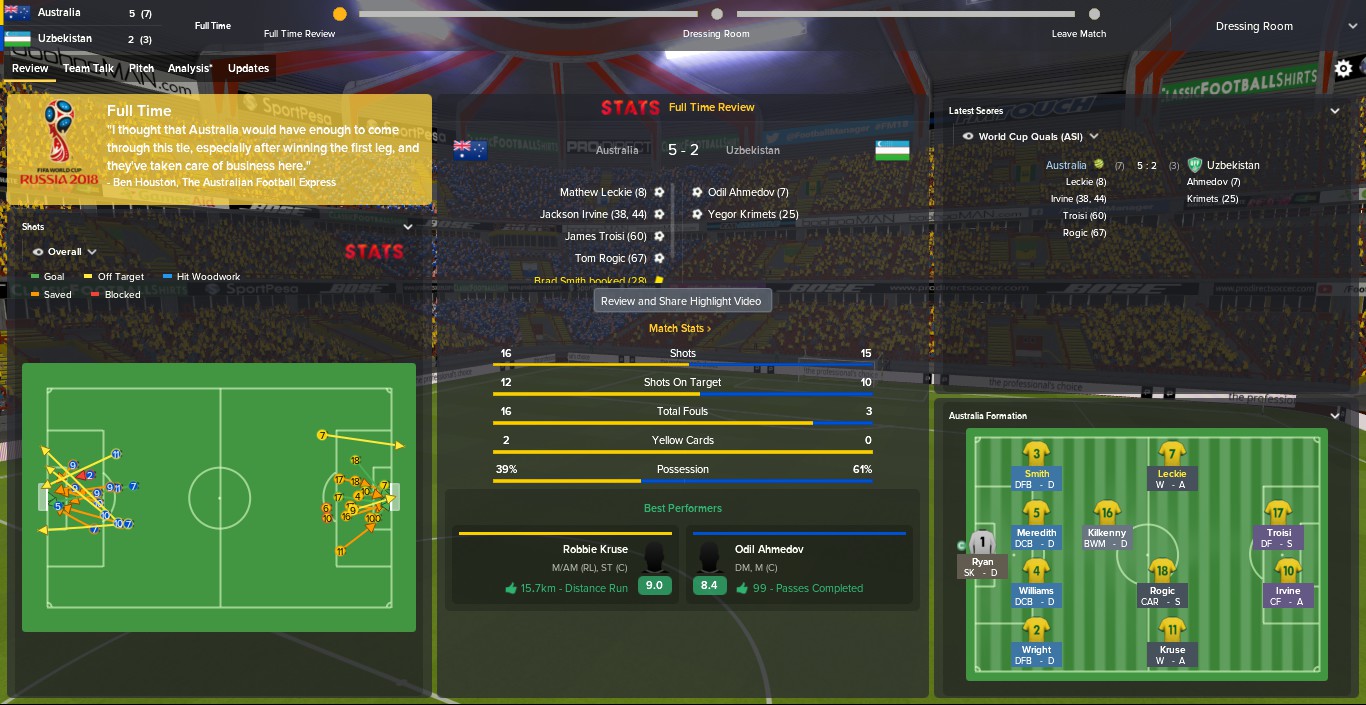 Henrik can celebrate, Australia are going to the World Cup! Get the champers in! Wait, what's this? Another play-off against Jamaica? Oh for f…