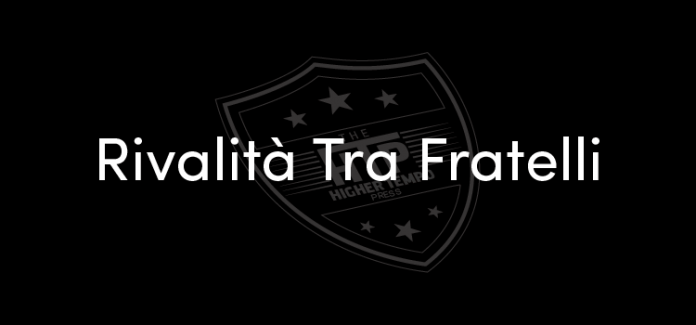 This is the story of two brothers, a modern-day Cain versus Abel if you will, based surprisingly now in Paris. If you'd like to replicate this challenge, we're using the updated medium database with the following leagues: England (Premier League, Championship, League One & League Two), Italy (Serie A & Serie B), Spain (La Liga & Segunda División), France (Ligue 1 & Ligue 2) and Germany (Bundesliga & 2. Bundesliga).
Rivalità Tra Fratelli, Episode 32 – The Last Stand
MIKE: This is it, my last shot. For four seasons I have wanted, no, needed to win the Champions League and it all comes down to this, my last stand. I have been to the garden of Eden, twice, but not tasted its fruit. I was well beaten with AC Milan by Dortmund in my first final before leading Juventus to take on Manchester United a year later, narrowly losing.
I predicted last week that a job at one of the eight quarter-finalists of the 2019/20 Champions League would become available in the summer, where there was a European Championship to enjoy and I was right.
In 2018 Unai Emery left PSG for Real Madrid, his replacement was Pablo Villa. Anybody know who he is? No, me neither. Somewhat unbelievably, the Paris board promoted from within. He's now Spain coach, replacing Julen Lopetegui after they were humbled by England in the Euro's second round. Don't think it went brilliantly for England either, they lost to Slovakia in the Quarters.
I've gone back to the tried and tested. The counter-attacking Dogs of War formation and system from the AC Milan days is back, simply because this is how the match engine for FM17 likes it. I'm not messing about anymore. The match engine likes wing play so wing play is what it'll get. The central striker drops back, the two wingers push up with full-backs in support, everything goes out to the flanks. The idea being that as we attack down either side, the striker, the opposite winger and one of the central midfielders are in the box for the cutback or cross.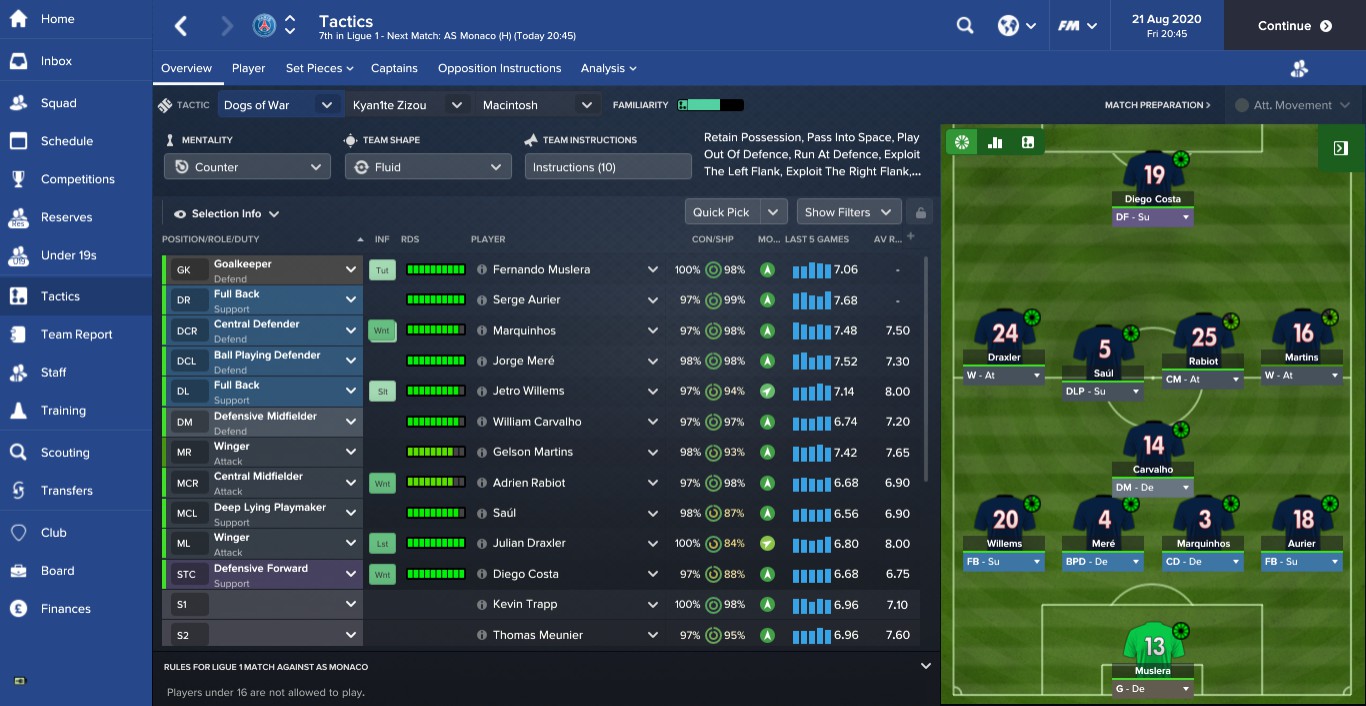 I took a bit of flak early on for leaving Diego Costa out of the Champion's League squad but I've got Icardi and Higuain to pick from with only one striker needed for the Dogs of War. Speaking of the Champions League, the group stage was dealt with little trouble.
In January, reinforcements were needed especially as Mourinho's Manchester United enticed away Marquinhos. I brought in Niklas Süle from Bayern, Funes Mori from Everton and my old goalkeeper Gigi Donnarumma from AC Milan for a paltry £32 million. With Icardi top goalscorer, Gelson Martins with most assists and Hazard named Golden Ball winner for 2020, the forward positions were settled, we just needed a bit extra at the back.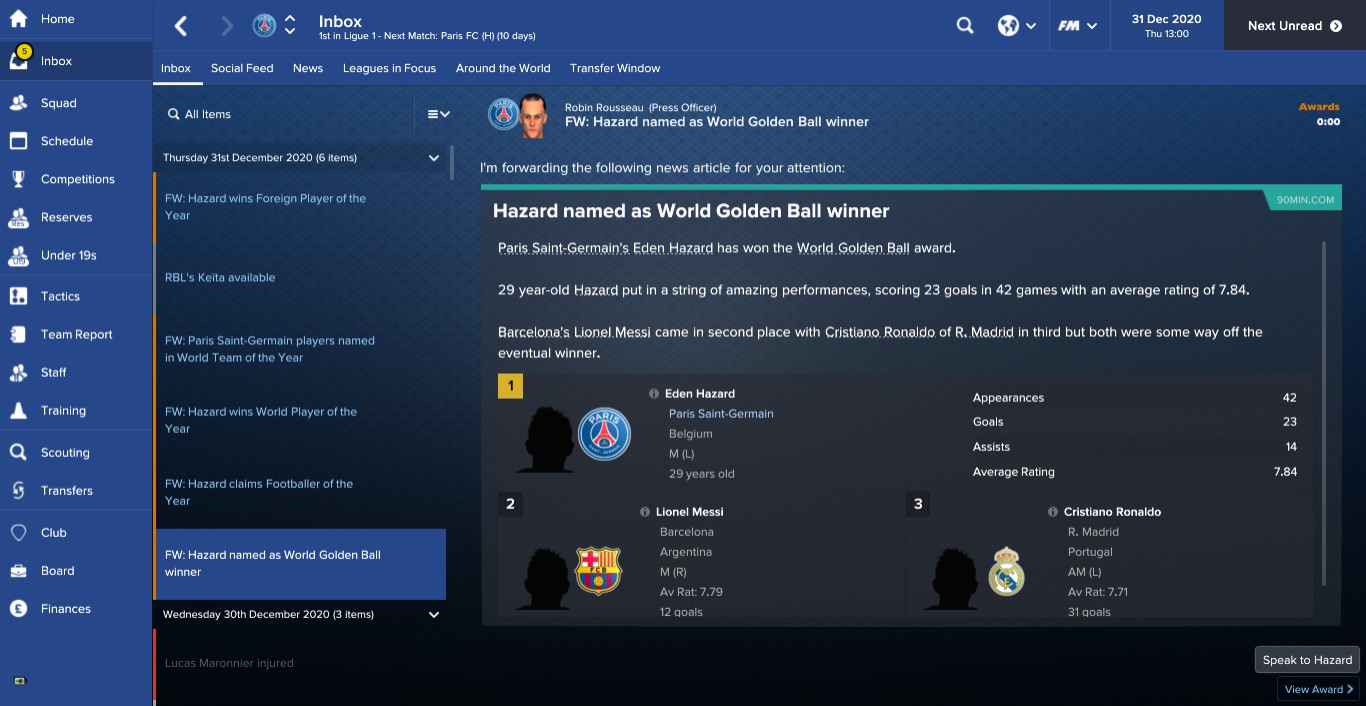 After seeing off BARCELONA in the toughest/tightest of first knockout round ties, the great eight this season are Atlético Madrid, Bayern, Juventus, Real Madrid, Arsenal, Chelsea, Tottenham and of course, PSG. Who we do we get in the quarters you ask? To be honest, I wanted Juventus but then something magical happened.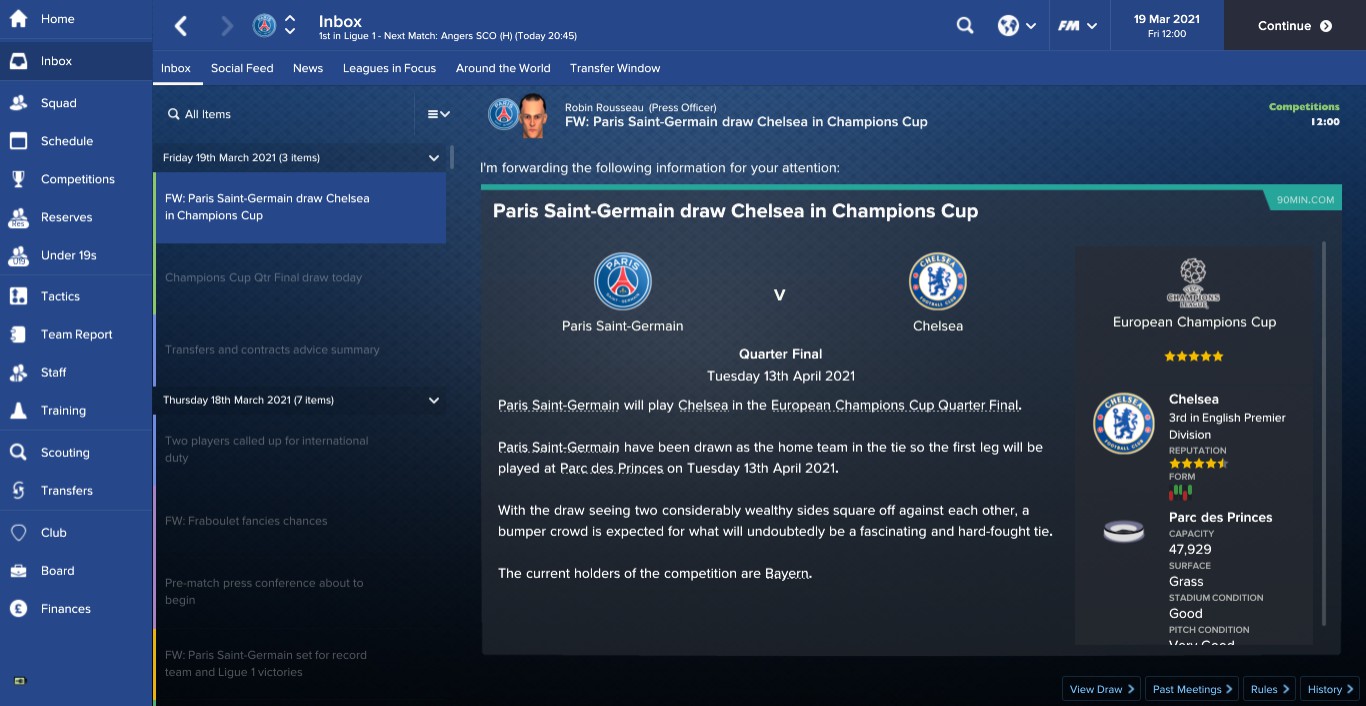 The team that ended the dream last season, Chelsea, the team who got an away draw against Juventus despite Shaqiri nearly killing himself to get us over the line, it's them. This is personal. Leonardo Jardim is still manager, Gabriel Barbosa is still up front and Arturo Vidal is still marshalling midfield. This one was sweet.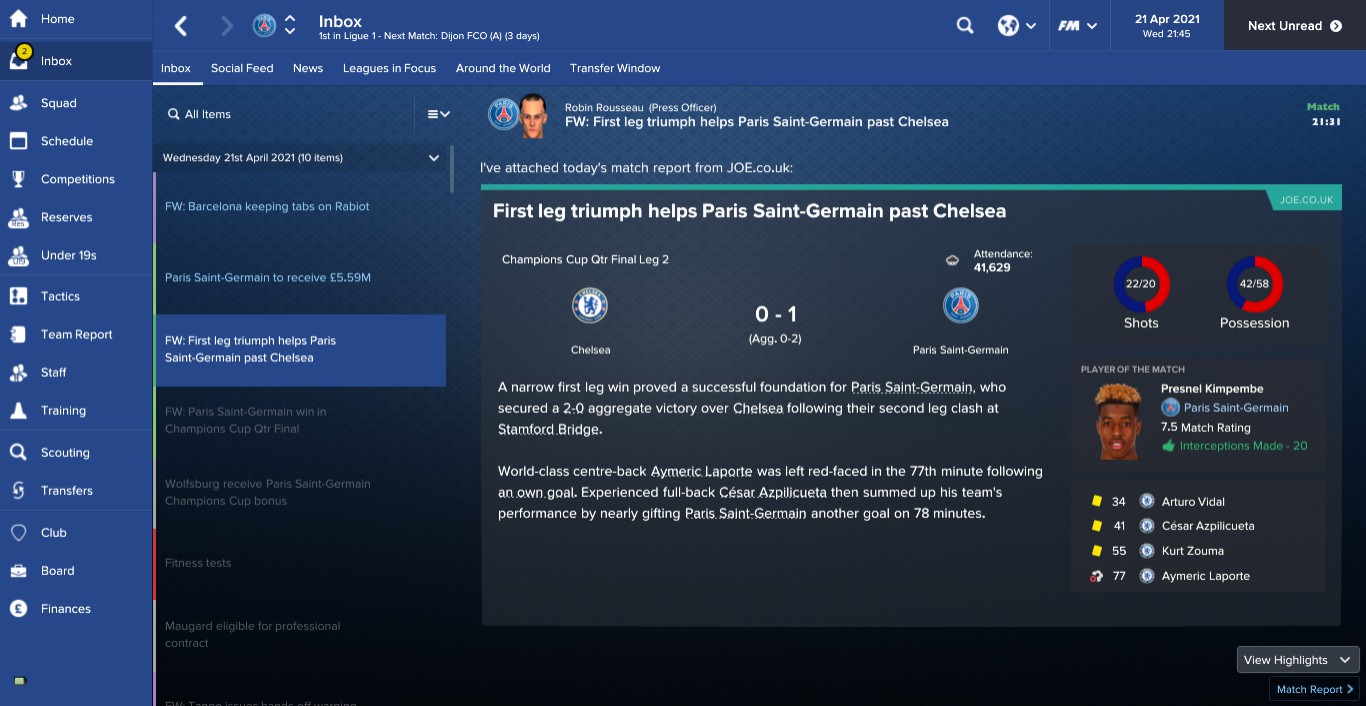 We then went on a step further to beat Diego Simeone's Atlético Madrid 3 – 1 on aggregate in the semi and that brought us to the final. A final to be held in Mike Tango's home country of Wales, the Millennium Stadium. A proud day we can all agree.
We're not quite at full strength, I'd have rather played Jack Wilshire over Pjanic in central midfield and our two first-choice central defenders Niklas Süle (ineligible) and Jorge Mere (injured) are left at home. Tottenham overcame Real Madrid in the semis but I don't know how. Bonaventura must be 35 by now, Wanyama and Dier in the middle don't scream creativity and four of the back five are in Spurs team every week in real life – just as a reminder in game we are in June 2021.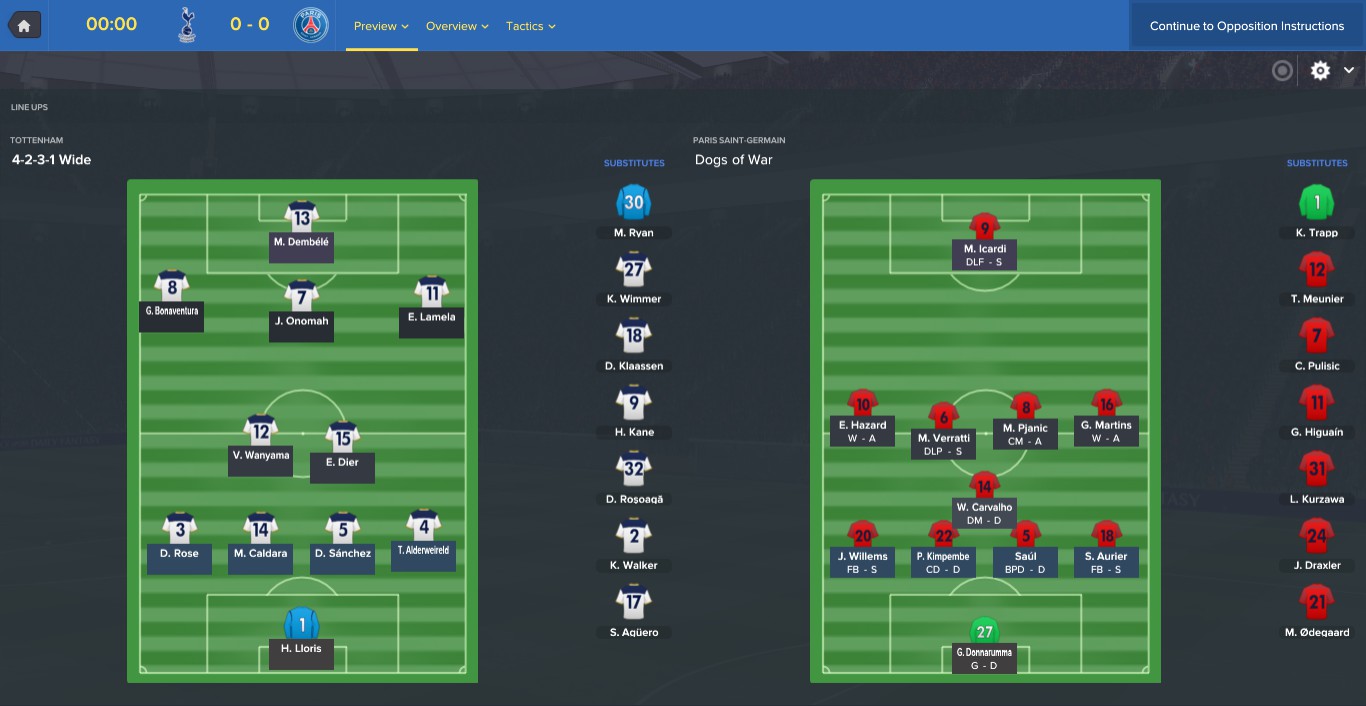 I'm nervous, of course, I am. Against Dortmund and even Manchester United, I thought we'd be second best, I was right. I've had about the same amount of luck I'd get if I ran into a theatre, screamed the name of the 'Scottish Play' and then soaked my fingers to jam them into a plug socket. Here I think we're favourites. We've won every single game in Ligue 1 with the Dogs of War formation and Tottenham could only manage third in the Premier League behind Manchester United and Arsenal.
My nerves are calmed on 20 minutes by the player who I have relied on all season long, Mauro Icardi. The build-up is peak Dogs of War. We win the ball back through the trio of Willems, William Carvalho and Verratti hounding Lamela in the middle of the park and Willems emerges to dribble out wide. Icardi is on the shoulder of the last defender, he makes a neat move to free himself and receives the ball through on goal. Icardi smashes the ball across Lloris to establish the lead.
I know Charlie had problems with him wanting to leave but now Icardi has found a home and I've reaped the benefit all season long. Less than two minutes later Aurier's throw in finds Icardi and the Argentinian striker cuts back from the byline, the low cross I've been preaching and Verratti converts.
There are no more goals, just a red card for Eric Dier thanks to a second yellow. For Juventus in 2018 when they were dominated by Dortmund, read Spurs in 2021.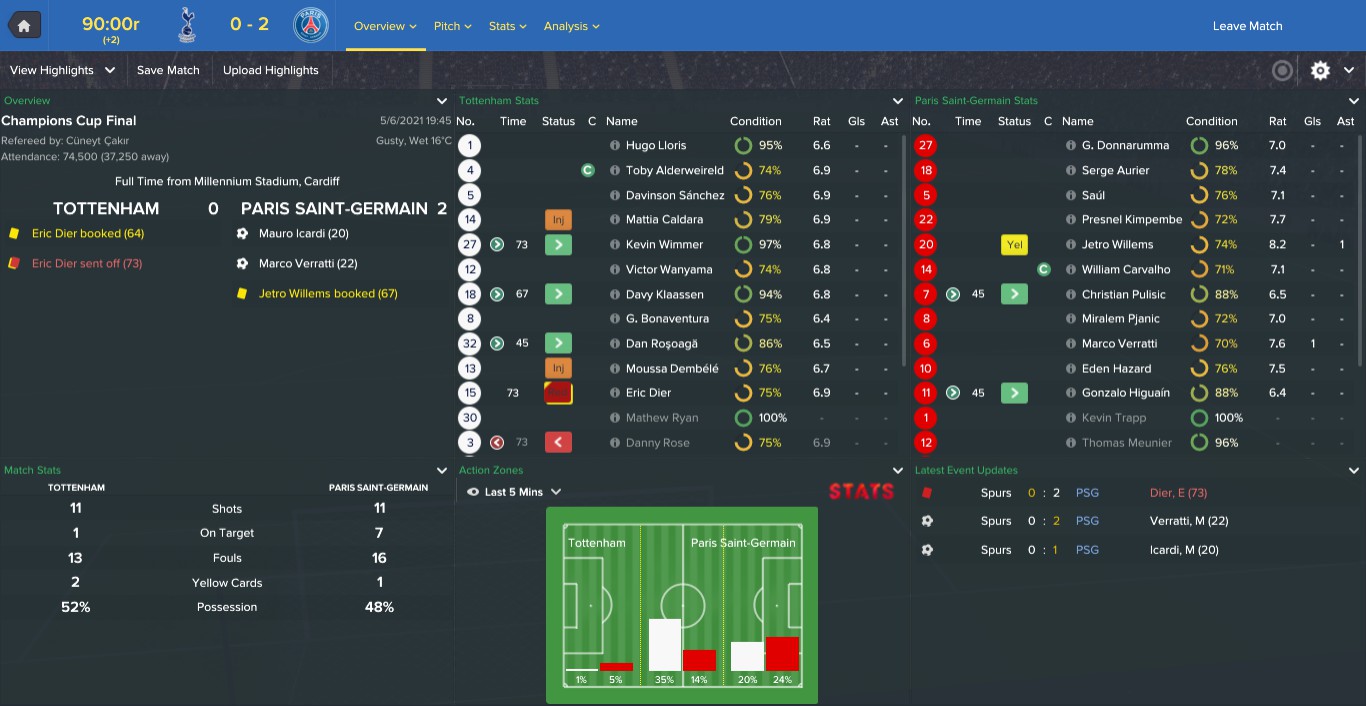 As my staff and the substitutes flood the Millennium Stadium grass to celebrate with Hazard, Verratti, and Higuain, but I don't join them. I'm tired. I've vindicated every decision I've made over the past five seasons, I've finally won the one trophy that has eluded me. I am a European Champion. But it was hard, a lot harder than I thought it would be. I've got a new appreciation for building a squad, creating a system and a style of play, not just starting at the top. Appreciation yes, but even now all I'm thinking about how good a PSG save is going to be on FM18. Mike out.
CHARLIE: That draws the Rivalità Tra Fratelli series to a close. I honestly didn't think we'd get there when Juventus lost to Chelsea in the Champions League a season ago, what was probably ten days ago but feels like weeks, we really did need talks to continue the series to its conclusion. Had the PSG job not come along, I think we'd have lost Mike to Football Manager 2017 for good.
Just as some housekeeping, I want to stress the fortunes of our original clubs since we began. AC Milan have gone through three permanent managers and only have one Italian Super Cup to show for it. Inter Milan are on their third manager and have not won another trophy since I left. Juventus couldn't retain Serie A without Mike, they slipped to second behind Napoli. They even ended the season runners-up to Napoli in the Italian Cup. The save will not continue but sadly PSG will not get the opportunity to defend their Champions League crown, they failed FFP and have a season ban from all European competition.
I'm fairly sure that prompted Mike to hit resign and end his involvement in FM17 officially. I stayed in the game long enough to see Massimiliano Allegri pick up the PSG job, mirroring Mike in that he also managed both AC Milan and Juventus. I'm sure he's braced for new challenges, as are we.
Thank you for reading, join us on twitter at @FM17Challenge, @CharlieTangoFM & @MikeTangoFM for exclusive comments, developments prior to episodes and reaction afterward. Continued thanks to Chris, Mike and everyone at Tempo for the opportunity to share this with the readers.
Tune in next week for the Tango brothers start to life on Football Manager 2018 and the debut of… the Last Tango in Bucharest.