Hello! Welcome back. Remember last month where Scotland qualified for Euro 2004? It wasn't vintage, but we were one of the best three runners-up which, let's be honest, is as good as Scotland can really expect. In this update, preparation begins for Portugal 2004 as we welcome Austria to Hampden for a friendly, then we'll fast forward to February where the all important groups are drawn.
Whilst 6 nations have to go through the agony of the playoffs, we can put our feet up and watch Ireland crush Norway
So as the rest of Europe prepares for a Gary Doherty storm to come their way, we've got Austria on our minds. The squad has had the same problems for a while now – Stephen McPhee has gone right off the boil as his wishes to leave Port Vale have not yet been granted, whilst all of our goalkeepers seem to have crisp packets for hands. Centre half in general is not our strongest suit and Mark Kerr can't hold down a regular spot in the Roma team, though it doesn't relly effect him. He's still ace.
With that in mind, Chris Innes of Middlesbrough is given the nod alongside Wilkie. Neil McCann is our injured so young Steven McGarry gets a chance. Neil Sullivan is still in goal.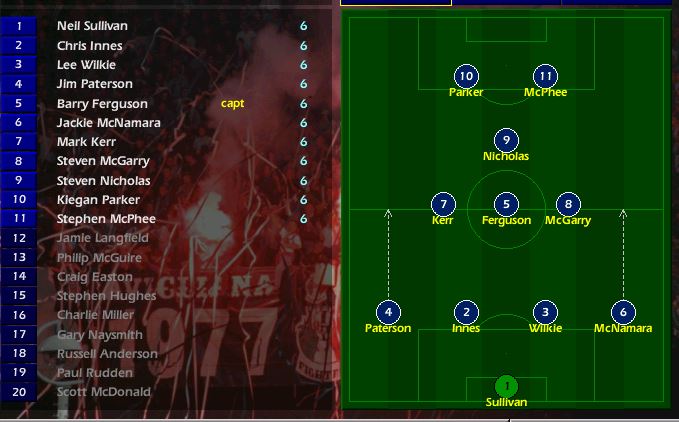 Austria opt for a 5-3-2, with a little bit of adventure.
Our record in friendlies is less than impressive, I mean how can we forget the 3-0 home defeat to Switzerland? At half time, we're 1-0 down and I question why we even bother sometimes

All the play but none of the goals. Oh and they have scored, which makes it even worse.
Fortunately, young Scott McDonald climbs off the bench to equalise very late on. Capping him before he had the chance to declare for Australia may be the smartest thing I've ever done.
You can't say it wasn't deserved, we dominated the second half in particular.
The ratings show how average my midfield and attack were. We'll have a lot to work on when we face Greece in our next friendly in March.
Oh yeah, Ireland secured qualification

Let's press fast forward and get to February 7th 2004. As we sit in Portugal, in whatever venue these sorts of things are held in, we cross our fingers for a draw that won't humiliate us.

Send help. That is going to be difficult to get out of, I think you'll agree. Germany's quality is obvious, whilst the Dutch have Van Nistelrooy leading the line and even Sweden, who you'd think would be weaker, have the likes of Kallstrom, Selakovic and Bakirciouglu. All CM legends.
No doubt "hope" is the key word here
England will be pretty pleased with their group

But Wales and the Republic of Ireland have as tough a task as I do. At least they get to face each other…
Group 1 is definitely the group to be in. Hosts Portugal have got to be pretty happy with that.

With that, I'm going into hibernation for the winter. I'll be back around April with an update on the preparations before Euro 2004 gets underway in June. We're in a world of trouble!