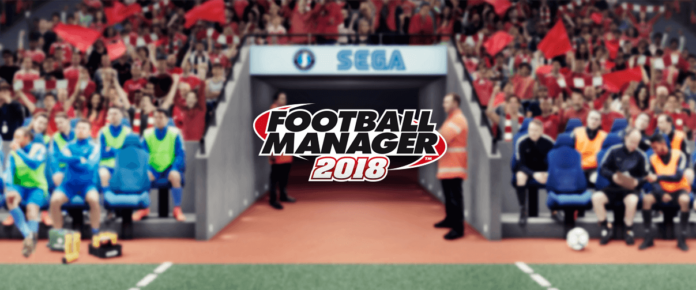 Hello and welcome to another Higher Tempo Press Football Manager 2018 league guide. After @accordingtofm's fantastic Colombian guide, we've had @LongBallFoot submitting a wonderful Scottish league guide (tipping my favourite Scottish side 'Patrick' Thistle as his personal recommendation) and @damoncmcknight has the respect of everyone at Tempo Towers for attempting to explain Major League Soccer's format.
Despite some of the more exotic locations being selected for this series of league guides (that should win me some favour with the jocks), we're headed close to home for this one as we take a trip over the water to visit Ireland.
Football Manager 2018 has two leagues from the beautiful Irish shores, the League of Ireland Premier Division and League of Ireland First Division. The Premier is ranked 57th across Europe, for which two stars are labelled 'decent', for reference that's underneath the Dutch Jupiler League and Croatian Second League. It is however ranked above Sky Bet League Two and the Scottish Ladbrokes Championship. The Irish First Division is sadly somewhat treated less favourably, that competition is down in 136th sandwiched between the Slovenian Third League and Cypriot Second Division.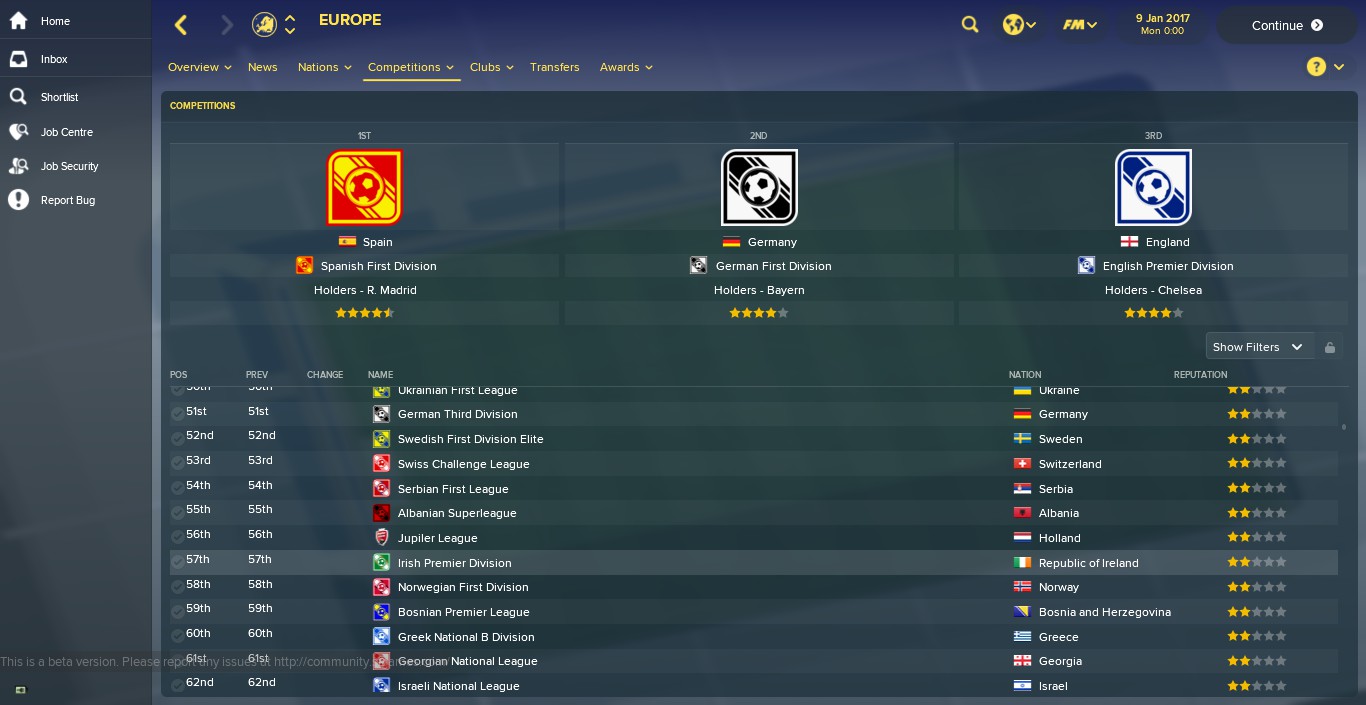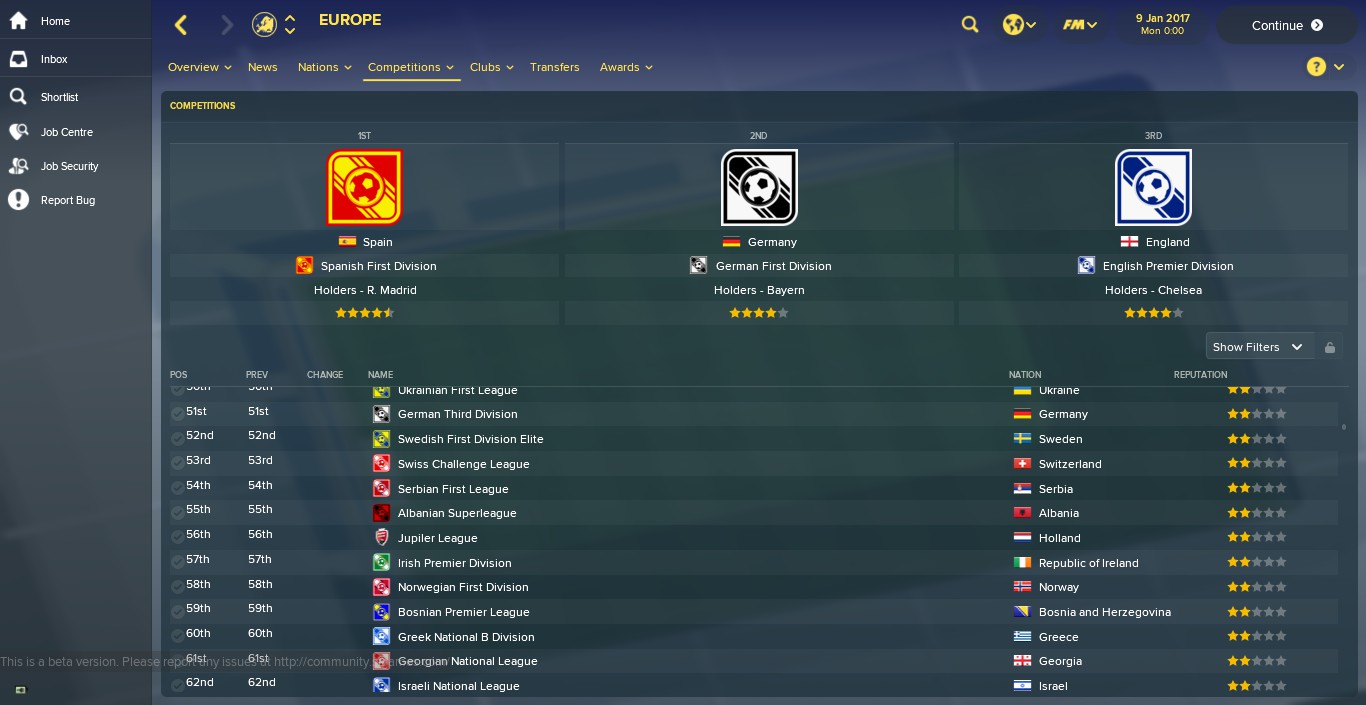 There is, however, European football to aim for but first let's get down to brass tacks.
Structure
Previously I looked at the A-League in Australia and much like Major League Soccer there is no relegation, it exists as a standalone league. Ireland is obviously immediately in contrast as there are two leagues to pick from. There are twelve teams in the Premier and eight in the First Division. Taking a look at the Premier, teams play each other three times to make a total of thirty-three matches. The top side after all games are Champions, the bottom three teams are relegated to the First Division. In the lower league of the two the eight sides play each other four times, then the top team wins promotion to the Premier. I know what you're thinking, that doesn't add up. Checking on that anomaly; "The Football Association of Ireland announced that the league would be restructured into two 10-team divisions from the 2018 season onwards, one of the recommendations made in the 2015 Conroy Report. This meant the cancellation of the promotion/relegation playoff and relegation at the end of the 2017 season of 3 teams, with only the champions of the First Division promoted in return." So there you have it, Football Manager as always with its finger on the pulse of current events.
The season is not adhering to what we'd call the traditional European league calendar, in fact, this is the first time I'm thinking of Irish jokes. Irish attempt on Mount Everest ran out of scaffolding, Irish water polo team drowned three horses… I digress. National stereotypes aside, the leagues take place between the end of February and either the start (First) or end (Premier) of October – in the same calendar year. Ironically there are only two groups of people I feel the need to use 'in the same calendar year' to and they are people obsessed with Football Manager and those who work in education as I do. I don't ever think in 2016, 2017 and 2018; it's 2016/17, 2017/18 and 2018/19.
Continental Qualification
The top side qualifies for the Champions League Champions First Qualifying Phase and the teams placed second to fourth qualify for the Europa League Second Qualifying Round depending on the winner of the Senior Challenge Cup. It's a prize worth having but it means a long old haul if you're league winner. Don't be put off, there have been some inspirational European exploits of the likes of Dundalk in recent seasons.
Restrictions & Rules
There aren't any player restrictions. How wonderful is that? Well, there is one. No trialists are allowed to play in matches. Nothing to write home about.
Past Winners
The League of Ireland Premier Division has been dominated over the past three seasons (2014, 2015 & 2016) by Dundalk, who coincidentally I do follow in Ireland as they once had Jim Gannon as manager. As Rivalità Tra Fratelli will readers will know all too well I spent many a cold windy afternoon at Edgeley Park in the nineties cheering as Big Jim ghosted in at the back post. Cork City have been runner-up for those three seasons, highlighting their consistency. Shamrock Rovers are the team who have won the Premier more than any other, they have seventeen triumphs. Their nearest challengers are Dundalk with twelve.
Who To Pick
Top Side: Putting Dundalk to the side, it has to be Cork City, doesn't it? Second place three years running, can you be the catalyst to get them that final position? All you need to do is overcome a seven-point deficit to Dundalk and you'll have European football in the form of the Europa League to play with.
Medium Side: If you want to restore a former glory then look no further than Bohemian F.C., the eleven-time former Premier Division title holders. Since winning the competition in 2009 they've been mired in mediocrity with a fifth-place finish their best return. They are also one of three semi-professional sides in the league.
Youth Save: I'll be honest and say that it's slim pickings for youth saves in Ireland but possibly the most adequate is Derry City, who have well-established youth recruitment. We're not talking Lisbon Lions here but there might be a few gems coming through in Londonderry.
Challenge: Controversially I'll drop into the Irish First Division to say University College Dublin will be a big challenge. Wexford will also be a massive challenge as they're only in their second season in the First Division but UCD, who have local rivalries with all the other Dublin teams, seem to be in the shadow of the Premier heavy hitters.
Simulations
Much like the A-League, I ran five simulations of how the 2017 season will go and I'm pleased to say that the results are in and IT'S LIVE! Wait, ignore that last one. The key is that the green represents the league champions and yellow marks the relegated trio.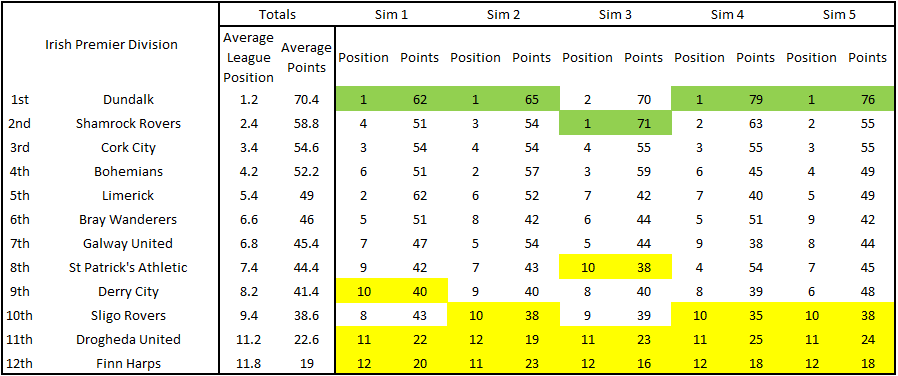 What can we draw from this data? Well, Dundalk never went a season without silverware. Jim Gannon's former side won the Premier all but one season, finishing second in the other. You have to feel for Limerick, who were level on points with Dundalk in the first season and only lost out on one goal difference. Both Drogheda United and Finn Harps were relegated in all five simulations. Down in the First Division, Waterford were dominant with four league triumphs and like Dundalk, they were second in the one season they didn't secure first place.
My selection of University College Dublin as a challenge proved to be one of the more accurate predictions I've made as of late, they ended up bottom of the pile after five simulations. It'll be a brave Football Manager who takes on that challenge. I'm thinking of persuading a certain sibling of mine.
Tactical Considerations
I had planned to produce a graph here but the tactical diversity in Ireland is quite startling. There are twenty teams across the two leagues and I counted ten different formations, which is quite impressive. The most popular formations were the classic 4-4-2 and the new favourite 4-3-3. There was a 5-4-1, a 3-1-4-2, a 4-2-2-2 and several other exotic formations you'd not expect to see if I'm honest in a league like Ireland.
Domestic Cups
There are three main cup competitions running along the domestic leagues; the President's Cup, the Irish League Cup, and Irish Senior Challenge Cup. In my simulations, Dundalk dominated the President's Cup (the equivalent of the Community Shield) by defeating Cork City but the other two featured a different winner in each of the five seasons played. Even Cabinteely from the First Division got in on the action winning the League Cup!
Players
There is a dearth of quality in Ireland in all honesty but there some decent players to be found. Simon Madden is a right back at Shamrock Rovers and scored highly every season in terms of average rating, chipping in with several assists too. Solid as a rock at the back for Waterford is Gary Delaney. At just 23 years old he's got time to develop and in most games, he has a transfer to Premier Division club Bohemians arranged. Dundalk captain Stephen O'Donnell is a former Arsenal and Falkirk youngster, he gets plenty of assists from a position in central midfield.
If a challenge is what you want, take a serious look at Ireland because when your players' technical attributes are in the singles figures, there's only so much you or any other manager can do. Hopefully, this guide has inspired you to consider a save in Ireland, if it has (or even it hasn't) let me know on twitter @CharlieTangoFM. Thanks as always to Chris for the platform to publish on and Mike for the template. CT.