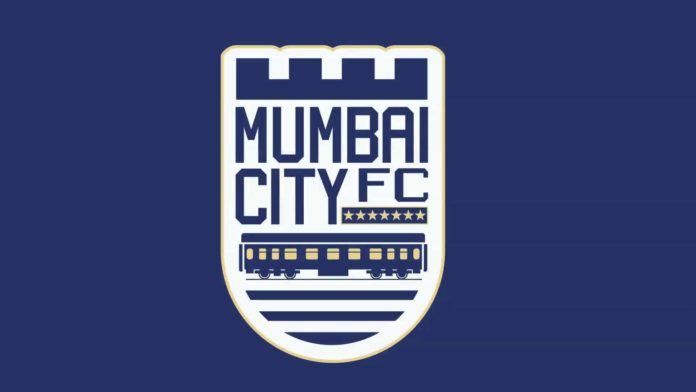 The emotions were mixed. We trudged back to the home dressing room knowing we'd played our part in a classic but we were not holding the trophy. It was over. We were not the first side to win consecutive ISL trophies. The atmosphere was one of disbelief, how exactly had we found ourselves two goals down to ATK, only to draw level with two goals in the last ten minutes only to then go and concede once again? What if only one of the five shots that hit the woodwork had gone in? What if? What if?
Football is based on what ifs, and whilst I was gutted that we had dominated the regular season but fallen to ATK a small part of me was pleased. We needed this, we really needed this. Standards had dropped, people (including myself) had become too comfortable and we had been declining for weeks and weeks. It's easy to blame the Champions League but it wasn't just the confidence-sapping defeats we were enduring. We'd become a group of billy big bollocks in India and complacency was in the camp like cancer. The decision was made. We would move into the next phase with immediate effect.
 It still hurts actually, a day later. I could not believe what I was seeing – to get back into it and then throw it away again from kick off. Awful. Painful. But needed.
The excitement about moving Mumbai City FC into the next phase is huge. I am about to embark on building a team that should, in theory, be able to stay together for a decade and be the "second floor" on this skyscraper I am trying to build.
It is going to be a big case of "out with the old and in with the new".
I have spent the last season identifying the top young talents in Indian football, most of which are under 20. Sure, we take the "top young talents" part with a large pinch of salt as we are in India, but we can only do what we can do.
No disrespect to the older Indian boys that have seen us win the regular season twice running, but they are not going to improve and I can still only have 4 foreign players in the side when we go into continental battle, so I need the standard of Indian player around them to improve dramatically.
So I have just been out and spent €200k on new players and I am very excited.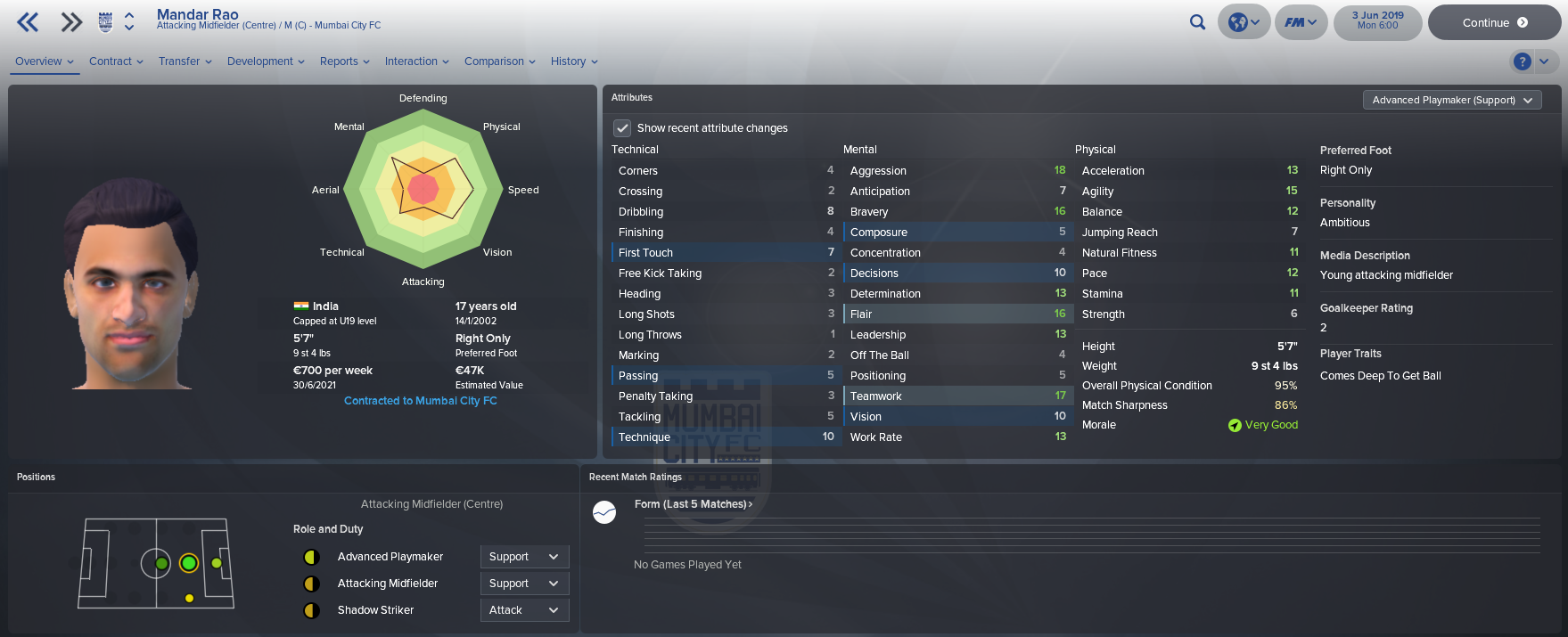 Mandar has just cost me €80k from Kerala for whom he did quite well last season.
I'm immediately training him to play DM. Why? Well, firstly I have several other options to play in the CM roles and I like this kid's physicality. He strikes me as someone that will grow to break up the game very well and with his attacking side very well embedded already, could still cause a lot of damage from a deeper position. I am hoping he will push Sehnaj Singh for that DM spot early.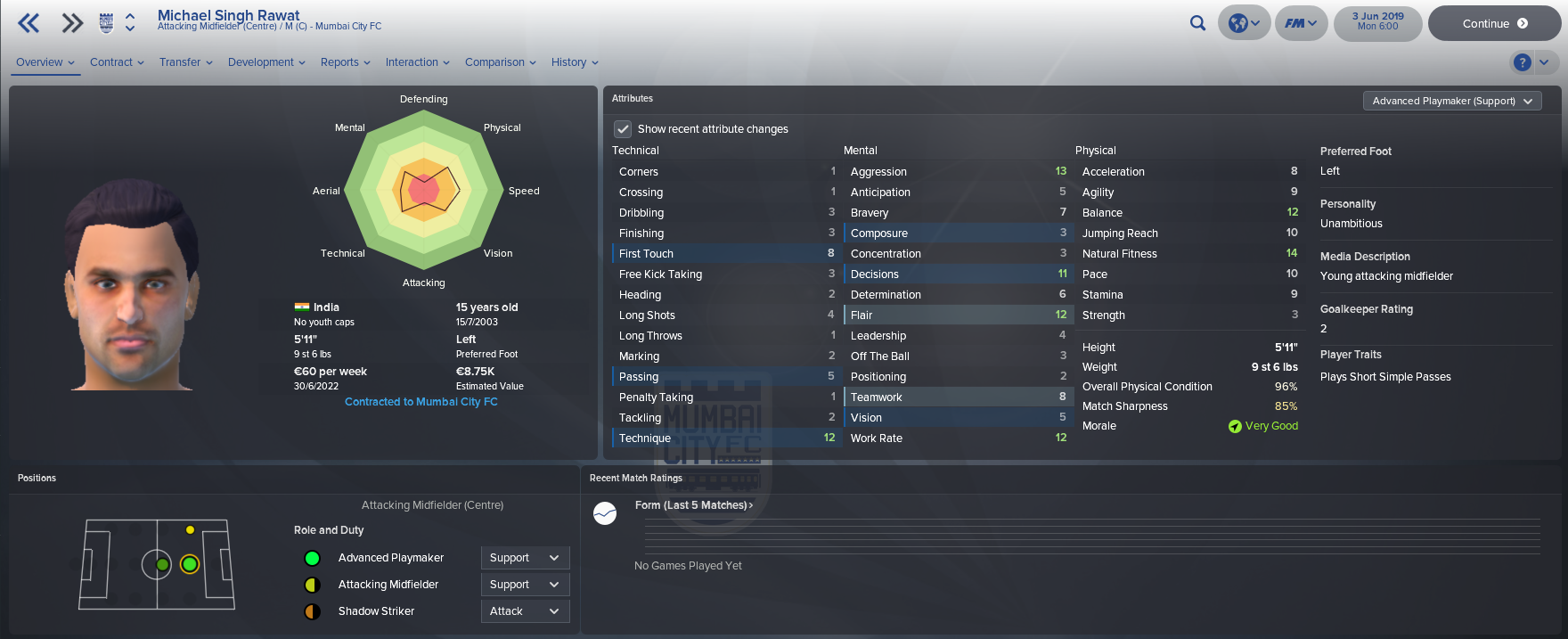 This boy impressed us in I-League 2 in the few games he had. Good technique, workrate, aggression and flair was enough to take a chance on bringing him in for nothing.

Believe it or not, I see Manish as a striker. He has flair, has scored a few goals for Kashmir playing as an attacking midfield and has plenty of pace. He is also so young that we can take our time growing him.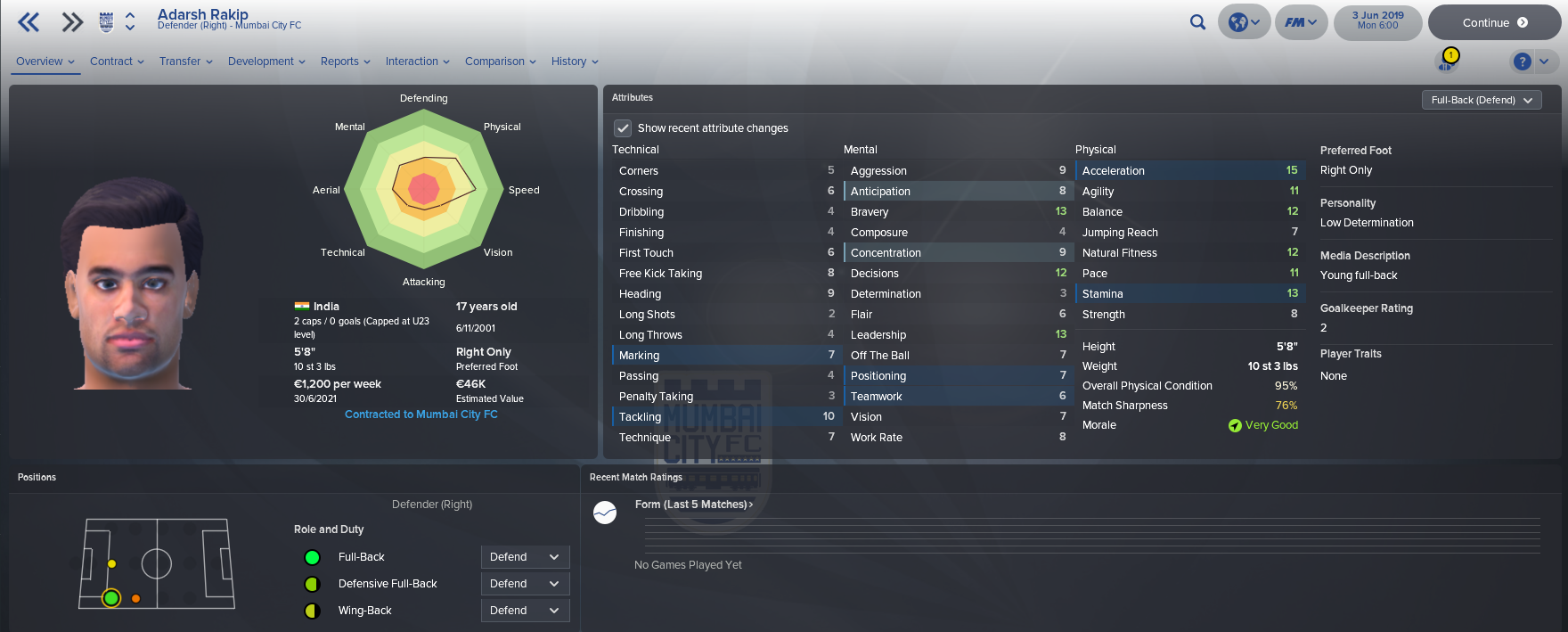 Ardap will be going straight into the team at right back, where he has already won two caps for India. He was a bit pricey at €65k but when you have a budget of €10m it is quite hard to spend.
I'm excited by Rochy (and the lad you will see next). Thiago Santos has been borderline unreliable this season and I need a couple of Indian born prospects who can play upfront as it is a waste of a foreign spot to have a substitute striker taking one up. It might be him, it might be the other one who puts real pressure on the Brazilian.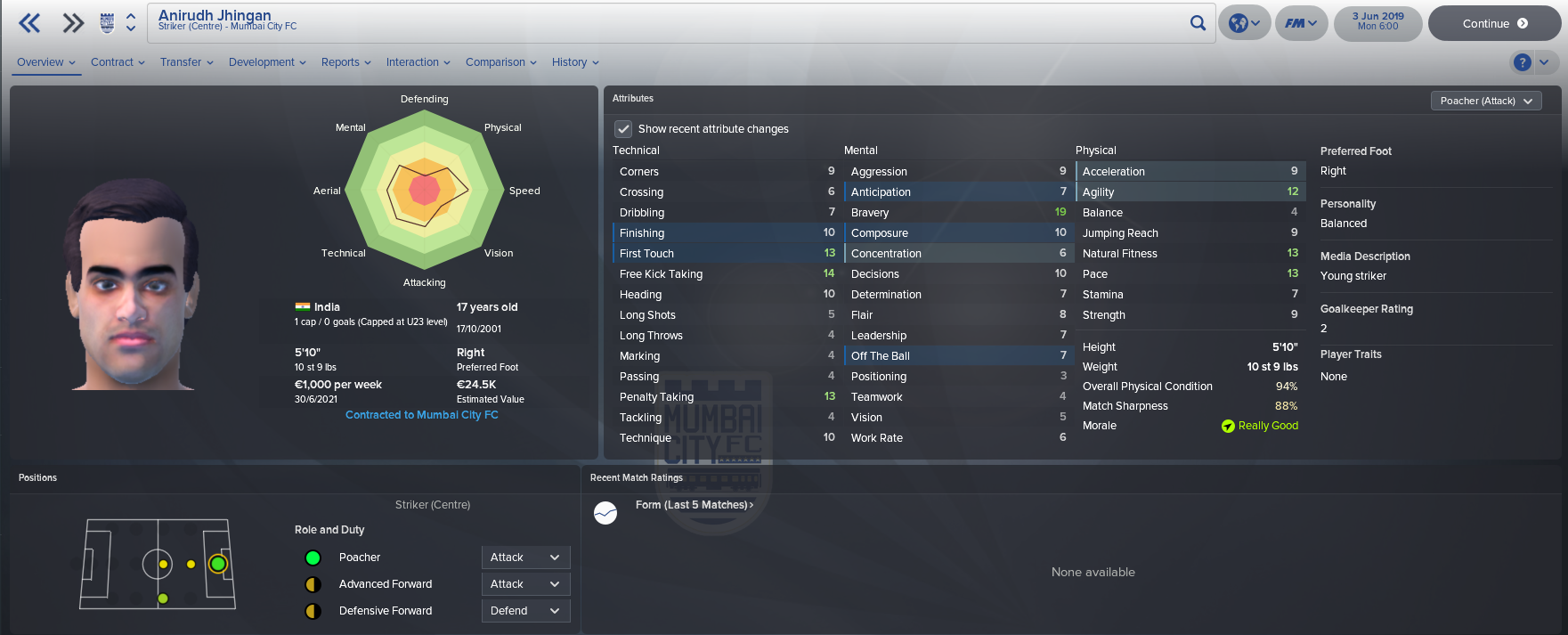 Ani excites me – quick, decent finisher and already picked by India. Plus, he made me work for his signature. Again he is young, so he will need a bit of time and work but he has bags of potential.
What does all this mean for the existing group?
Naturally, some will be moved on.
Mondal, Davinder Singh, Kimkima, Sanju Pradhan, Kim and Sayak are all now surplus to requirements in my opinion. A couple of them have contracts up so will be released, the others will be sold. Mondal is going as we have a couple of Academy centre backs that deserve game time, Kimkima is now behind two Academy full backs, Pradhan has played twice in two years behind Everton Santos and Sayak is now 4th choice goalkeeper.
I won't go through every single Academy player that we've retained in the last two seasons, but we have a half decent group that combined with the signings could give us a very strong, young, hungry base to work with for the next couple of seasons.
The question is, which foreign players do I go with?
I have initially listed Everton Santos. That seems crazy, eh? Why would I do that? Well, I hoped I'd be able to bring in a kid from Kerala but he doesn't want to move (yet). Plus we have two Academy players with bags of potential, even if they are nowhere near ready just yet. Everton Santos, albeit very good, has never been much of a team man refusing to tutor anyone, always moaning about training and is also the highest paid player. That said, nobody has taken him off my hands yet so I am starting to talk myself into thinking it over once more.
Thiago Santos – 15 goals in 20 starts for us this season, which was 13 in 13 for the ISL and not much in Asia. The season before totalled 13 in 16. So, he has a fine goal ratio at the ISL level but not so much (again, yet) in the continental fixtures. Plus, he does get injured. Mind you, it would be too much to ask one of the kids to take his place just yet. He has to be one of the foreign players next season.
Gustavo – I think my biggest mistake last season was not having Gustavo in the AFC squad. The boy is class, but then I have Isra in central midfield too who is equally class. Two foreign lads taking spots when I have several talented young Indian central midfielders? Tough call. Isra is also Asian non-Indian which gives him a big tick. Could we survive without Gustavo? I doubt it.
So then there is Gerson our centre back. Could I pair one of the Academy lads with Raju? It would be very, very risky.
If I could get that right midfielder I want then it is a no-brainer, Everton Santos moves on. But if I can't get him, then do I include him? Technically, I can still have him in the ISL but that could kill the point.
Rocha can also play right midfield… hmm.
I'll keep pestering the number one choice and keep trying to offload Everton.
I have to be realistic about next season. We are making this switch over about two years sooner than I planned so I cannot just expect us to get to another final – this is a long-term plan. We have money in the bank, so the club probably has two years of mid-table in it without hitting difficulty.
These are big steps. Can we do it? Let's find out…