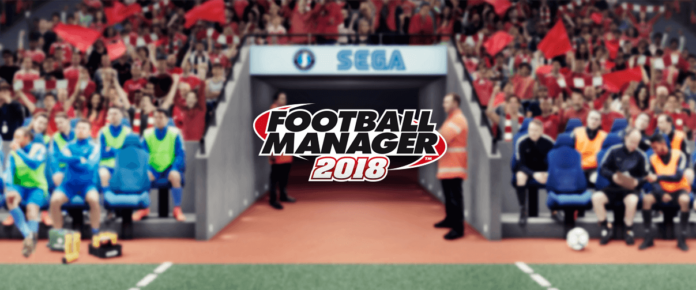 SEGUNDO VOLANTE
New Season, New Role
So, here we are. The Football Manager 2018 Beta was announced on Friday 27th October and included in the new game are several new player roles. We all love a player role, don't we? Whether it's your inside forward, false nine or inverted wing-back, we all have our own little selections that work with our formations. In the Rivalità Tra Fratelli challenge, I think I used every single possible role as Inter Milan manager… even wide target man in one low, desperate ebb that I was far too embarrassed to include in a write-up. I can't wait to get the Segundo Volante into my team for FM18 but first, let's find out what it's all about.
HISTORY BOYS
The name 'Volante' for a defensive midfielder is a tribute to Argentine footballer Carlos Martin Volante, who played for Torino, Rennes and Flamengo amongst other clubs in a career spanning from 1928 – 1943. He represented his national side only twice, but performed with distinction and assisted the Brazil international side as a masseuse in the 1938 World Cup. True story.
The term Segundo Volante is probably translated closest to second steering wheel, which is apt as you'll see below.
POSITIONAL SENSE
The role will be able to select the defensive midfield position either left or right, basically not as a lone central defensive midfielder.
This is because the role can't be performed effectively alone without the support of a colleague. So if you're selecting one DM, as I often do, the role won't be there. It has to be either side of the middle.
LET'S GET TECHNICAL
Technical explanation first before we look at the role and suitable protagonists, the role Segundo Volante will be best paired with an anchor man according to Sport Interactive but I suspect a ball winning midfielder will work just as well… as long as they are disciplined. The Segundo Volante contributes to all three phases of play, breaking up opposition attacking moves, carrying the ball through midfield and contributing to attacks. He links up defence with attack, similar to a box-to-box midfielder but he's expected to be in possession of the ball rather than encouraged to give-and-go, then arrive late for the Frank Lampard strike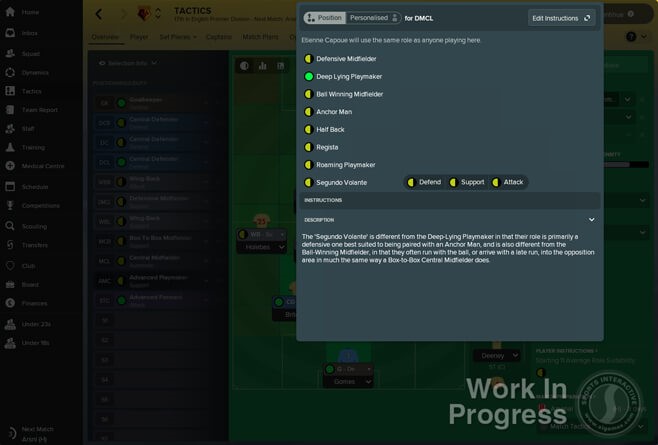 Don't get too hung up looking at the Sports Interactive image above because I believe it will change, having a defend duty just doesn't make sense when you've got a recommended anchor man beside. The Segundo Volante has to be either support, travelling with the ball from deep or on attack duty, which means his starting position is further forward as he steps into midfield ahead of his fellow DM and pushes on to supplement the attack. I've read analysis that likens the role to Patrick Vieira's for Arsenal and with the attacking duty, that's not far wrong. With the support duty, think more the intended role for Bakayoko at Chelsea beside Kante.
The difference in selecting support or attack will be the regularity of the attacking contribution, with attack he'll make more runs into the opposition box and fire off a few more rounds from his shooting boots.
PICK YOUR ATTRIBUTES
Several main attributes to look for in relation to the three positional areas. Anticipation, tackling and positioning in that defensive midfield position will be required, along with the stamina and balance of a box-to-box midfielder and the first touch, finishing and composure of an attacker. Not much to send the scouts out for then, luckily there's the new scouting system to take advantage of!
PLAYER ROSTER
New Chelsea man Tiémoué Bakayoko is the poster boy for this role, having starred alongside Monaco's Fabinho (who coincidentally won't be half bad in the role either) last season. Other players with these attributes look to be Wildred Ndidi, who I would suggest was recruited last season in this role to play alongside the departed Danny Drinkwater, and one of AC Milan's new signings Franck Kessié. If you're out and about in European leagues as I'm sure we will be in RTF version FM18, keep an eye out for Danilo Pereira, Thomas Partey and young Lyon prospect Tanguy Ndombele.
Here are some clips that explain why both Bakayoko and Ndombele might be good fits.
OVER TO YOU
Best of luck if you're playing with a Segundo Volante in your FM18 Beta or main game saves, let me know how it goes and whether this was a help. You'll find me on twitter as one half of the RTF challenge @CharlieTangoFM, as always thank you to the wonderful people at The Higher Tempo Press, especially the editors who make articles much more presentable than they deserve to be.
Charlie Tango.