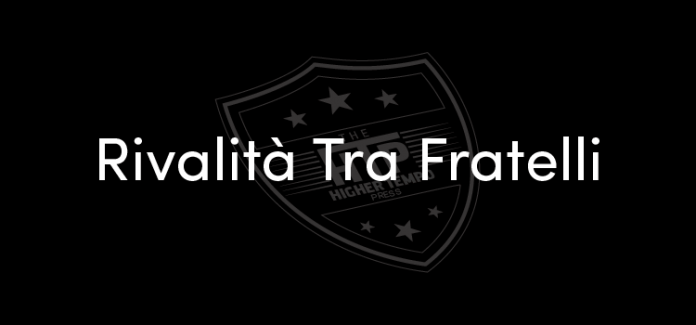 This is the story of two brothers, a modern-day Cain versus Abel if you will, based now in the Allianz Stadium. If you'd like to replicate this challenge, we're using the updated medium database with the following leagues: England (Premier League, Championship, League One & League Two), Italy (Serie A & Serie B), Spain (La Liga & Segunda División), France (Ligue 1 & Ligue 2) and Germany (Bundesliga & 2. Bundesliga).
Rivalità Tra Fratelli, Episode 29 – February '20
MIKE: I'm glad its February in our little world, between the #FM18 save reveals and players wanting to jump ship in the transfer window, it's a relief to see the back of January. The revolving door of my office was in a spin with Rugani wanting to escape Italy to the shores of Monaco and Mo Salah clinging to a dream of wearing the colours of Barcelona, but couldn't get his head around the fact we'd want profit on his transfer fee.
We have four league games to come in this month but they mean nothing to me. All I care about is that first leg of the first knockout round in the Champion's League with Chelsea. I'm so focused on that game, I'm giving Charlie the chance to take these four Serie A games with one crucial order, do not get anybody injured. Who knows, he might even take the hint and get himself a job so he's out of my hair.
CHARLIE: I'm happy to take the con for these four games, one of which is a tasty looking game against Lazio. The first is against Sampdoria and there's a little rotation, not massively but it's evident with Shaqiri, Isco, Bonucci, and Cillessen all taking up a place on the bench.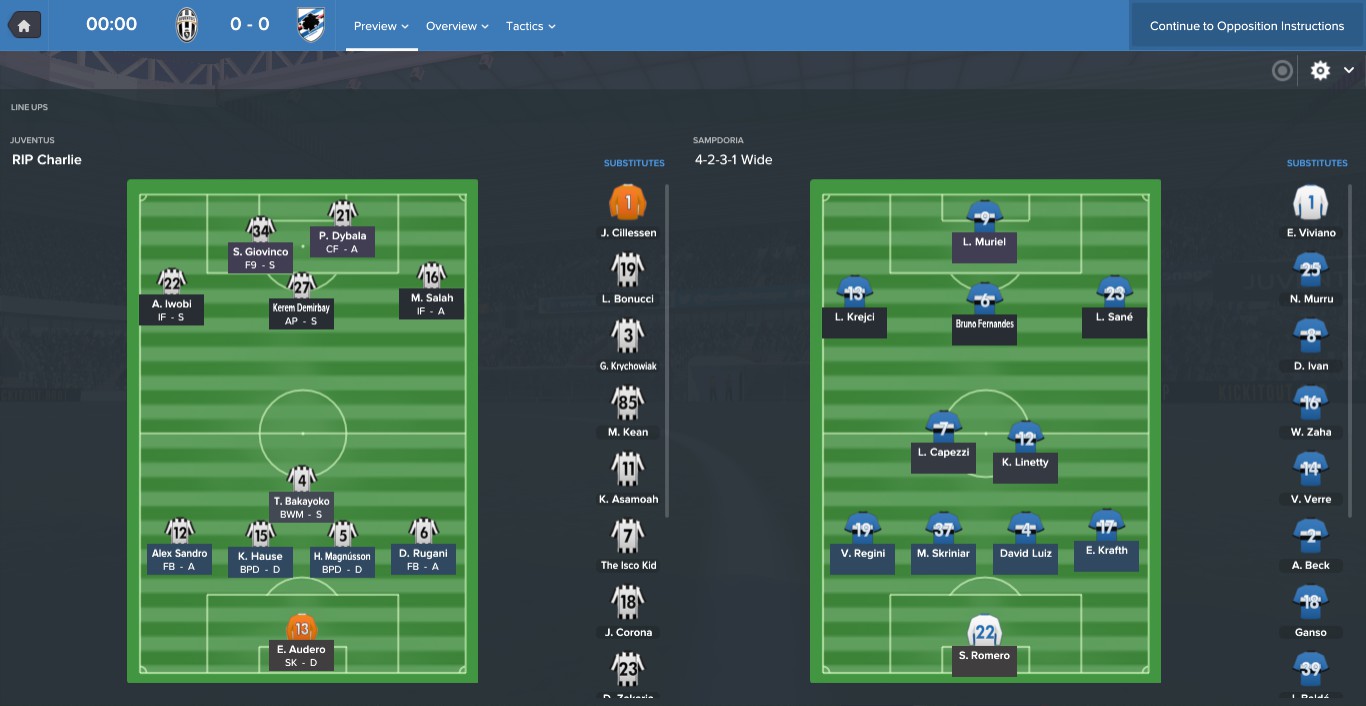 CHARLIE: The in-game commentator might call it tremendous so far at half-time but he's clearly not sitting beside me on the Juventus bench. Bakayoko was one of my old targets for Inter – stop laughing, it's documented – and he opens the scoring before the game is two minutes old. Demirbay adds a free-kick and we're coasting, then Sampdoria wake up. Ladislav Krejci was wide open and found by Capezzi to rifle home before he scores his own free-kick. At the end of the first-half, we're hanging on when we should be pushing forward.
We couldn't get past Sergio Romero in the Sampdoria goal, both him and ex-Chelsea man David Luiz were the best players on the pitch. Romero's inclusion is particularly galling, on loan from Juventus and allowed to participate. Somebody's confidence has cost us and it wasn't mine.
CHARLIE: Roma could only draw, they're our nearest challengers in the league so at least we aren't losing points in comparison. It's a disappointment but we didn't play badly, so let's not go overboard with negatives.
Heading to Chievo, they're not a bad side this season as they are in seventh place in Serie A. They don't boast many superstars but they do have a team spirit and ethic to be admired. In terms of our team selection, Jesus Corona starts alongside Isco in the attacking midfield berth, Demirbay and Manchester City loanee Denis Zakaria starts. Bakayoko again takes up his position as a ball winning midfielder.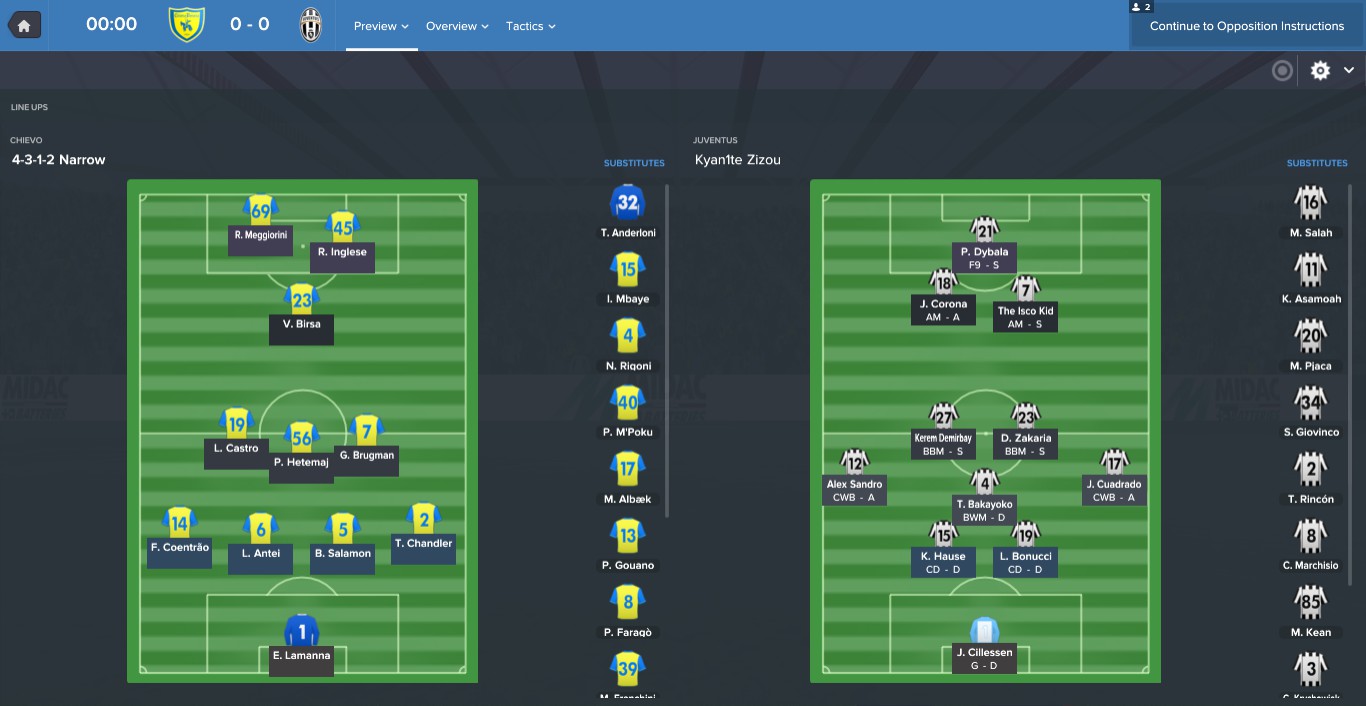 CHARLIE: What we all like is two quick goals early on to kill off the game, this time without reply from Chievo. Denis Zakaria on his first start converts an Isco corner before Alex Sandro makes one of those lung-busting runs that has become his trademark, he crosses low for Dybala, who was in prime position at the near post to profit for his sixteenth of the season.
The second half sees Brugman put across a beautiful lofted free-kick and Inglese heads beyond the Cilleseen, who was stranded in no-man's land somewhere on the six-yard line. As we enter the last five minutes, Chievo's Meggiorini races clear into a one-on-one with Cillessen. He gives the goalkeeper the eyes but the Dutch custodian is equal to his effort. Extra time is just one huge highlight as we go from end-to-end but we keep hold of the lead.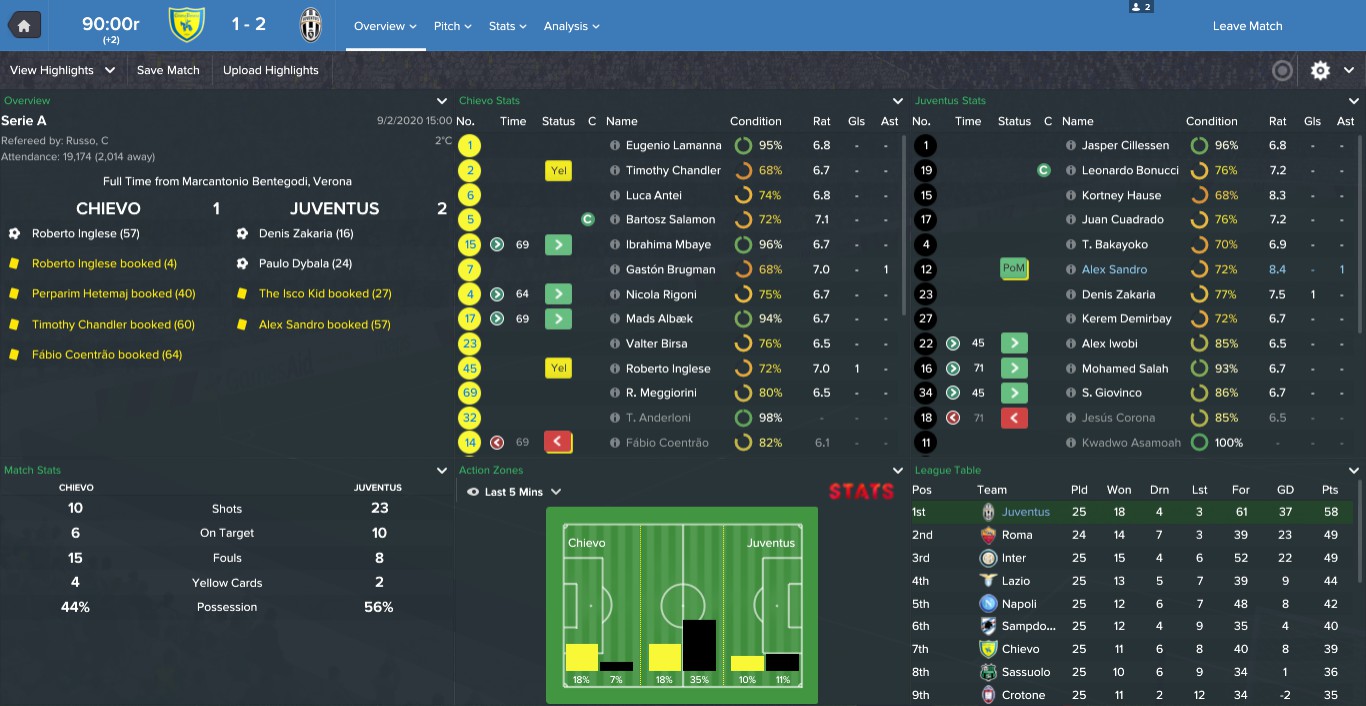 CHARLIE: Between games, I've taken a bit of advice from FM Slackmo, @FM_Samo on Twitter, regarding our defensive midfield position. He's suggested a defensive midfield role instead of a ball winning one as just having one defensive midfielder could be a mistake. I'm happy to take the advice and see how it goes, just as Mike is annoying people on social media, although I'm not quite onboard with mocking people purely for having a different opinion. However, he doesn't take this as seriously as I do so no foul.
CHARLIE: Giovinco has been our best forward, in fact, I believe Mike christened him as so but that crown has now been handed back to Dybala. It was him who absolutely pillaged Lazio with a superb hat-trick. The first saw Giovinco win the ball back on halfway, one-two with Pjaca before sending a pass through for Isco. One cut back later and Dybala opens the scoring. His second was a penalty, won by Giovinco and his third from a reverse ball by The Isco Kid.
The good news is that Bakayoko wasn't booked, so that's a step in the right direction. I think he'll stay as a defensive midfielder with a defend slant for the foreseeable.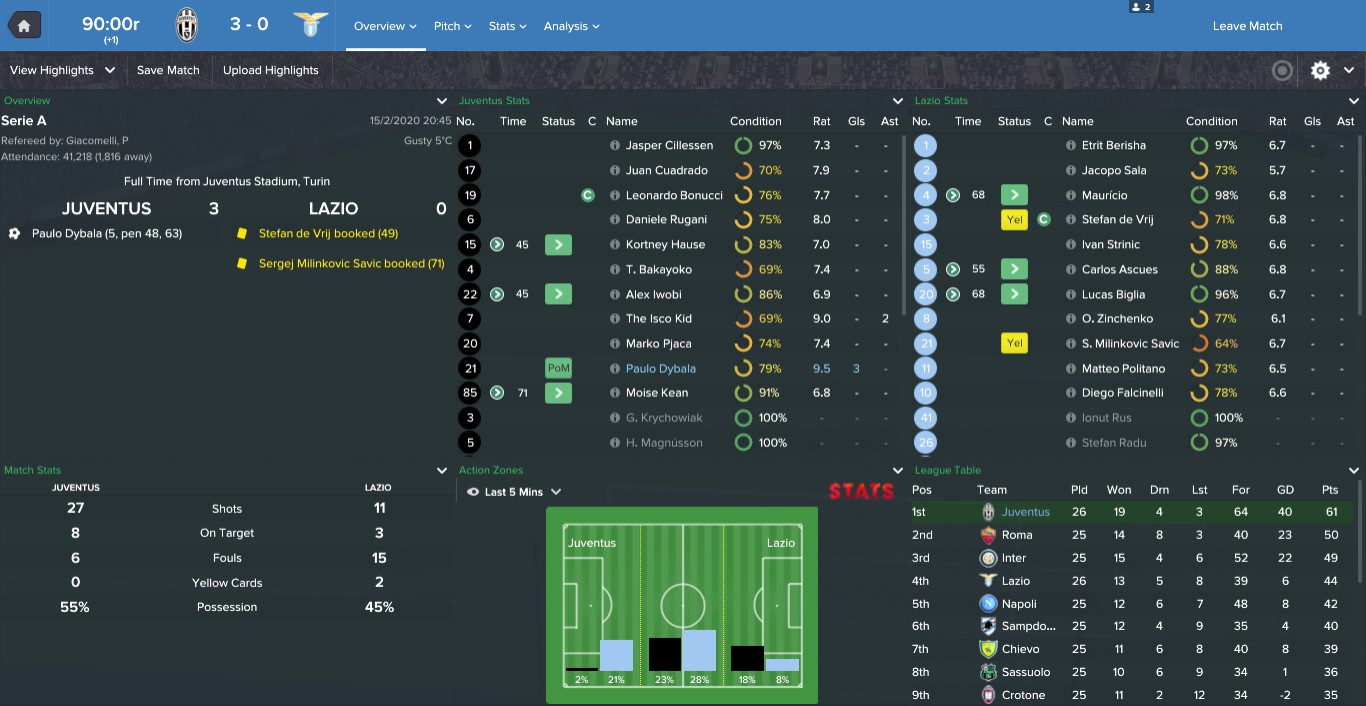 CHARLIE: Bakayoko was actually named in the team of the week, so thank you to Samo for that. With just one game to go before Mike returns to play Chelsea away in the Champion's League, I'm resting just about everyone I can. Bakayoko and Iwobi will be ineligible to play in Europe so they start, Dybala is rested so Giovinco leads the line alone.
If we can avoid injury to anybody important, I'll be a happy camper.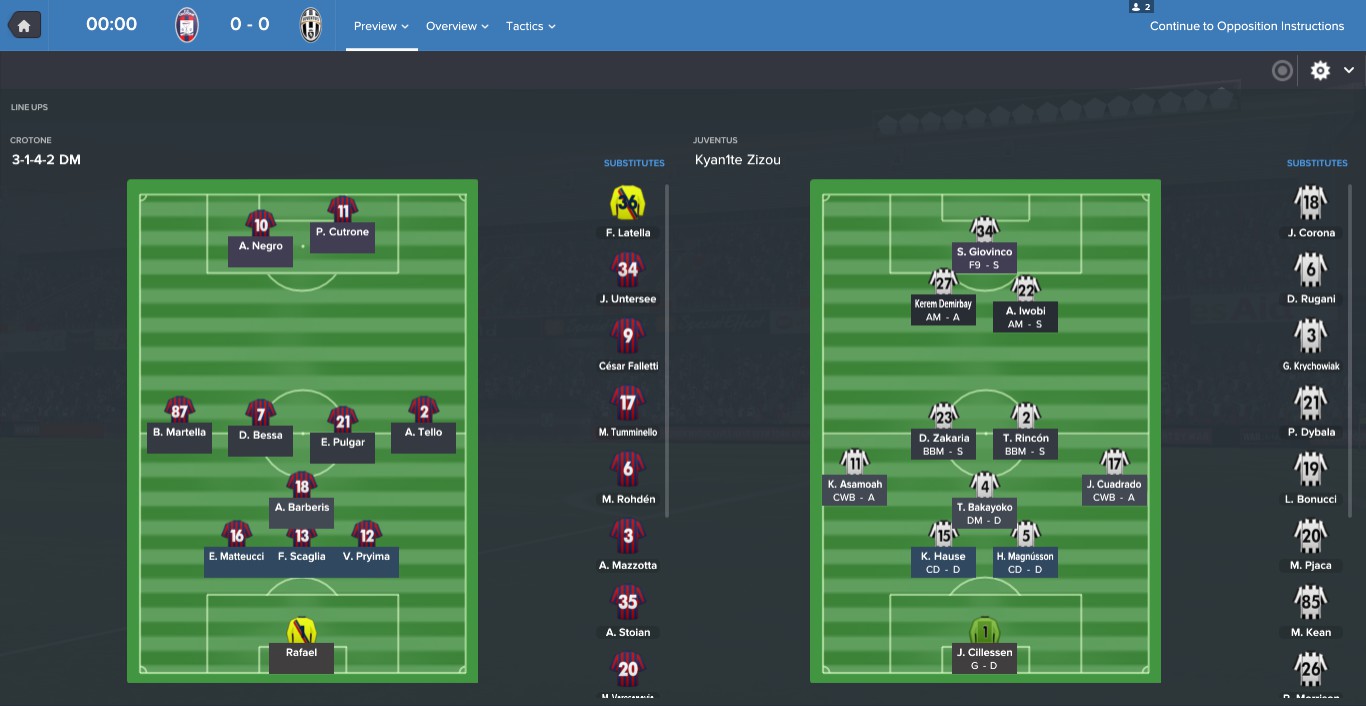 CHARLIE: Hmm. 2 – 2 doesn't sound too bad when said aloud but the one player who needed confidence was probably Cillessen and he conceded two at his near post. Zakaria put us ahead, then former Juve striker Tello equalised and Crotone took the lead via Cutrone before we needed Zakaria to level things up for us.
The positive is that nobody was injured, so that's something to cling to.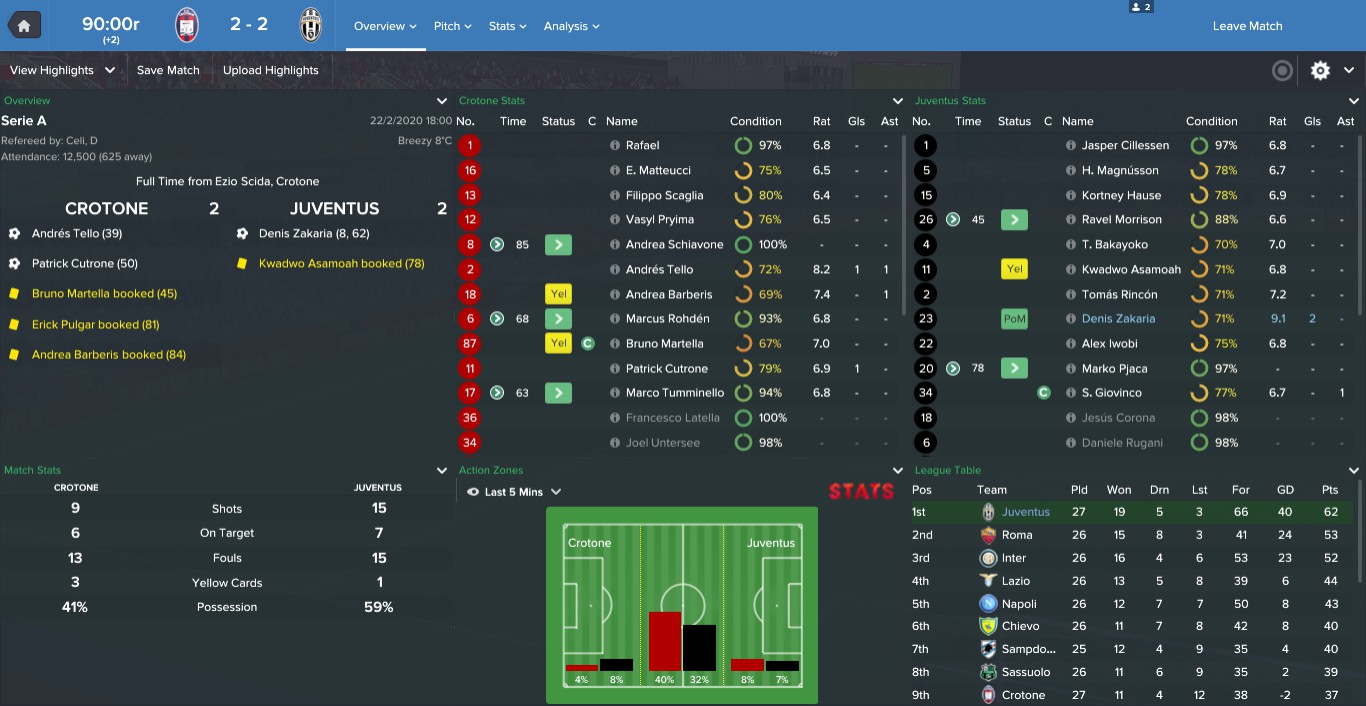 MIKE: I said no injuries. That was all. I won't even mention the fact that Juventus have only won two of the last four. Mohammed Salah is injured with a sports hernia, something curiously omitted from the above match reports. Juan Cuadrado is suspended, both Iwobi and Bakayoko ineligible to play. As a result, it's Pjaca at right wing-back. I hope I don't regret that, it was either him or Rincon.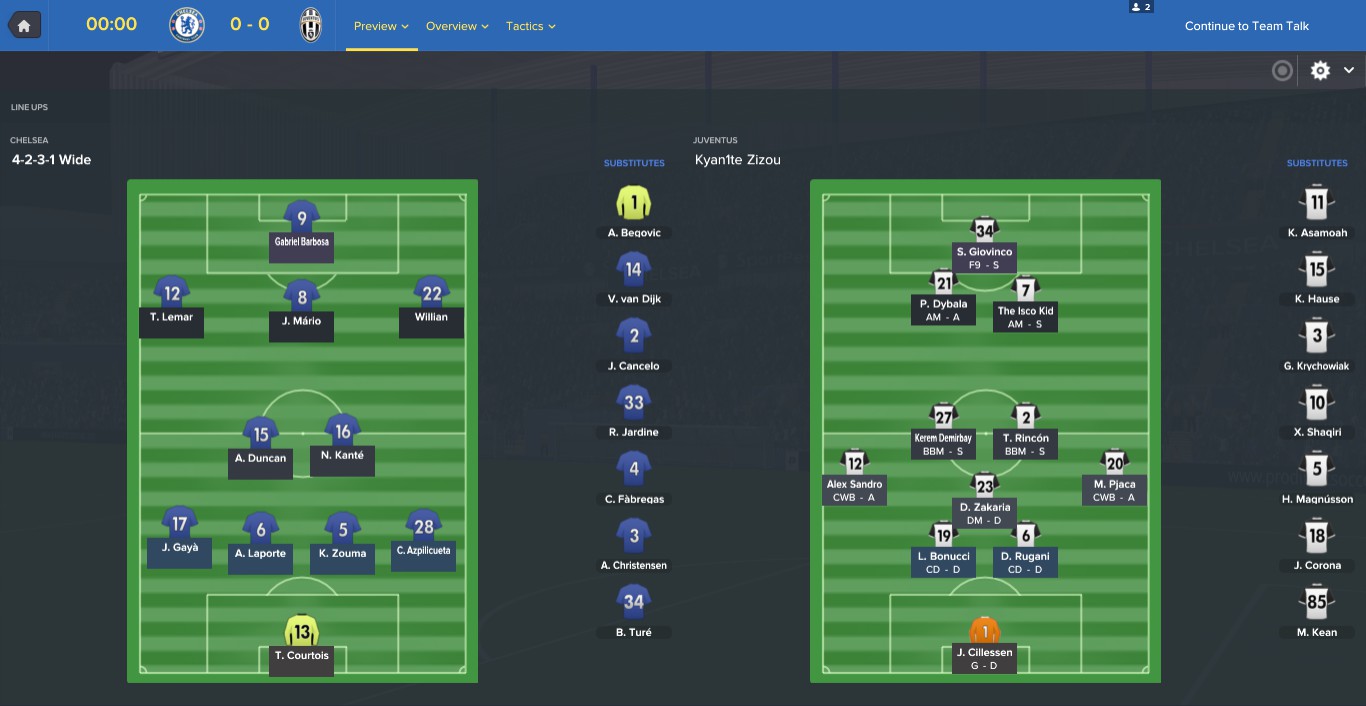 MIKE: I did regret it, almost immediately. Chelsea exploited that flank mercilessly in the first half and no surprise really. What was a surprise was that they were shocking, absolutely devoid of ideas and creativity. Gabriel Barbosa has scored seven goals in last three games, yes, SEVEN in three. And one assist. Those three games were Newcastle, ARSENAL and MANCHESTER UNITED. He got FIVE against the Gunners yet utterly toothless against Bonucci and Rugani.
It couldn't last and of course, it didn't, although N'Golo Kante was probably the least likely scorer on the pitch as Thomas Lemar danced around Pjaca to cut back. We equalise through Giovinco, who I had faith in to put up top with Dybala in behind. Sandro with another lung-busting run down the flank provides the assist.
There were chances second half for both teams. Giovinco skewed wide after Rincon and Zakaria exchanged passes on the edge of the box, then The Isco Kid hit the crossbar, Cillessen saved from a Barbosa volley and Rugani headed wide.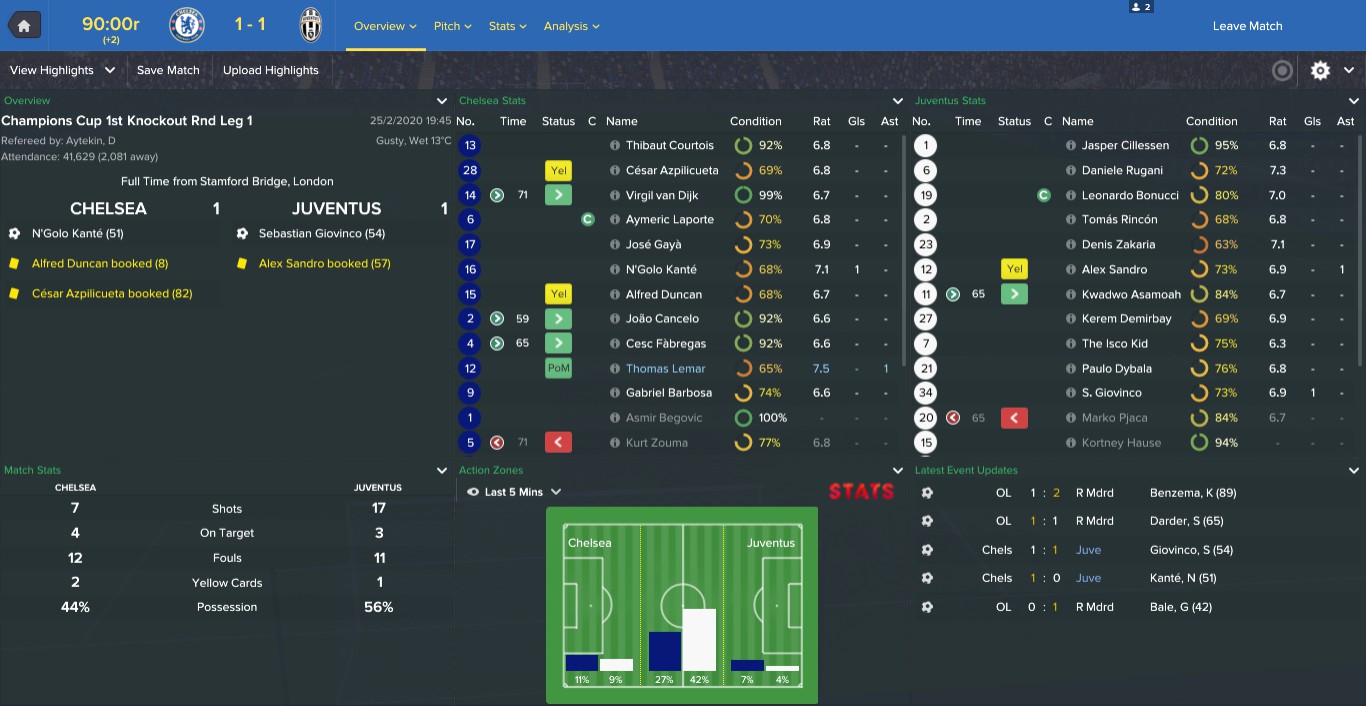 MIKE: We'll certainly take a 1 – 1 draw, that gives us something to defend in the second leg at home but I want to attack, for it is my way. I want to beat Chelsea, this isn't attrition, it's knockout football and I want to score the knockout to put the likes of Real Madrid on notice.
CHARLIE: As we end the month fairly successfully with Mike's return for the Chelsea game, I do need to address the elephant in the room. The more observant among you will have seen the small number in the corner of the screenshots and that signals the return of this save as a network game. In the last two weeks, I have taken a job on, it's one close to my heart, I am rescuing Preston North End from potential relegation to League One from the Championship. As a local Prestonian, I have to save them. They are 21st, one place and two points above the relegation zone. I've got them to the FA Cup Sixth Round but the league form is dire. As a result, March will be all Mike. You lucky, lucky people.
Thank you for reading, join us on twitter at @FM17Challenge, @CharlieTangoFM & @MikeTangoFM for exclusive comments, developments prior to episodes and reaction afterward. Continued thanks to Chris, Mike and everyone at Tempo for the opportunity to share this with the readers.