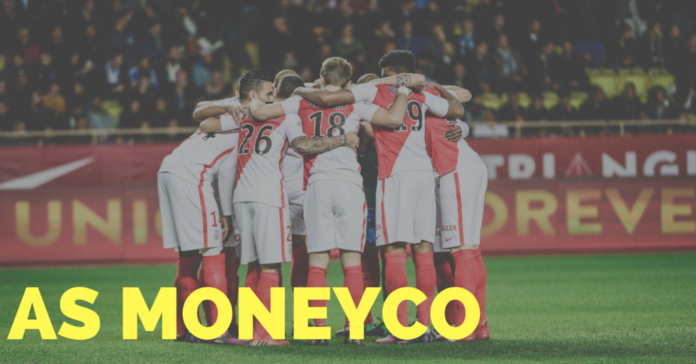 It is now April. Monaco sit outside the top three, and Champions League qualification is very unlikely. Europa League qualification is plausible, but that will mean Bernardo Silva is on his way out of the club in the summer.
Our form had improved, though. Sticking with my control 4-2-3-1 on a regular basis and willingness to throw bodies forward was helping. Finishing some chances made a nice change, too, and made me less petrified when we inevitably conceded goals.
Having scored prolifically of late, a mortifying late defeat to Saint-Etienne looked to have delivered the final knockout to my Champions League hopes. Just look at those goal times!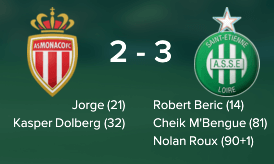 I had no time to mope. The French Cup quarter-final was up next against Nancy-Lorraine. Although we went 1-0 down early on, two goals in four minutes through Wesley Hoedt and Kylian Mbappe gave us the lead and there was no looking back. Easy win.
A chaotic 3-3 against Angers followed. The overachieving Ligue 1 side had restricted our chances for much of the match, but a late strike from Radamel Falcao should have given my Monaco boys all the points. Of course, this save has not been that simple and another gutting late goal snatched those points from our grasp. We are on the brink of mid-table, and probably my sacking.
When a 77th-minute equaliser was scored by the weak Dijon in my next match I was left cursing Tiemoue Bakayoko who had been recklessly sent off for a moronic tackle in the middle third.
This made my following clash with Lyon – who were comfortably in 2nd – a must win. And it was the perfect time for a late goal to come in my favour. It was my star, my genius from the right: Bernardo Silva. He scored the second of his brace in the 83rd to hand us a crucial three points.
A stunning cup match with Stade de Reims followed as we booked our place in the final. Good fortune with the draw saw Lyon face PSG in the other tie, and when Lyon beat the soon-to-be champions I thought it could be my year. We will find out later on if it turned out to be.
Frustration brought a 1-1 with Toulouse in the league. They were a near rival of mine, and that looked to be another painful blow to any chances of European qualification. I had few gripes about this one, mind, given the performance the opposition put in and how few chances we created.
A ludicrous 3-2 win over Lille was next. From 1-0 down at half-time, we were 2-1 up after 68 minutes. Two goals were scored in the 91st minute.
It was that man Mbappe again who scored the winner. And the wonderkid was thriving with back post runs and attacking crosses from Bernardo or Djibril Sidibe.
Then we reach the final day.
Third-placed Nice play Lyon and are at risk of losing their Champions League berth that they had held for most of the season. Toulouse host Dijon, and we face Stade Rennais. Having taken a comfortable 2-0 lead at half-time, the table looked as below.

Yes, Dijon were doing me no favours, but they were only a goal behind and Nice were out of it against Lyon. A late snatch for a Champions League place was on.
In typical fashion, though, my defence chose to meltdown after half-time. Attempts to tighten things up did little, and Stade Rennais made it 2-2. Fortunately, it stood for nothing as Toulouse pulled away to beat Dijon comfortably, but it meant fifth rather than fourth.

My attention turned to the cup final. Kamil Glik and Benjamin Mendy had got themselves suspended, Kasper Dolberg – who was in fine form at the end of the season – pulled an abdominal muscle and Sidibe was a doubt.
I was seeing this as a way to justify a poor year. It did not work out well. Alexandre Lacazette dominated my defence and we slumped to a dire 3-0 defeat. Season over. Job in the balance.
Oh, and Bernardo had been the subject of some flirtatious advances from Zlatan Ibrahimovic.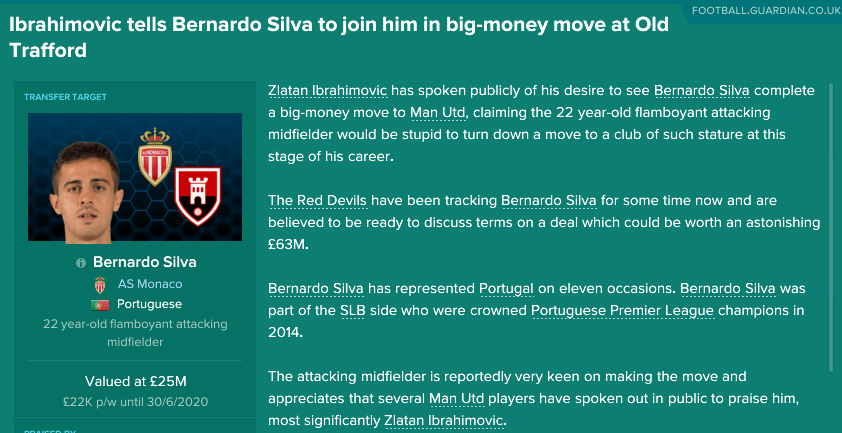 Bernardo came out with quite a revelation shortly after the cup final, however. Although Champions League football was his motivator, he had decided that our late push for a top three space was enough to convince him he had a future with us. Does he make it through the summer?

This was followed by news of profits, which was obviously a plus given the general aim of this save. Older players were sold on last summer and in winter, my wage bill was manageable and younger players were coming to the fore. We were within a result of Champions League qualification, and had kept the books balanced.
Without the Champions League, it was a pleasant surprise to see such a hefty transfer budget, too. Replacing Falcao before I moved him on was going to be a priority, though the returning Richarlison could fill that role. The wage budget was getting pushed a bit more than I wanted, so Kamil Glik, Danijel Subasic and a couple of high earners were set to be shipped out as my star youngsters began to show their brilliance.

Fabinho took this opportunity to complain about his wages before he headed off for a few weeks on the beach, but he was quickly calmed and I can put that on the back burner for a while. It won't be long before Bakayoko returns with similar demands, though.
My attention now turns to a massive summer. Remember, no signings over 25, no inflated acquisitions of attacking players, every player has a price and make sure you have a replacement before anyone is sold.
See you back here for Episode Eight for an active window. Big names leaving, and there could be some extravagant bargain additions…