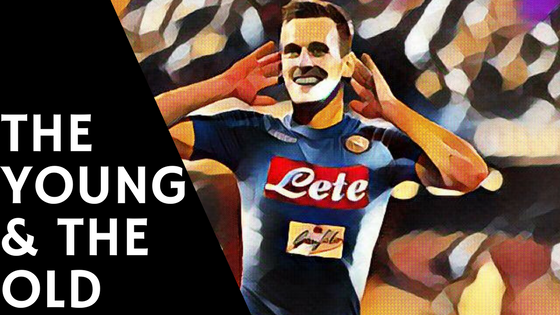 Slow Beginnings
The Serie A kicked off this week for the Young and Old side, against tricky visitors Torino. These opening weeks are going to include some poor performances, as the team gels and I figure out how best to integrate youth and experience.
The opening game saw my preferred 4-4-1-1 formation, which sees Dries Mertens act as a wide playmaker, and the forward men attempt to penetrate the opposition defence.
This was clear in the opening stages of the game, as we stormed to an early lead. But, a late 20-yarder from Stuani fired the ball past the unconvincing Emiliano Viviano.
Having scored in the last game, I felt that Callejon deserved a role as the main striker. This allowed me to use Ceballos in the CAM position, with Embolo and Mertens taking the wings, in our early big game at AC Milan.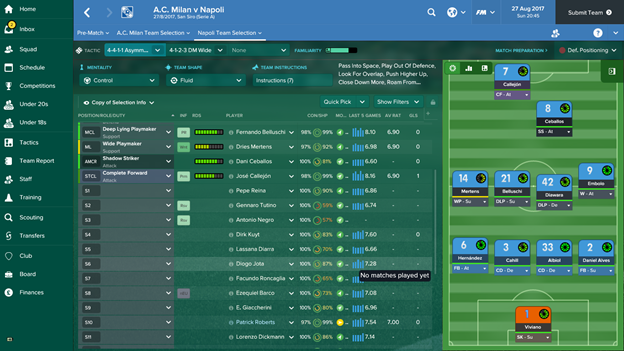 Despite a late wonder goal from youngster Lorenzo Dickmann, we fell to our first defeat. A 2-1 loss is nothing to be ashamed of at the San Siro, with a brand new team full of fresh faces.
Regardless, the tactic wasn't working as it should, but I gave it a final chance against 18th placed Crotone.
However, over the international break, Embolo, Mertens and Ceballos picked up minor injuries. This meant that our attack was much too weak going into the game.
After shoddy defending at two corners, we could not break back into the game. Despite a late surge, and a good finish from Patrick Roberts, Lassana Diarra was sent off, and our fate was sealed.
Never Too Old
Three games down, only one point gained. Granted, this included two away games, but that is unacceptable for a side of Napoli's standing.
For the home game with Lazio, changes needed to be made. I decided to play with two strikers, and an attacking winger rather than a wide playmaker.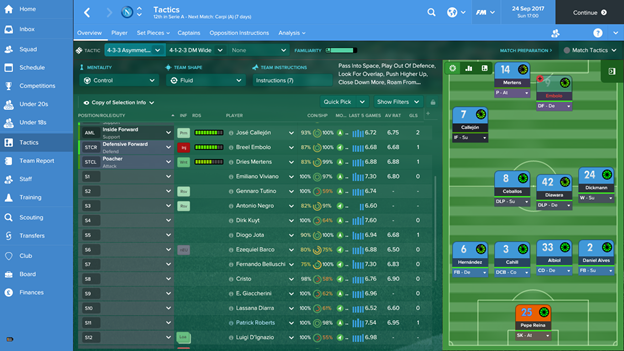 Shortly after the game started, I decided to switch Dickmann and 34-year-old Dani Alves. This would help utilise Alves's impressive attacking attributes. Luckily, eight minutes in, Lazio centre-back De Vrij was sent off for a second yellow, and the game was plain sailing from there.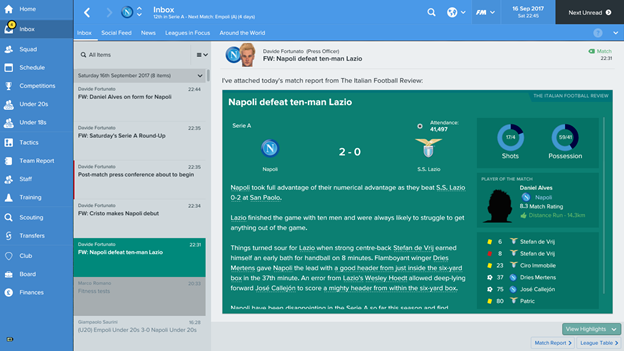 Our first win! Against a good Lazio team, albeit with only ten men. Daniel Alves was inspired, with superb crossing and playmaking. As a winger/full back/centre midfielder, he has the perfect attributes for a playmaker and a defensive winger.
I chose the same first team for the following game. Another tough fixture, this time visiting current league leaders Empoli. While not a star-studded opponent, the hosts had dispatched teams such as Fiorentina and Atalanta without any trouble.
I was looking for another big performance from Alves on the right, as well as strikers who could take the few chances we were likely to create.
We were a goal down at half time, before Empoli added a second on 80 minutes. For anyone that's seen my West Ham Brexit save, this was starting to feel like groundhog day. But then something amazing happened.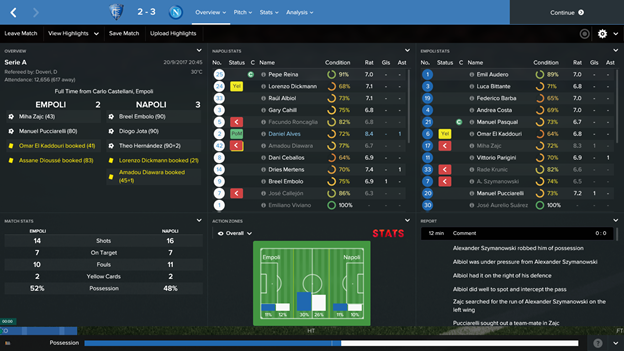 By switching to an attacking mentality, and using the full-backs as complete wing-backs, we managed to change the course of the game completely.
A Dani Alves cross found Embolo for his first Napoli goal, and youngster Diego Jota fired home in the same minute to equalise.
Personally, I was satisfied, and instructed the team to sit on the counter and focus on defending. Theo Hernandez decided to ignore me, and the left-back popped up in the box to score a piledriver of a volley in the closing seconds.
Still Teething
All three goals scorers were given a start in the next game, a home fixture against Chievo. Jota replaced Callejon and Hernandez replaced experienced full back Facundo Roncaglia.
Despite the same tactic being used, we just couldn't score past Chievo, and hit the post twice in the first half. Not content with that, while chasing the win in the late stages, they somehow managed to get two spare men in the box for a cross, and condemned us to our first home defeat.
As mentioned, these early stages will require some patience. Getting a team to gel, especially one as diverse as this, can be difficult. Hopefully, once players such as Embolo and Mertens really find their feet, the goals will start to come thick and fast.
Next week we come up against promoted side Carpi, as we attempt to get straight back to winning ways.