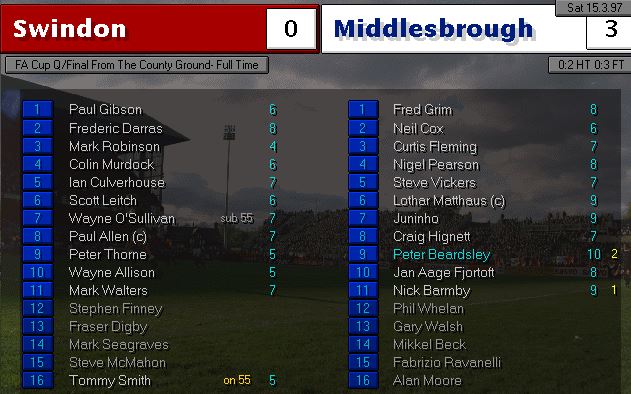 Welcome to the third and final part of my trip down memory lane to a time where Great Britain were serious contenders for the Eurovision song contest and David Beckham wore number 10. I'm trying to keep Middlesbrough in the Premier League in the 96/97 season, a feat Bryan Robson failed to achieve despite having Ravanelli, Juninho and Emerson at his disposal. As we have found, you need some defenders to be any good. If you weren't with us last time, we pick up with us teetering on the brink…

A 2-2 draw with Newcastle isn't a bad result, but when you consider we were leading 2-0 on 74 minutes, it could have been better. Just as I think we've turned a corner though, there's always something lurking around the corner.
Oh Fred. We actually win the second half 1-0, a tiny positive I will be repeating in the media this coming week to try and inspire confidence.
What we need is a distraction, and an FA Cup quarter final away to Swindon is the perfect game to take the heat off us.
Beardsley will stop at nothing to cheer me up. He hands the "Cheering Dave up" baton to Ravanelli though and two wins in 4 days means six vital points are on our total.

That sets us up nicely for a semi-final showdown with Spurs, who sit 5th and will be clear favourites. With the transfer deadline about to pass, I swoop for a former Liverpool defender to help us out.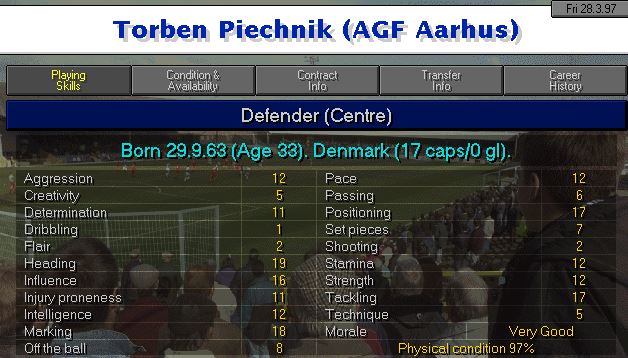 For £220k, he will do. As long as he doesn't dribble or shoot were in business.

It turns out he can't be trusted either, the bloody idiot. We hang on though and we'll be off to Wembley to face Liverpool. Another excuse to roll out the white suits.
We have momentum now, and a thrilling win at Southampton puts us on the verge of safety

That more or less puts us safe with 6 games to spare. Crisis? What crisis?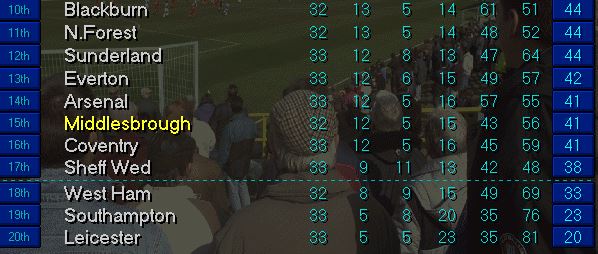 It's been a great run of form, the thrashing at Liverpool seemed to really help. Maybe we can get revenge for that in the final?
With one eye on the cup final, we win two of the final 6 to secure an 11th place finish, which I am ecstatic with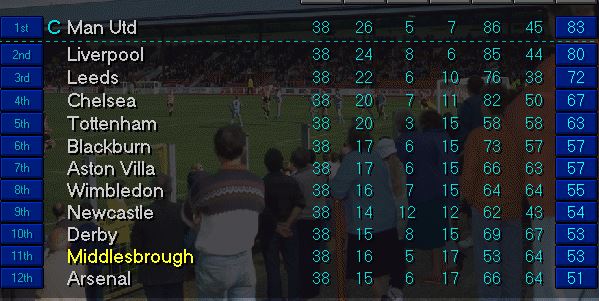 Arsene Wenger is probably less pleased. So many goals though. Unless you are Leicester. Poor Leicester.

So with that ugliness behind us, it's time for the FA Cup final. We come from behind on 3 separate occasions to force extra time, but we lose Juninho to injury and Matthaus is on one leg by the end. We reach 120 minutes, deadlocked at 3-3.

Because the FA were arguably stupider in the 90s than they are even now, this meant extra time rather than penalties. Yep, 120 minutes for the joy of doing it again on a Wednesday night.
We rock up again 4 nights later, Liverpool's suits looking a bit worse for wear, and now without Juninho and Matthaus. Of course we lose.

It's a shame, but at least we made the final. Is that the attitude? Liverpool finished second so that might mean we're in the Cup Winners Cup, but then Liverpool will probably be forced to give up the Champions League millions to play on a Thursday night against FC Hudafook. 1997 was strange like that.
So, mission accomplished. If we hadn't lost in the League Cup quarters we could have really rubbed Robbo's nose in it, but alas, he can always say he reached two cup finals. I also had to get some help by signing players with over 200 caps between them…and Fred Grim. Alan Fettis didn't help.
I'll leave you with this season by numbers. Some of it is stupid.
17 – the number of assists registered by Craig Hignett
12 – The pathetic amount of goals Ravanelli scored
9 – The number of goals scored by Juninho
9 – The number of goals scored by Steve Vickers…
7.67 – Lothar Matthaus' average rating (48 games)
7.46 – Fred Grim's average rating (!) (31 games)
5.66 – Alan Fettis' average rating (6 games)
3 – The number of stupid goalkeepers I played during the season
44 – The number of goals scored by Robbie Fowler during the season
36 – The number of assists registered by Steve McManaman
8.38 – Igor Stimac's (Derby) average rating (38 games)
6.21 – Curtis Fleming's average rating (21 games)
0 – Sum total of manager of the month awards I won.
I hope you've enjoyed this series, 96/97 is a fun game to play in some ways but I feel much less in control of the result than I do on pretty much any other version of the game ever. See you again!