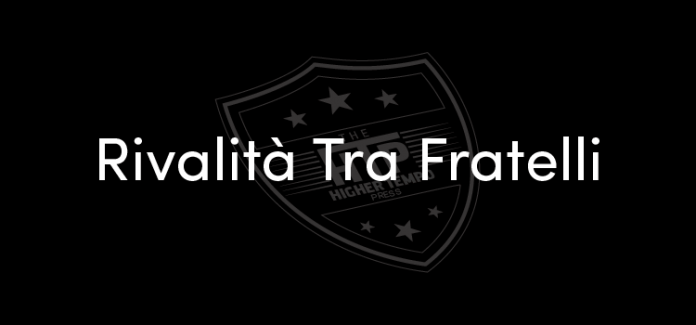 This is the story of two brothers, a modern-day Cain versus Abel if you will, based now in the Allianz Stadium. If you'd like to replicate this challenge, we're using the updated medium database with the following leagues: England (Premier League, Championship, League One & League Two), Italy (Serie A & Serie B), Spain (La Liga & Segunda División), France (Ligue 1 & Ligue 2) and Germany (Bundesliga & 2. Bundesliga).
Rivalità Tra Fratelli, Episode 21 – Juventus
MIKE: As Charlie has been pissing about in Serie B with the likes of Ascoli, Ternana and Benevento, I have been preparing for a European onslaught not seen since… well… um… never mind. The point is that all I care about is winning the Champions League this season with my new club Juventus and sticking two fingers up a Wazza Rooney, Mario Balotelli, the AC Milan board, AC Milan fans on social media like Nicholas Contento and anybody else who dared to question me.
After the way AC Milan turned on me, they're lucky I stayed with them until the end of the season quite frankly, ungrateful bastards.
Regular readers will just assume this anyway so I may as well get it out there (not that, you childish sods) that I've no interest in building my own tactic and style of playing. And no, I don't care if you think that's the 'wrong' way to play Football Manager. I didn't ask you for an opinion so feel free to keep it to yourself. When looking for a system, the best thing to do is ask the experts. Who won the Champion's League last season? Why, Real Madrid did. Hmm… I wonder if anybody has produced a blueprint of Zinedine Zidane's tactical approach. What's that? They have? Well, thank you to @Brian_Gendo for bringing @tommysboy007's written piece to Youtube for my perusal. I also have seen a Zidane Real Madrid tactic produced by Kyan1te on Youtube, so I've also downloaded that. The two tactics are not similar at all. One is on defensive, the other on control. You be the judge.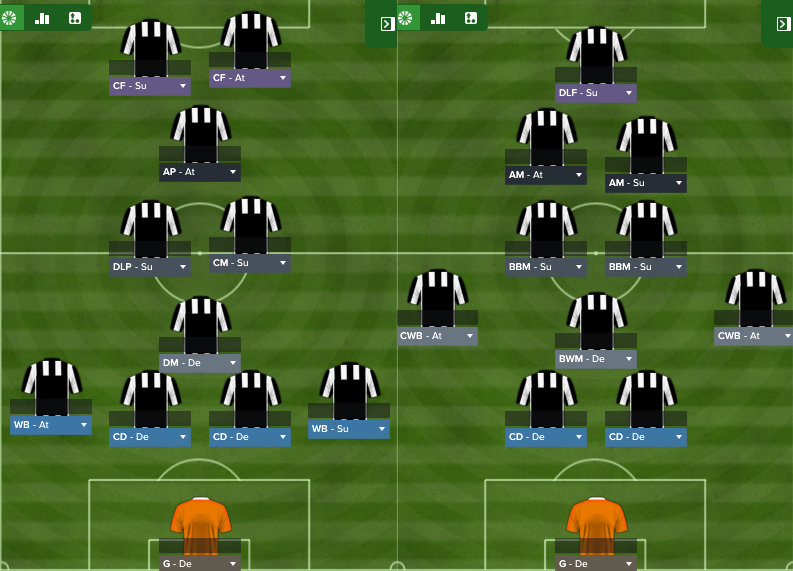 However, despite the obvious differences, I'll just adopt them both as home and away tactics. Defensive for away, control for at home and of course, the ever-reliable Macintosh to make sure we don't toss away any late leads. The squad is as good as it'll get without spending the full £47 million budget on one massive player, Buffon is retiring and Lichtsteiner's contract is ending.
Goalkeeper is where recruitment is needed and the remaining back up, Neto, just doesn't butter many parsnips for me. I arrange for two internationals to come in for reasonable (under £10 million) fees – Sergio Romero and Jasper Cillessen. Both are offered squad rotation contracts so I can keep my options open. I'm always looking for somebody to rehabilitate, at AC Milan it was Didier Drogba and Stewart Downing, here at Juve striker Zaza looks to be that man. He's better on Football Manager than in real life, I suspect having spoken to West Ham fans, I want to give him a chance to redeem himself. Similarly, Ravel Morrison intrigues me, bombed out in England and on the scrap heap at 25 with Lazio, I think I can rejuvenate him.
Much like Jose Mourinho or Arsène Wenger, I need to trust my players. Their skills and abilities are interchangeable but loyalty and trust are my currency. Having taken a long, long, hard look at the squad I don't trust Samir Nasri. He's listed and would you believe it, the first chancers to rock up are a Luis Van Gaal-managed AC Milan. HA HA HA HA HA HA HA HA. I'd rather lob off my right arm than sell anybody, even Samir Nasri, to those goons. As Nasri rots in the reserves, I spring another surprise in the Gerard Gumbau mould by poaching Martin Ødegaard from Real Madrid. Zizou must have taken his eye off the ball to leave his release clause at a paltry £11.25 million. We've all been there.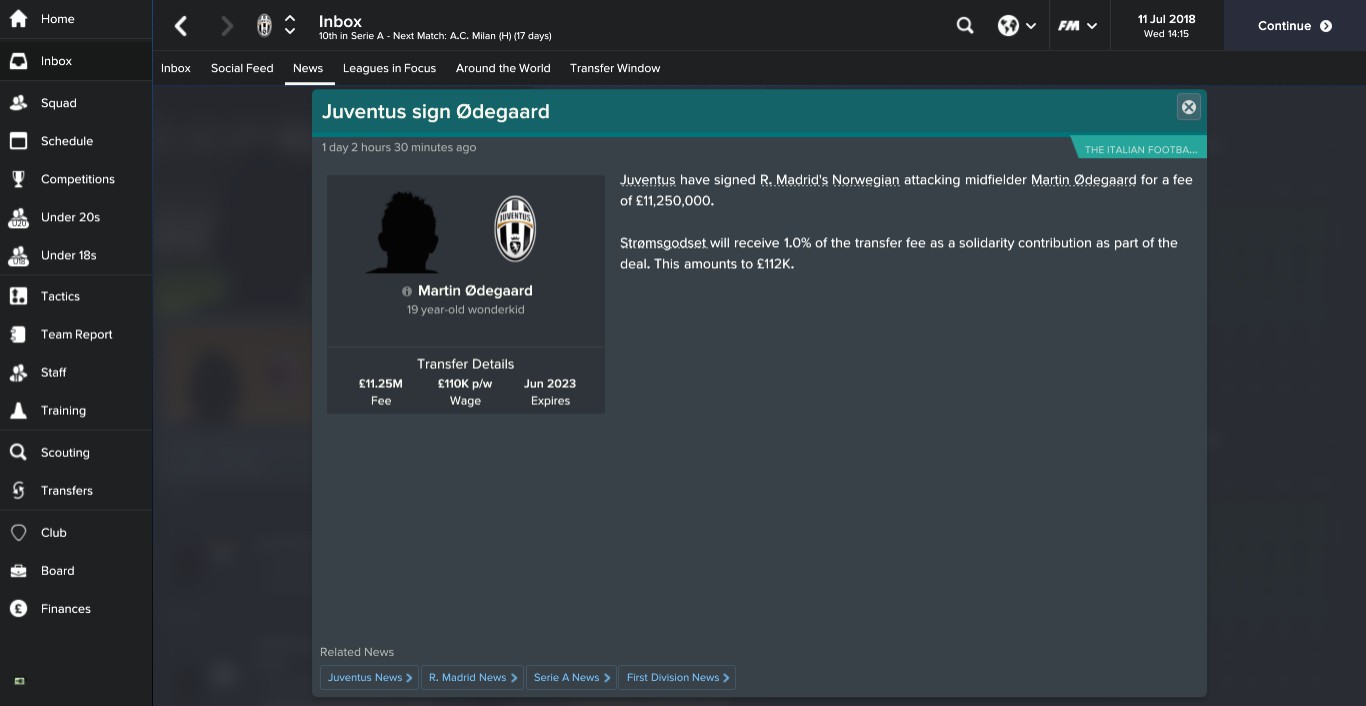 The managerial merry-go-round has seen Carlo Ancelotti controversially take up the manager's job at Barcelona, his replacement is 'MoPo' Mauricio Pochettino and Spurs have plumped for Pep Guardiola… God will it ever end? Fatih Terim is now Inter manager and Arsenal have received the resignation of Arsène Wenger. Eddie Howe overlooked the Gunners job to become England manager… I can't find it in me to care. If we come across them in Europe, I'll tell you.
There has been enough talk, I'm here to win the Champions League. I care not for the league or Italian Cup, for they are simply preamble. Time to go to work.
We open with Rapid Wien, my scouts are at pains to inform me that they have former PSG and Newcastle United man Hatem Ben Arfa in a strange striking role. I expect him to move back into attacking midfield and if he does, my entire scouting team are fired because I can do a better job myself.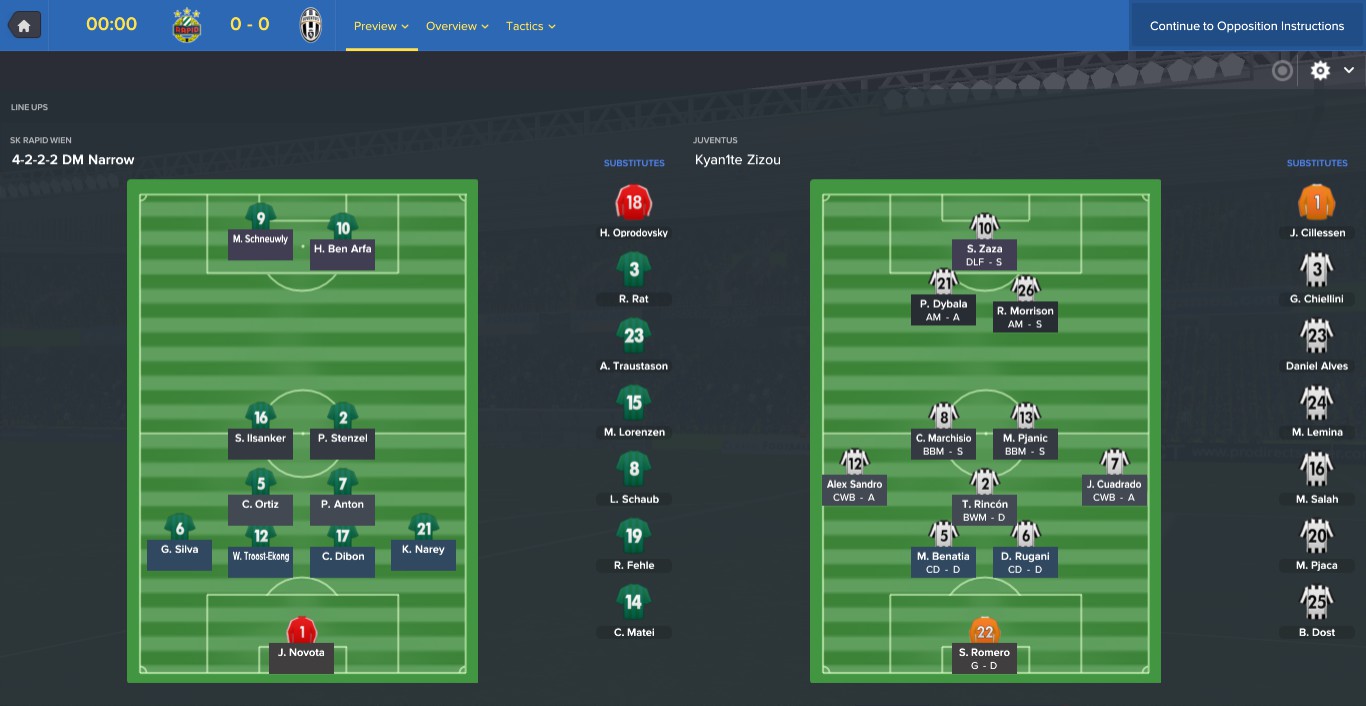 Claudio Marchisio captains the side from central midfield, he's probably the weakest of our starting lineup and aging considering we did just play his testimonial but God knows we need some leadership. The rest of the team aside from Sandro and Dybala are probably members of a second string but considering my AC Milan team notched six wins out of six in the group stages last season, I expect the same.
Juan Cuadrado is being retrained as a right-back/right wing-back and he crosses high for Dybala to open the scoring after picking up a rebound. Cuadrado repeats the trick ten minutes later and Dybala has two. Considering he's after a move to PSG because of the wonga on offer, he better keep scoring or he'll be rotting in the reserves for the remainder of his contract like Nasri. I've read stories about managers forcing players to come in at unsociable hours so they get caught in traffic and training with the youth squad, that's nothing compared to what I'll do to the petulant little shit.
There's more to come as Ravel Morrison, now fit and taking his place on my mantle of rehabilitated footballers, swings in a free kick and Rugani rises highest to loop a header over the diving goalkeeper.
First win down, well done boys.
Our second fixture sees us welcome CSKA Moscow to the Juventus Stadium and they will bear witness to the Champion's League debut of the 'Tempo ReAl DeAl' tactic. The big boys are back with Saleh operating in the hole behind the fearsome duo of Dybala and Higuain.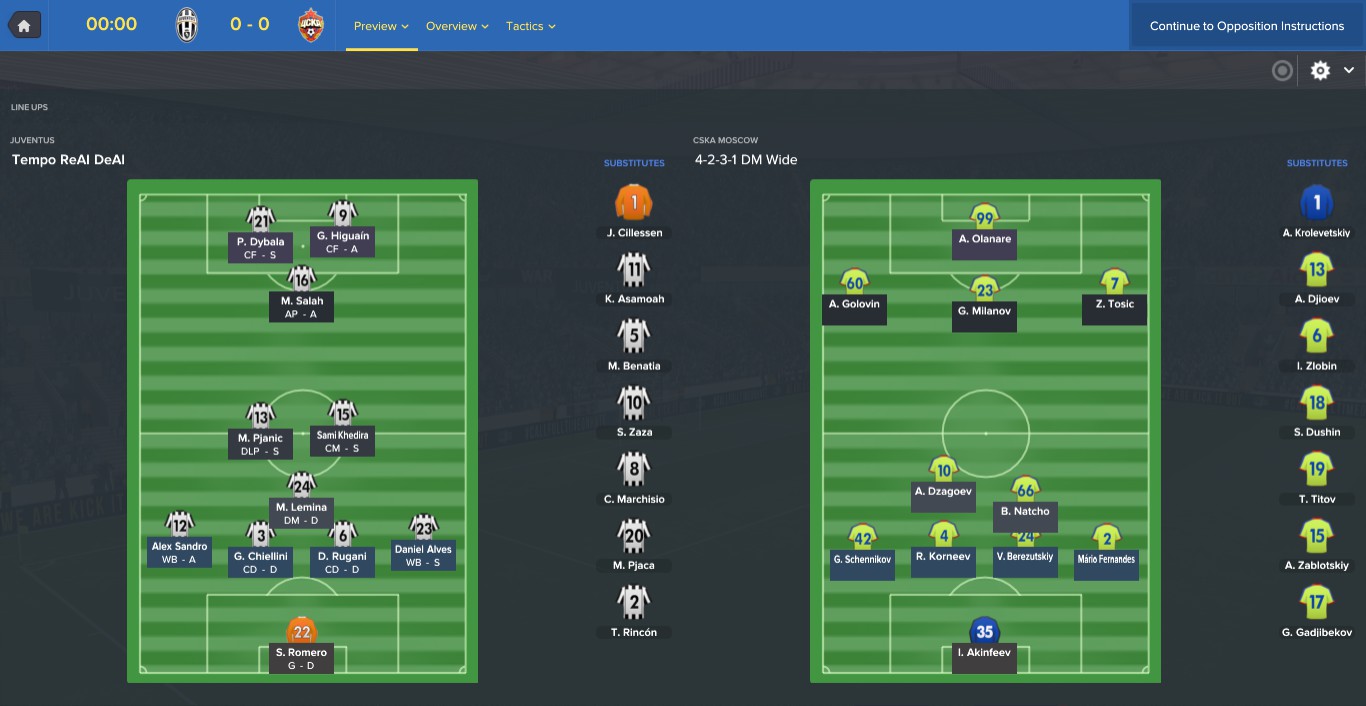 For 62 minutes, we were indeed the Real Deal with Dybala opening the scoring inside first ten before adding a second just beyond the half hour, the bread in a Rustam Korneev own goal sandwich. Three goals to the good and at half time I encouraged the lads to take the weight off. Not quite Jose in the showers with Frank Lampard but getting there.
Sadly they took the foot off the gas, allowing Aaron Olanare to look like a world beater with a long range effort that Sergio Romero should really have saved before Saleh may as well have pitched his tent over the ball he dwelled that long and took a punishing sliding tackle from Natcho. With the ball loose it gets hoofed upfield and Olanare adds a couple of million onto his future transfer fee with a shot squeezed under Romero.
Higuain, having provided two assists for Dybala, has the opportunity to score a late penalty but it's a tame effort down the middle. The sentiment of 'not good enough' may apply to both Gonzalo and the team itself.
I'm tempted to drop Romero after conceding two soft as sh*** goals against CSKA Moscow last time out, after taking a walk I'm sticking with him for one more game. Clean sheet or dropped, it's as simple as that.
He was so close to being dropped, so close. Sergio's blushes were spared by Basel substitute Ivo Welschen wandering into an offside position to stab Vosti's volley into an unguarded net deep into the third minute of extra time.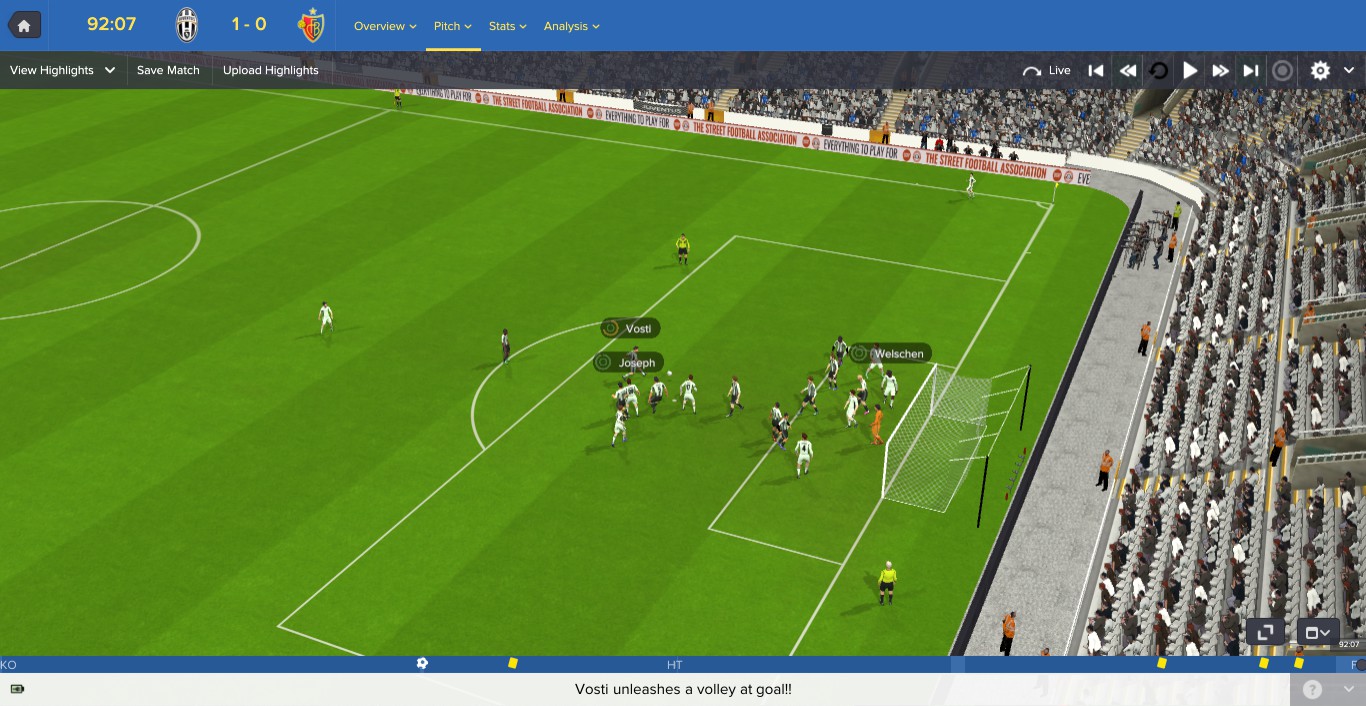 Our one goal happened an hour earlier in the evening from Martin Ødegaard's corner, Benatia's attempt to control is foiled by Basel's Inderbinden – like the name – but Pjanic smashes the ball across the goalkeeper on the half volley to notch his first score of the season. Miralem Pjanic is on his way out of the club in January following a £60 million plus offer from PSG.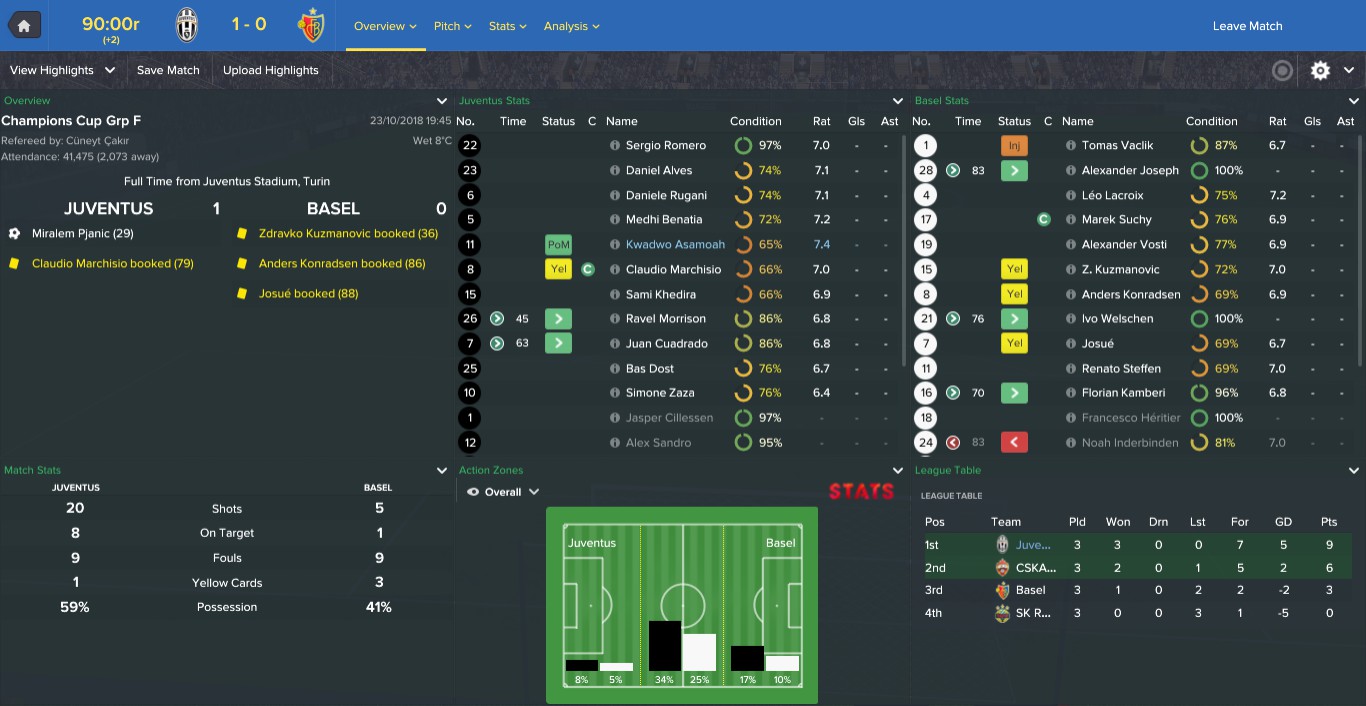 The slim 1 – 0 win sets us up with nine points from three matches and what's more, we visit Basel in the fourth group game. The team is shuffled with Pjanic and Saleh, who have been out the Serie A side, starting in wide positions with the central midfield role changed.
And qualification for the knockout stages is assured thanks to Pjaca's surge at the back post and Saleh's delicate header, courtesy of assists from Ødegaard and Ravel Morrison on his latest attempt to rejuvenate his career. Morrison has now made six appearances, not yet a regular in Serie A but has enjoyed a run in the group stage.
I like a player that needs rehabilitating and you only need to look at AC Milan's current performance to see that without me, they're buggered. Down in twelfth place they've hardly played Wazza Rooney, Downing has been released, Balotelli relegated to the bench and Concrete Ron has made four appearances.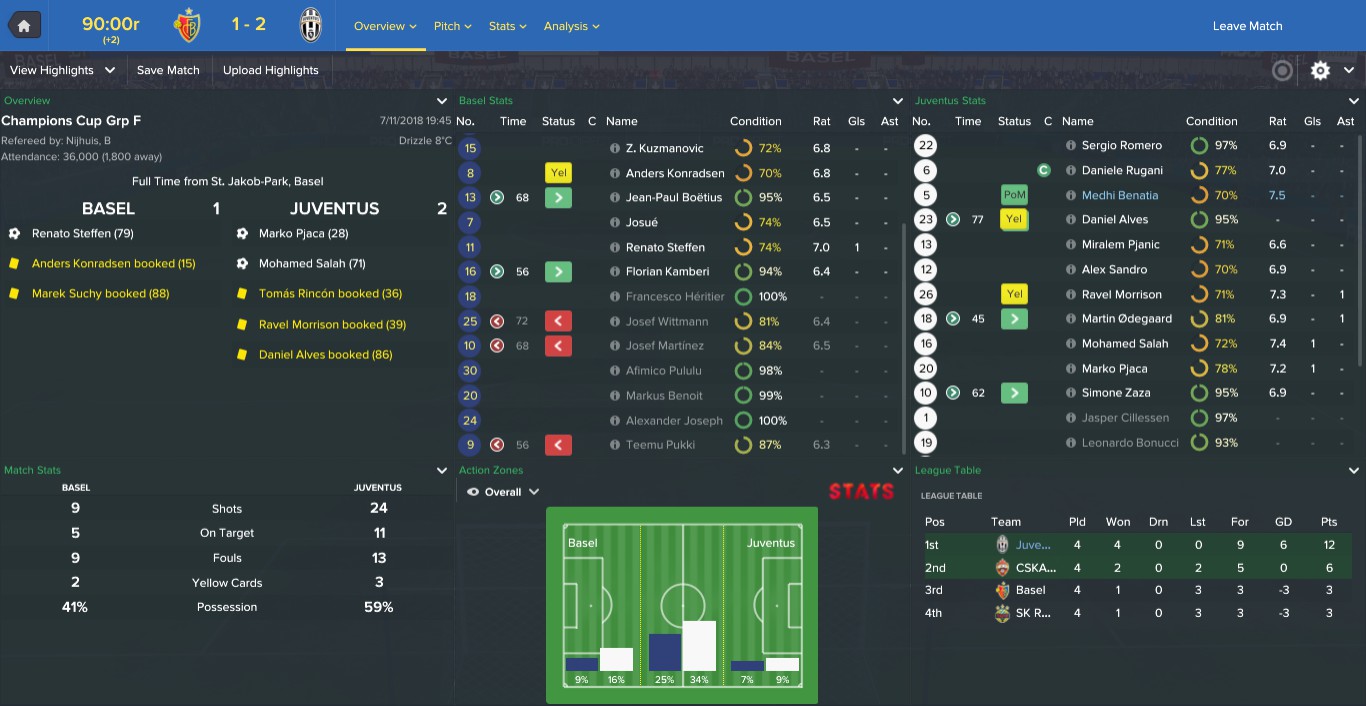 The group stage is winding down following qualification as we welcome Rapid Wien as evidenced by the regular group stage team selection.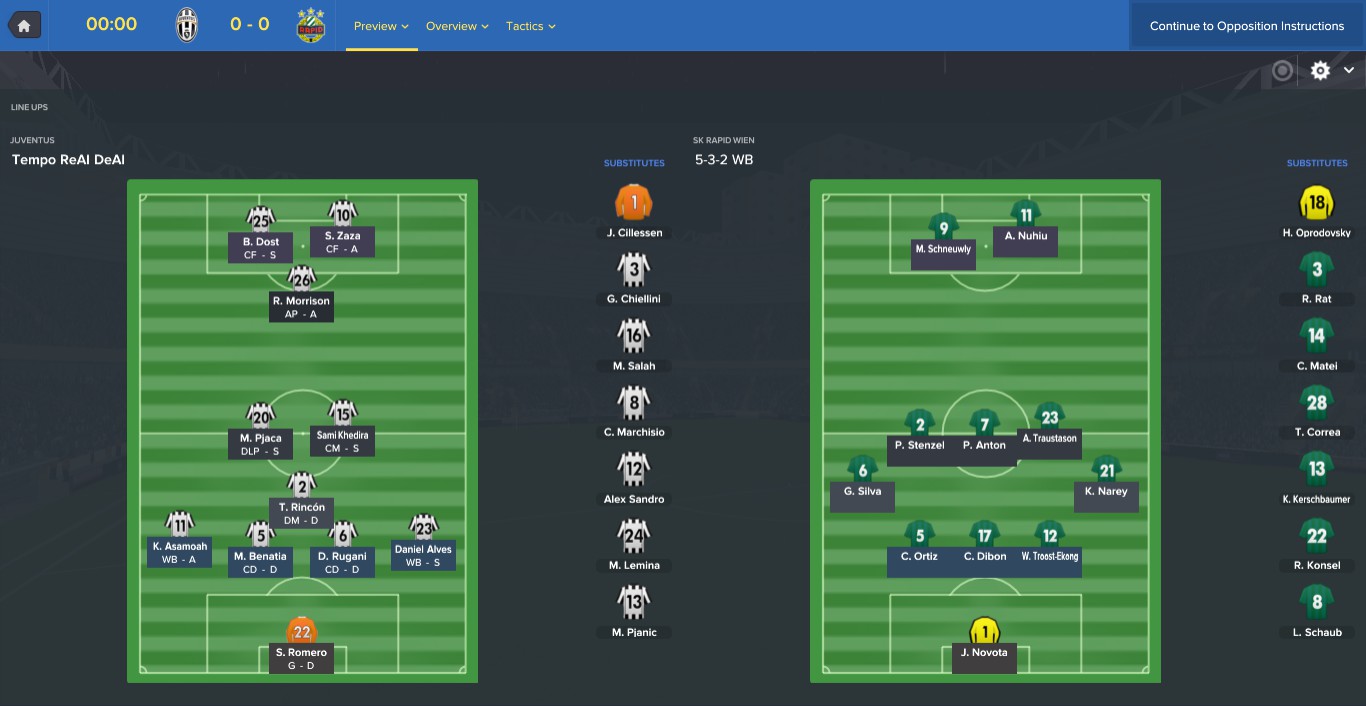 If Ravel Morrison is being successfully rehabilitated, it's Simone Zaza's turn to come to the dance. He sets up two goals for the two central defenders, Daniele Rugani profits as Zaza's header back from the post to steer the ball home and then Zaza knocks the ball down from a Morrison corner for Benatia to tap under the despairing 'keeper.
It was hard work to break Rapid down with eight players often in their own half so no wonder it took a couple of corners to make the difference. We've been working on set pieces on and off, I've looked down on them before with AC Milan but am now willing to at least admit that they are increasing in importance with Juve. You have no idea how much you really need a goal until someone nuts one in from the near post all because of a set piece you designed.
The last game of the group sees a host of youngsters make their European debuts as we have fifteen points on the board and only Manchester United can match that achievement.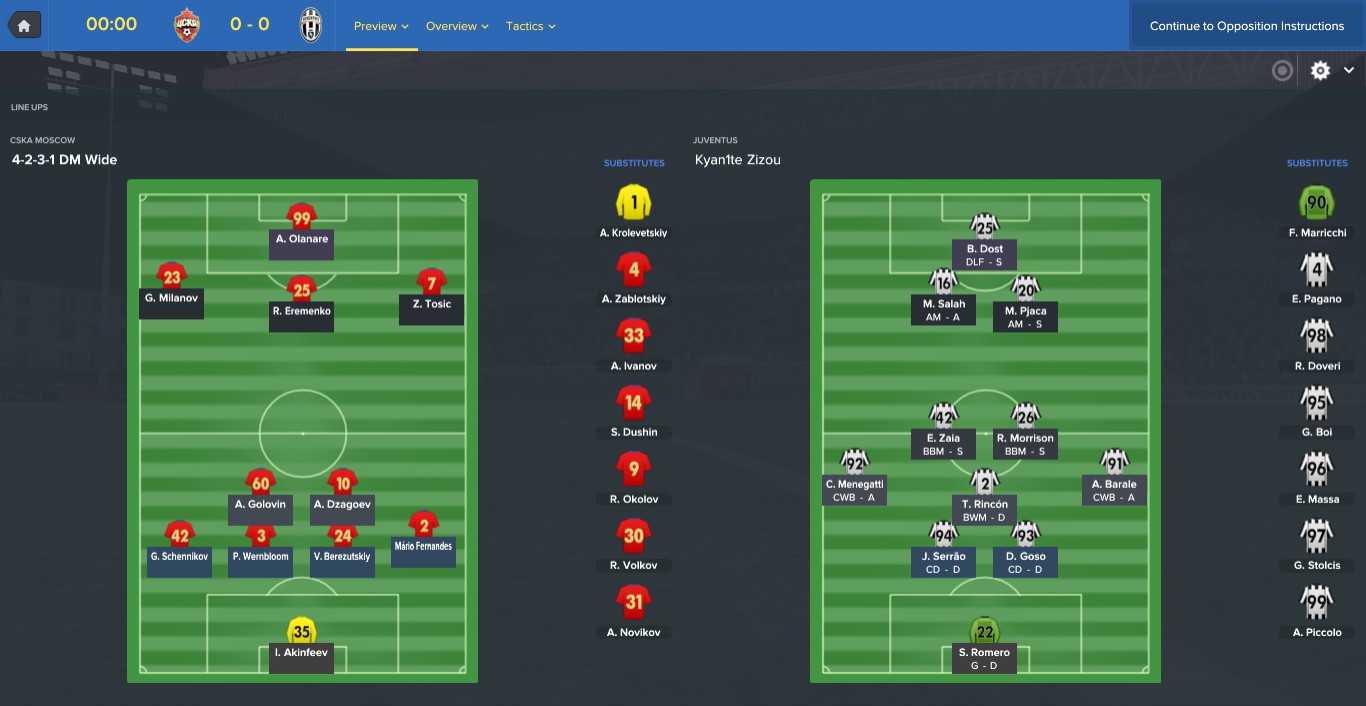 A frigid night in Moscow containing gusty condition and light snow sees Sergio Romero captain the side. He's an observer as Ravel Morrison opens the scoring but he's then thrust into the limelight as first he's beaten by Milanov and then Aaron Olanare at the near post.
A forward line featuring Bas Dost, Salah, Pjanic and Ravel Morrison should be enough but's the youngsters at the back who let us down, CSKA Moscow blow us away in the second half to secure all three points and second place behind us in the group.
Never again will I trust the kids. My mood was somewhat improved when I read that Louis Van Gaal had been sacked by AC Milan. Not so easy to follow my example, is it?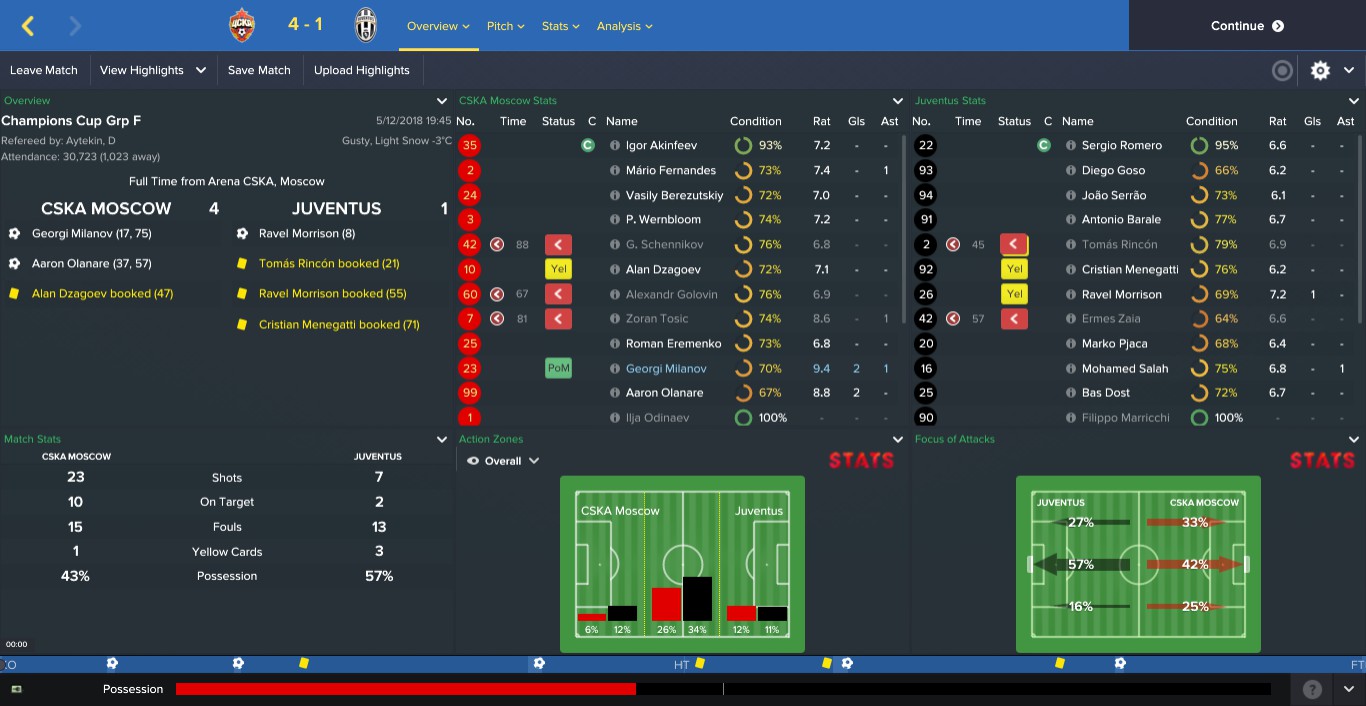 The First Knockout Round draw has not been kind to Juventus or Mike Tango. As group winners we're seeded but when you see the likes of Arsenal, Dortmund and Barcelona are not seeded as group runners-up, it might not be so much of an advantage. I want AC Milan, I want to prove a point. Who do we end up with? F***ing Benfica.
Arsenal get Real Madrid, Tottenham face Barcelona and Dortmund take on PSG. AC Milan were drawn against the mighty Bayern, which pretty much ends that dream of dumping them out of Europe.
It's been a while since we played in Europe, the gap between the group stage ending and this fixture has been two months and ten games. In that time Miralem Pjanic has joined PSG for a fee which could rise to £69 million and he has been replaced in the Juve squad by Kerem Demirbay from Hoffenheim.
Ødegaard has had a recent injury, he takes up a position on the bench with Demirbay in from the off. The experience of Dani Alves might just prove vital. Let's blow this Portuguese lot out of the water.
Water was apt, since it's pouring down in Benfica. I'd be happy with a draw here, I've got so much confidence in our ability to get a result back at our gaff but they've got to keep going. It might be a kn*bend in the 91st minute but we've got to stay sharp.
The new man Karem Demirbay opens the scoring, getting on the end of Sandro's low cross. It was what Charlie describes as a 'peak FM' goal with the forward in the middle not choosing to shoot as one would in real life, instead playing it wide for the full-back or winger to cross and a forward prods home.
Paulo Dybala has been on fire in the league with seventeen goals in twenty-one games, not to mention four in two Champion's League games. His name returns to the bright lights of the scoreboard with a half volley and just as I contemplate substitutions, Borja gets one back for Benfica. I stiffen up three areas of the pitch; central defence (Rugani), defensive midfield (numberseventeenValverde) and attacking midfield (Salah). Even that doesn't stop Benfica equalising direct free-kick. Stay sharp I said. Stay bloody sharp.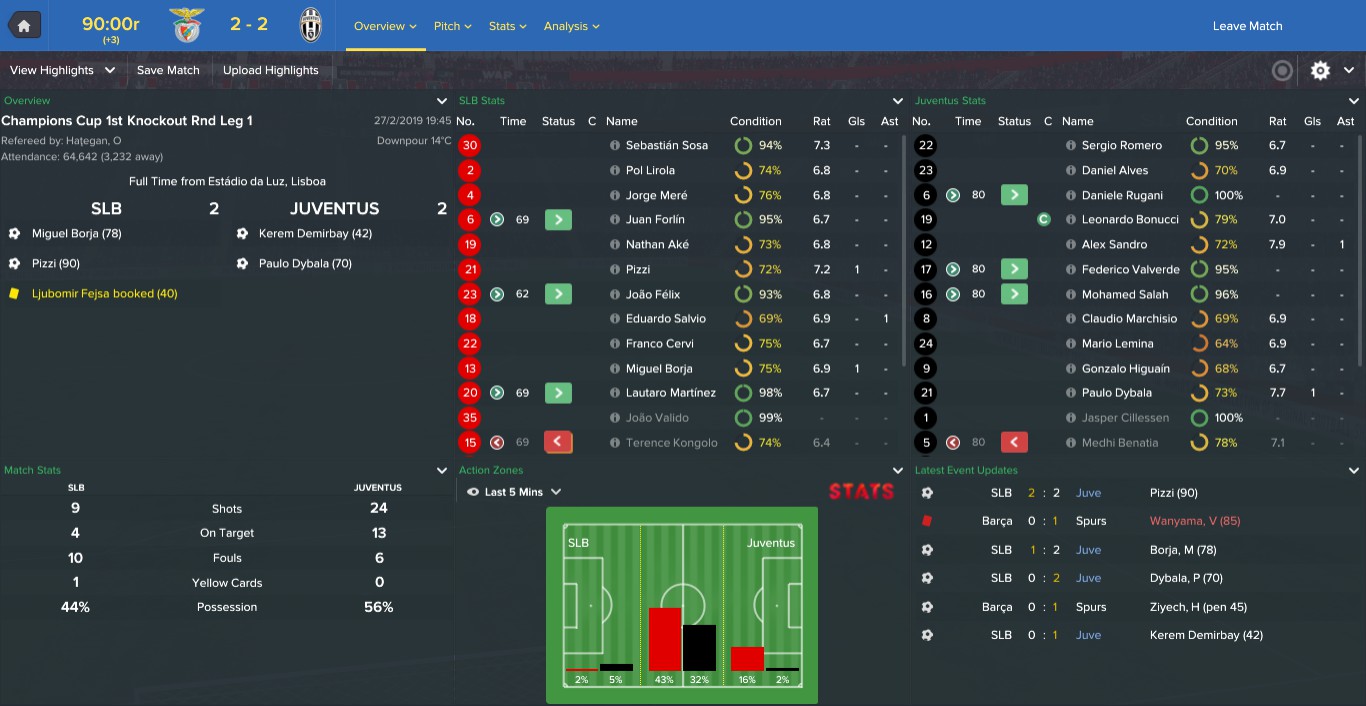 As promised Romero is dropped for the first time in European competition after that late goal from Benfica in the first leg. Cillessen has been in fine form in Serie A, conceding just 14 goals in 27 games and keeping 17 clean sheets. Also selected for experience are Dani Alves and Claudio Marchisio.
Any nerves are quickly settled by Higuain, not even three minutes on the clock and he fires us ahead. That's how it's done. Before half time his strike partner Dybala scores his 23rd of the season and we win things down by putting on the Macintosh but I'm more interested to note that AC Milan survived their trial by Germany, sneaking through on away goals. The big boys are falling by the wayside. Real Madrid, Barcelona, Chelsea, Bayern and PSG are all eliminated.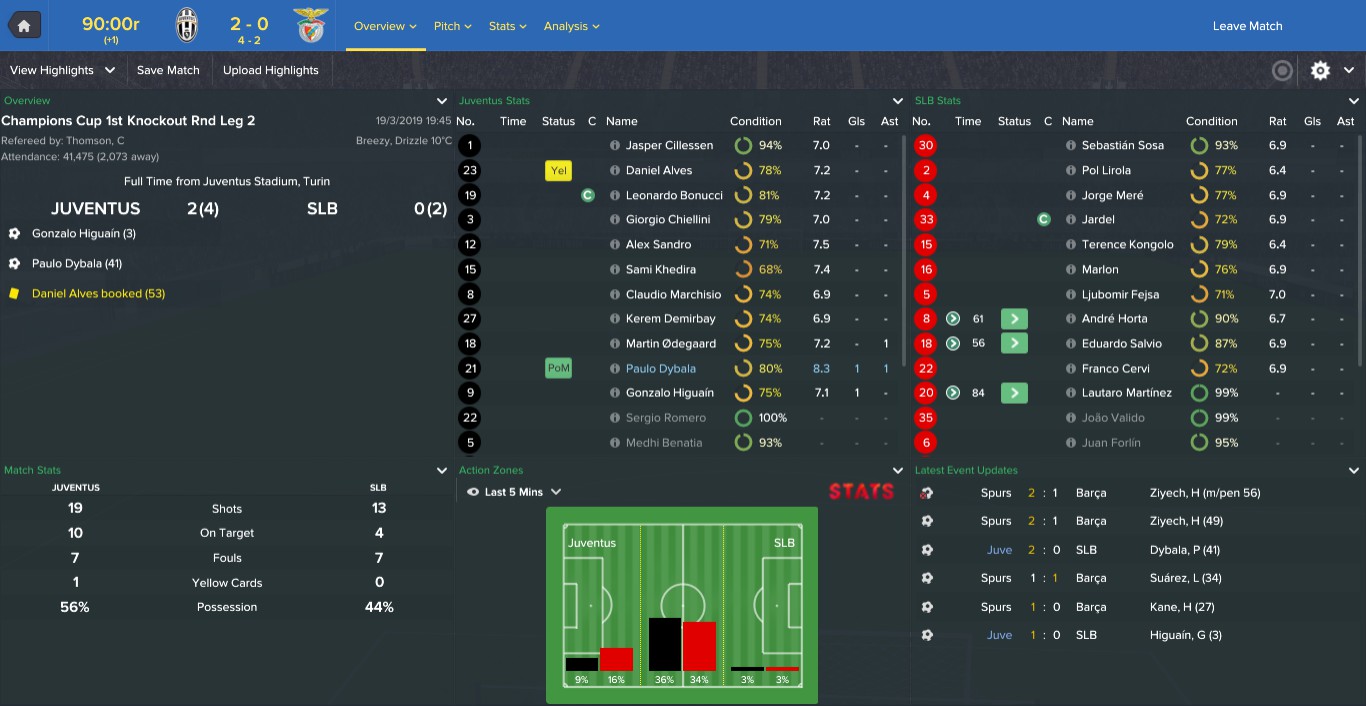 Who do we get in the quarter finals? Oh, yes. Game on.
Just prior to this grudge match, we played them in the league and lost 3 – 2. You can imagine how unhappy I was with that result. The laptop very nearly bore the full brunt of my frustration but it survived, just for this quarter final tie.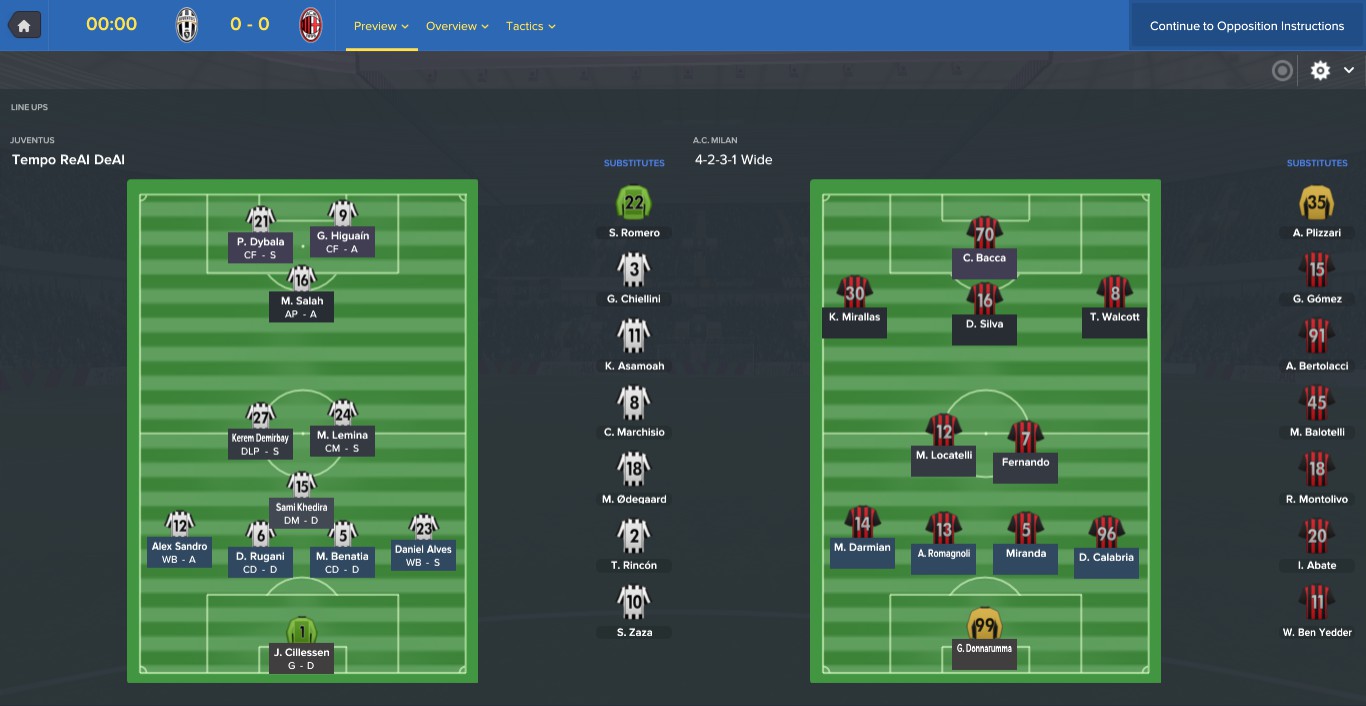 Dybala has the first chance and he shoots so far wide that he practically splits the corner flag in half. Luckily as I chastise his efforts, he makes up for it with yet another goal. With Real Madrid and Manchester United sniffing around him I don't know if I can keep him beyond the summer.
Salah, starved of opportunities really, adds our second before another winger I signed, Kevin Mirallas, brings AC Milan back into the game. Into the second half and Lemina cracks in a long-ranger to earn us a 3 – 1 victory, sweet revenge for their defeat of us in the league.
Incredible display by Dybala, a goal and two assists. He'll ding-dang-do for me.
Between the two we play Salernitana and I'm taking no chances. The ressies go out with Dybala, Higuain and co safely remain in soft blankets.
Back come the experienced lads, annoyingly Higuain has picked up an injury in training and is out but Salah put Salernitana to the sword so retains his place, as does Rugani in defence. All I need is a competent performance, no mistakes.
I said no mistakes. Everybody read that I said 'no mistakes' just then, yes? I did say that, didn't I? Somebody must have been distracting Dani Alves because half an hour in, he displays a shocking poor touch as he looks to control a hopeful long ball and presents the ball to Carlos Bacca. The Columbian waltzes into the area and Alves goes through the back of him like a charging bull through a flimsy wooden park fence.
Bacca dispatches the penalty with aplomb as you'd expect, thankfully Dybala had the good sense to grab us the first of the game. Moments before half time he takes advantage of AC Milan not clearing their lines from a corner to hook the ball into the roof of Donnarumma's net. 5 – 2 up at half time on aggregate.
In the second half all the fight has gone from AC Milan, Rugani heads us further in front before Dybala earns his hat-trick. Bacca didn't get the message about AC being a spent force, he grabs a second consolation. I've always liked him but his team are done. Mo Salah snatches a fifth to make it 5 – 2 on the night, 8 – 3 on aggregate.
Start the car.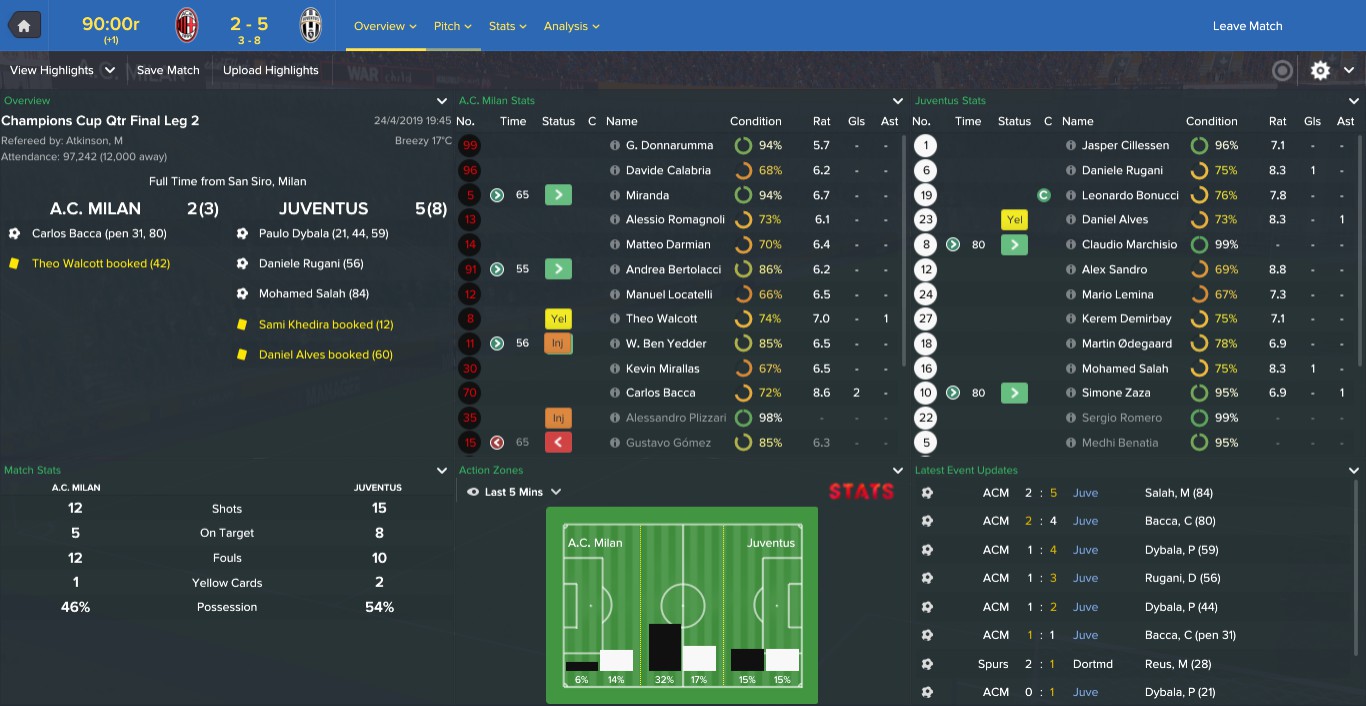 With AC Milan and their new manager Jogi Low put in their place, the draw for the semi-finals pits us against Dortmund. Yes, that Dortmund. The Dortmund who beat me last season in the final. I remember writing 'at least we were there to be beaten'. I was proud, even in defeat. The same result isn't good enough anymore.
Dortmund come into the game on a run of three losses, once to Tottenham in the second leg of the quarters, then Gelsenkirchen and Bayern. In contrast, we've secured the Serie A title but in fairness, it was practically given to us thanks to everybody else capitulating.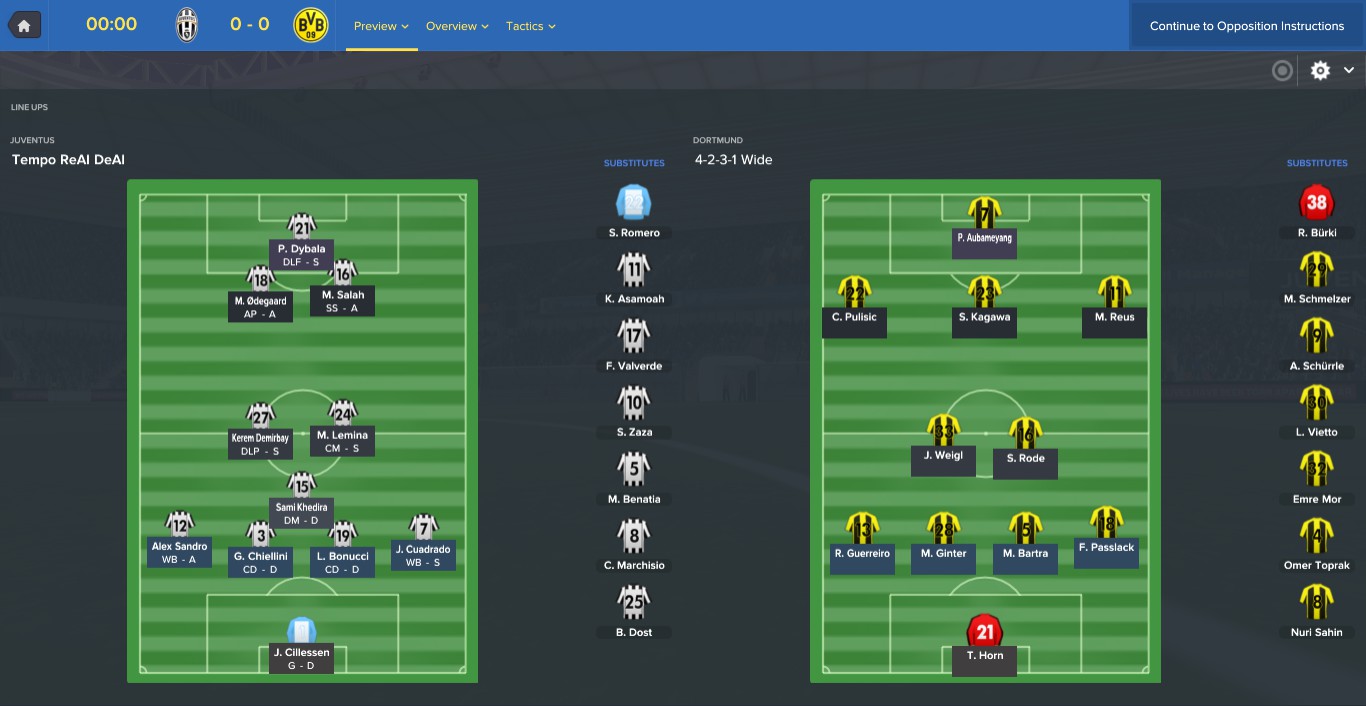 I tend to listen to the Deep Lying Podcast when I can, Charlie is a devoted fan, and I hear sometimes @Ed_Wilson waxing lyrical about his deep love for Paulo Dybala. At this moment, I share his love. Our eyes are meeting looking at the Argentinian.
Like a freight train Dybala picks up the ball from a lofted through pass by Lemina with just 35 seconds on the clock. He runs at Bartra and turns him inside out before lashing home past Horn just 6 seconds later. That sets the tone, although it takes 40 minutes for Dybala to find Sandro on the overlap and he crosses low for Saleh to wrong foot the goalkeeper.
I hadn't really anticipated being 2 – 0 up at half time so I didn't have a plan. I just sent them back onto the field with assertive instructions now to get complacent, with fingers crossed that was the right thing to do. Turns out, it was. Karem Demirbay wins the ball back on the hour and the ball pings between him, Saleh and Ødegaard before setting a rampant Dybala free for his second.
Just four minutes later Dybala gives Sandro the ball and Brazil's best ever left-back… maybe… lays it on a plate for Ødegaard to detonate the fourth grenade of the evening. Even with around half an hour to go, I send on reinforcements and look for the protection of the Macintosh.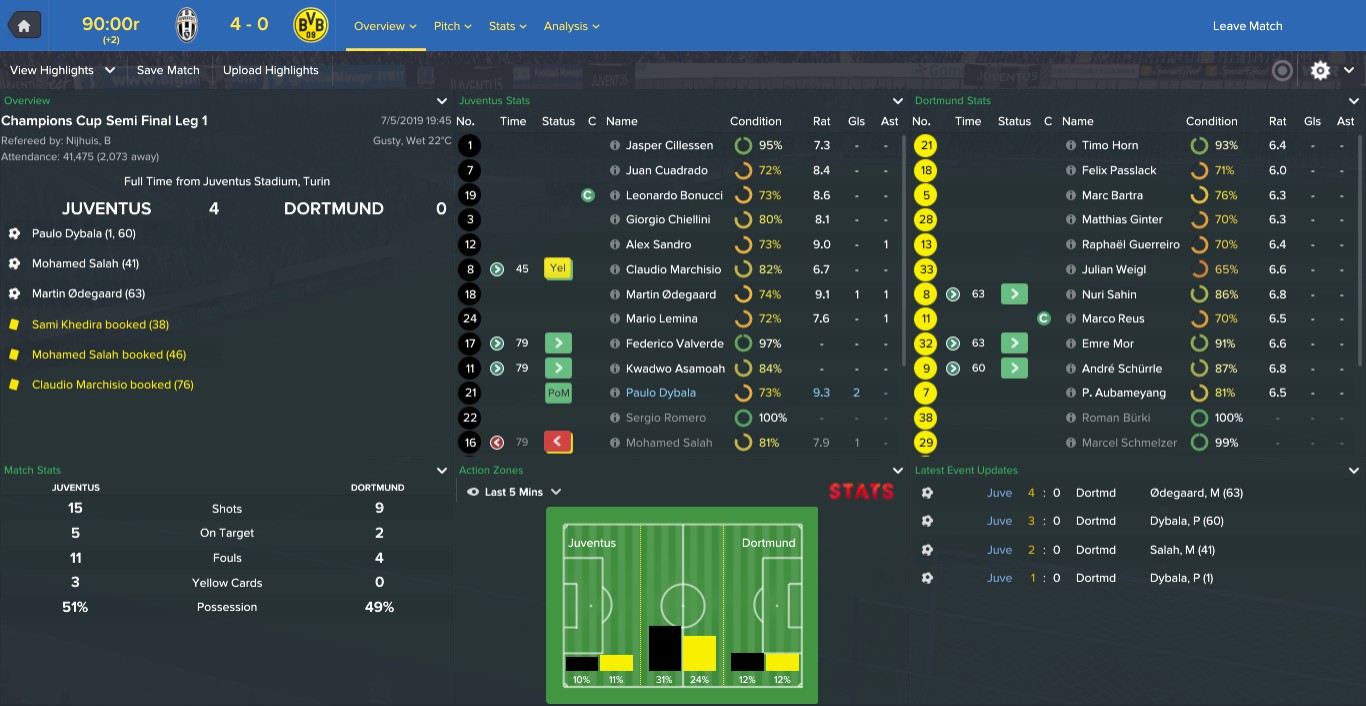 All we have to do in the second leg is not concede more than three. We can do that, surely. Famous last words.
Mark Clattenburg is the referee with his odd accent (on the basis it doesn't match his face, not that it's north eastern), which could be an omen. I'm particularly irked by the fact his shirt is untucked. A tight first few minutes. Alex Sandro, as he has done so many times this season, rushes down the wing onto a pass and squares across the goal for a forward. This time his low cross lands on the foot off Mo Salah and the real-life Liverpool signing makes no mistake.
I want a quiet half, no more highlights, but they keep coming. Dortmund are level on the night thanks to Kagawa getting the better of an aging Chiellini. Moments before Clattenburg blows for the break, Dybala fires us back ahead. Charlie is sat behind me and even he is nervous as I give the boys my half time team talk.
Rode gets Dortmund to a Desmond (2 – 2) shortly into the second period and then Kagawa notches a second, Chiellini again culpable. The anonymous pairing of Demirbay and Lemina are replaced by Marchisio and Tomás Rincón to freshen central midfield.
Despite Sami Khedira giving away a penalty and Aubameyang sticking it away, despite Kagawa having a goal chalked off for a marginal offside and despite a toothless second half attack… we prevail. We've eliminated the holders.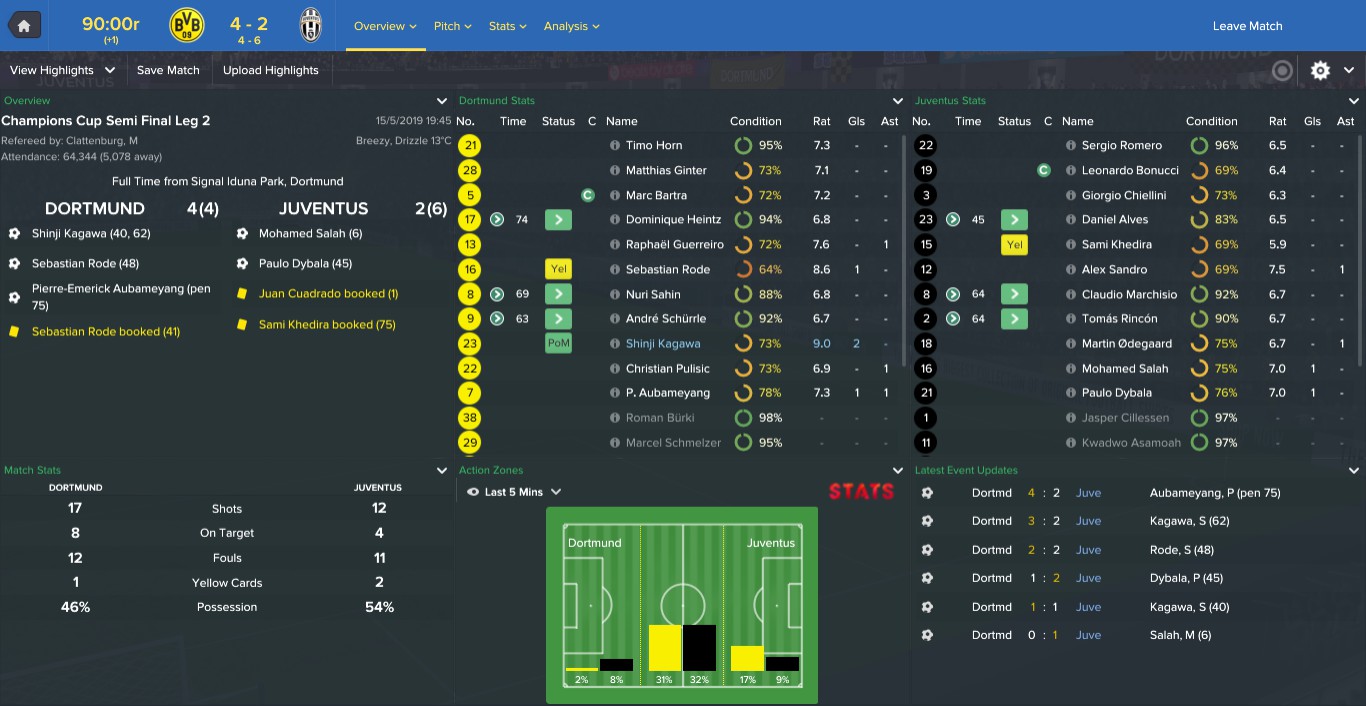 We head to Wembley buoyant. In the other semi-final Manchester United overcame our old foes CSKA Moscow comprehensively. José, I'm coming for you.
The team selection for the final is a curious paradox. All season I have alternated between the two formations based on Zidane's Real Madrid. We're the 'home' team in that we're on the left-hand column but we're 'away' in England against the Red Devils. We'll begin with our defensive system and… see what happens.
I'm reminded by 'the Palermo manager' of memories from days gone by, One Night In Turin, Roy Keane oozing defiance in a semi-final headlined for better or worse by the Irishman. I have no Irishman and no Demirbay, who was brutalised by Roma in a bad tempered league game. Higuain also returned a week prior the final but broke down against Benevento as I gave him just 45 minutes.
Here we go.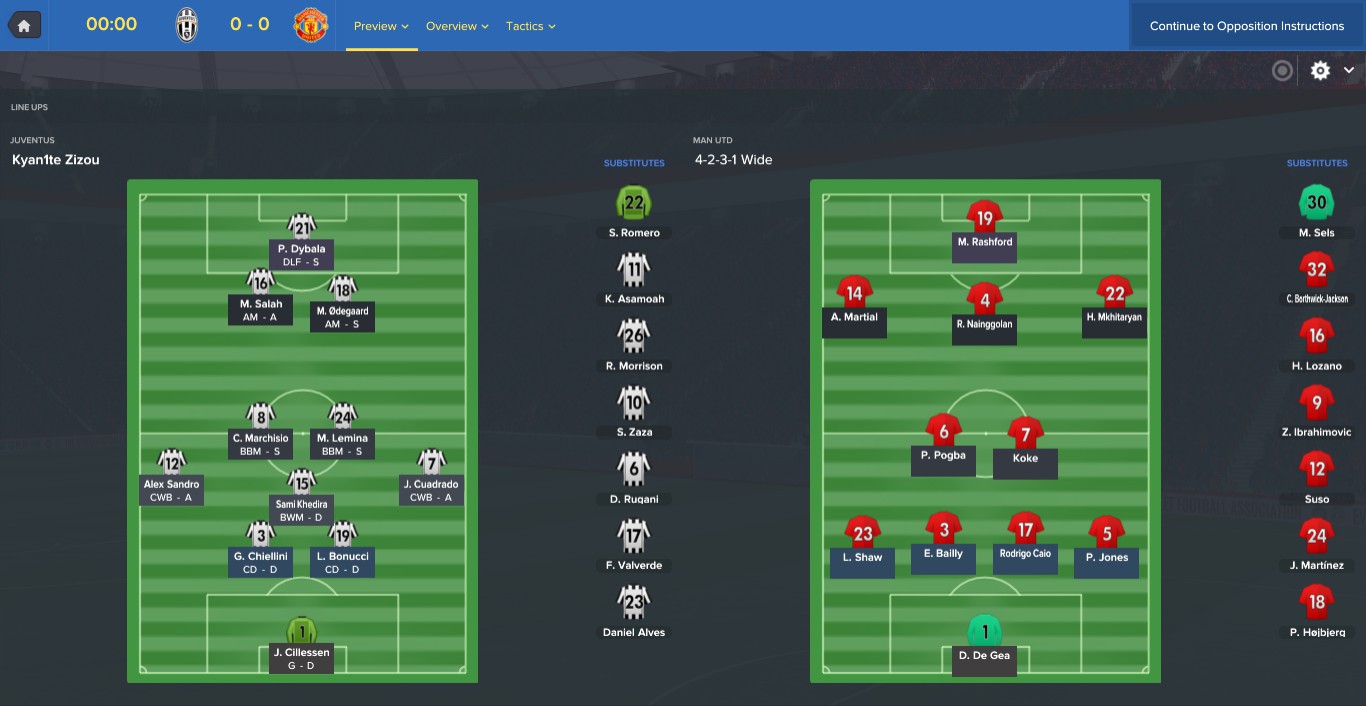 The United midfield boasts one of the most fearsome quintet I've ever encountered. Martial, Mkhitaryan, Radja Nainggolan, Koke and Paul Pogba. Longer serving readers will understand the cold sweat which has affected Charlie as he sees the name Radja Nainggolan.
Last season I led AC Milan into the European final against Dortmund and was outclassed in every department but it won't be like that this time, we stand against Manchester United as equals. The early stages highlight my optimism with a chance apiece, then Rashford picks up the ball on the half way line. He runs… and runs… and runs… beating no less than seven of our players before slamming the ball home.
Tango Towers erupts in real life applause, applause which turns into fist shaking delight moments later as Bonucci reaches a corner before De Gea, the United goalkeeper flaps and Bonucci heads Juventus level.
Manchester United put their foot on the accelerator, they storm back in action reminiscent of that Dortmund final. 12 minutes aren't even on the clock as Rashford wriggles free of Chiellini and slots the ball underneath Cillessen. Fingernails are well and truly chewed as shots come and shots go.
Then it happens.
Koke crosses, Bonucci heads clear but Ibrahimović recycles possession out to Hirving Lozano and he just cracks off a shot into the far corner. It's so cruel. Even more cruel is Asamoah reviving my hopes with full time looming. Only on the pitch because of an injury to Alex Sandro in an incident where Mkhitaryan also needed to be replaced, Asamoah hits a hopeful shot and it deflects off Ibrahimović beyond De Gea. It's 3 – 2 but there is no way back.
It's over.
I've lost another Champions League final.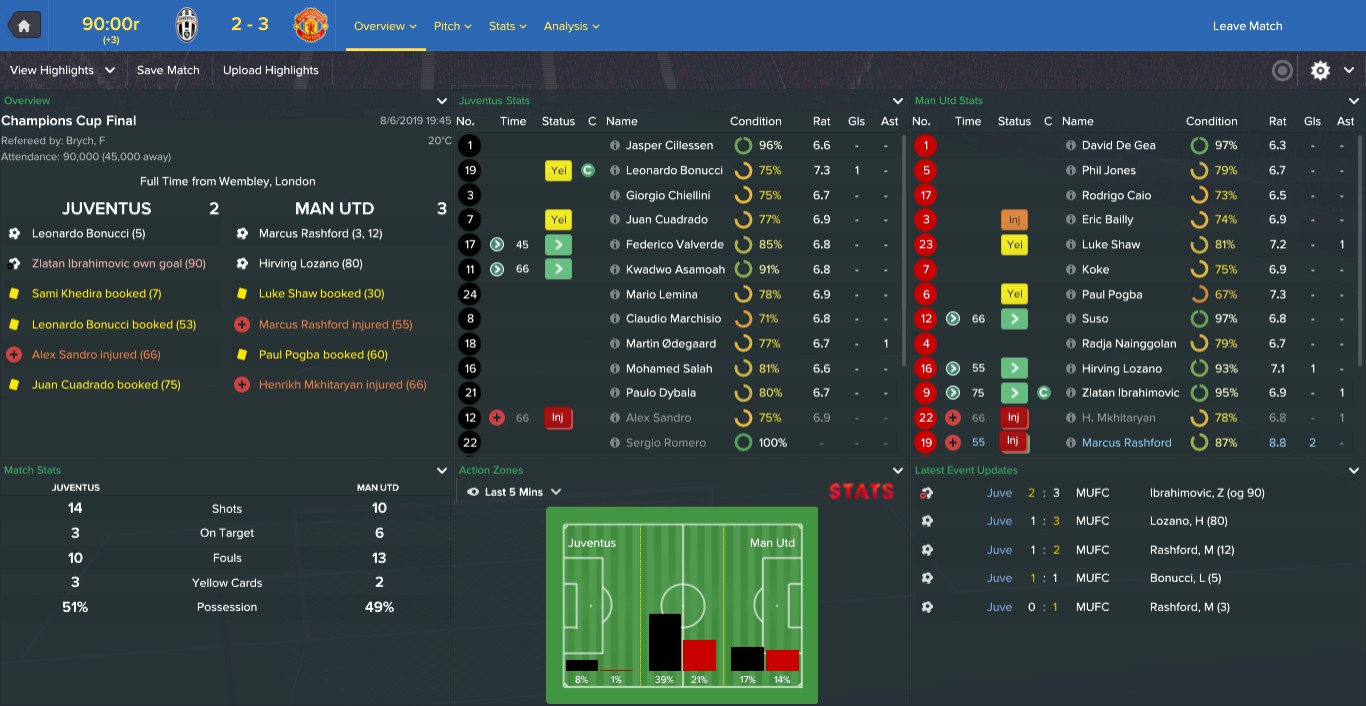 At my lowest ebb, I look around the room. I turn to my own sibling, the former manager of Inter Milan and Palermo, and I hear a voice that sounds a lot like mine say two words that I've never heard before and certainly not in his direction… "Help me."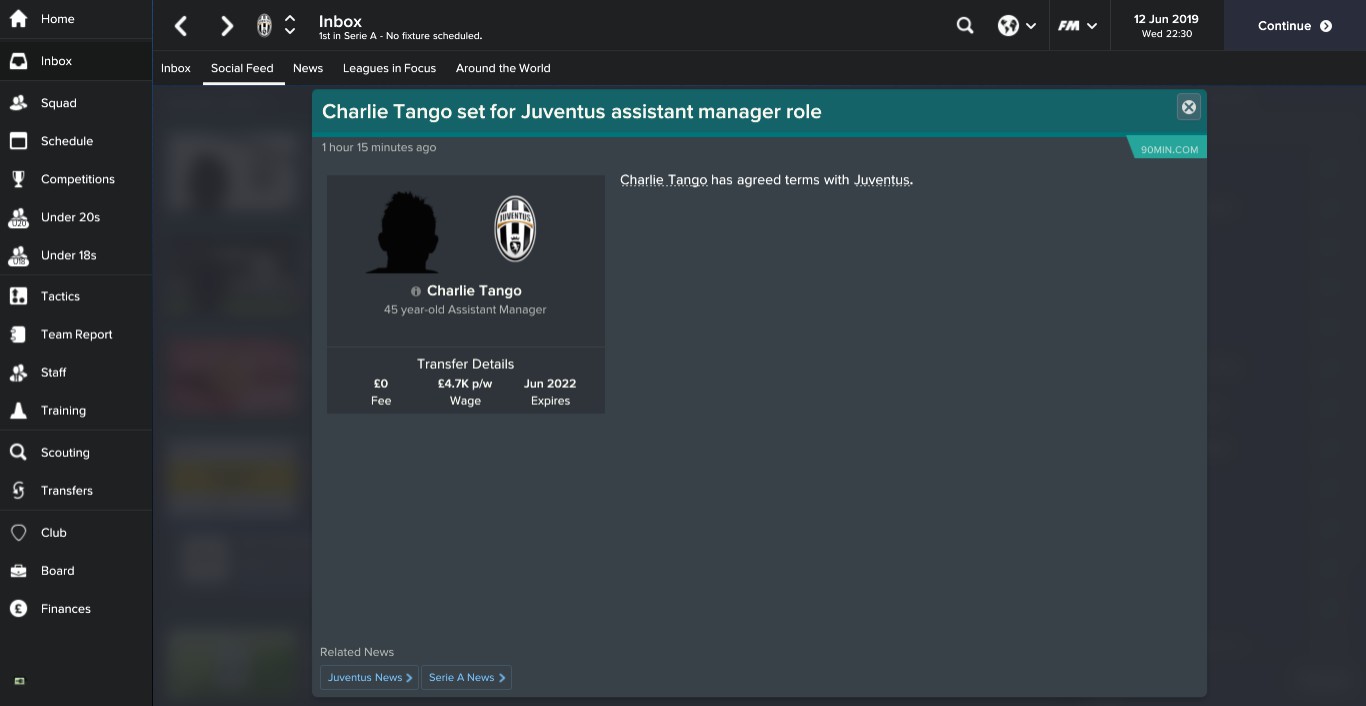 What have I done?
Thank you for reading, join us on Twitter at @FM17Challenge, @CharlieTangoFM & @MikeTangoFM for exclusive comments, developments prior to episodes and reaction afterwards. Continued thanks to Chris and everyone at Tempo for the opportunity to share this with the readers.