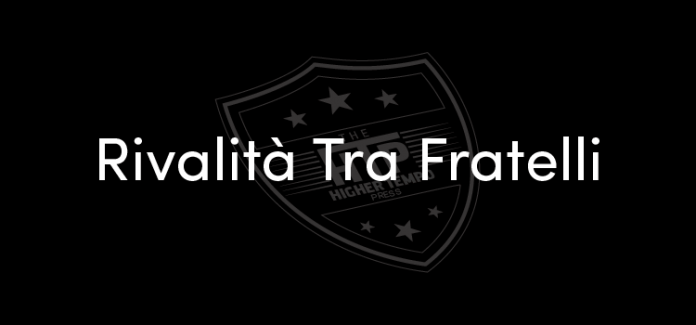 This is the story of two brothers, a modern-day Cain versus Abel if you will, now based in Serie B. If you'd like to replicate this challenge, we're using the updated medium database with the following leagues: England (Premier League, Championship, League One & League Two), Italy (Serie A & Serie B), Spain (La Liga & Segunda División), France (Ligue 1 & Ligue 2) and Germany (Bundesliga & 2. Bundesliga).
Rivalità Tra Fratelli, Episode 20 – Palermo
CHARLIE: There is a quote often misattributed to W.C. Fields which reads "Never work with children or animals", referring to the fact that children and animals can behave unpredictably on the stage or movie set. As it happens, it was actually writer Leo Rosten at a 'roast' dinner who said; "Any man who hates dogs and babies can't be all bad".
The point of all this is that in the modern world, the social media equivalent is online polls. You never quite know how people will vote, Boaty McBoatface anybody? Having talked about my Serie B adventure in Episode 18, I did kind of expect readers to vote for Cesena as my next team but I was wrong. Palermo are to be my destination and my screen will be filled with plenty of pink.

Pink and black worked out fine for Bret Hart and it will for me too. I'm sure that's where they got the idea from after King of the Ring 1993. One of the problems with the original Rivalità Tra Fratelli challenge was that there was never enough time for serious recruitment but now I could shamelessly wheel and deal without sarcastic comments from the other side of the room. "Oh, Matthijs de Ligt, how interesting. I've just signed Wayne f'n Rooney."
I get to work, immediately noting that a total of 12 players are unhappy and want to leave. Having had my fingers burnt by Mauro Icardi and his scoring droughts, I'm not interested in unhappy players. All 12 are transfer listed and will play no part in our Serie B campaign whether they remain at the club or not. Adrián Marín, Vajebah Sakor and disappointingly Álvaro Negredo will return to their parent clubs following loan spells meaning I'm left with few to work with but at least they want to be here.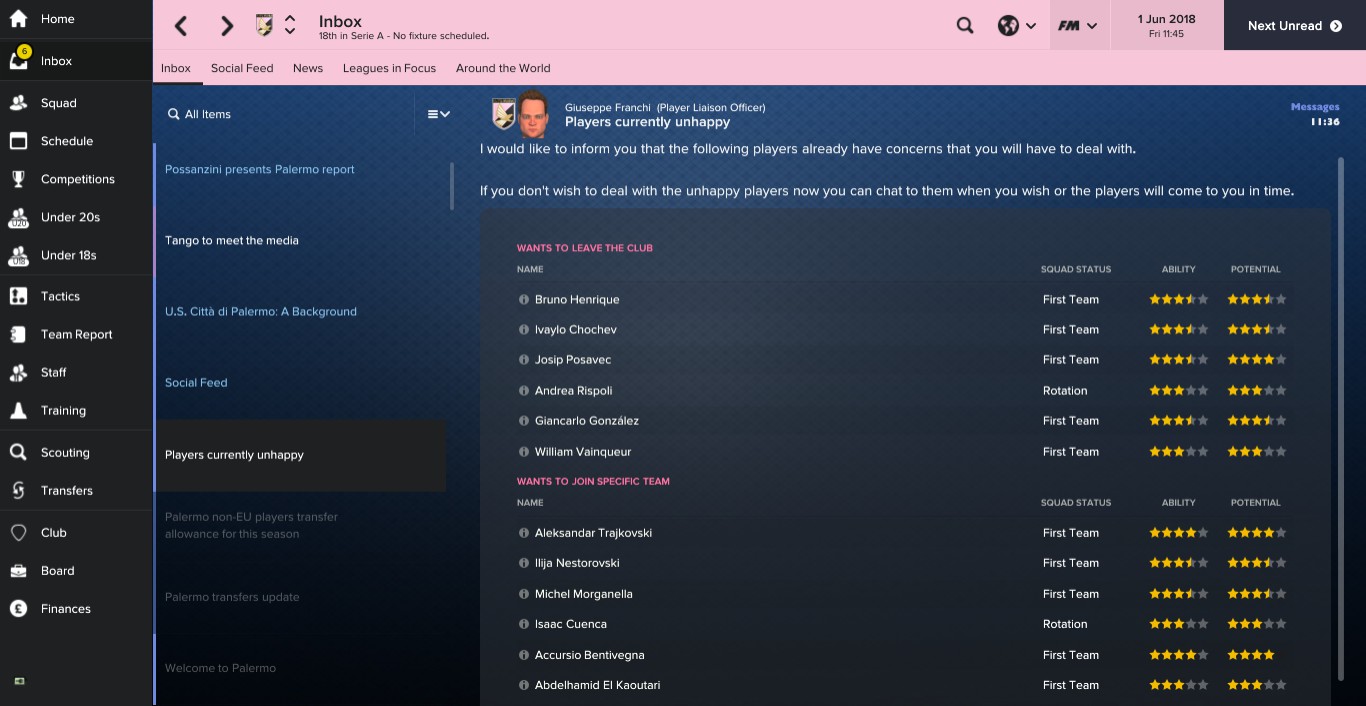 One thing I refuse to compromise on is 'selling wage contribution'. I refuse to pay a player to play for somebody else. I'm well aware that makes me a dinosaur and unaware of financial benefits of receiving a fee for a player while paying a small amount of his wages but I can't do it. It has, of course, made the summer about twice as long as it should be as I've had to bat back almost all transfer bids made and issue my own offers of non-negotiable prices without the clause. Thankfully it is a World Cup year so there's plenty of summer football to distract, including this doozy from Group B.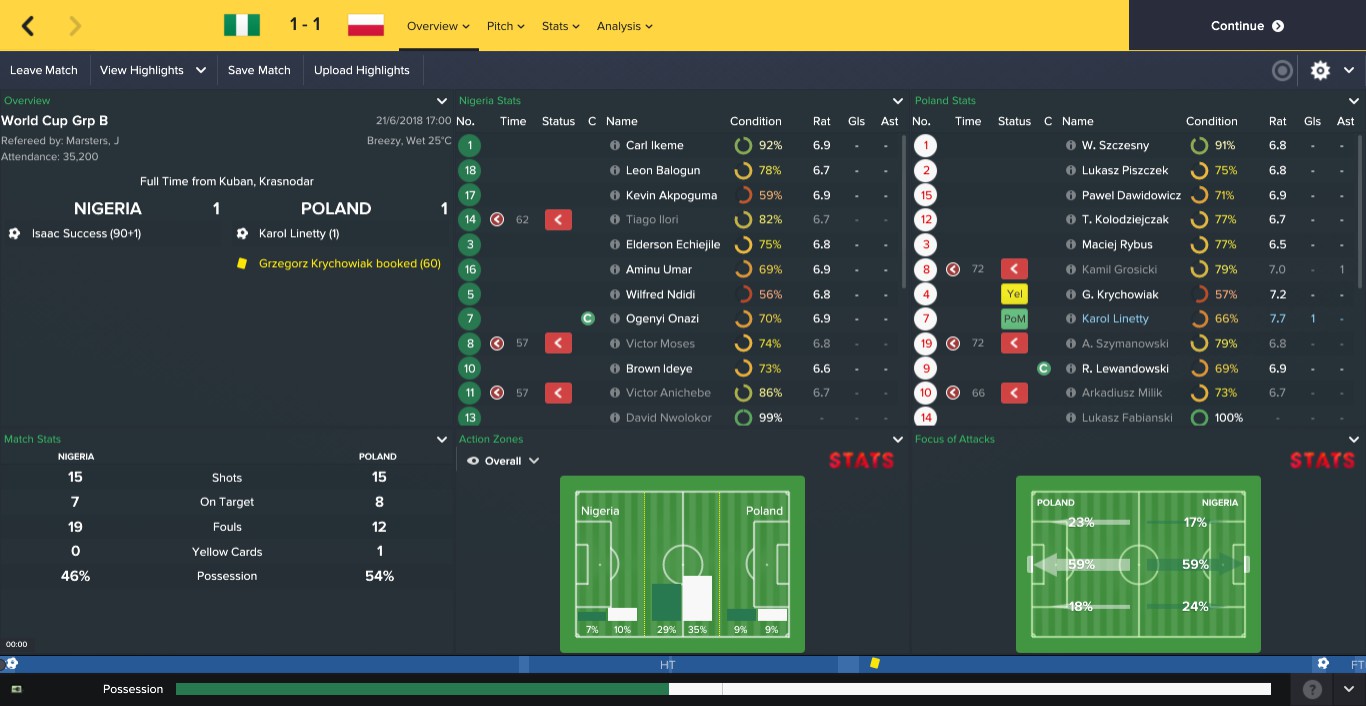 I do enjoy a first minute and last minute goal combo. While the World Cup has been taking place in Russia I've been wheeling and dealing (don't tell Harry) to put together a squad capable of gaining promotion back to Serie A at the first time of asking. All the unhappy players have been flogged, plus a few others who looked lightweight.
Something that has hamstrung me completely is the Serie B's wage restrictions. Effectively £4.9k a week is just not going to attract anybody of note. I wanted Luke Brattan and Alberto Aquilani, both who were available, to anchor the midfield in what I see as a crucial position but neither would even negotiate when they heard the pitiful wages on offer. Instead I've been forced to prioritise those who would sign for the wages on offer over those that are capable despite having £30 million in the kitty. In a panic just prior to our first pre-season fixture against Carpi, I make offers for every decent loan available and would you believe it, hardly any of them are interested. Here are our actual incomings…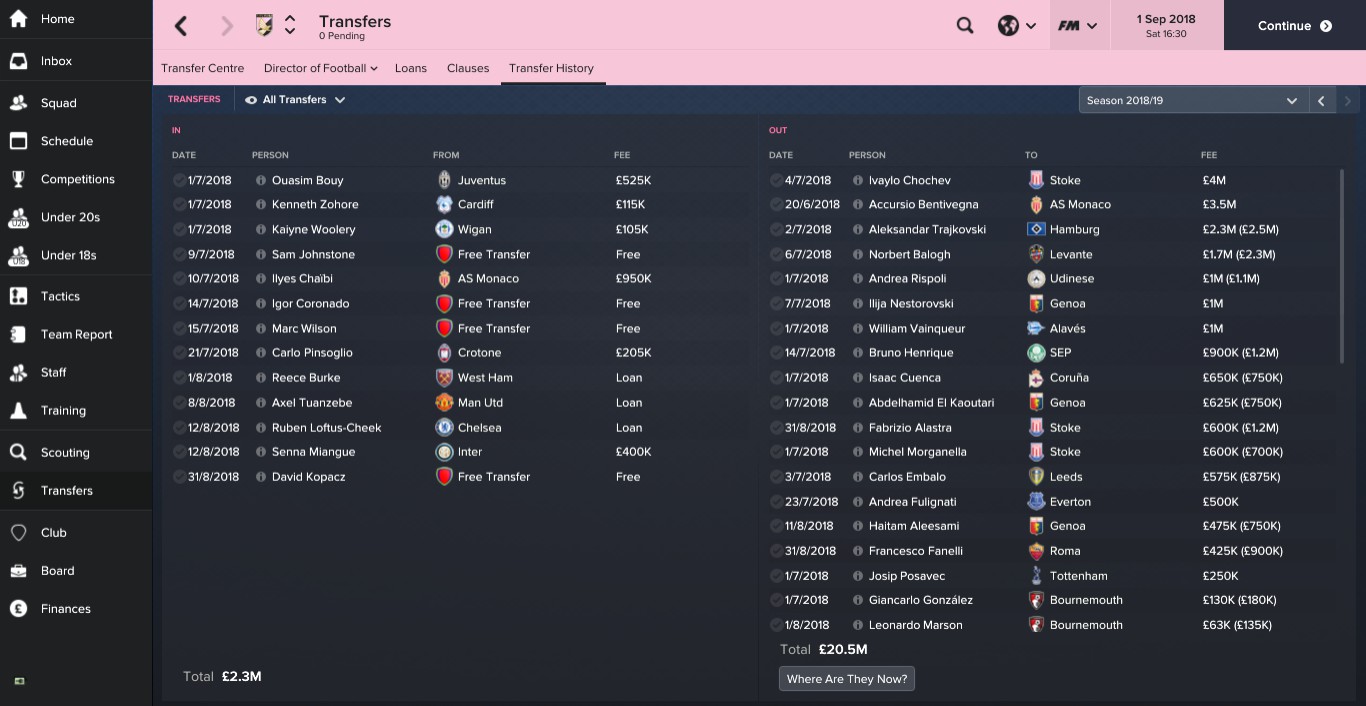 I did place a loan offer for Arsenal's Alex Iwobi, who flatly refused.
"Hey, Alex, there's an opportunity for you to play for Charlie Tango in Italy this season. What do you think?"
"Whoa, Charlie Tango? Great! I'd love to play in the San Siro for Inter Milan."
"That's good news, just one problem, he's now at Palermo."
"Sod that mate, I'd rather sign for Rotherham."
On their way out are all 12 unhappy players, plus anybody who had a good offer made for them. I'm most pleased with the new defensive line of Axel Tuanzebe (loan from Man Utd) and Reece Burke (loan from West Ham) flanked by Marc Wilson (free from Bournemouth) and either new signing Senna Miangue or U20 graduate Ciro Formisano at full-back. I signed Kaiyne Woolery on the basis that I had a Bolton season ticket for the season before last and remembered I spent the entire campaign calling him Kenny, Kendle, the Kenster, Kenny from the Block, every time he appeared before I realised on the last day of the campaign he was called Kaiyne.
In terms of formation, I really want to break ranks and attempt to play with @DistanceCovered's strikerless RaumDiamond formation. I've only ever used a strikerless system twice in FM, both in this save, in one Europa League group game and later against Lazio. It's the only formation I'm loading so the players can get used to it in the early games. I've always placed a premium on a good start to the season but having seen Mike's miraculous recover with AC Milan last week, I'm less insistent that we win the first few games at least.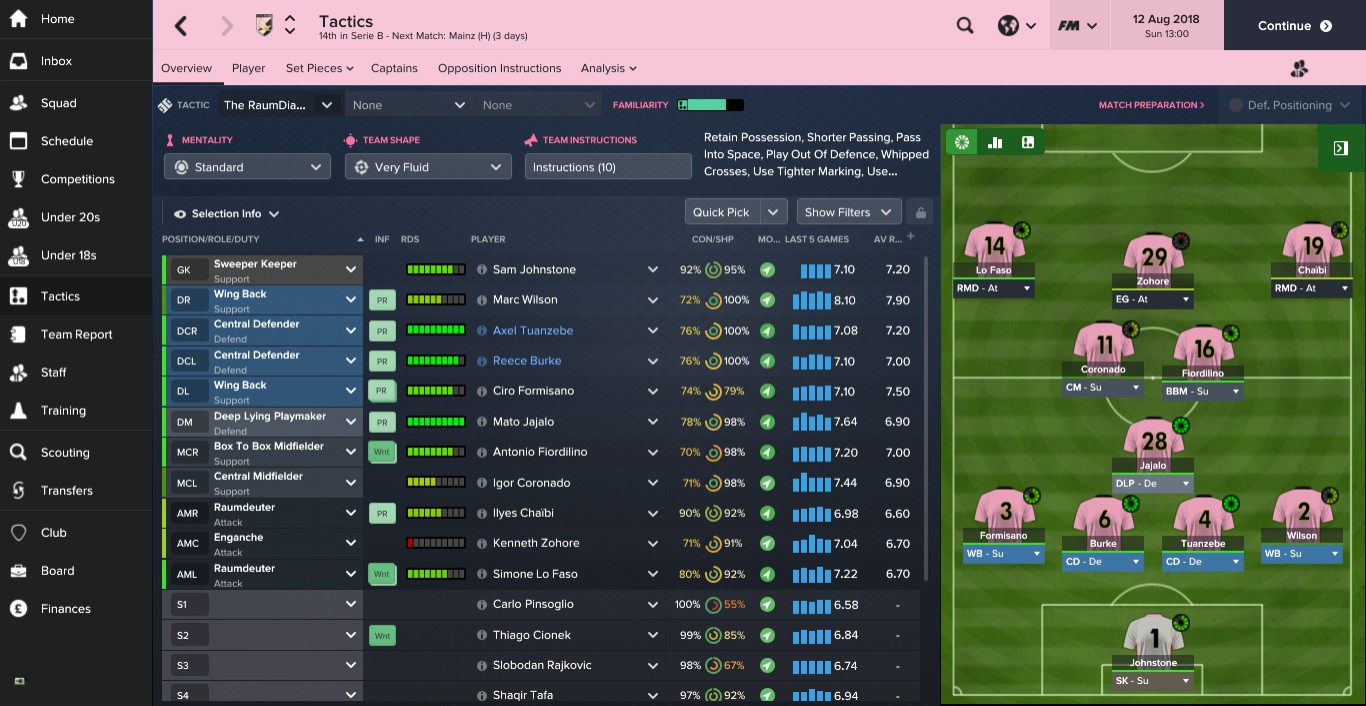 The tactic is available to download from the Higher Tempo Press website. I'm starting with it out of the box and then will tweak as we go along. We've now added Ruben Loftus-Cheek to our ranks on loan, thankfully Chelsea let him out without a fee or even a contribution to his wages. That's thanks to Luis Enrique, who added the men of the King's Road to his CV after his spells at Barcelona and AC Milan.
My review of the formation is that it's a slow burner, better away from home. It is defensively very solid, in fact, we kept a clean sheet until the fifth league game. The passing stats are off the charts, as are the possession but goals seem to come in the second half. Perhaps there's something in the idea that the opposition are worn down by the movement and susceptible late on. You do need players that are capable of playing quick one-touch passes.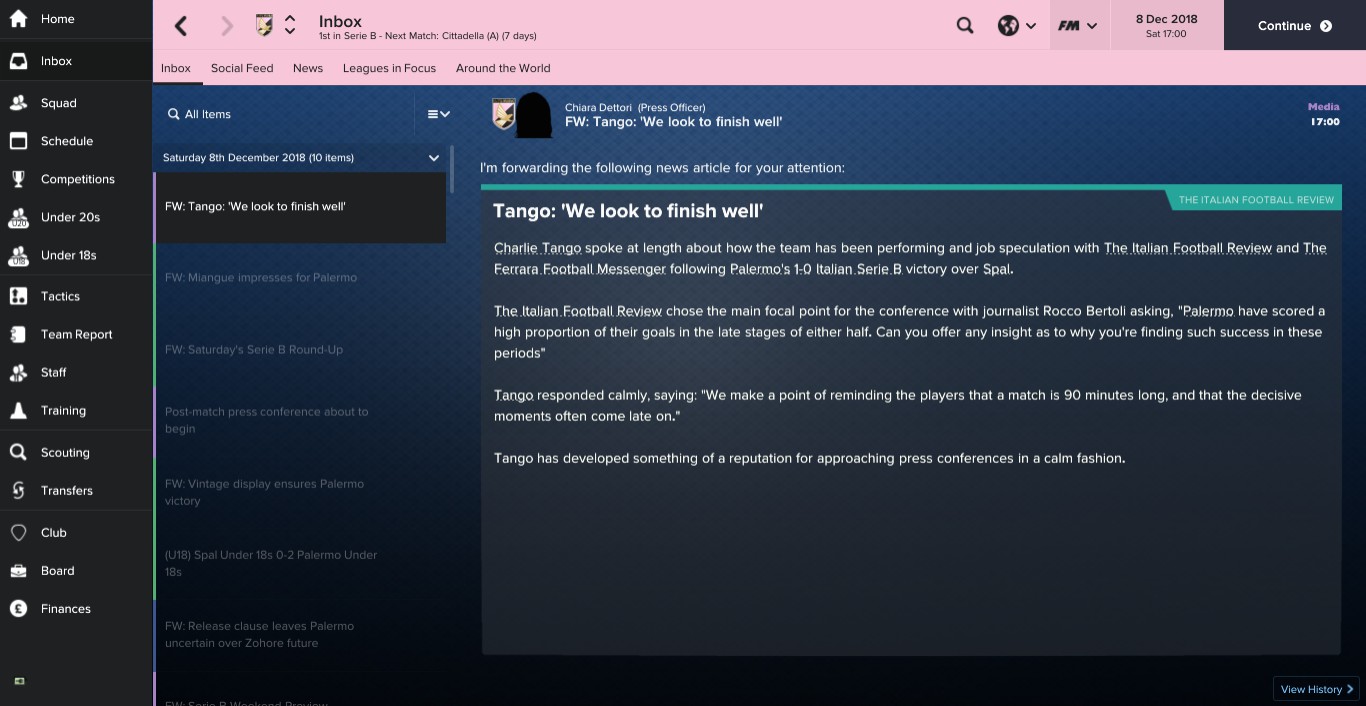 I'm reminded of a tale about Eric Cantona at Manchester United. He once took a training session and split the team into defence vs. his attackers. Having lined up the defenders into a compact formation to make it as difficult as possible for his attackers to make room for a shot, he ordered his team to pass the ball between themselves without having a shot on goal. After a short period of the ball moving from left to right and back again, Cantona fielded complaints from the attackers. The mercurial French international forward simply pointed over to the defenders, dispersed over the pitch panting for breath. The point being that short passing can over stretch a tight defence to create gaps for the forwards or onrushing midfielders.
Somewhat ironically I find myself in the odd position of being praised by the media for signing a number of young players but being criticised for the same reason by my own board. Having looked at my team when that question was asked, only three of them are over 25.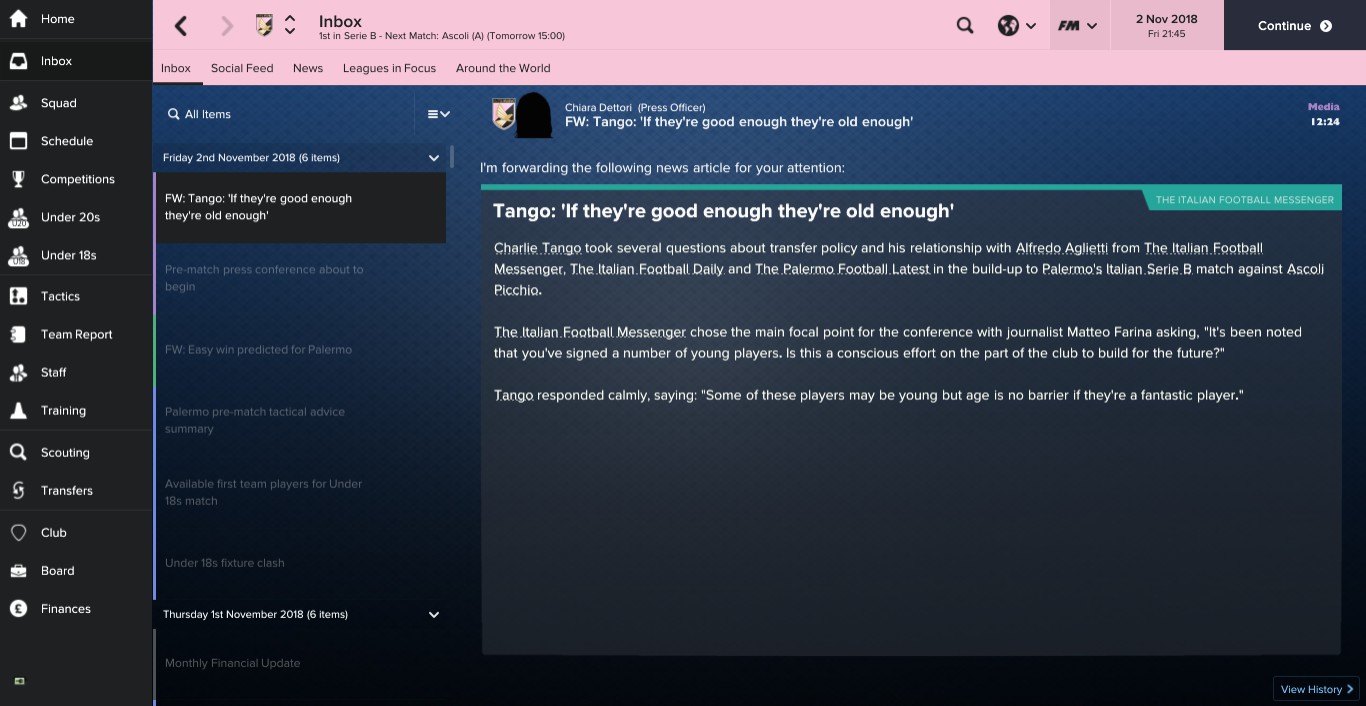 I wanted a challenge and Serie B is much like the Championship here in England. Pretty much any team can beat any other team no matter league position and the chairmen are ruthless. We'd not even hit the end of November and Cesena, Trapani, Spal and Brescia had all brought in new gaffers. The knives were even out for Kaiyne Woolery, completely undeserved considering he was always going to be a Plan B. Immediately after the media news item broke, he scored his first for the club.
The midway point of the season saw Palermo sit top of the pile with a seven point advantage over Vicenza and prompted a change in formation. The RaumDiamond had worked a treat but it wasn't mine and that began to niggle. I've always wanted to give a three-at-the-back formation a try but never needed to. As we've got some breathing room I sat back, looked at what Arsenal were doing and attempted to recreate it.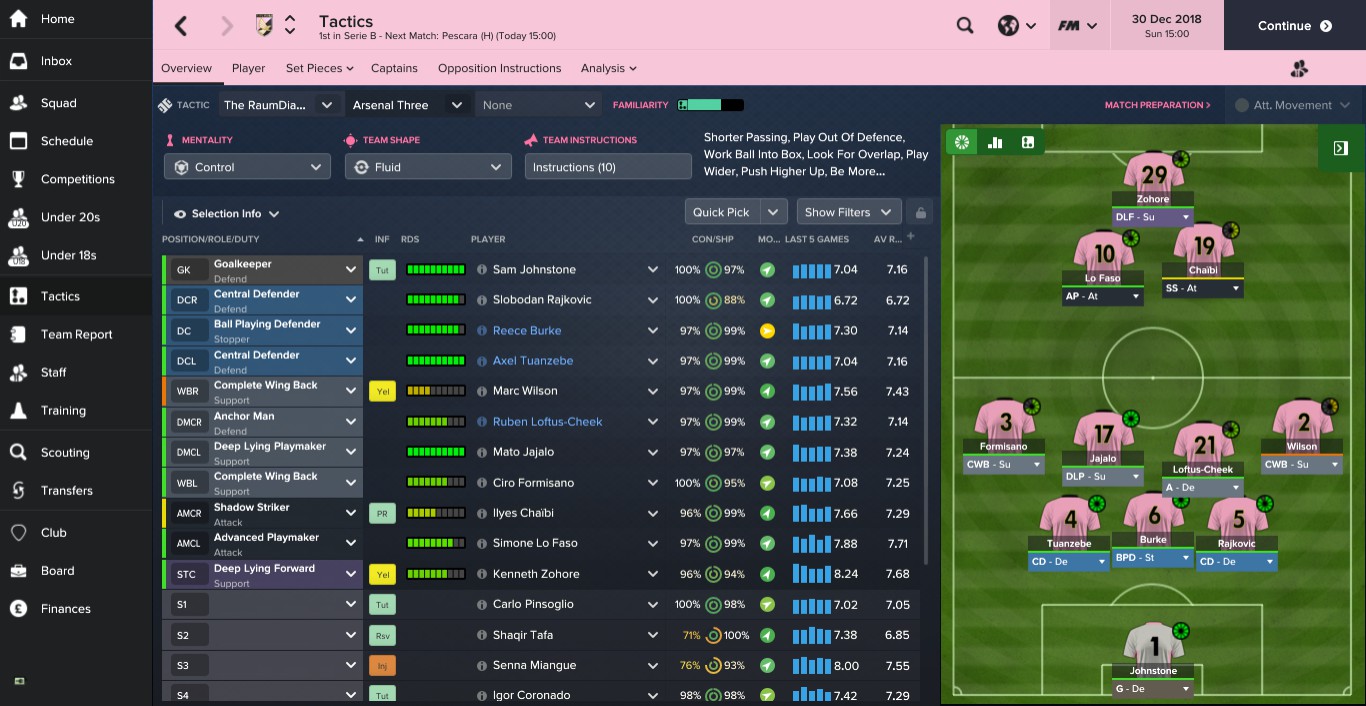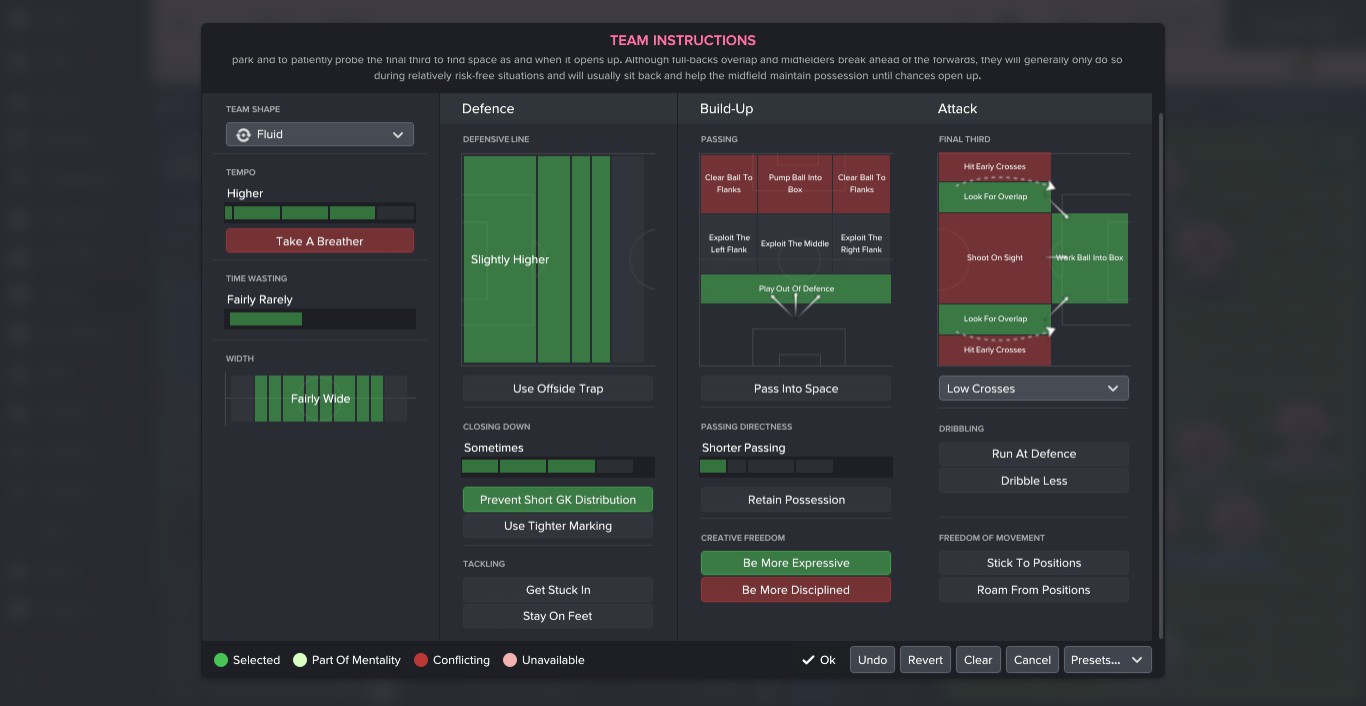 There's a comment that comes back a lot when reading other people's tactics, namely that the system is designed around the players available to them. So Chelsea's back three system might not work for Oviedo and vice versa. Because the Palermo squad have demonstrated their ability to be flexible already, my new philosophy should be a success. They rather created a rod for their own back with that first half-season form and it should be said, this took place against a backdrop of injuries so many in volume I felt as if I'd walked into the local Urgent Care (don't get me started) department instead of first team training.
A particular highlight was a verbal sparring with Gian Piero Gasperini, although I have to admit coming across 'all Mike'. Gasperini was very rude about me in the build up to an Italian Cup quarter-final. I realise that he's simply an abstract construct built from lines of unfathomable computer code, but that's bang out of order and I pledged to break him like a twig in autumn. Sadly an extra time 4 – 3 elimination followed but he was sacked just a fortnight later with Frosinone rooted to the foot of Serie A. It was interesting to note that Frosinone did win the Italian Cup at the end of the season, defeating my old team Inter Milan on penalties.
Serie B is such a slog, I'm proud to complete it and gain promotion but man, was it trying. In truth, the season wasn't that interesting. Runs of five or six wins, followed by a draw or loss to break it up and then back to the winning run. Nothing was much of a struggle, no massive defeats worth noting. A lot of the games were between one and two goal winning margins, which probably added to the monotony.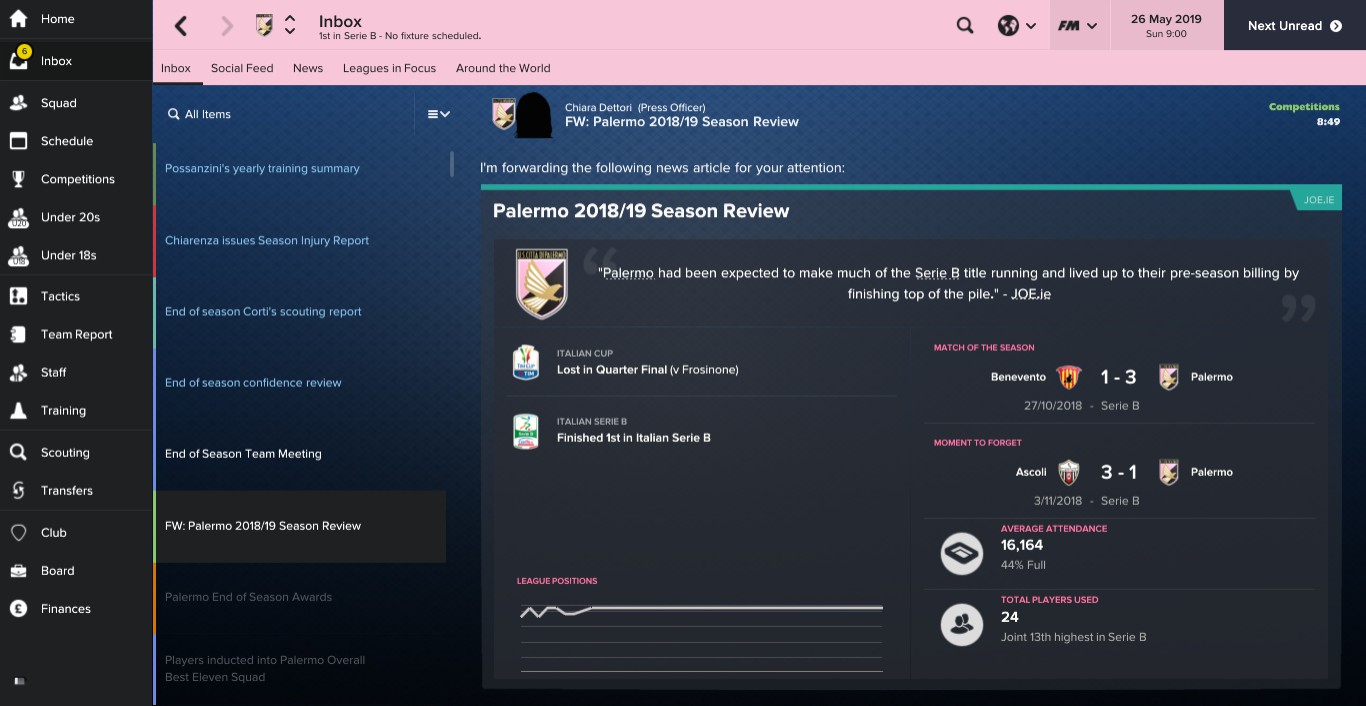 I'm now going to break from the norm to talk about individual players who contributed to the success, most of which were cheap players brought in to cover for the likes of Ivaylo Chochev and Accursio Bentivegna who were unhappy when I arrived.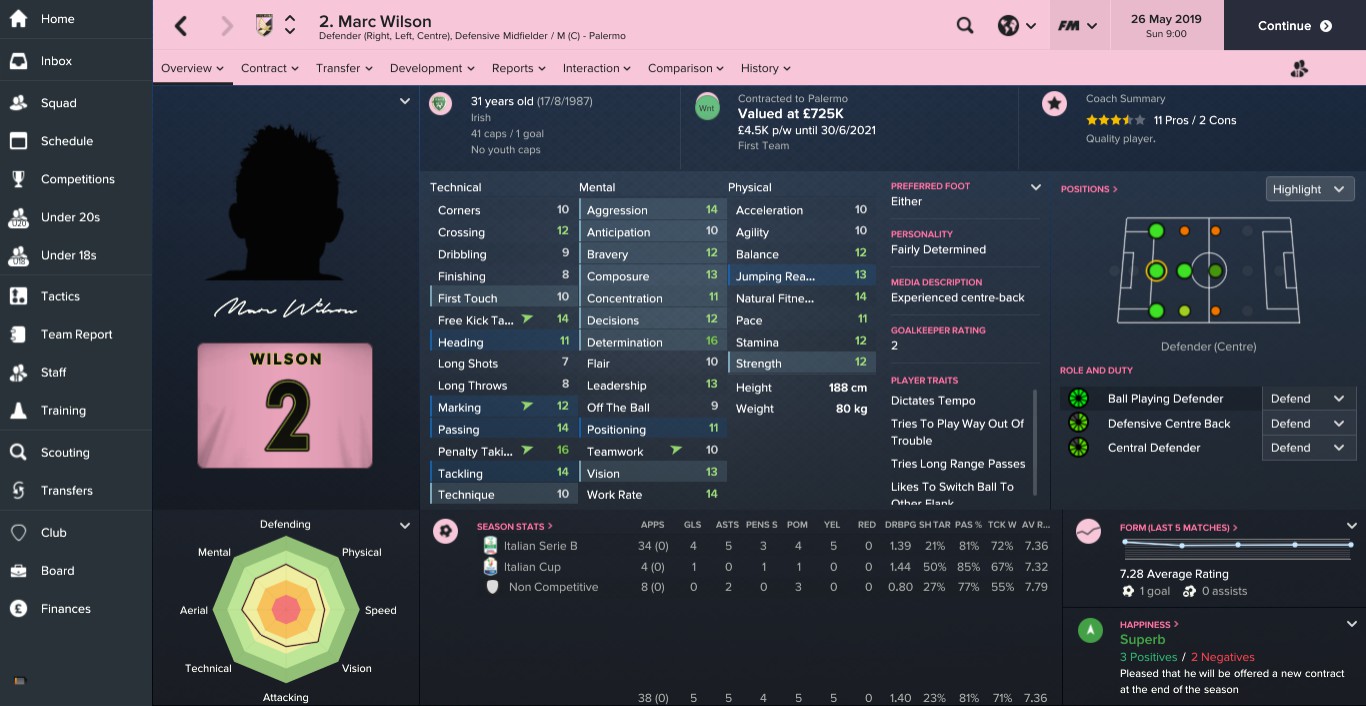 Marc Wilson arrived on a free transfer having been released by Bournemouth. Having only just turned 31 in August 2018, he served us as our most consistent player during the 18/19 campaign playing as the safest right-back and eventually right wing-back in the league. Signing the former Bournemouth, West Brom and Stoke man was something of a coup, he was named Captain immediately and led the team by example to earn Serie B Defender of the Year honours.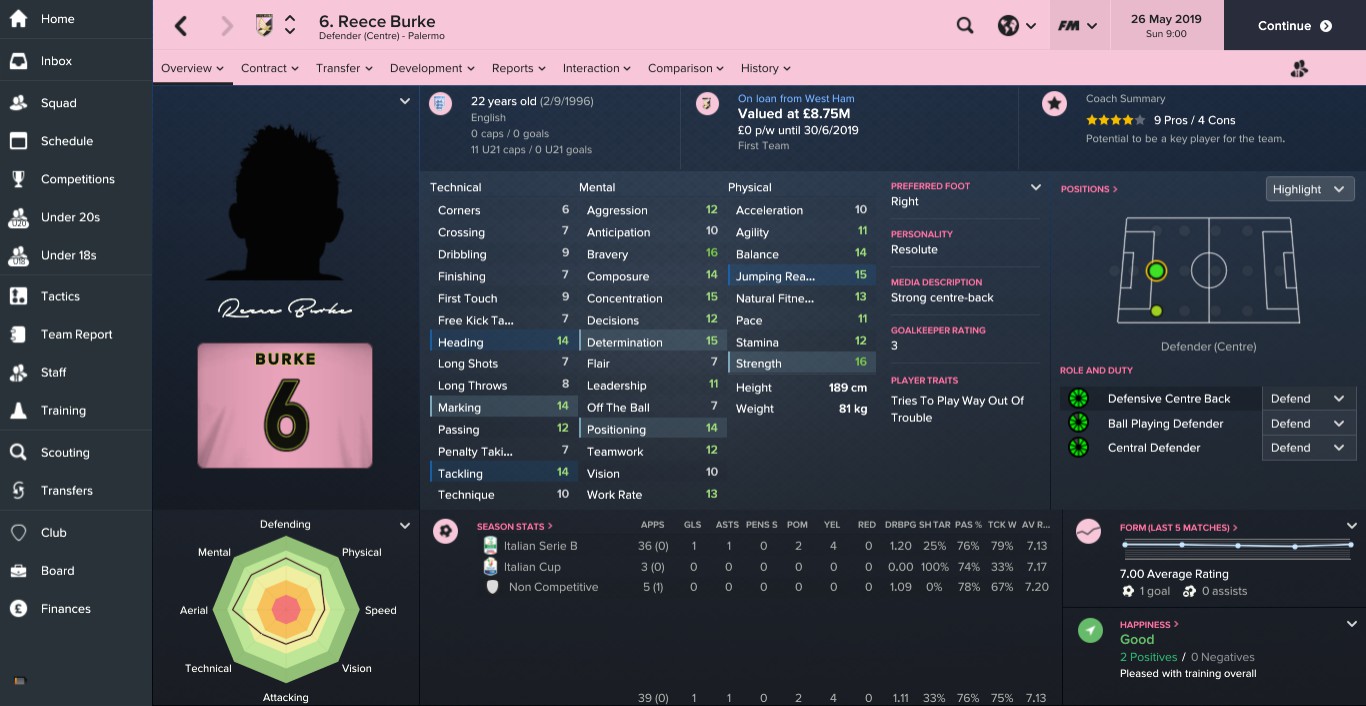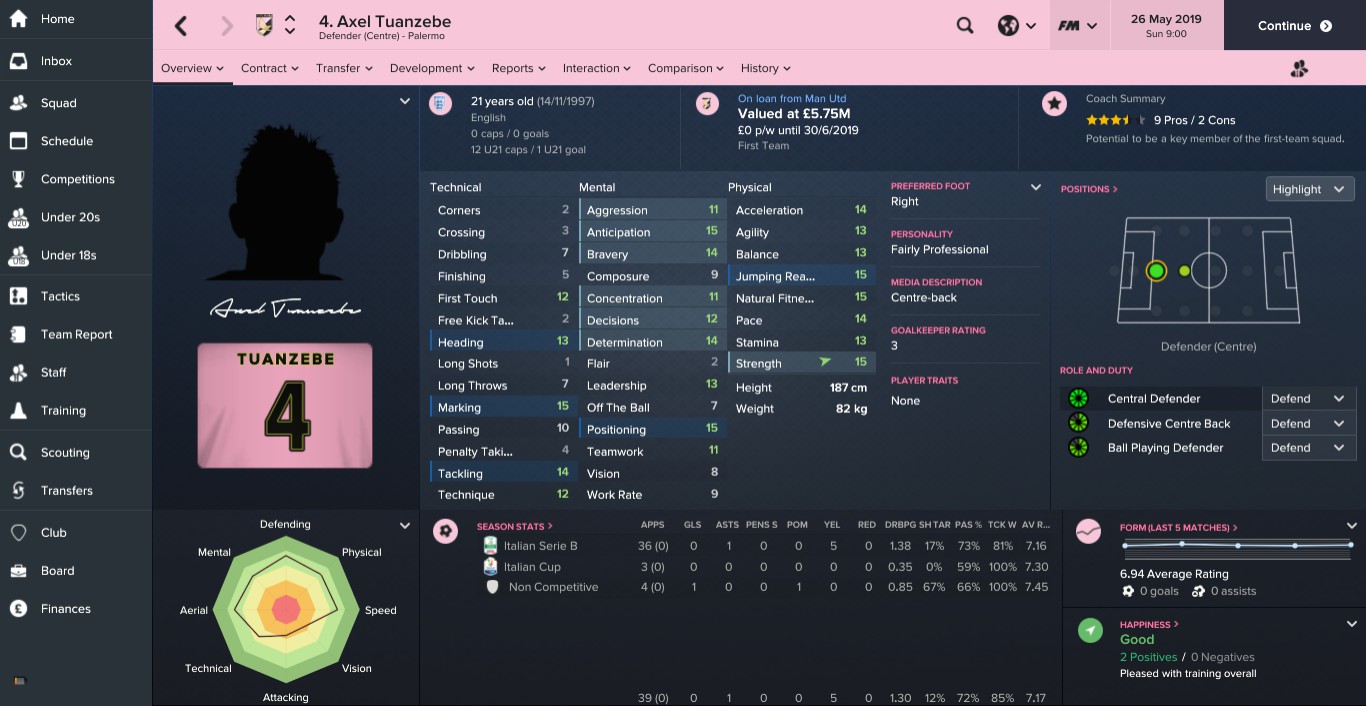 Our two centre-backs are loanees from the Premier League, Reece Burke from West Ham and Axel Tuanzebe. They have been pretty much ever present all season long either as a partnership in a two or either side of somebody like Slobodan Rajkovic in the Arsenal three-at-the-back formation. These two young lads have been as solid as you like, quality players and I've been avoiding questions in press conferences all season to guarantee neither they or their parent clubs get annoyed with me. Burke was named in the Serie B Team of the Year with ex-Manchester United goalkeeper Sam Johnstone between the sticks.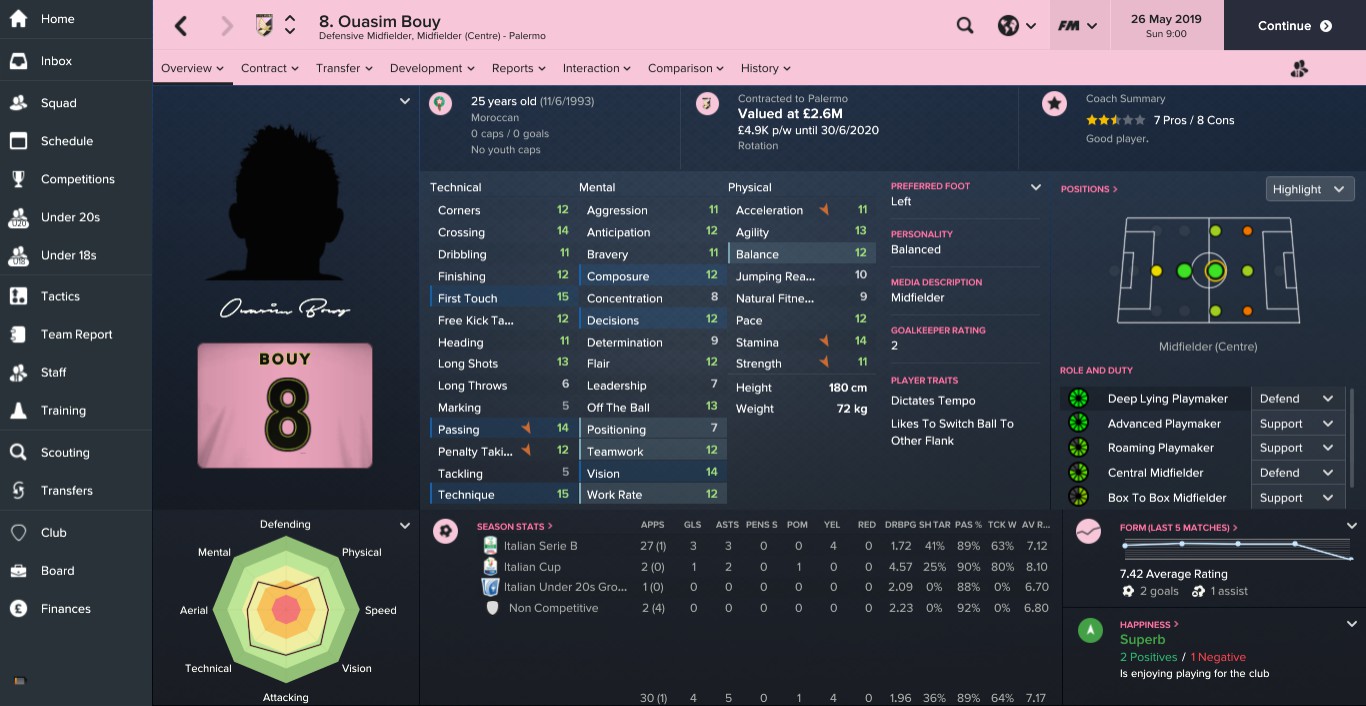 Former Juventus player Ouasim is a recent Leeds United signing in that pesky alternate reality called real life and then loaned out immediately for the entire 2017/18 campaign to Spanish Segunda División side Cultural Leonesa. Our second biggest transfer outlay behind Monaco's Ilyes Chaïbi was more a statement of intent and while he hasn't troubled the top performers, he does seem to inspire the players around him to play better and thus has made himself a vital cog in central midfield. Brazilian Igor Coronado is unlucky not to get this spotlight, he was a free transfer signing from Trapani and performed well enough but complained a lot when rested through squad rotation.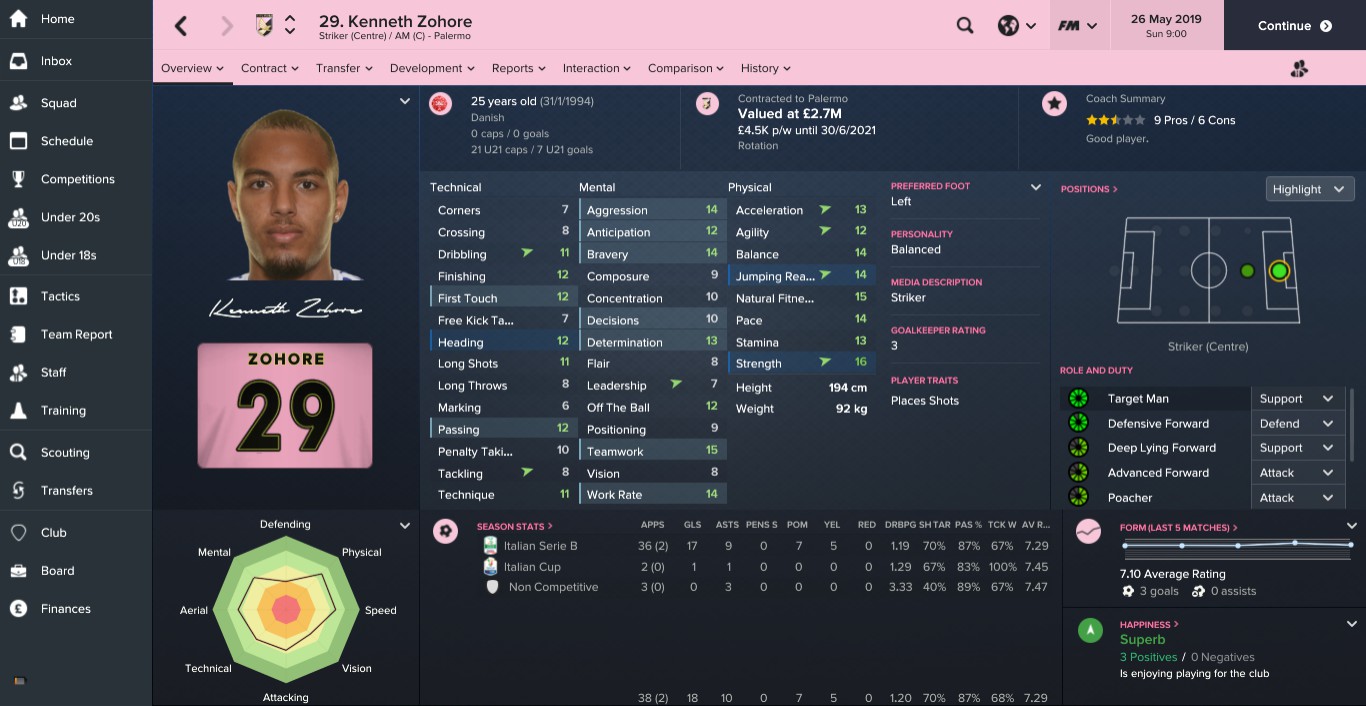 A few weeks ago in real life, I tipped Cardiff City for promotion from the Championship to much scorn and one of the reasons was this man, Kenneth Zohore. When he was on form last season he was nigh on unplayable and has already been described this time around as one-third of Cardiff's fearsome front three by Ali Maxwell in the Football League Paper.
Zohore is big, strong, agile and mobile – basically a cut-price Lukaku. I knew he'd tear up the Serie B defences and he proved me right with 18 goals and 10 assists to his name. Playing in the withdrawn attacking midfield Enganche role gave him the platform to stand off the central defenders and attack from deep, assisted by two Raumdeuter's either side of him. I would be surprised not to see him in the Premier League next season for a mid-table side with ambition.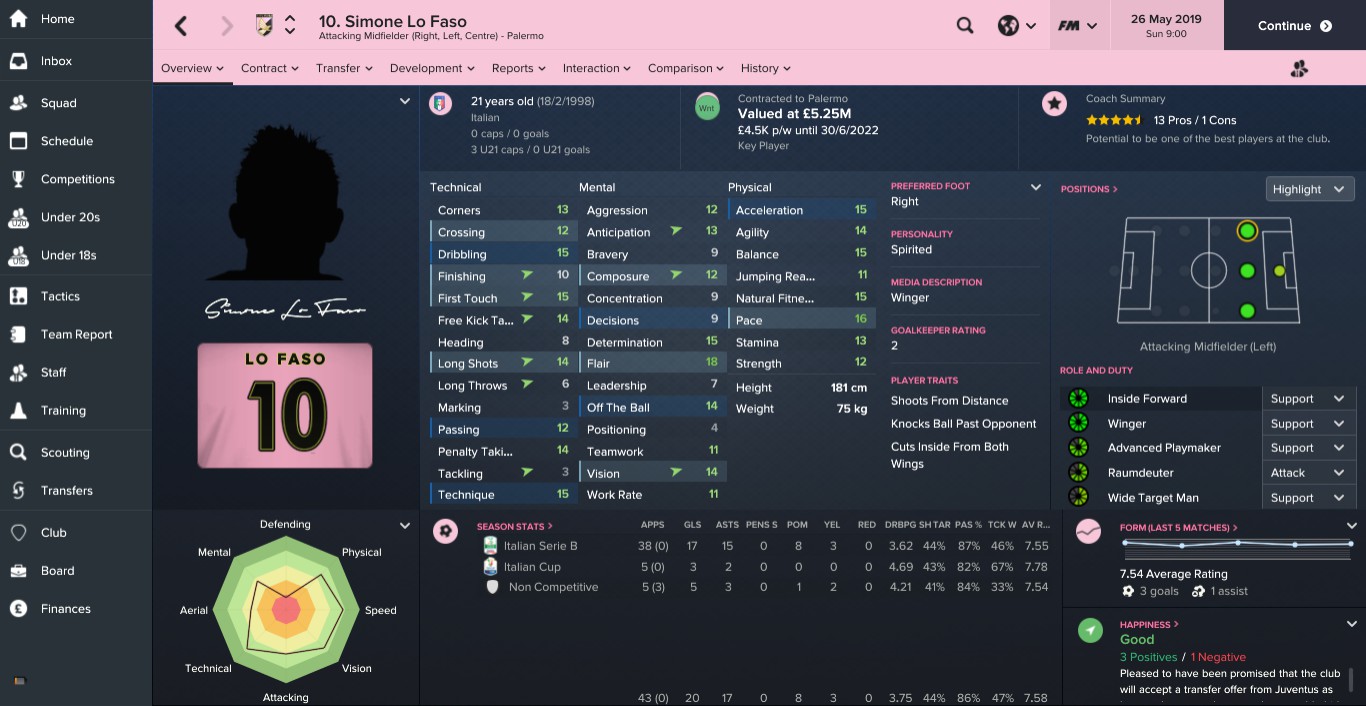 Simone Lo Faso is not a regen, he's there at the start of the game having been with Palermo since 2013. It's only under my management that he has flourished into a young player now coveted by Juventus and AC Milan. Having won the battle over Zohore to become Palermo top scorer with 20 goals and 17 assists, Lo Faso broke the Palermo record for average rating in a season (7.55) along with winning a glut of awards. He is the reigning Serie B Midfielder, Young Player of the Year, Player of the Year & Players' Player of the Year.
He has impressive attributes in all the right areas and has really benefitted from playing time, which has led to him being described as a good player for Serie A sides by the coaches. It's been a privilege to work with him this season.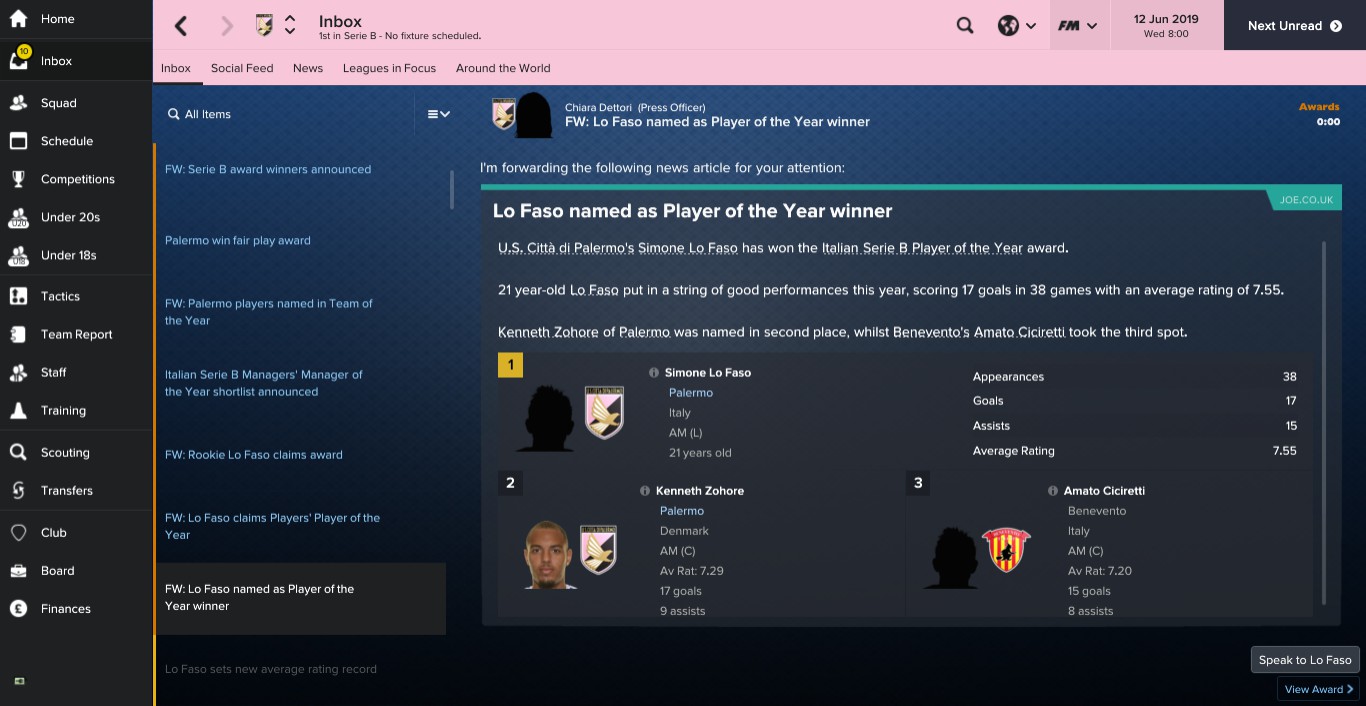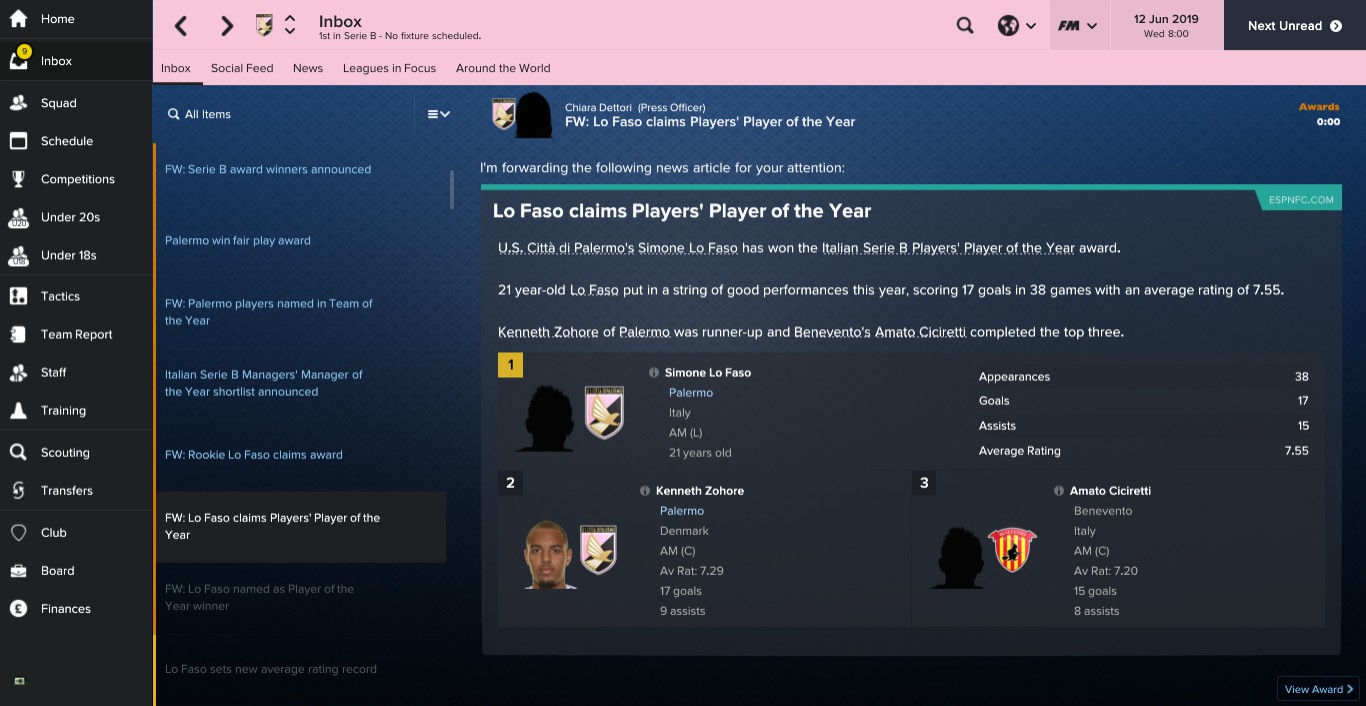 And so the Serie B story comes to an end. I'm sorry it's not been a huge success, promotion aside, perhaps not a success in the literary sense. I'd love to do a disaster save because I imagine it would be all kind of interesting, maybe soon. Next week Mike presents his season with Juventus and that promises to be spectacular.
Thank you for reading, join us on twitter at @FM17Challenge, @CharlieTangoFM & @MikeTangoFM for exclusive comments, developments prior to episodes and reaction afterward. Continued thanks to Chris, Mike Pearson and everyone at Tempo for the opportunity to share this with the readers.