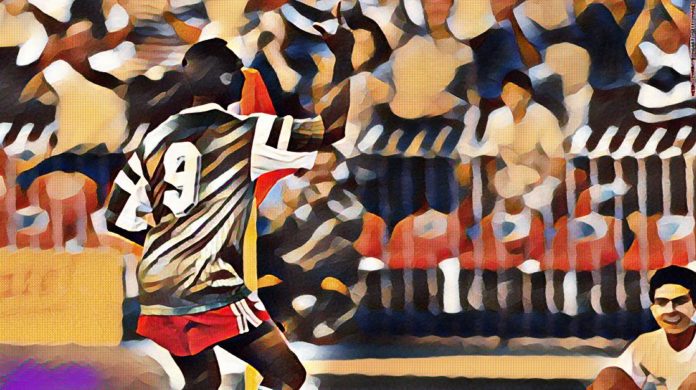 And now for something a little bit different. Well, probably not that different actually.
I thought I'd share with you the process I am going through in terms of deciding who will be released this winter and why, who I feel might get bought by a bigger club soon and potential replacements and things like that really.
Sound fun?
Tough, we are doing it.
So, firstly players that might get released…
#1 Jude Kongnyuy, LM – 32, avr 7.59, 51 games, 16 goals, 14 assists
Those numbers are alright, aren't they? So why might I release him?
* Contract is up at the end of the season
* He is 32
* Retaining him will block a pathway for the new signing we are bringing in having been released by Nantes
Not the most convincing set of reasons, I admit. So why might we keep him?
* The numbers have him as our player of the year!
* He has performed better this season than last
* His experience could prove useful to the kid we are bringing back from Europe
* Physically, he is in good shape
Verdict: Judy is currently on €200 a week. If he is prepared to take a the same wage again for another year, or better still less, I will give him another year.
#2 Obama, CB – 29, avr 6.94, 10 games (plus 11 as sub)
His numbers need some context – the two regular starters averaged 7.17 and 7.40 – so why would I release him?
* Again, contract is up
* He isn't likely to force his way back into the starting XI
* His performance in training has been declining
* We have at least three other young central defenders that could take his place in the first team squad and I'd run the risk of losing them if I didn't promote them
Why might I keep him?
* I can only really offer one reason – with Frejus and Essomba being so damn good at the back this season, there is every chance one or both might get interest from bigger clubs. If I lost one, I could probably cope without Obama. But if I lost both, well then that becomes different and I'd be starting next season with two complete rookies at centre back.
Verdict: Realistically I am not going to lose both centre backs, so I will release Obama as he deserves to play some football somewhere
#3 Rodrigo Wamou, RB – he played 45 minutes!
I have a feeling it might be hard to even build a case to keep Roddy, sadly. In a nutshell, the first choice Ekame is top notch and even if he was injured then Roddy wouldn't be my next choice right now. He has been a loyal servant, but there is little room for too much sentiment.
Verdict: Goodbye, and thank you.
And finally, an example from the U21 squad so you get an idea of my process there..
#4 Jean-Claude Atangana, CM – 9 games, avr 7.92
Why would I release him?
* He has been in the Academy system for 4 seasons and hasn't made me go WOW yet
* He didn't impress when out on loan in MTN Elite II last season
* He is now 20, and won't be able to play in the U21 side next season
* His star rating and coach reports don't excite me
* His attributes are average at best
So, if he is that bad, why would I even consider keeping him?
* He has slotted into a position in the U21 in the last 9 games of the season when the team needed to close out the title, and nailed a 7.92 average
* Every club needs a player that might happily be in the squad without playing every week – the kid has not moaned once
* He might be a late developer – one thing I don't like is that I get forced to make a call on kids aged 20
* 4 goals, 3 assists and an 89% pass completion rate tells me there might be something there
Verdict: So what's the worst that can happen? I give him another year on €15 a week, try and loan him out to a MTN Elite II side again and see how he does. If he gets near a 7.00 average then he might be worth continuing with, but this would be his last chance. I tend to try and give the kids every chance to make it – had he delivered a 6.5 average this season then he'd be out the door with all the other evidence. But, there might be something there. We shall find out.
So with all that done, I need to compile a list of players that might be on the move soon and create a succession plan.
#1 Guillame Kemajou
GK has slotted into the DM role since Ngangong went to Portugal and he has done very well. Currently, he is the only player with the WNT sign over his head. He has two years left on his deal, is happy and has a release clause of €120k, so it would need that to let him go. I might even chance my arm on getting him to sign a better deal to boost his value up further. But, he will need to move on within the next 18 months for his own development.
Potential replacements
Herve Kalla: Herve's been with me for four years since our first intake, I think. I still think there is a player in there somewhere, but he's not had a fair chance to prove it as DM is a position where we have been strong. I'd feel the team would be weaker initially with him there, but he could grow.
Emile Biakolo: This kid is highly rated in the U18 squad, so if I can keep GK for another year he will be more ready than he is today. He's fit, brave and can tackle – but he is also small compared to what I normally have in there and doesn't look like much of a passer yet.
Retrain: I have had success with the last two DMs by taking a big strong lad and retraining them into that role – this is a realistic option for me again as we have several talented CMs at the club, but not enough places to go round.
#2 Georges Essomba and Frejus Nsangou
These boys are my centre backs and they have the lot. They are both strong, quick and agile. I've had to be patient waiting for them to mature, but it has been worth it. At least one of them will be chased down this winter – to me neither leaves for less than €100k as there is time left on their contracts.
Potential replacements
Central defence is one area we are strong in the Academy. Adamou, Kamga and Nkoudou have all been performing well in the U21s for two years, averaging over 7.00 in both seasons. Kamga went out on loan and did OK, but is lacking pace. Adamou has the speed. Nkoudou is probably somewhere between the two. In the U18s I have a kid called Boum who is very exciting, he is very similar to Essomba and Nsangou already. Oh, and I nearly forgot the Cameroon U20 international, Nguema who hasn't really impressed me yet at club level, but I randomly picked him for the Olympics and he kept Colido quiet, so maybe.
#3 Fabrice Boya
Fab is a right midfielder who really should be my first choice, but Tegs has kept him out of the side for the last two seasons and, whenever Tegs has been rested, Fab hasn't taken his chance. The kid has everything you want – pace, technique, goals, assists – but goes missing too often. However, when he requested a transfer there was some initial interest which may well get revived in the winter. Tegs is also 27 now, so I need a longer term plan. If Fab does go, and I would rather keep him, he needs to fetch at least €60k.
Potential replacements
We have quite a few wide options in the Academy – Baone has been excellent for two years in the U21s and can play both sides. He may well be Awona's longer term utility replacement. I've got a lad called Mbondi out on loan at Doula and he has had a great season, so he could be a backup option. Atangana-Aguana is probably the top pick in the U21s in terms of performance, attributes and potential to develop. The U18s have a couple of prospects. So although we have wide options, I would definitely be gambling and it is hard to see any of them being a realistic challenge to Tegs next season. Therefore, I'd probably look externally if I had to replace Boya – in fact, that has reminded me that Kevin Soni is returning to the club and although he is earmarked as a striker in my mind, he does have the ability to play right midfield as well. So, after all that, we'd be sorted as we have plenty of attacking options.
Hopefully that gives you some kind of understanding as to how I look at the squad at the end of each season. We're not Monaco (yet) but we know already we need a succession plan. We have to have the balance between winning today but making sure we are giving an opportunity to the next product on the shelf, so to speak.
That was fun to explore for me, hope you get some value from it.