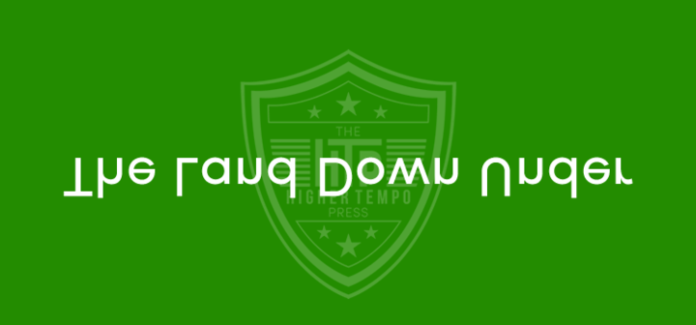 G'day, mate! Glad you're back to check up on your new favourite Australian soccer team! We've got some pretty major news that needs to be shared with you regarding the transfer window, but first, I want to share this…
The Central Coast Mariners are now the leading producers of players currently playing with the national team. We've been responsible for the development of nine players, including seniors who were not developed by me. Admittedly, several of those nine came from the fact that I am the Socceroo boss, not necessarily from the fact that they deserve to be on the team, but in each case in my short career, they've delivered results for the team, so I still think it counts! Do I need to remind you that Ivica Buric has 6 caps and two goals at 17 and Ozcan Gunes has 1 goal in 2 appearances? And that Liam Rose has been giving us some stellar performances in the midfield?

One of the initial goals I set up for the Down Under experiment was to produce elite Australian players. That has been shown in my selection of younger domestic Australians showing for the national team, both for my club and for other clubs, so I'd say that is a sign that things are going well on that front. The real test will be how a Socceroo team managed by me can do in the 2022 World Cup, but we'll come to that later.
The transfer window came and went in this update, and transfers will be the point of this update. The team was missing something special, I felt. The team had a disappointing stagnant period where we were getting wins here and there and a lot of draws. We had a good team, but it needed a bit of a shake-up. After watching Sean Pratt, a youngster who's been with the team since the start of his career years ago, make frustrating mistakes for a good chunk of the season, I made the determination that it was time for him to go.
When the transfer and registration window came in, I took him off the A-League registration and forced a termination of his contract for AU$50k. Not that big of a deal, since we're almost $6m in the bank following our several years of successful runs. Coming into the side in his place as a rotation option is Jacob Eliopolous, a 23-year-old Greek-Australian central defender who was released by APOEL. He declared for Greece, which is a bit of a disappointment, but he still fits my criteria for wanting Australians from Australia. I think he could do a job for us when we need someone off the bench or for a weaker side.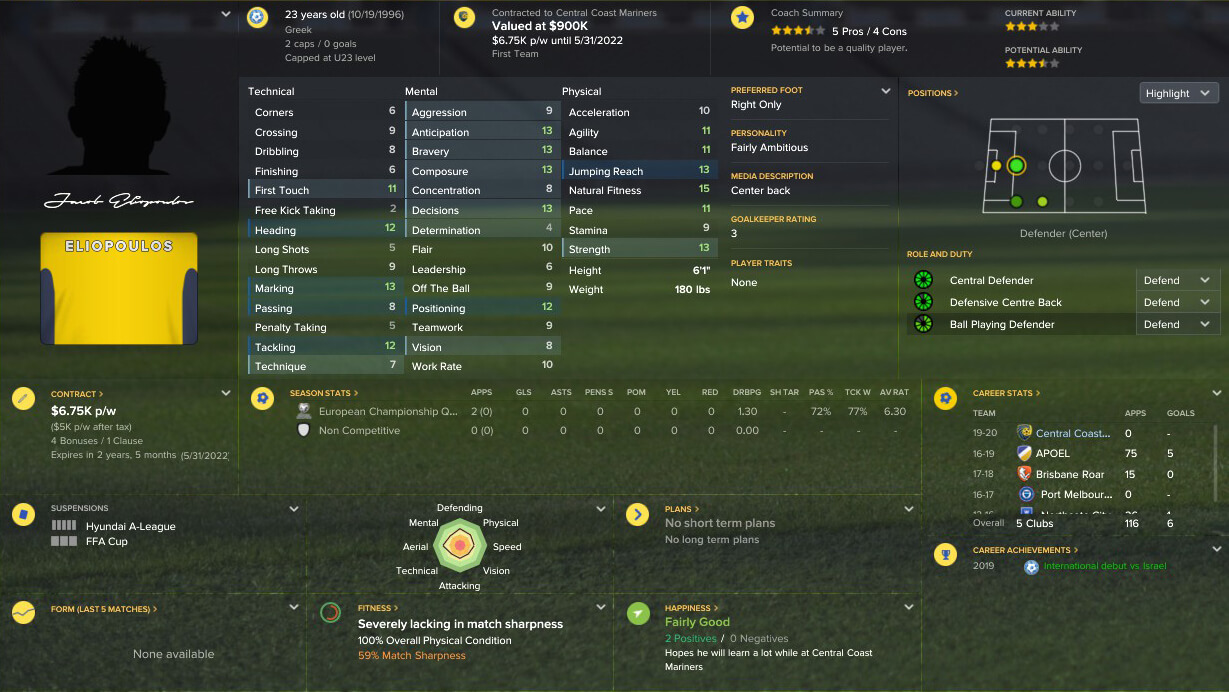 It took some time, but the other clubs are taking notice of the talent we are developing in the land down under. Jeju from South Korean came in shortly after Jake E's signing to make a non-negotiable bid for Ivica Buric. I was insulted by the low-ball AU$1.1m offer, and I promptly got on the horn to tell the Koreans precisely what I thought of the insult and where they could stick that wad of cash. It was good money for someone who came in on my youth intake and has been with the team for only a year and a half, but they could surely do a lot better, yeah?
Luckily, Ivica didn't make a fuss about being rejected and is still content to play with the club. I wish I could say the same about the other attempted transfer out, but I can't…
Vitesse came in with a bid for Ozcan Gunes, and I told them off, same as with Buric's offer. I have major plans for both of them, and they both love playing for me as starters.

Unfortunately for me, Ozcan wasn't too thrilled. Soon after I got off the phone with the Dutch club, he came to confront me about the high-ball offer of $5.5m that was designed to deter his transfer. I did my best to calm the young lad down. We had been working together for almost three years and I had watched him grow up into a promising young soccer player. I did my best to say that his development could best be accomplished here and that he was incredibly important to our successes both past, present, and future, but it wouldn't work. The allure of Europe was too great for the youngster, and the whole discussion ended up adversely affecting our relationship.
On transfer deadline day, an offer came in from FCP. A low-ball offer of $1.5 million dollars. Not happening! I wanted to keep him, but he wouldn't be kept, so I decided to negotiate a bit, just to put on the airs of working towards his request. In the end, I did come up with a deal I didn't mind so much.
For the transfer of Ozcan Gunes to Portugal, FCP had to pay me AU$1.5m up front, give me an additional $500k in monthly instalments for the next year, then had to take on some easy to hit incentives that would give me another $1.3m if all were hit.
They will owe me $300k after ten league appearances and have to pay me $51k per league appearance for his first ten appearances. After 10 goals they owe me another $250k. Finally, I get some money after 5 international appearances. As the Socceroo boss, I know he can do a job for me with the national team, so that's a clause I can easily manipulate myself. As I write this, I realize in hindsight that I should have gotten that one as ridiculously high as I could manage it! In addition to all of those clauses, I have a clause in place where I'll see 50% of any profit made on his sale, so if he makes it big and sees a big money transfer, we'll be rolling in dough!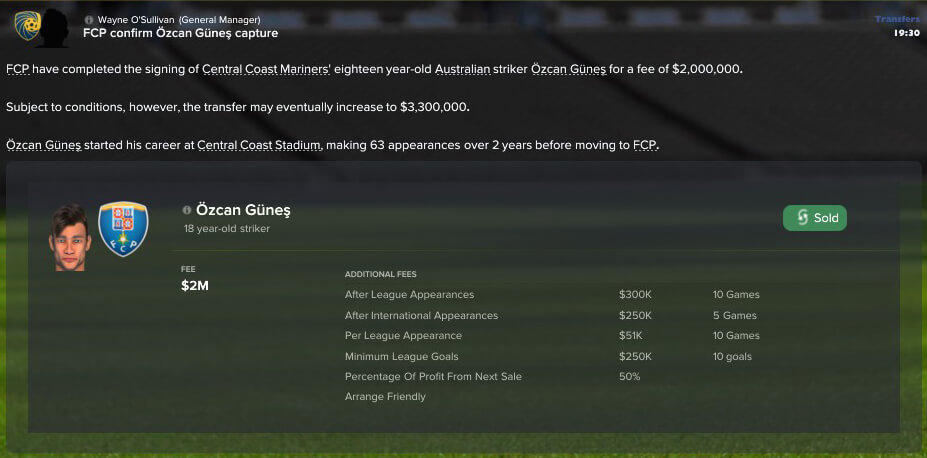 It breaks my heart to say this, but let's take a moment to say goodbye to a promising young Australian player who's about to make his journey to Europe.
I guess I shouldn't be so upset as I am since I gave the club a very healthy profit on a young player I developed and it ticks off another major goal of mine. We're developing Australians who are being courted by European teams, so we're doing something right in the Central Coast Academy!
Here's Ozcan Gunes from September 2017 to January 2020. I'd say I did alright by him. He was a great player for us during the last two seasons, and he was making progress towards developing into a solid attacking midfielder.

After pouting for a couple of days because I fell out with and then had to sell Ozcan, I got some news to distract me. The new Champions League draw is in!
We are drawn up against the Funabashi Bandits from Japan, Pohang Steelers from Korea, who we previously met up against, and Shanghai Shanggang, the defending champions who ripped us a new one in the last update! The Japanese side is a complete unknown to me, but I'm optimistic about the Pohang matchup. I am deeply concerned about Shanghai since they were a strong side every time we met them. It will take wins against the other teams to set us up strongly and good results or at least convincing draws to come out on top against a team like Shanghai in the group stage.
We will meet up against the Japanese Funabashi in a mere two weeks time, so we'll have to wait and see how that goes. On the home front, we started winning shortly after our draw streak. with several good results, particular against City and Newcastle Jets. Our next match will be our third and final meet up against City for the season.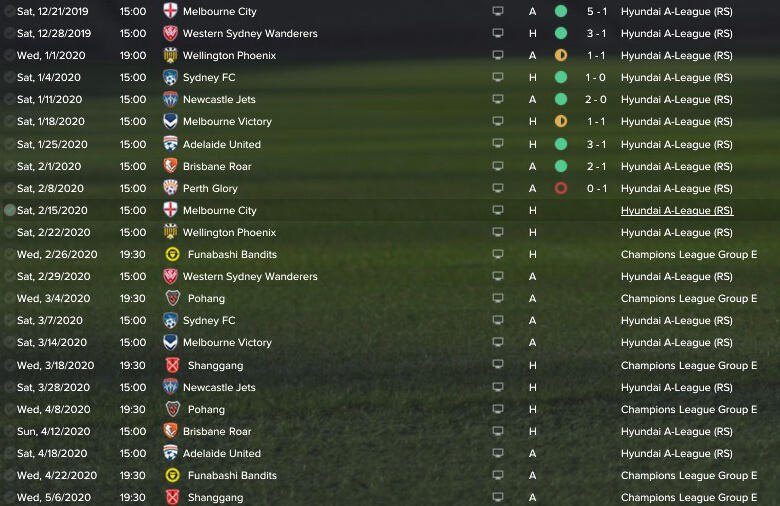 Looking at the league table, we are ahead by ten points with 11 wins, 7 draws, and 1 loss. I still wish a few of those draws were the wins they should have been, but at least we're entering into the last third of the season with a comfortable points margin!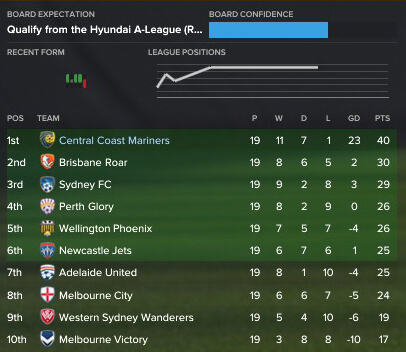 Our goal for the Champions League is to qualify from the group stage again and ultimately reach the final. We hit both the semi- and quarter-final respectively in the previous two seasons, so my expectation is to at least make an appearance in the final. Mr Charlesworth is still just happy we're in the group stage. Horribly unambitious he is! On the domestic side, I fully expect my fourth consecutive regular season win, though I'd like to take it all the way and win the Grand Final again, which I missed out on the previous two seasons, as you'll know.
Hopefully, this was another solid update! I'll be back soon to provide an update on the happenings at the club!