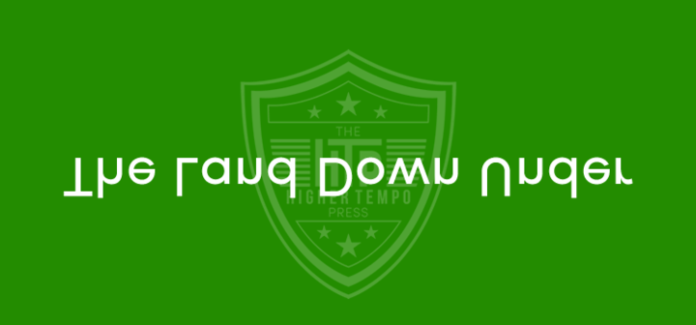 G'day, mate! Welcome back to the Land Down Under and Gosford, NSW. When I last left off in the series, I was going over our run during the first half of the season and promised I'd be back to talk about our first ever Champions League run, which is underway as we speak.
In February we got our draw for the group stage of the competition, and it was a hell of a draw, let me tell you. We were drawn up against reigning K-League champions Jeonbuk, Japanese Okayama FC, and Quanjian from China.
The latter two teams, while not bad in their own right, aren't teams I'm completely familiar with, but I do know from AFC CL experiences in previous iterations of the game that Jeonbuk is my arch enemy that always gave me headaches.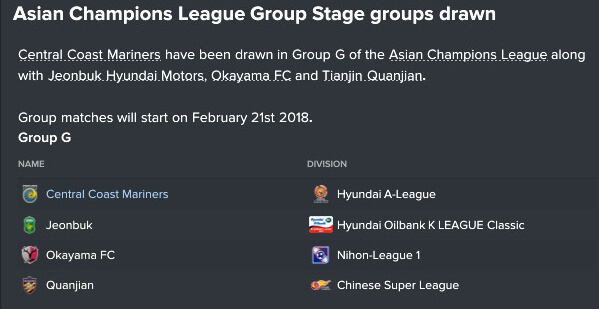 I am cautiously optimistic, but at the same time, I'm not expecting fireworks in our first trip to the Champions League. We're not a bad side, but we're only just good enough domestically, so improvements are definitely still needed if we want to go far in the competition.
In the league, we had another couple of rough matches following up from our last update. Injuries were a bit of a problem for us, and we had to deal with the patented "last-minute-goal-from-a-team-with-5-shots-on-goal" thing that FM is good with to give us a couple of undesired losses.
Once the team came back around, we went on to get two good A-League victories and had a rare opportunity to field my fullest strength squad against Jeonbuk for a 3-0 win to open up the Champions League group for a packed-out home crowd.
Things got a little rougher after that though, as fixtures started to get congested with the group matches. As I said recently, domestically, we have a good first team, but depth is still a problem that I'm working on, and I've got some ageing players that I'm not particularly impressed with anymore.

The hard part for me, with the first team lacking depth, was to decide if I should sacrifice my A-League form to do well in the Champions League or do well in the A-League, but sacrifice position in the Champions League.
I opted to try my best at first to balance it, but it wasn't working and I determined that I'd rather do well in the league and have a chance next season instead of sacrificing my Champions League eligibility by failing to win domestically. There's always another season, after all.
With that in mind, I put in rotated sides to lose the following two Champions League matches but put in a strong domestic performance. All season Victory, Sydney FC, and I have been battling for the title and swapping places on the table.
It came down to the wire, but after a break to rest the squad up between Newcastle Jets and Okayama, I put in a rotated squad to focus domestically and secured two vital wins at the end of the season while Sydney lost theirs to lose their place at the top of the league.

The fans were, of course, ecstatic that I won the regular season a second time, and it's another trophy to add to the Central Coast trophy case. Next up we will have to put in a strong Finals Series performance to see if we can retain our title as champions, in addition to our premiership at the top of the regular season table.
With the curtain drawn on the regular season, we retained the title with 49 points from 27 matches. Sydney FC finished second with 46 points, while Melbourne Victory finished a close third with 45 points. Brisbane Roar, Newcastle Jets, and Melbourne City round out the top six and the Finals Series positions.
Funnily enough, Adelaide United, the team who won two seasons ago and finished runner-up to us in the regular season and the Finals Series last year, finished in 10th place. Only 22 points from 6 wins and 4 draws in the league.
It is normal to see teams jump around the league table from season to season, but first to second to last has got to be the biggest jump I've ever seen in the table. C'est la vie, I guess. At least it wasn't us!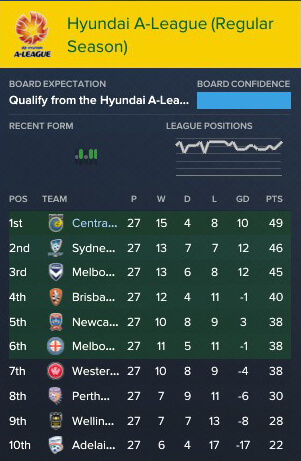 The group stage of the Champions League still has two matches left that will run concurrent to the Finals Series. We will face Jeonbuk and Quanjian once more. Both of them are first and second in the table. We're not completely out of it just yet, as we're only down two from Jeonbuk, who we will place next, but we're not going to make it safely out unless we can win both matches, with may be a challenge as I simultaneously want a good Finals Series finish as well.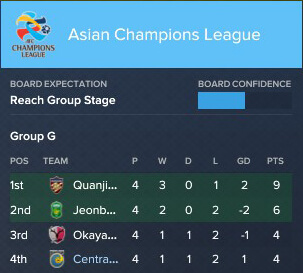 This wasn't a particularly verbose update to the series, but in the next update we'll go over the Finals Series results, check out our performance in the Champions League, and look at our expectations and targets for the off-season.