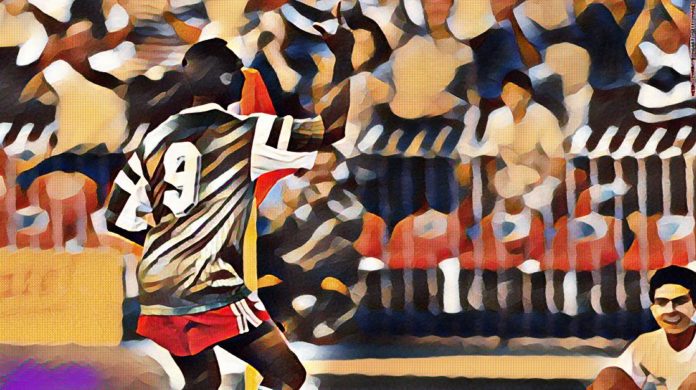 Remember those nights where we always lost the final game 1-0? Those days are gone baby, they are gone! Yes, that particular curse has been lifted so high it looks like a little balloon floating away in the sky. For last night, my friends, we…..
Drew the last game of the night 0-0. Woop!
And we actually drew the one before that 0-0 as well, though as it was a cup match we had the thrill of penalties. As it is easier to win the actual lottery than win a penalty shoot-out on FM17 I presumed we were going out to Sable. But, lo-and-behold, we beat them to progress. Incredible, FM miracles everywhere in Cameroon.
I said in the last post that the first five matches of the evening would really dictate what the rest of the season looked like for us.
Boom. I actually love that. Beating the champions Coton Sports at our place was a real highlight. Sadly, we wasted it a little bit by drawing against lowly Botafogo in the next game, but hey.

The next games also went our way, well apart from the match with Racing but we all know I was due to lose that one 1-0. This makes the end of season VERY exciting. Are you excited? You bloody well should be. I am.

That is our run in. A run in that really, really should lead to us qualifying for at least the Total CAF Confederation Cup which is basically the African Europa League – 3rd and 4th place qualify for this.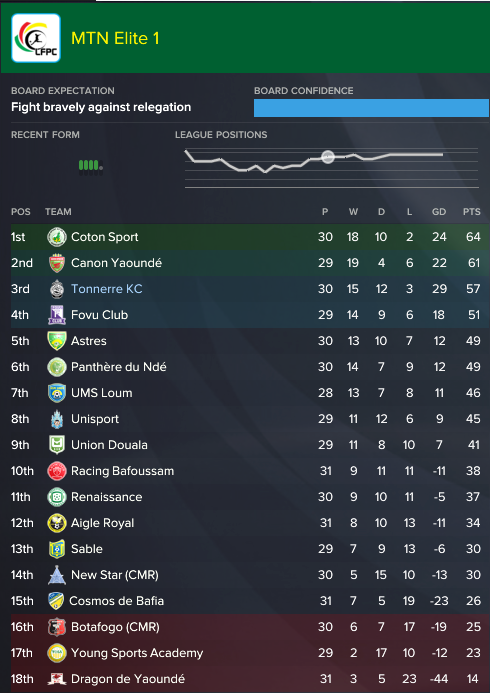 With 12 points available, we have a probably 3 point advantage over Fovu Club and an 8 point advantage over Astres. As much as I would love to dream otherwise, I feel the chase for top two might be beyond us, but stranger things have happened. The priority has to be third place.
There is some good money in the CAF Confederation Cup. The winner of it gets €1.1m and I am not expecting us to breeze in and take it, but it makes it interesting to play in. That said, the money in the Champions League would be life changing. Meh, I'll be happy with the Confed.
We really, really should be getting at least ten points from those twelve available to us. We really should. If we do that, who knows what might happen.

As you can see above, the U21's are rocking it this season. A mix of the young un's not playing every week in the first team and some of the more promising U18's are gelling superbly.
The U18's aren't doing too badly themselves…

So my mind has started to drift a little to next season – I mean, we are not going to gimp this. At the very least we will be in the Confederation Cup next season which could totally change the club. But, I need to remain focused on the slow and steady approach – just because we are taking that step up in terms of competitive level does not mean I then start bringing in continental ready type players. We don't smash the wage structure either, we remain consistent in our approach. Who knows how we might do?
When setting the save up, I did include lots of other African nations ready for the day when continental football arrived at Tonnerre, so we shall see whether that was the right think to do or not.
In the meantime, we have four games to create history.
#LeTKC