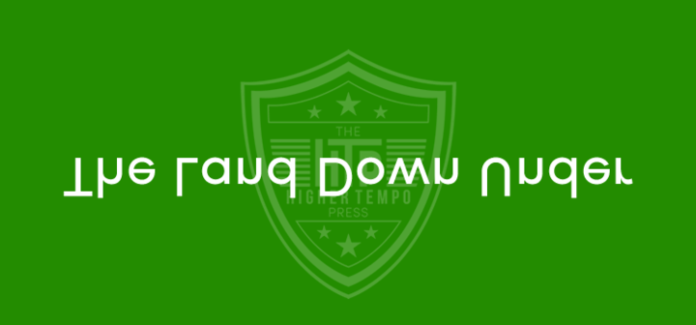 G'day, mate! Merry Christmas, Happy New Year, and all that jazz. This is update 13! I have to keep Googling how to correctly do Roman numerals since I didn't expect to get quite so many posts in when I first thought of this series idea.
Anyway, it's January 1, 2019, as I write this post. In the last update, I promised to bring you all up to speed on what went on during the regular season and most importantly, what would happen when we continued our Champions League run with our then-upcoming match against Jiangsu Sunning and all of their money.
We're going to start off our season with some bad news. During our opening match against Wellington, our fan favourite and talisman Andy K was sidelined for four months with a damaged achilles tendon. He was set to be out of the team through the new year, and I'm still not sure exactly when he's going to be back with the team.

A week and a half and one A-Leauge match later, we went up against Jiangsu Sunning in the semi-finals of the AFC Champions League, intent on bringing the trophy to Australia for the second time in history.
Unfortunately, it did not go as planned. We ended up losing 6-2 on aggregate to what was, as we knew, a very strong side. I'm not as hurt as I thought I'd be in hindsight. I was frustrated, but I always knew it was going to be hard going up against the likes of Ramires and John Mikel Obi, both of who were playing in that side among other quality players.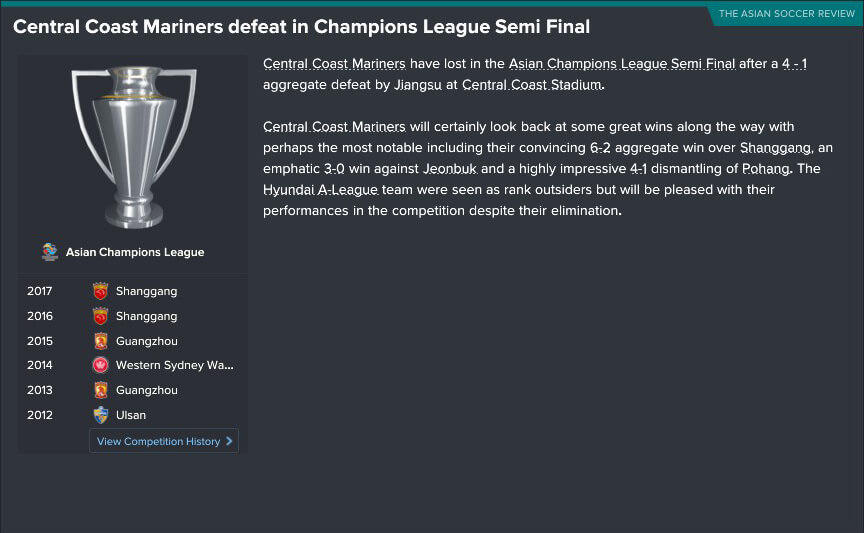 I guess we'll just have to redouble our efforts next season because I still want to win this competition! Jiangsu would go on to win the competition.
With Andy K on long-term injury and a brief injury for Bingham, I started a rotated attacking front with my young new-gens taking the field alongside Cameron Howieson to take on Melbourne Victory. I'll give you a couple of moments to guess what happened before I spoil the fact that we took it in a 5-0 away win with Ivica Buric and Ozcan Gunes scoring a hat-trick and a brace respectively. They were easily the best players in the match, and I hope that this is a sign of things to come and that I can fulfil my wish to see them starting together for years to come as a goal-scoring force.
This amazing performance single-handedly put Buric at the top of the list for Young Player of the Month while Ozcan Gunes took third. Honestly, I felt that he should have taken second, seeing how he did so well in that match and started and subbed on during the other matches to good results.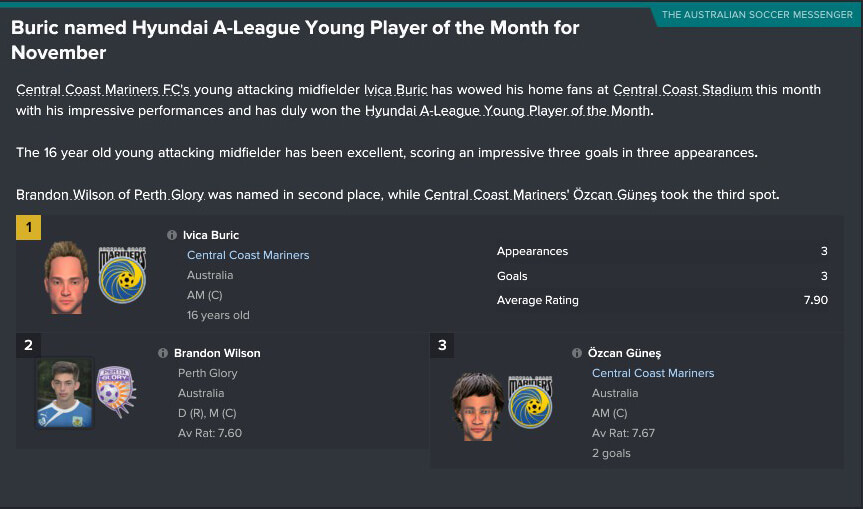 Those were the only two matches that were of particular interest to me, but the rest have been going very well so far as well.
We had a strong start to the A-League season, with only one loss in eleven matches with three goals conceded.

It was a pretty strong run for us up to that point, but when we got to that match, we were up against a better-than-normal City that was in control of this match up until Ozcan Gunes scored a last minute goal and almost got in a second to give us a glimmer of hope. I wasn't expecting an invincible season, but it's still a bit of a bummer to finally lose on such a good run.
If you want to look at the stats for the regular season, it's all us right now. We've scored the most goals, conceded the least, we're the best team for possession stats, passing, and generally being in control of a match, and things are looking bright for the future. With such a strong first third of the season down, I have no doubt in my mind that we're going to win our other two matches against each team and win the regular season again. If you want to throw in your cash against those 150-1 odds for our victory, do it quickly before the bookies change the odds on us!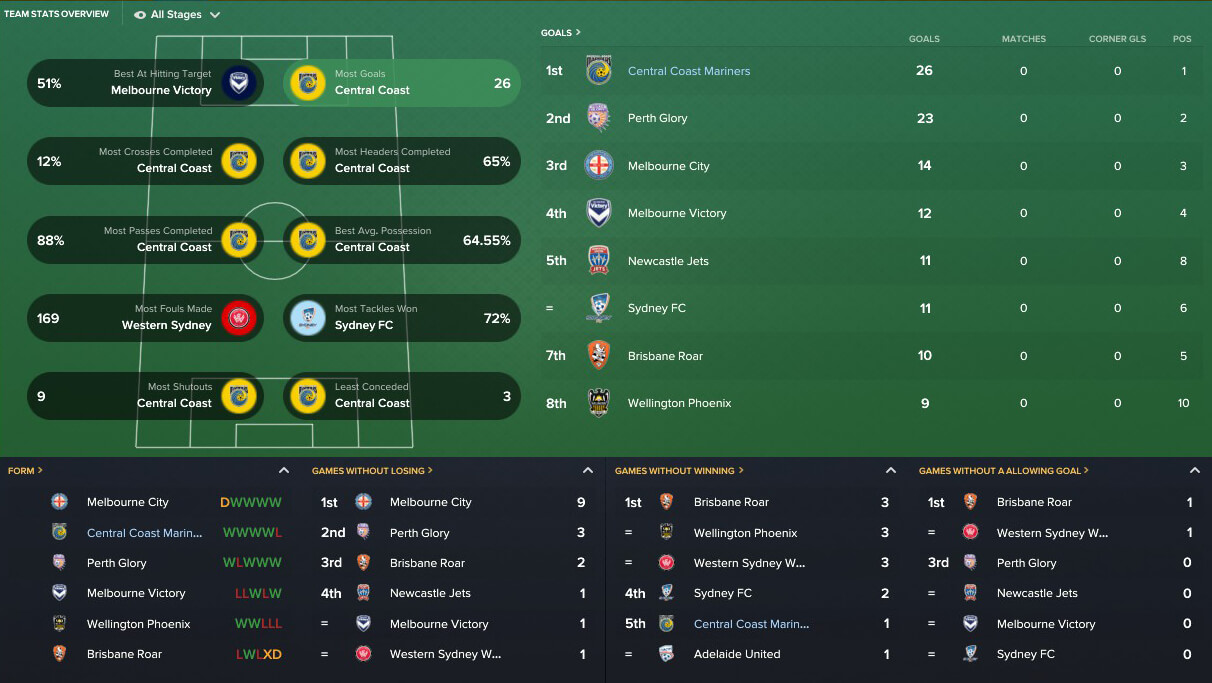 Here's the table for the league up until this point. Our next match is against Adelaide United later in the day. We have 28 points from eleven games. We have an evening match, so as of now, we're down a game compared to the other top teams, but we still have a 3 point lead against Perth Glory and Melbourne City.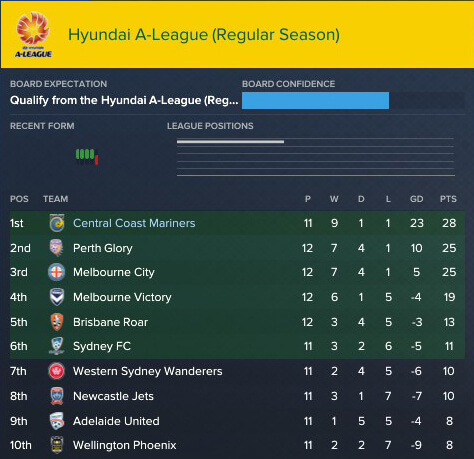 Adelaide United have had a miserable time since they won in 2016/17 and finished runner-up in 2017/18. They don't have their heads in the game despite having the squad needed to do some damage, so I don't see this match as being particularly difficult for us.
The transfer window opens up in a mere five days. While I have a few players in mind to send off as surplus, I don't have any additions that I want to make at the moment. Our team as a whole is so strong that picking a weak link to replace is proving difficult for me. I just might keep this lineup all the way through the season.
It's a shorter update than the previous couple of posts, which were each about twice this length, but there's not much I can think of to go over for these matches.
I'll be back to provide an update on what's been going on in Gosford later, but now it's time to get to Adelaide to take charge of that away match and then get a late night swim in at the beach!