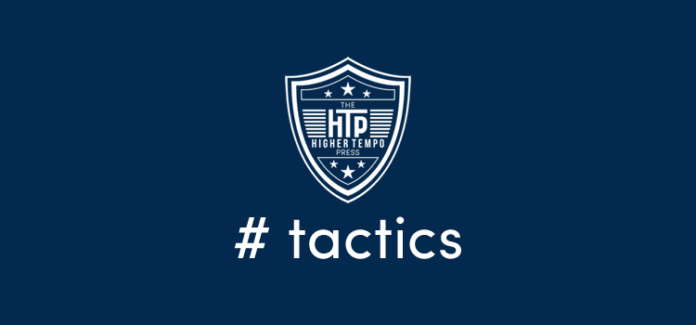 "If he [Prosinečki] ever becomes a real football player I'll eat my coaching diploma" – Miroslav "Ćiro" Blažević
Between the '96 Euros in England and France '98, one international football team captured my heart and pocket money bets. The epitome of the dark horse, Croatia were a team full of individual greats crammed into a 5-3-2 that overachieved on the world stage. However a recent short save with Hadjuk revealed the prevailing tactical mood of the "virtual" nation is no longer the 5-3-2 of yore. Instead, I found that if the opposition wasn't lined up 4-2-3-1 (and they normally were), it would be a 4-4-2. It got me thinking/crying of the team/youth that I had lost. So here is my sentimental journey to answer the big questions: Why did Croatia stand out in these tournaments? Could I bring success to the national team by replicating their 5-3-2? Who will be today's flying Robert Jarni, solid Igor Štimac, lethal Davor Šuker or chain-smoking genius Robert Prosinečki?
The Classic Croatia
Last year's Euros looked like it might be Croatia's time to return to challenging the top tier of international football again. The highlight was beating Spain 2-1 in the group stages but the promise fizzled out with a drab defeat, 0-1, to eventual winners Portugal in the first knockout round. And so it was that 21 years on, third place at France '98 remains Hrvatska's best ever competitive performance. The years in between have not been kind to the team in the distinctive red and white chess board strip. Perhaps they just need to play every competition in France from now on.
It is no wonder then that the 1994-99 squads are thought of as Croatia's Golden Generation.
For some reason I had a soft spot for Yugoslavia in my youth – probably influenced by the spy/war books of Alistair Maclean – and I remember rooting for them at Italia 90. I was too young to be aware of the country's political and social issues or the tensions arising at the time. My love for football in the region grew through a mixture of FM (when it was still Championship Manager) and the World Soccer magazine. I used to pore over the results and squads of these exotic leagues, picking out names that I could try out in ChampMan or Sensible World of Soccer. Roll on a few years and by 1995 Davor Šuker was my hero. I love a great No 9 and in my opinion, Šuker was the most sublime striker.
The 96-98 Tactical Set Up
The Coach And His System
The Croatia head coach through these golden years was the enigmatic Miroslav "Ćiro" Blažević. For the national team, Ćiro favoured a 5-3-2 formation in two flavours:
One with three creative and technically gifted central midfielders and
A solid alternative replacing one of the midfielders with a more disciplined, defensive minded anchor-man for games against perceived better opponents
Defending
Ćiro's Croatia defend in a low block:
Defensive line sits slightly deeper. The width is balanced.
Both outer Central Defenders will step forward out of the d-line to mark/press/intercept. They will also go wide to cover runs into the space behind WBs
Wing Backs will press the ball on wings in the defensive third.
3 central midfielders will press balls in central zone as a pack – nearest CM will press the ball wide if WB occupied and/or the opposing Full Back brings ball forward
The 2 Forwards are given instructions to press Opp CBs and DMCs even high up the pitch
The aim is to force attackers very wide to get around the defensive line with 3 tall and strong central defenders waiting to clear any crosses in. At least six players cover Croatia's golden zone making it very difficult for sides to unlock to create high yielding (high xG) goal scoring chances.
Defensive Examples
Following a headed clearance, the loose ball is picked up by Denmark 10 yards into Croatia half. The defence is in its original setup with 5 across the back, 3 cms in the central zone. These two banks are quite close to each other.

Ball goes wide to Croatia's left to Opp RB – Jarni (Left WB) moves forward to press, Vlaović (SS) moves across to block passing lanes back, Štimac (LCB) moves left to cover Laudrup's run into space. The pass is forced inside.
Šuker (CF) tracks back and presses possession, driving Opp CM towards Croatia's right wing. This allows Jarni and Štimac to drop back into position within d-line as team shifts as a unit right.

Anticipating pass, Stanić (Right WB) moves out to press Opp LB or intercept.
Instead, the pass is played inside Stanić, who should have dealt with this. However, Bilić (Right CB) moves wide and covers the area.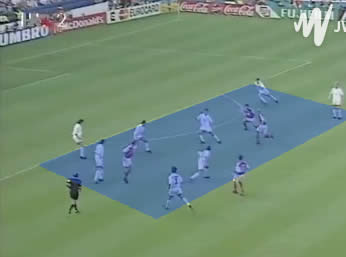 In this example from the same game vs Denmark, no fewer than 8 Croatian players are in this golden zone. The pass through is too difficult – even for a Laudrup – and the attack is snuffed out.
Attacking
The golden generation was full of technically superb players and goals were often the product of a burst of magic rather than a Conte-style drilled, automation system. That being said, Ćiro's team setup does encourage three common forms of attacks:
Triangles down flank – nearCB->WB->nearCM then nearCM->CF->WB
Through Midfield – the ball would be worked to one of the outer CMs who would look to dribble to break through opposition's Midfield lines into the spaces in front of the defence.
Break the lines – Centre Back long pass through midfield to CF/SS who'd drop deep or go wide to find space, before laying off to supporting WB or CM.
All three attacks would look to open space to either feed the runs of Šuker or find the WBs who would have moved into the winger position. Support for crosses into the box would come from late runs from supporting CMs – usually Boban.
It is worth noting that Croatia very rarely pass into space – almost always looking to pass to feet even from long range.
Who attacks?
Šuker and Vlaović are joined by two CMs – the other drops back – and both WBs. Bilić was not shy about carrying the ball forward and could pick out a pass too.
Attacking Examples
Measured Build Up Play
From GK to centre backs. Central DC drops back, Right and Left DCs push forward to create triangles with Jarni at Left WB. Boban drops back to offer passing option, pulls Opp cm
Very early in this build up, Stanić pushes into attacking position
Vlaović drops deep to receive Štimac pass through the midfield, pulling his marker out of the right CB position and dragging two more cms into the ball. Asanović moves forward into space for the pass.
Upon Štimac's pass, Jarni moves forward down the left wing and pulls Opp RB wide. Šuker peels right occupying the left CB.
This opens up Denmark's central right channel between RB and the CB for Asanović to power into. The outcome is only a goal kick but could have been a pen or a low cross to Šuker.
Breaking the Midfield Lines

1. Bilić through midfield to Asanović short pass to Boban supporting
2. Pass through to Stanić's (as SS) run into left half space. Note Boban continues run to near post dragging defenders with him.
3. Deep cross to Šuker now free at the back post who controls and finishes.
Recreating Croatia in FM17 AKA using the 5-3-2
Formation / Roles
I will level with you good people this was a struggle to recreate in FM17. Roles that I had identified from match analysis just didn't play the exact way I was looking for. For example, the Wingbacks – a dead cert – were taking up positions too far advanced even on the Defence Strata so these became Fullbacks on attack. Even the 5-3-2 formation took some tweaking! In the end (no joke I was up to version 7) here it is – 5 defenders across the Def-strata, 3 midfielders on the Mid-Strata (no DMs), Shadow Striker (in the AM-strata) and Complete Forward up top.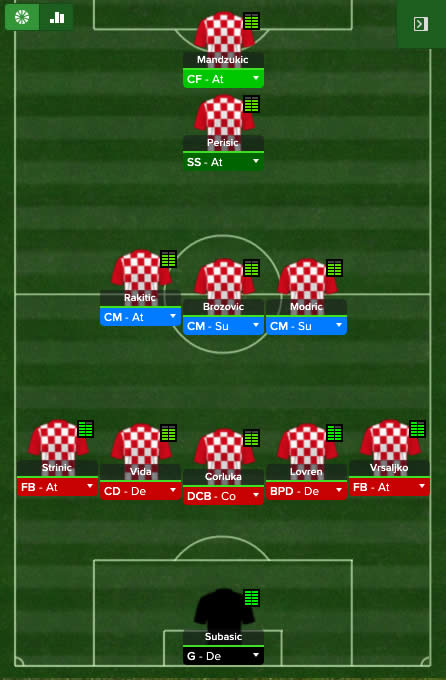 Team Instructions
Croatia 96-98 had a focus on the individual with an unwavering confidence in their own technical abilities. The team was set up to maximise the skill and creative flair of the attackers to cause oppositions trouble. Thus our team instructions in all their glory:
Slightly Deeper Defensive Line
Play Fairly Wide
Prevent Short GK Distribution
Play out of Defence
The team shape is set to Very Fluid to get the midfield closer to our defence when defending and supporting attacks.
Team mentality will change depending on game circumstances. For opposition similar or worse, Attacking worked well with the deeper D-line as it speeds up the attacking transitions to exploit space created by luring opposition out/stretching the game. For playing against the top nations, a Counter mentality reduces the risks taken but beware inviting too much pressure onto your defence. I would recommend increasing through the mentalities up to Control for short bursts during the game to keep it spicy.
Player Roles, Instructions and Attributes
Goalkeeper
Ladic – GK on Defend
Experienced Shot stopper. Small in stature so rarely comes off the line at corners. Slow distribution.
FM Attributes: Handling, One on Ones, Reflexes
Centre 3
Jerkan/Simic – DCB on Cover
The most central of the three, this is a no-nonsense role. His job is to mop up through balls, clear crosses and can be used to man mark dangerous opponents (see Simic on Klinsmann 98). Rarely involved in defence-to-attack transitions. Never involved in attack.
FM Attributes: Head, Mark, Tack, Ant, Bra, Con, Dec, Det, Pos, Jum, Str
Štimac – CD on Defend Left
Less restricted than Jerkan roles but still expected to be a solid centre back. Štimac would hold his position in the defensive line but was capable of choosing the right moment to break out to press or intercept. Not blessed with great pace but good anticipation, decent acceleration and a great tackler, Štimac was one of the best CDs of his day. Comfortable on the ball, Štimac would often look to distribute to Šuker or the advanced near CM (usually Prosinečki) to start attacks.
FM Attributes: Head, Mark, Pass, Tack, Ant, Bra, Con, Dec, Det, Pos, Acc, Jum, Str
Bilić – BPD on Defend Right
A fine example of a cultured centre back, Bilić was as comfortable on the right wing as he was facing up to the top strikers in the world. He was tasked with bringing the ball out of defence either to start quick counter attacks – usually displaying good dribbling skills – or when Croatia were in a more controlled build-up phase. His technical skills and his rock-n-roll image masked how well he could defend. Good in the air, strong in the tackle and quick to recover if the opposition do get through the defensive block.
FM Attributes: 1st T, Head, Mark, Pass, Tack, Tech, Ant, Comp, Dec, Det, Pos, Acc, Jum, Pac, Str
The Flanks
Jarni – Left FB on Attack
A machine down the left for Croatia, Robert Jarni seemed to possess superhuman stamina. Able to defend when the pressure was on but always coiled ready to break forward. Jarni possessed fine dribbling skills uncommon amongst his contemporary left backs and was very happy driving forward with the ball.
FM Attributes: Cross, Drib, 1st T, Mark, Pass, Tack, Tech, Det, Pos, Wk Rt, Acc, Bal, Pac, Sta
Stanić – Right FB on Attack
Many moons before Allegri turned Mandzukic from Striker into a defensive winger capable of stopping Barca, his compatriot Mario Stanić was already showing how it could be done. An attacker of some repute – top scorer in Belgium top flight in 1995 – Ciro played found room for him in the team at Right Back. A real threat going forward but sometimes caught out at the back. It was not unusual against the top nations that Stanci would play behind Šuker and a more defensive right back would come in.
FM Attributes: Cross, Drib, 1st T, Pass, Tack, Tech, Ant, Det, OTB, Wk Rt, Acc, Bal, Pac, Sta
Midfield
The regular midfield three were very similar in their (high) technical skill sets and therefore were able to create an attacking fluidity from their ability to quickly and effortlessly swap roles. This benefited the side's defence to attack transitions as typically two spring forward whilst one stays back to cover the defence from counter attacks – especially important when both wing backs move into advanced positions. The differences were subtle and the roles described below were true for the most part.
Shared FM Attributes: Drib, 1st T, Pass, Tech, Ant, Bra, Comp, Dec, Det, T Wk, Wk Rt, Acc, Str, Sta
Asanović – CM-support
More often the deepest of the three, Asanović would often take up supporting positions in space, offering a give-and-go passing option, and generally looking to dictate the tempo of the game. He had a very gifted left foot with vision and passing range to launch quicker attacks. Also a danger from Free Kicks.
Plus FM Attributes: Corn, Free Kick, Con, Pos, Vis, Bal
Prosinečki – CM-attack
Creative genius when in the mood. Robert Prosinečki could have been recognised as a great of the game but injuries took its toll on his career. Generally employed in a slightly more advanced of the three and given the freedom to roam in search of creating chances. His composure on the ball with great technique, dribbling and flair gave Croatia an outlet from defence. However, his personal relationship with the coach, Blazevic, and his "luxury" player status often saw him replaced by a more defensive minded midfielder against bigger nations.
Plus FM Attributes: Corn, Free Kick, Flair, Vis, Bal
Boban – CM-support
Captain and driving force. Boban is a folk hero in Croatia for his actions on and off the field (Google it). Although no slouch in the technicals, Boban was the more combative of the three CMs. Truly a Box-to-Box midfielder (just not on FM17), he would often arrive late to get on the end of crosses or cut backs. His fierce long shot was never far away from target.
Plus FM Attributes: Head, Long Shots, Tack, Agg, Con, Lead, Pos, Pac
The Attack
Šuker – CF-attack
Unplayable at his very best, Davor Šuker was as lethal a striker as there has ever been. From 1994 to 1998, his international goal scoring tally – 35 in 42 games was phenomenal. Although clinical in the box Šuker was not a poacher. Finding space deep or wide behind full backs, he was often the target man using great touch and strength to protect the ball, often using his dribbling skills to escape tackles before finding a teammate or more often creating a chance for himself.
FM Attributes: Drib, Fin, 1st T, Head, Long Shots, Pass, Tech, Ant, Comp, Det, Otb, Vis, Acc, Bal, Agi, Jum, Str
Vlaović – SS-attack
A speed demon, Vlaović took his chance with the winning goal in the Euro 96 opener after coming on as a substitute for Alen Boksic. Boksic, regarded as one of the top strikers in Europe at the time, failed to get his place back. The diminutive striker's pacey runs through channels between the centre backs or right CB/full back offered a different threat to the opposition. He'd often capitalise on the work of Šuker, who would drag the left sided defenders out of position. When out of possession, Vlaović would drop deep to press opposition midfield.
FM Attributes: Fin, 1st T, Tech, Ant, Comp, Det, OtB, T Wk, Wk Rt, Acc, Bal, Pac
Results in the Modern Game
So we have the template for moulding today's Croatia National Team in the image of their more glorious predecessors but how will former Federation President/ new Head Coach, Davor Šuker, get on? Back three systems are very popular at the moment but who plays a back 5? Everyone used to – even England – so why not now? Will modern tactics pump us? Or will we bring back the glory days again? Can we go even further?
In game and we're looking at the qualifiers for the 2018 World Cup in Russia. The group draw is quite kind with none of the traditional big boys. However Turkey, Ukraine and Iceland will all fancy their chances against us. There are the politically interesting ties against Kosovo and finally, Finland make up the rest of the group. Top team goes through, last four places decided by 2nd placed playoffs. We want top spot.
As mentioned before, it took 7 versions of the 5-3-2 until I was happy with it. It started solidly with a robust yet fruitless friendly against an unfamiliar Germany (looks like the license deal is done for fm19 onwards). The games pottered on – solid enough in defence and hard to beat but not really clicking up front. The Denmark friendly win was when cro-5-3-2-v07 came together – even with an injury hit, second string on the pitch. The must-not-lose away game to Ukraine was the first to feature my preferred first eleven and it went well:
In fact, the rest of the qualifying campaign went very well indeed.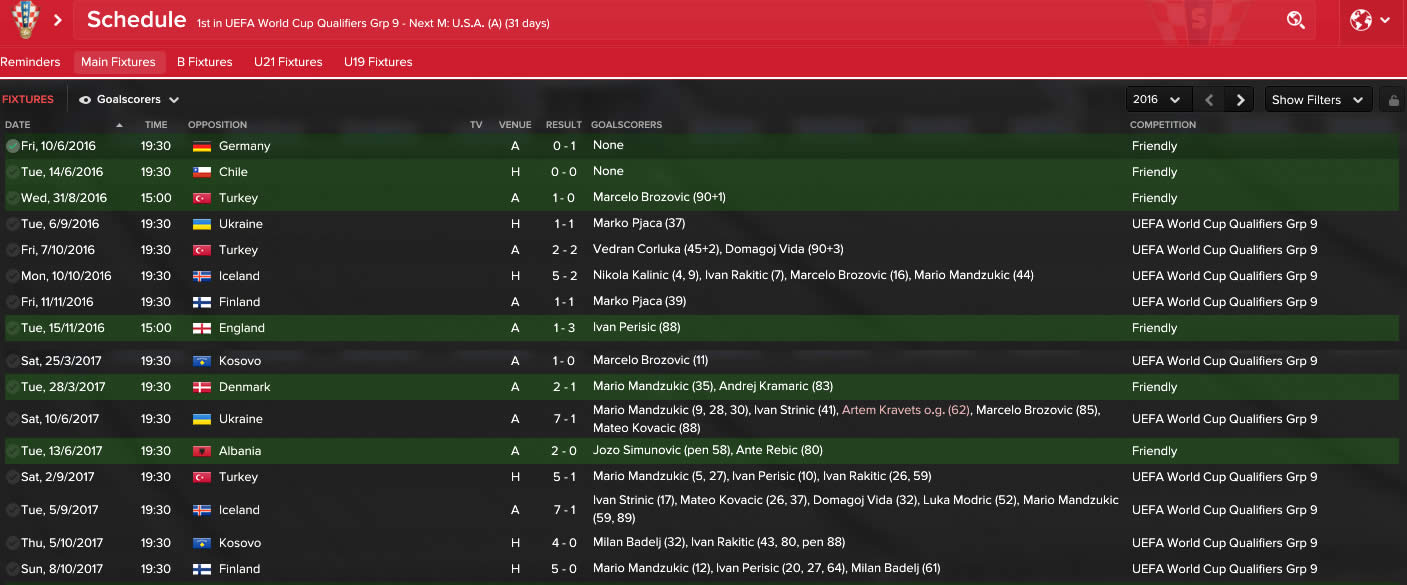 We went on to win every game to qualify in top spot. Annoyingly, despite obliterating our closest rivals, those early draws meant we had to wait until beating Finland in the last game to get it in the bag. Pack your furry hats we're off to Russia!


The 7-1 away win at Ukraine was the best result but this 5-1 home win against Turkey was also special.
FM17 Recreation?
Here are a couple of videos from our WCQs in FM17 that highlight some of the aspects of attacking and defensive play discussed earlier. There were some cracking goals scored too!
In these selected goals from the Ukraine game, you can see examples of the attacking structures a 5-3-2 can offer. In the first goal, you will see the pass from defence breaking the midfield line to Mandzukic who has dropped off his marker. He passes to support and as the move progresses you see the passing triangles open up the left flank for the advanced fullback to set up the goal.
In this example, you can see the defence reacting to a counter attack through the centre. The CMs track back and pressure the ball forcing the ball out to Croatia's right flank and then shutting down the dangerous centre. The ball gets worked out to the opposite flank – note the CMa not getting back quick enough/FBa being forced out of position to press – but the defence are happy to deal with high crosses and Vida clears. The goal shows the technical ability of individuals to dribble, pass, control and finish in a quick counter attack.
So we have a recreation of Ciro's Croatia, we have qualified for World Cup Russia 2018 but will we better the Golden Generation? Who are the ones to watch take the place of these nineties legends? Find out in Part 2 available here on The Higher Tempo Press soon.
Of course, you'll want to try this for yourself so the tactic is here for you to download.
Still reading?
You really deserve a medal but all I can offer is the chance to follow me on social media. Check out my profile at the end of this post for links and to see what else I have written click on my name.