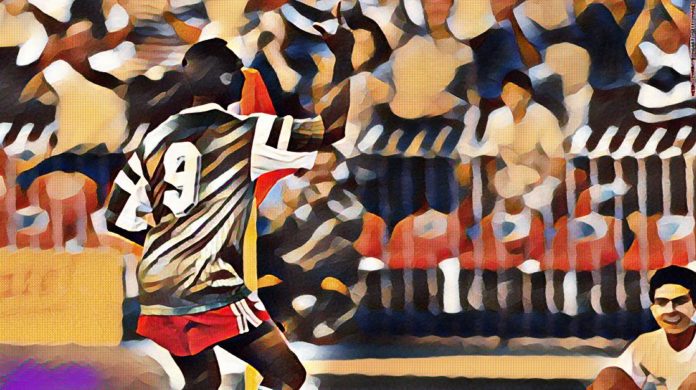 Yesterday was a day of highs and lows at Tempo Towers. I knew we'd see the conclusion of our third MTN Elite I campaign. I knew we'd get a fair idea of how our first adventure into the CAF Champions League would end up. I knew it was going to be a decisive day.
The league title was still very much there for the taking, but we'd need things to go our way. Coton Sports had been pretty dominant but were stalling. The problem was, we were not taking advantage. Basically, we needed to win our last six matches and hope they dropped points…
Let's have a look at Coton's last four matches, eh?

What's that? A draw and a defeat? Is that the door wide open for Tonnerre KC or what??
Two 0-0 draws at the start of the six matches made it tight, very tight indeed.
Goal difference. Sodding goal difference. We missed some big opportunities along the way to catch Coton Sport, it was heart breaking. We actually knew our fate before we kicked off against Aige Royal – we needed to win 17-0 to lift the title. Where did it go wrong? Of our seven draws, five of them were 0-0.
Not conceding was a good habit to be in.

I mean, we conceded less than half the goals Coton Sport did.
The problem lies here…

A team that finished 13th scored just two fewer than us and Coton Sport scored 32 more than us – that's pretty much a goal per game more than we did.
So I did some very basic analysis on what the problem might be. Are we having enough shots? Are we converting enough of them to goals? Are enough of them getting on target? You know, that kind of lazy armchair analysis.

So we are getting 42% of our shots on goal. How does that compare to the real world?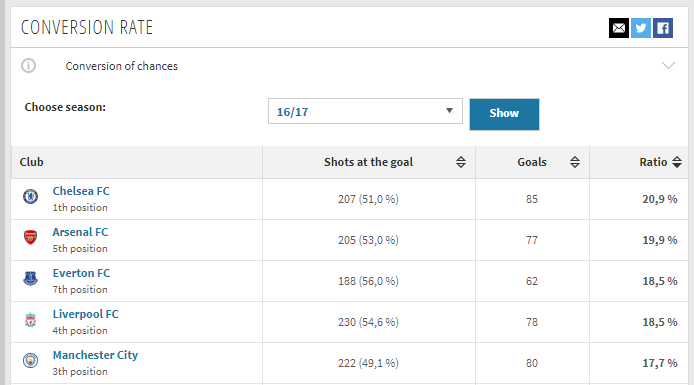 Using the Premier League last season as the comparison, you can see all bar Manchester City got over 50% of their shots on target. Our 732 shots on goal (across all competitions as I cannot filter to just league matches) led to 95 goals at a 13% conversion rate. That is a poor conversation rate.
So where are we shooting from, is that the problem?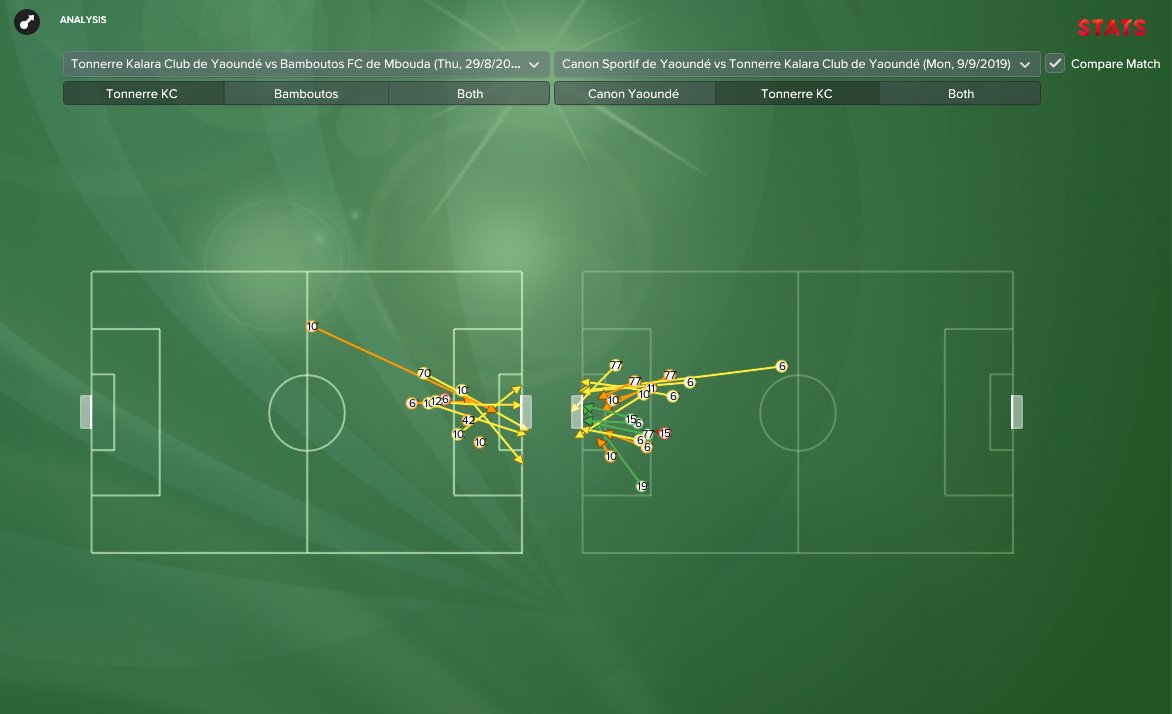 On the left is our match against Bamboutos, a game that we should have been winning. Orange arrows show shots saved. We tested their keeper twice, once from distance and once from long range. That is not good enough against a team battling relegation. But, neither shot was in that critical central channel – which you can see on the right in our 4-1 win over Canon Yaounde a few days later. But, looking left again, Marcy did have three decent chances where he really should be making the keeper work. What does this analysis tell me? Good question – my gut reaction is that although Marcy has scored quite a few goals this season he has also missed one hell of a lot of chances. Someone else might have taken one of those chances in the Bamboutos game. Am I right to be concerned?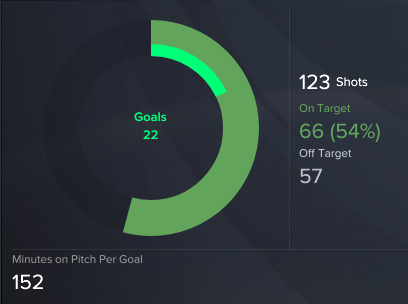 Can I really knock him for that? 54% of his shots get on target, and of those 33% of them lead to a goal. Is that good? I have no idea.
Let's compare him to Harry Kane last season.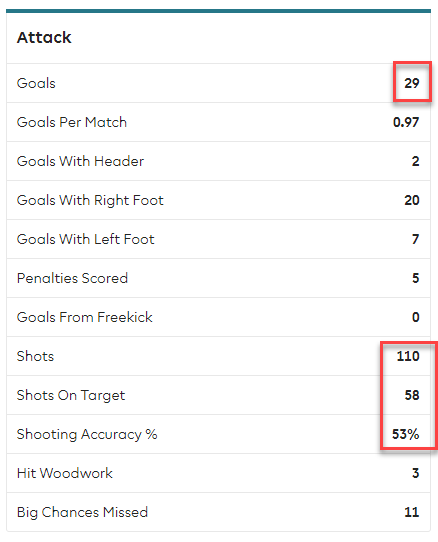 So their shots on target ratios are similar – in fact Marcy's is better. But from fewer shots on target Kane scored more goals – around 50% of his shots on target end up in the back of the net.
So, that makes me think we have a problem. Marcy might be a legend, but is he doing enough? I am thinking not right now.
But, to be sure, let's compare him to what else might be available in Cameroon.
Renaissance's Joel Bakanda is actually someone we've been watching for the last month or so and I reckon he'd join us. He ended up the top scorer in the MTN Elite I.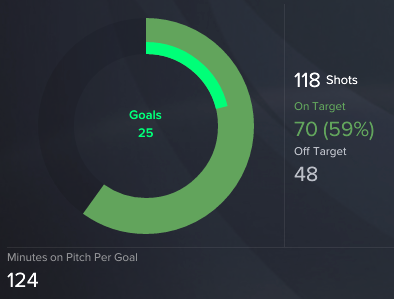 Fewer shots on goal. More of them on target. A higher shots on target %. But – shots to goal ration? 33% – only 2% better than Marcy and not really worth spending money on you'd think? Yet, Renaissance finished nowhere in the league – is there an argument he'd do better with a decent side? He scored twice against Coton Sport in a 3-2 win and he also scored against us. As I am typing this, I am interested.
Sadly though, at this exact moment we are not massively attractive to top players so nobody else I'd be interested in would come to us. Bakanda could be worth a punt though. He got 11 goals the season before and 12 the season before that. I could probably have him for less than €10k.
But is all that worth bombing out a legend of the club?
Granted, Marcy hasn't scored enough goals in the league for us this season. But he does have 9 in 14 in the CAF Champions League.
Oh, I don't know. Someone tell me what they think.
Anyway, we lost the league on goal difference and you can't blame the defence.
What about our Champions League adventure?
This is what the semi-final draw threw up.

Al-Ahly, only the side that have won the competition more than anyone else in history.
I'd rather have had the second leg at home to be honest, so I wasn't massively confident.
It turns out, I didn't need to be!
The largest crowd we've had under Mark Monroe saw the finest performance in the club's history. I've knocked Marcy above, but he is the top scorer in this competition which is no mean feat at all. But, we did give away a stupid penalty meaning it was all to play for in Egypt.
70,000 people saw Al-Ahly lead us 2-0 with 16 minutes left and this was even after Mbeleg had saved a 6th minute penalty. We had lots of the ball, but we were not doing enough with it. Then, when you need a hero…
Who cares if it was deflected? That shot is worth €1m to us!
Obama took one manfully for the team in the last five minutes, pulling down their guy when he was clean through. He'll miss the final, as will Peter Sohna who has been with us from the start.
The final will be over two legs and we will face either Asante, who we beat in the groups, or Club Africain who, again, are rather big and rather good. Either way, the fact we are even there just four seasons into this project is immense and will change the club forever.

Hopefully, the board will see this one through having cancelled the senior facilities last year.
So what could make up for losing the league on goal difference to Coton Sport?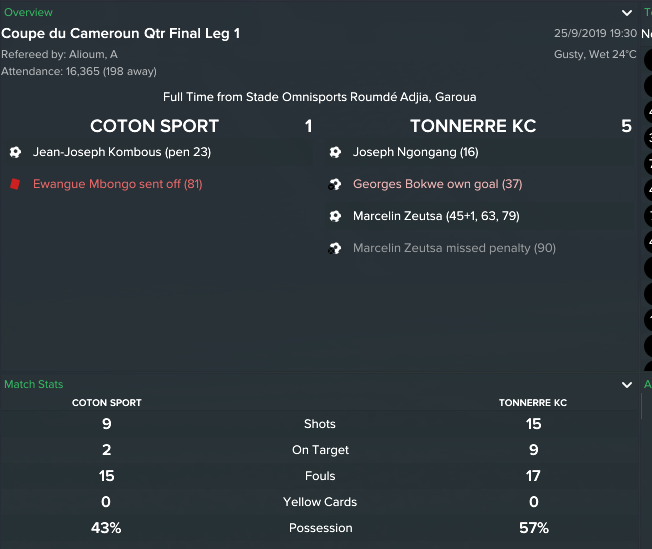 We still have to play the second leg, but I think we've made our point. As has Marcy, again.
I'd love to think we could end the season with another cup final!
Things are going well at the academy level as well.

So, for the first time since Mark Monroe has been in charge we have matches to play after the end of the league season. Can we get proper silverware?
Find out tomorrow…
#LeTKC